According to Investopedia, while the average cost of baby clothes is about $60 per month for the first year, the average baby will also use up more than 2,700 disposable diapers just in that first year. This adds up to more than $550 spent on diapers alone. And what if the stork blesses you with twins, or you end up having two rugrats at home that are close in age? Talk about double trouble.
Even if your baby Einstein takes to potty training like a champ, you're going to need a plan to deal with this unavoidable up front bill.
While cloth diapers are a time-honored and environmentally-friendly option, the ick factor might be a bit much for new parents. There's also an up front cost when you have to buy all the diapers and cute little diaper covers. And even if you are considering taking advantage of diaper laundering services in your neighborhood, eventually you'll need to use some convenient disposable diapers. The fact is that most people do opt for using those expensive disposable diapers most or at least some of the time.
Thankfully, there are a number of ways for families that need help paying for this basic necessity to receive disposable diapers for free.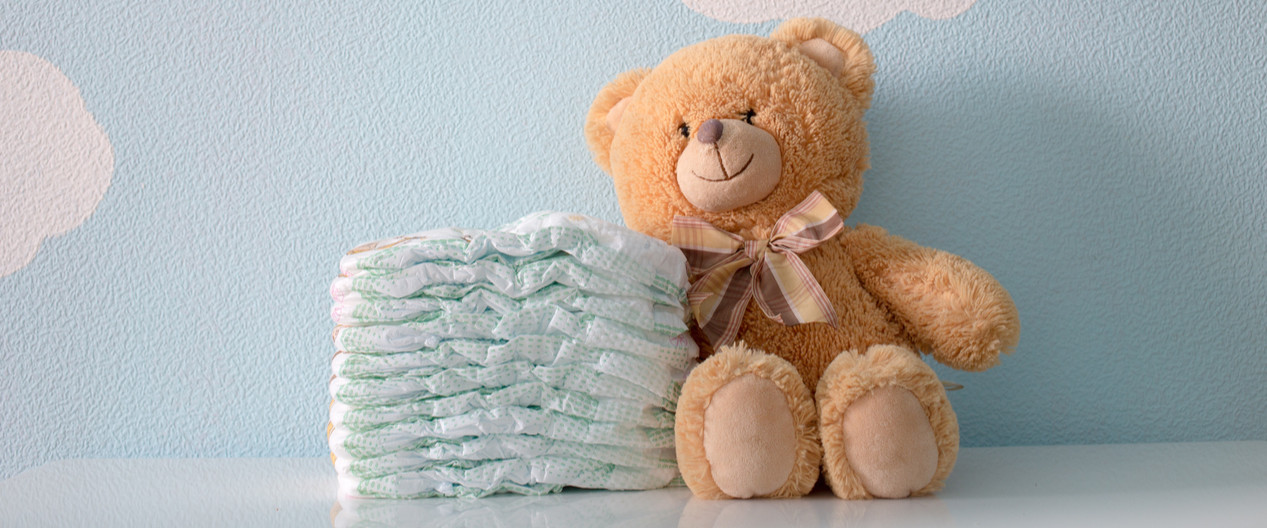 1. The Luvs Network
Luvs offers customers discounts and sweepstakes, which can either reduce your diaper bill greatly or even completely — at least for a little while. The two primary options offered by Luvs are through the Luvs Network, which provides you with regular coupons and special offers. The second is through their social media. Luvs often hosts sweepstakes where the winner receives free diapers for an entire year.
2. The Diaper Bank Network
If the cost of diapers is really becoming too much, it might be time to check out the National Diaper Bank Network. This nonprofit is designed to help low-income families cover the high cost of diapers. Although it doesn't function everywhere yet, The National Diaper Bank Network is rapidly expanding with new chapters forming around the country almost constantly.
It should be noted that food stamps cannot be used to purchase diapers, which makes the Diaper Bank Network even more important for low-income families.
3. The Dollar Diaper Club
By signing up for the Dollar Diaper Club, you can receive a welcome package of 10 wipes and 6 organic diapers. That said, there is a $5.95 shipping fee.
4. Swagbucks
Swagbucks is a rewards program where users earn rewards by simply taking part in a number of mundane tasks on their website. These tasks include but are not limited to watching short advertisements or funny videos, playing games, or taking surveys. You can even download the Swagbucks search engine and earn points while simply doing what you would already be doing online.
Swagbucks offers a variety of rewards including PayPal cash and gift cards for Amazon and other retailers, making it easy to put your earnings toward the purchase of diapers. There is also a $5.00 sign up bonus available for new users.
5. Ask Your Healthcare Professional If you are in need of diapers, often your doctor's office or local hospital will either be able to provide you with help themselves or put you in contact with someone from a local organization that can be of assistance. Depending on your situation, this can sometimes be a faster route than applying or signing up for various groups online, as you might be able to pick up the diapers yourself as soon as they are available rather than waiting for shipping.
6. Giving Diapers
Although not for everyone, cloth diapers are an option and one that also offers assistance to parents in need. Giving Diapers is a fairly well-known nonprofit organization that works to encourage new parents to use reusable cloth diapers because of the cost-savings that they can offer as well as the positive environmental impact that they have. Once signed up, Giving Diapers will provide free cloth diapers, as well as information for how to properly use and take care of them in order to extend their lifespan as long as possible.
7. Everyday Happy
Everyday Happy offers free trial samples of a variety of products. This includes a free box of their top-end diapers and a package of popular bamboo wipes.
8. The Honest Company
When you sign up with the Honest Company, they offer you the choice of a few free bundles, one of which is a diaper bundle that includes 10 wipes and 7 diapers.
9. NeedHelpPayingBills.com
NeedHelpPayingBills.com is an underused resource website that offers an impressive list of organizations and non-profits to help new parents and low-income families get access to all kinds of needs — including an array of baby products.
10. EverydayFamily.com
EverydayFamily.com is a website that offers great tips, information, and advice for new parents. They're presently offering new members a chance to win free diapers for a year. All you have to do to enter is register an account.
Use these tips to take a bit off the edge and off your monthly bills — and share them with friends who could use them! They'll thank you. Probably repeatedly.