Keeping it safe
Mr. Wonderful has been buying the dip.
"I have been going back into the crypto markets lately. Anytime bitcoin drops below $17,000, I add to our positions there."
And where does O'Leary keep his crypto investments these days?
Up north.
"The only place I have any crypto right now is up in the Canadian market, which is 100% regulated. They have a broker-dealer attached to an exchange regulated by the OSC [Ontario Securities Commission], all kinds of rules, you can't commingle," he tells Kitco News.
"It's called Bitbuy and I've got my money there. It's owned by WonderFi, a public company. I've got lots of capital tied up in there — it's the only place."
As you'd expect, O'Leary is not going to put his money in unregulated exchanges.
"Forget it, never again."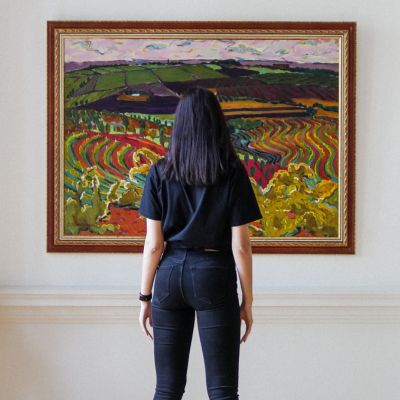 Contemporary art has outperformed the S&P 500 by 131% for the past 26 years. Join the exclusive platform to invest in million-dollar works by artists like Banksy, Basquiat, and more. Get started today and diversify your portfolio with art.
Learn More
Alternatives to crypto
Gold
Some say that bitcoin is the new gold. While O'Leary has been one of the more outspoken proponents of bitcoin, he still likes the original yellow metal.
O'Leary tells Kitco News that to hedge against inflation, he has a 5% weighting in gold and a 5% weighting in bitcoin.
Indeed, gold can't be printed out of thin air like fiat money. And its value tends to stay resilient even in times of crisis.
There are many ways to gain exposure to gold. O'Leary uses two methods for his 5% exposure.
"I have half of that — two and a half percent — in physical gold that I pay for storage. And I use various ETFs for the rest so I can rebalance every quarter."
Some gold investors also own shares of gold mining companies, but O'Leary is not one of them.
"I don't own the miners because over a long period of time, 25 years, you want to get the idiot management out of the equation," he says. "All they're doing for you is mining it out of the ground. You might as well just own the commodity."
Stocks
At the end of the day, O'Leary's portfolio doesn't consist mostly of gold or bitcoin. He's still an equity investor above all else.
"I've got a large allocation to equities," he says.
And like most smart investors, O'Leary is not putting all the eggs in one basket.
"No equity more than 5%. No sector more than 20%. So it's very diversified."
Of course, even a diversified portfolio can have its ups and downs. In 2022, the S&P 500 tumbled 19.4%. So what should investors look for in a company in today's market?
"Now I'm looking for companies that, A, are cash flow positive, B, do distributions of profits. So in other words, they take the cash and they distribute it through dividends. Some of them will do share buybacks, but not now that's being taxed, I think that the dividend is going to be more popular," he says.
At the same time, O'Leary emphasizes that it's important for companies to do this "without taking on debt."
"So if you have a clean balance sheet, not too much debt, and you're distributing profits, well, that's a good place to invest."
More: 3 low-risk stocks Kevin O'Leary likes
Sponsored
Meet Your Retirement Goals Effortlessly
The road to retirement may seem long, but with WiserAdvisor, you can find a trusted partner to guide you every step of the way
WiserAdvisor matches you with vetted financial advisors that offer personalized advice to help you to make the right choices, invest wisely, and secure the retirement you've always dreamed of. Start planning early, and get your retirement mapped out today.