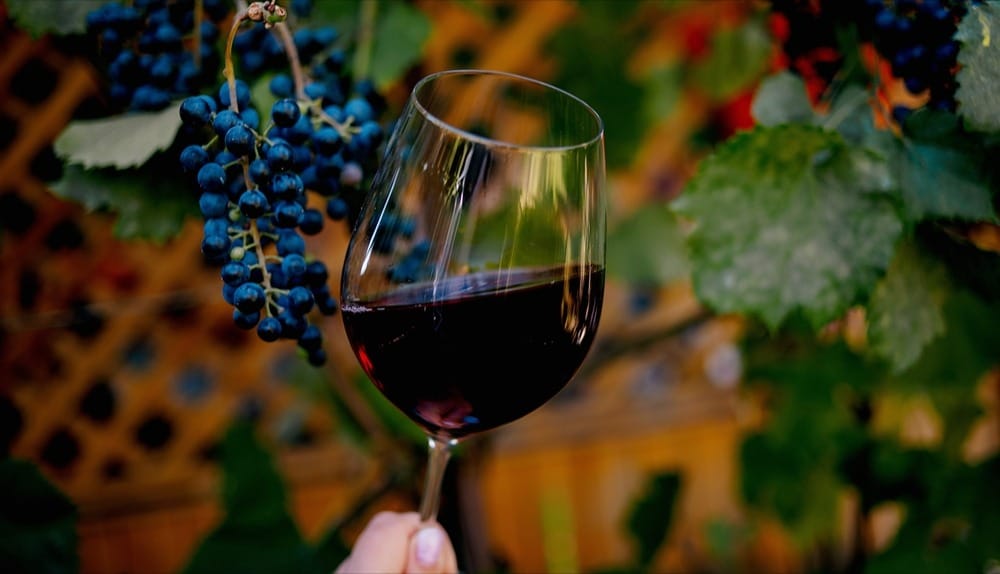 Vinovest review 2023: Wine investing for uncorked potential
Kokosha Yuliya / Shutterstock
We adhere to strict standards of editorial integrity to help you make decisions with confidence. Please be aware that some (or all) products and services linked in this article are from our sponsors.
We adhere to strict standards of editorial integrity to help you make decisions with confidence. Please be aware that some (or all) products and services linked in this article are from our sponsors.
As an experienced investor, I am always on the lookout for new and interesting investment opportunities. Recently, I came across Vinovest, an online platform that allows individuals to invest in fine wines.
Intrigued by the idea of investing in an alternative asset class, I decided to try Vinovest myself, and see if great minds do drink alike. So far, my experience with the service has been positive, and I wanted to give fellow investors my honest take on the platform.
Investing in wine usually has a barrier to entry, but Vinovest offers a seamless and hassle-free way of building a diversified portfolio of vintage wines from around the world.
If you're looking to diversify your portfolio by investing in wine without spending a fortune, Vinovest offers a compelling option.
The platform is an excellent choice for those who want to invest in alternative assets like wine but don't want to deal with the hassle of researching, purchasing, storing, and insuring it themselves.
Investors can get started in minutes, by creating an account on Vinovest's website and start investing with as little as $1,000. The platform offers a range of investment options, including a fully-managed portfolio or a self-managed portfolio. The investment team uses data-driven analysis and personal expertise to curate a portfolio of wines that they believe will deliver attractive returns to investors.
Vinovest also stores the wine in a secure facility and assists with selling when investors decide to liquidate. The platform charges an annual fee of 1.9% to 2.5% depending on the invested amount.
Pros
Open to non-accredited investors
Low investing minimum of $1,000
Numerous portfolio options and a wine marketplace
Investors are able to sell wine anytime they want
Comprehensive insurance and secure storage
Cons
Starting plan carries an annual management fee of 2.5%
Investors pay penalties for selling wine within the first three years
Fractional wine shares are not available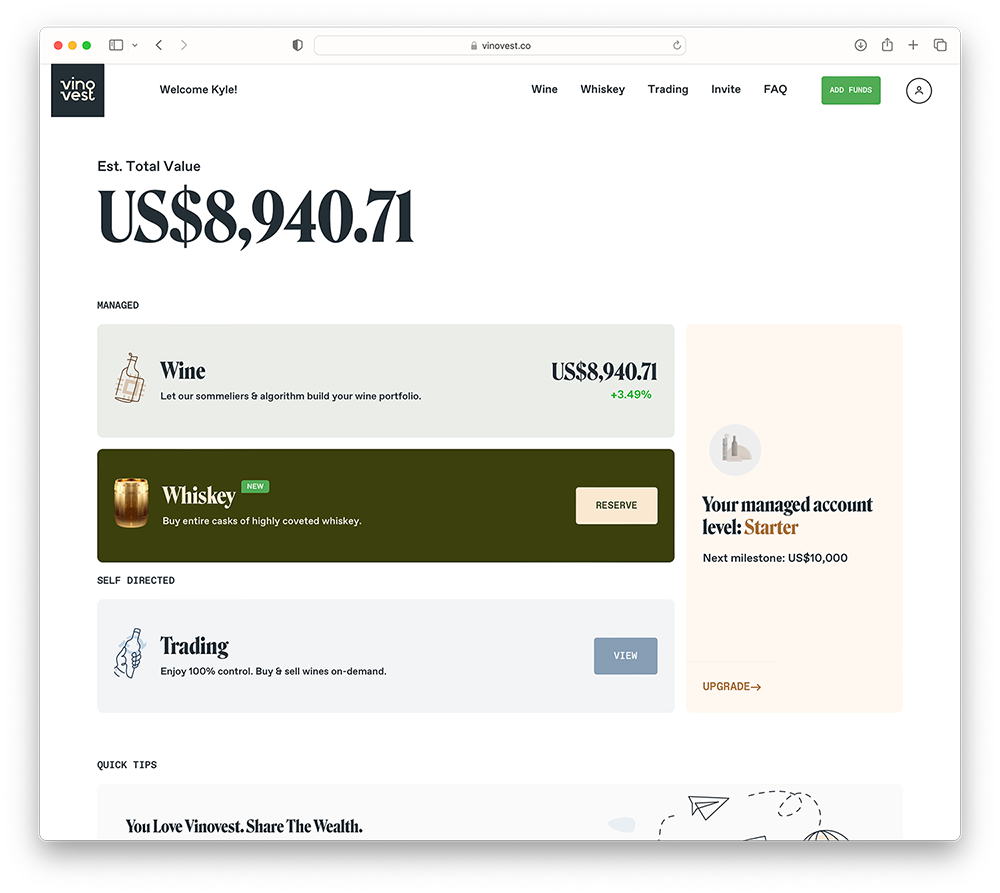 How Vinovest works
Vinovest offers three portfolios that cater to different investing goals and risk tolerance:
Conservative: Optimized for the lowest volatility.
Moderate: Optimized to achieve the highest return with lowest volatility.
Aggressive: Optimized for highest annual returns.
Vinovest uses a combination of AI-powered algorithms and master sommeliers to create a portfolio of wines selected from multiple regions.
Once a deposit is made, it takes Vinovest about two to three weeks to purchase the wine below the retail price. Vinovest then authenticates, ships, and stores the wine at the closest bonded warehouse.
You cannot view a list of all available wines, but Vinovest's algorithm sorts through wines across numerous vintages, including prestigious wines. Following a sale, earnings are automatically reinvested in the portfolio, and Vinovest rebalances the portfolio automatically, similar to many robo-advisors.
Vinovest benefits
Low investing minimum
The base tier for Vinovest's portfolios requires a minimum investment of $1,000, which is relatively low compared to other alternative asset investing platforms. In contrast, many investment opportunities on platforms like Yieldstreet often call for $5,000 to $15,000.
While you can start with just $1,000, Vinovest's higher tiers have lower annual fees and let investors manually select wines to add to their portfolios.
Vinovest offers a marketplace for individual wine bottles
Vinovest's latest feature allows users to invest in individual bottles of wine without having to use a pre-built portfolio. The Vinovest marketplace has hundreds of bottles available, and each has more information about the vintage, historical price, bid and ask prices, and critic scores from sommeliers and wine reviewers. The 'Why We're Buying' section explains Vinovest's rationale for investing in the particular wine, along with the historical value.
Vinovest uncorks wine futures trading for premium investors
In addition to portfolio and marketplace trading, Vinovest also offers wine futures trading exclusively for its Premium and Grand Cru clients.
Wine futures trading allows investors to buy new vintages while they are still in the barrel, giving them the opportunity to invest in exclusive offerings early on. Vinovest curates these offerings and brings them to the platform from time to time.
Insurance and storage
Vinovest stores wine in secure storage facilities throughout France, the U.K., Denmark, Singapore, Hong Kong, and the United States. The facilities are bonded, which eliminates extra taxes and tariffs on the wine during storage.
Vinovest offers third-party insurance that covers damages due to mishandling and natural disasters. If such misfortune befalls your collection, Vinovest will refund you with the current full market value of the bottles.
Vinovest allows investors to own 100% of the wine in their portfolio. Ownership certificates are given to prove that the wine is truly theirs. Investors can even drink the wine in their portfolio if they want to, but they have to pay for shipping.
Since users have full ownership, they can retain their collection if Vinovest ever goes out of business. In such a scenario, the investor could contact the storage facility to arrange for continued storage, or pay for the whole collection to be shipped or sold at auction.
Referral discounts
By referring a friend to Vinovest, both parties can receive three months of free management when the friend funds their account.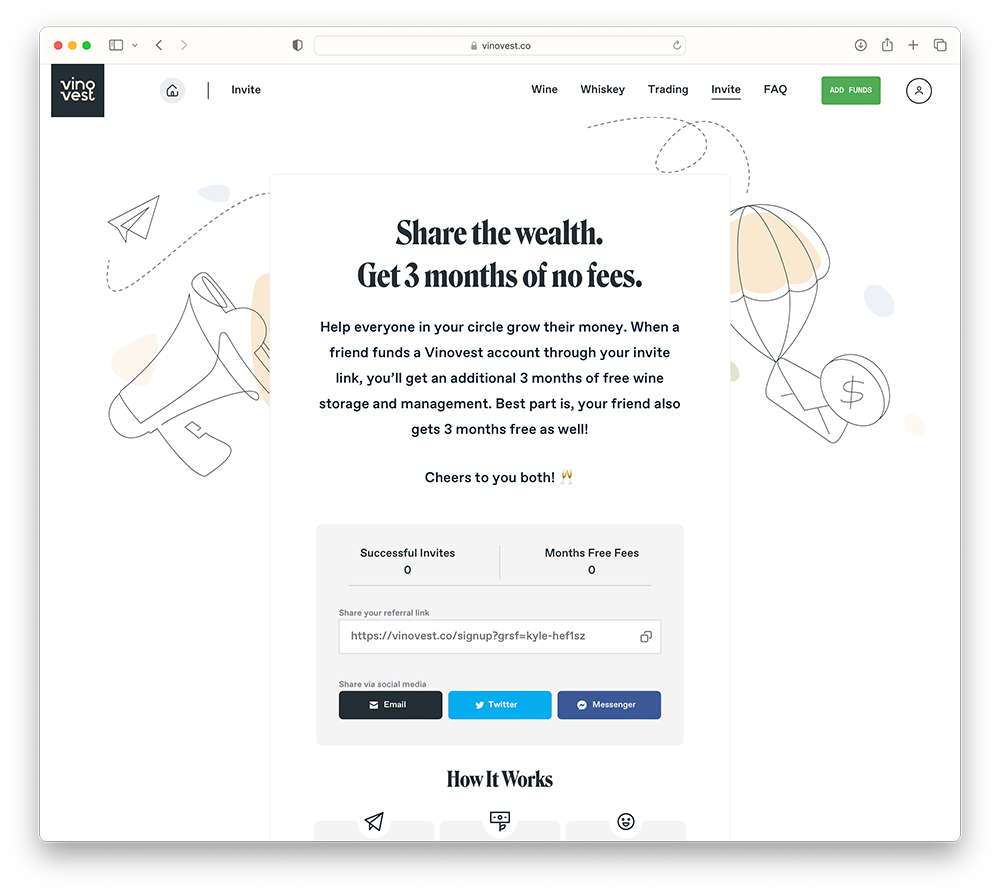 Q&A with Anthony Zhang, Vinovest CEO and co-founder
In an interview with Anthony Zhang, CEO and co-founder of Vinovest, he shared insights on the performance of wine in different interest rate environments and the success of Vinovest's users.
"Right now, we're in a higher interest rate environment. Last year, our average investor was able to (achieve a) return of about 6%," said Zhang. "Not only were we able to outperform the stock market, and other commodities like gold, we were also able to outpace the Fed rate."
Watch our exclusive interview with Vinovest's CEO below.
Who should choose Vinovest?
Vinovest offers a unique investment opportunity for non-accredited investors looking to diversify their investment portfolio with an alternative asset class.
The platform's AI-powered curation of wine portfolios, open marketplace for investing in individual wine collections, and ability to customize portfolios and trade wine futures make it a great option for those interested in investing in fine wines.
Where Vinovest could improve
Vinovest is an extremely user-friendly platform for wine investing, but potential investors should consider several drawbacks before investing.
Annual management fees for Vinovest portfolios range from 1.9% to 2.5%, in addition to trading and storage fees for wine purchased from the marketplace.
Vinovest is a long-term investment platform, and while you can sell wine anytime, it is not ideal for short-term investing. That's because there are penalties for selling within three years of buying.
The Vinovest marketplace currently offers fewer than 100 types of wine, which may not be enough for investors who want to diversify their collection, especially if they're on the Starter or Plus plan.
Vinovest plans and pricing
Vinovest's Starter plan charges an annual management fee of 2.5%, which decreases to 1.9% per year for the Grand Cru plan. The plan that an investor qualifies for is determined by the amount of money they deposit.
Exclusive invites to Vinovest events
As mentioned, you need to invest at least $50,000 if you want to customize your portfolio. But the Starter plan provides everything you need to add wine to your portfolio without having to worry about purchasing, storing, and insuring it yourself.
Fees
As for trading wine on the marketplace, Vinovest also charges several fees:
Buying: Pay a 2.5% fee that includes three months of storage.
Selling: Pay a 1% fee when you sell wine to another user on the marketplace.
Storage: Pay a 1.5% yearly storage fee that is billed monthly.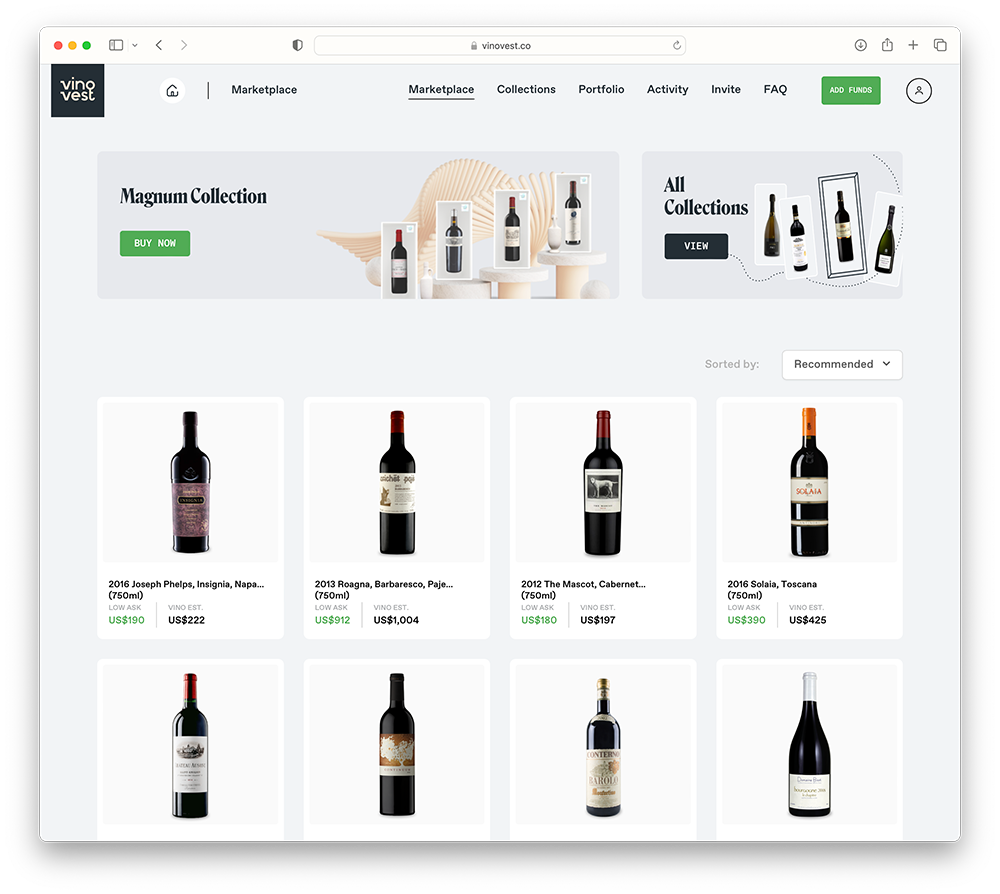 Why should you invest in wine?
Wineries produce investment-grade products in small quantities, usually a few hundred bottles. That means there's a scarcity of valuable products in circulation, and availability only goes down as people consume it.
Even better? This alternative investment is inflation-resistant.
According to Liv-ex's report, The Fine Wine Market in 2022, wine continued to outperform equities and commodities during the year. Meanwhile, the S&P 500 lost 19.44% in 2022, its worst year since 2008.
Vinovest FAQ
Bottom line
Vinovest is a leading platform for investing in fine wines. It is beginner-friendly, with a low investment minimum of $1,000 and no accreditation requirements. The platform has a strong track record and offers a popular alternative asset class.
However, investors should note that investing with Vinovest is a long-term strategy since wine can take years to appreciate in value. Ultimately, investors may want to consider diversifying a portion of their portfolio with asset classes like wine. Vinovest is a great option for those who don't want to deal with the hassle of storing and insuring wine themselves.
Alternatives to Vinovest
Vint: Best for entry-level wine investing
Vint is a wine investing platform that allows you to purchase SEC-qualified shares of fine wine. Unlike Vinovest, which purchases bottles, Vint lets you buy shares, similar to fractional shares of stocks. You can start investing with Vint with only $25, and you don't pay annual fees.
However, Vint takes 0.5% to 20% of each offering it opens up to a pool of investors. Vint also offers entire wine collections ranging from $25,000 to $100,000, with share prices normally in the $25 to $50 range. While Vint does not provide managed portfolios like Vinovest, it is a good option if you want to invest a small amount of money.
Yieldstreet: Best for alternative assets
If you're interested in investing in alternative assets, Yieldstreet is a great choice. This platform lets investors buy artwork, wine, real estate and even consumer or business debt.
Non-accredited investors can start with Yieldstreet's main fund, which has a $2,500 minimum, and offers exposure to various asset classes.
Direct deals and other funds are open to accredited investors and typically require $5,000 to $15,000 minimum investments. Annual management fees vary by investment opportunity and can go up to 2.5% per year.
Masterworks: Best for art investing
Masterworks is a popular alternative investment platform that specializes in artwork. With over 400,000 investors, it is the most popular artwork investing platform.
Holding periods range from three to 10 years, but you can sell shares on a secondary marketplace if you want to exit earlier.
Masterworks charges 1.5% per year and 20% of future profits when artwork sells. You do not need to be an accredited investor to use Masterworks, and shares can start as low as $20 with no investment minimum.
Methodology
Product rankings are determined by the Moneywise editorial team and are based on factors and features that everyday users care about most. We adhere to strict standards of editorial integrity to help you make decisions with confidence. The product featured in this article was independently selected, but please be aware that some products and services linked in this article are from our sponsors.
Moneywise rates products and services on a sale of 1 to 5 stars, where 5 stars is the best rating possible. Ratings are rounded up to the nearest 0.5 of a star.
Our rating system is based on the factors that mean the most to the everyday user. These factors include:
Investing and management fees
Portfolio options and asset types
Insurance and asset protection
Liquidity and fractional shares
Portfolio and asset types

Sign up process and platform user experience

Tools and educational materials

Tools and educational materials

Customer support

Security

Alternatives in market

We collect data by using the service, from the product website and watching demonstrations as required. The data is analyzed and the result is a star rating. Each factor is weighted depending on the category in which the product is being evaluated, in order to ensure it meets the needs of investors.
Our goal is to provide an independent review, and give you the information you need to make a decision on which product is right for you.