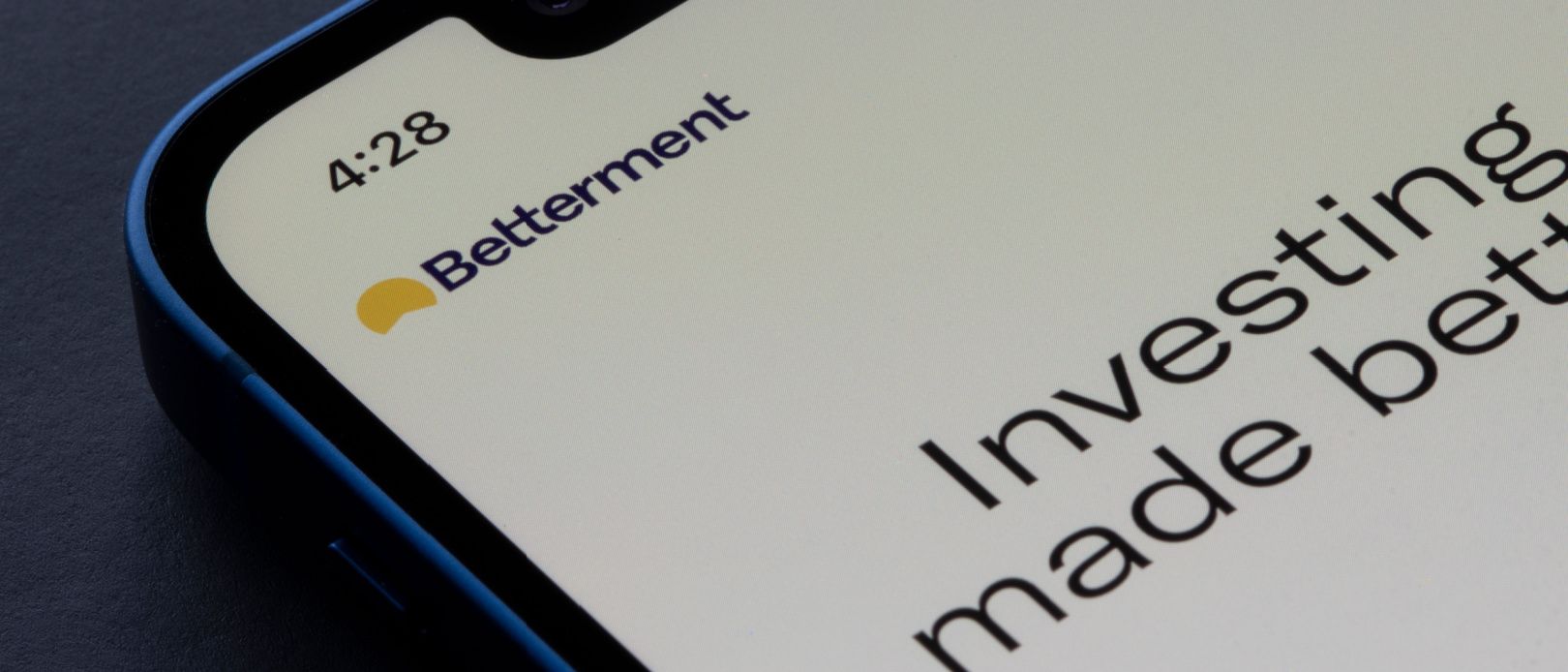 Betterment review: Is it still one of the best robo-advisors?
Tada Images / Shutterstock
🗓️
Updated: July 27, 2023
We adhere to strict standards of editorial integrity to help you make decisions with confidence. Please be aware that some (or all) products and services linked in this article are from our sponsors.
We adhere to strict standards of editorial integrity to help you make decisions with confidence. Please be aware that some (or all) products and services linked in this article are from our sponsors.
Paid non-client of Betterment. Views may not be representative, see more reviews at the App Store and Google Play Store. Learn more about this relationship.
Betterment has risen to the forefront as one of the most popular robo-investing platforms in the industry. It makes it easy for beginner investors to get started, while also providing useful tools for those who are more experienced.
Perhaps best of all, Betterment's basic account comes with an annual advisory fee of just 0.25%. If you need one-on-one help, you can also upgrade to Premium for an additional 0.15% which gets you unlimited access to human advisors.
In addition to its investing features, Betterment has a high-yield cash account which makes it easy for clients to organize all of their finances in one place. Keep reading our full Betterment review to get the full details about each of these features and more.
Pros and cons
Pros
Simple asset allocation
Low management fees
Perfect for young investors
Tax-coordinated portfolio
Offers cryptocurrency investing
Cons
Not for DIYers
Cannot asset-allocate with external accounts
No REITs or commodities
What is Betterment?
Betterment is a robo advisor that uses computer algorithms to generate personalized advice and manage your investment portfolio. It's designed so that you have access to a lot of automated options. And because the process is streamlined, it requires little day-to-day involvement. Compared to traditional investment options, it's "set it and forget it."
This robo advisor is all about the endgame, walking you back through the steps required to meet your end goal. From your initial deposit, monthly savings, and time horizon, Betterment will tell you the chances of achieving your objective.
The company's goal is to maximize your return while at the same time minimizing your risk. Although this sounds like an impossible task, in reality, it's not. So how the heck does Betterment do this? The service uses Modern Portfolio Theory or MPT for short. By investing in a diverse pool of assets, it should collectively lower your risk yet stabilize your returns over the long term.
But is Betterment the best robo-investing service out there?
Betterment features
| Feature | Details |
| --- | --- |
| Minimum investment | $10 |
| Fees | Digital – 0.25%/year; Premium – 0.40%/year |
| Accounts | Taxable, Joint, Traditional IRA, Roth IRA, Rollover IRA, SEP IRA, Trusts, Non-Profit, 401(k) Guidance |
| 401(k) assistance | ✅ |
| Tax loss harvesting | ✅ |
| Portfolio rebalancing | ✅ |
| Automatic deposits | ✅ Weekly, bi-weekly and monthly |
| Advice | Human Assisted |
| Smart beta | ✅ |
| Socially responsible | ✅ |
| Fractional shares | ✅ |
| Customer service | Monday to Friday from 9:00 a.m. to 6:00 p.m. (ET). |
Betterment portfolios: Choose different investing strategies
Betterment has grown beyond offering just one portfolio, and there are now options to customize. It recommends a portfolio to you based on two parts- asset allocation and fund selection. It includes a combination of stocks and bonds.
Depending on your allocation of stocks to bonds, Betterment adjusts the allocation of each individual ETF to meet the efficient frontier. In plain English: Betterment has optimized the portfolio to give you the best performance possible.
Available portfolios:
Betterment Core Portfolio
Their core portfolio includes Vanguard stock and bond ETFs, including the Vanguard U.S. Total Stock Market (VTI), Vanguard U.S. Large-Cap Value (VTV), Vanguard FTSE Developed Markets (VEA), Vanguard FTSE Emerging Markets (VWO),iShares Emerging Markets Bond (EMB), iShares iBoxx $ Investment Grade (LQD), iShares Barclays Aggregate Bond Fund (AGG), iShares Barclays Short Treasury Bond (SHV) and more.
In addition to their core portfolio, Betterment also offers the BlackRock Target Income Portfolio and the Goldman Sachs Smart Beta Portfolio.
BlackRock Target Income Portfolio
The BlackRock Target Income Portfolio is a diversified 100% bond basket. Investors can choose from four risk levels, each with its own targeted level of income yield. The higher the potential income, the greater the risk.
This portfolio could be a solid choice for retirees looking for stable, dependable income as well as a way to preserve their nest eggs. It's also a solution for investors who would like a lower-risk investment than stocks.
Goldman Sachs Smart Beta Portfolio
The Goldman Sachs Smart Beta Portfolio is designed for those in retirement or investors wanting a low-risk portfolio. The portfolio is 100% composed of bonds to give investors income with low risk. Goldman Sachs Smart Beta Portfolio seeks to outperform a conventional investing strategy using smart beta. It intends to give investors higher returns by eschewing market capitalization weightings in and across equity asset classes.
With a smart beta approach, overall market performance is considered only one of many factors that can affect investment returns. By addressing other factors, this strategy means more risk but also the potential for higher returns.
Flexible Portfolios
Flexible Portfolios allow users to adjust the individual asset class weights. You still receive feedback from the Portfolio Analysis tool as to the risks of your selections, but the choice will ultimately be up to you. With Flexible Portfolios, you also have access to features that can save you at tax time, such as tax-loss harvesting and tax coordination.
And these portfolios work with all account types — including Roth and Traditional IRAs. However, you need at least $100,000 invested with Betterment to use this portfolio type. It's not valid for Betterment's Socially Responsible Investing, BlackRock, or Goldman Sachs portfolios either.
I would still like to see some additional asset classes beyond ETFs, such as commodities and REITs. But Betterment's philosophy is that REITs and commodities held on their own — rather than within an ETF — could overexpose your portfolio.
GET UP TO ONE FREE YEAR WITH BETTERMENT
Socially Responsible Investing Portfolio
In addition to the three portfolios outlined above, Betterment also offers socially responsible investing (SRI). This robo-advisor also allow customers to donate shares directly from their accounts to charities. This can save investors at tax time because they will avoid capital gains taxes on donated shares.
In designing its SRI portfolio, Betterment took two goals into account:
1.

Reducing exposure to companies involved in activities deemed irresponsible on either an environmental, social, or governmental level.

2.

Increasing exposure to companies that are striving to solve ecological and social challenges.
Bettement has three SRI focused portfolios:
Broad Impact Portfolio — This includes ETFs with high ESG ratings and keeps investments balanced.
Climate Impact Portfolio — For investors that want to make sure they're supporting companies working to reduce carbon emissions. Includes ETFs that are focused on green investments.
Social Impact Portfolio — This includes two ETFs that support companies empowering minorities and promoting gender equality in the workplace.
Betterment's socially-responsible portfolio options are great for investors who want their dollars to impact the world and make sure they are investing in companies that are helping make the world a better place.
Innovative Technology Portfolio
Betterment's Innovative Technology Portfolio includes several emerging industries such as clean energy, semiconductors, robots, virtual reality, blockchain, nanotechnology, and more. With this portfolio, you get access to a variety of high-growth potential innovation trends with increased exposure to risk.
Because innovation is constantly changing, this portfolio also refreshes regularly. It invests in new early-state innovators on a regular basis. It's balanced across a variety of asset types to keep your portfolio diversified over the long-term.
Keep in mind that high-growth innovation stock exposure decreases with increasing bond allocation.
Who Is Betterment best for?
Betterment makes investing easy for beginners. With Betterment, there's no need to research which investments you need to purchase for your portfolio. The service does this for you automatically. But more advanced investors may want to take advantage of Betterment's tax-conscious advice and features, as well.
Recently, Betterment strengthened its holistic approach to help you reach your goals by allowing you to link up external investing and retirement savings accounts. This way you can get a better, more complete picture of where you are on reaching retirement (or a new house, college education for your kids, etc.). Betterment analyzes these external accounts to advise you on their asset allocation, as well as projecting what your money would look like if you rolled those accounts over to the robo advisor.
Also, you can now manage all of your finances through Betterment's Cash Reserve and Checking service. Not only does this make it easy to fund your investing account, but you can also earn interest on the cash you aren't using, spend with a debit card, and even deposit checks through the app.
Other Betterment accounts and features:
Betterment's variety of investment portfolios is where this robo advisor shines. But there are also several other account types and features customers can take advantage of:
1. Betterment Cash Reserve Accounts
Betterment recently introduced a new checking and savings platform. The savings account offers an APY of 2.25%. Checking accounts come with a bright blue Betterment Visa Debit Card and provide worldwide ATM fee reimbursement, no minimum required balance, FDIC insurance, and no account fees.
If you're a Betterment customer, you can get a Cash Reserve account without paying a single penny in fees.
Betterment makes funding your savings account a no-brainer, too. The service's Cash Analysis tool examines your checking account to look for excess cash. Then Betterment will use its Two-Way Sweep function to push this extra cash into your savings account.
Of course, you can turn these functionalities on and off.
Betterment Cash Reserve APY Disclosure - Annual percentage yield (variable) is as of 9/26/2022. Cash Reserve is only available to clients of Betterment LLC, which is not a bank, and cash transfers to program banks are conducted through the clients' brokerage accounts at Betterment Securities.For Cash Reserve ("CR"), Betterment LLC only receives compensation from our program banks; Betterment LLC and Betterment Securities do not charge fees on your CR balance.
Further Reading: Betterment Cash Reserve review.
2. Betterment Checking Accounts
In addition to its cash reserve account, you can also set up a checking account with Betterment. Betterment Checking is a low-fee account that you can easily manage through a mobile app.
It's online-only, so you can't deposit cash, but overall it provides what most people need in a checking account. You can even deposit checks through your smartphone.
ATM fees are automatically reimbursed, just like with Betterment's Cash Reserve account. And accounts are FDIC insured up to $250,000.
There are some features missing, but Betterment has a roadmap of features it's working on adding soon, including joint checking accounts and direct deposit switching.
Further Reading: Betterment Checking Account review
3. Betterment Cash Back Rewards
With Betterment, you can earn cashback rewards with thousands of merchants, both online and in-store. Plus, you get personalized offers based on your spending habits and location.
You can easily check for current offers on the earn rewards section of your Betterment account. The service is powered by Dosh Cashback app, a service that provides cashback rewards using nearly any linked debit or credit card. Read our Dosh review here.
Rewards are paid out as soon as possible- sometimes as soon as just one day! They are automatically deposited into your Betterment checking account, so you don't need to worry about transferring funds.
4. Easy Account Setup
The signup process for Betterment is easy and takes approximately five minutes.
1.

First of all, you respond to a series of short questions about your investment needs.

2.

There is also a slide bar that allows users to set the allocation of their assets — e.g., 60% stocks with 40% bonds. It will also suggest an asset allocation to keep you on track with your goals.

3.

Once you've made your choices, you must then link your personal checking account. You can either transfer money into your Betterment account whenever you want or set up an automated deposit.
When money is moved into the account, Betterment will then automatically purchase exchange-traded funds (ETFs). The purchases will be made based on the way you've defined your asset allocations. Your investments are very liquid, and selling your investments is also made simple. Betterment will perform the "sell" trades for you. Any dividends earned will be automatically reinvested. Portfolios are rebalanced, and tax-loss harvesting is applied (if required) daily.
5. Smart automation tools and goal setting
Betterment uses several automated tools to help you set your goals, save money, and invest more.
Investing — Betterment can help you save for a specific target with your investments, and you're encouraged to set up specific goals. Each goal has a target amount and date and includes at least one investment account. There are currently five types of goals:
-Retirement Savings — for those saving for retirement
-Retirement Income – for retirees making withdrawals
-Safety Net – for growing an emergency fund
-Major Purchase – for making a future expenditure
-General Investing – for investing when you're not sure of the specific future expenditure
Retirement– To set up retirement goals in Betterment, link up your external accounts to the goals you've set within the service, and your entire retirement balance will show up in the Summary tab. Betterment will alert you to any allocations found in your external account that doesn't fit with the platform's advice. It will also show you a preview of what your money would look like if you chose to roll over your external accounts into Betterment.
Taxes – Betterment helps you save on taxes by automating tax-saving strategies, so it's one less thing for you to worry about. It does this by automatically applying tax-loss harvesting to your account and using asset location. Essentially, this means that assets expected to be taxed at a higher rate will be placed in tax-advantaged accounts like IRAs and 401(k)s when possible. In contrast, investments with lower tax rates are placed in your taxable investing accounts.
Customer service
Betterment offers both phone and email customer support for all of its cash and investment accounts. Betterment's phone support is available Monday to Friday from 9:00 am-6:00 pm (ET).
They also offer email support if you're rolling over or transferring an account to their service.
Betterment security
Betterment uses two-factor authentication to keep your account secure and browser encryption. You can also set up App passwords to secure your connection to third-party apps like Mint and Turbotax.
And if you see any unauthorized or suspicious activity on your account, you can contact Betterment, and it will work with you to recover any losses, provided they were within the last 60 days.
How much does it cost to use Betterment?
Betterment offers two account types for investing: a Digital Plan and Premium Plan. Included in both plans is the ability to message a financial question to Betterment's financial experts. No different than sending a text message to your friend, you can ask a financial question within Betterment's app. Betterment will respond within its business hours.
Digital plan:
Minimum: $0
Annual fee: 0.25%
Features: Messaging via App with financial experts, Rebalancing, TLH+ and RetireGuide
Premium plan:
Minimum: $100,000
Annual Fee: 0.40%
Features: Messaging via App + Unlimited calls with CFPs; Assistance with external investments
For individuals who want more hand-holding from a human life form than just digital zeros and ones, Betterment offers a Premium tier.This service is optional once you reach the $100,000 investment threshold.The Premium plan's primary advantage is assistance with investments outside Betterment — retirement accounts, stocks, or other life events.
The other benefit is unlimited access to Betterment's CFP professionals. With the Premium plan, you'll be happy to know Betterment can assist with your 401(k) plan and give advice on asset allocation.
Personalized financial advice with a human advisor
Although Betterment uses a computer program to automate its portfolios, you can get personalized advice. Got a financial question? Just like texting a friend, you can send a message to a financial expert within the Betterment app. This unlimited feature is available to all Betterment customers.
This one-on-one personalized advice is a way to provide advice that addresses life's major milestones sensitively and sensibly and for a low, fixed cost.
The package themes are:
Getting Started Cost: $299
Financial Checkup Cost: $399
College Planning Cost: $399
Marriage Planning Cost: $399
Retirement Planning Cost: $399
Each package includes a one-on-one call with a licensed financial expert, an action plan specifically tailored for your needs and situation, and exclusive educational content to help keep you informed.
Cash and checking account:
Minimum: $0
Annual fee: $0
Features: Checking and debit card, cash account with up to 0.4% APY as of January 4, 2021, FDIC insurance on checking and cash accounts, retirement planning tools
If you're interested in earning money through a high-yield interest account, you can do so through Betterment's Cash account. While not as high an APY as other high-yield accounts, it's certainly a better rate than most banks offer. And you can get a debit card with Betterment's checking account, keeping both your personal finances and your investment accounts all in one place.
Betterment promotion: Get up to one year free
Betterment offers up to one year free when you sign up. To qualify for this promotion, you need to deposit at least $15,000 into a new Betterment account. This offer is available for all of their accounts, but you must deposit within 45 days of opening your Betterment account.
How many commission-free months you receive depends on how much you deposit. Here's a breakdown:
Initial deposit
Commission free term
GET UP TO ONE FREE YEAR WITH BETTERMENT
How Is Betterment different?
Betterment was created to make investing as easy as opening a bank account. But let me be clear: Although the service is an SEC-registered broker-dealer and a member of FINRA/SIPC, its investment options are not FDIC insured. Only Betterment's Cash Reserve and Checking accounts are FDIC insured. Therefore, your returns are not guaranteed and are subject to market risk. It's possible your investment could lose principal. But if you look at other investment options that don't have the principal risk, you'll see that they still have different risk types.
With Betterment, you don't own individual stocks or bonds; instead, investments are held in the form of exchange-traded funds (ETFs). The ETFs own a portion of the equities market via indexing. As a plus, the asset allocation among these various ETFs ensures your account is not weighted too heavily in one particular area, company, country, or sector. While this doesn't lead to unreasonable returns, it prevents you from putting all of your eggs in one basket.
Betterment is the largest independent robo advisor (we think it's one of the best). Unlike the robo investing products offered by big names such as Schwab Intelligent Portfolios or Fidelity Go, Betterment doesn't own any of its recommended funds. It's also a fiduciary, meaning it's legally bound to act in your best interest. So you can have peace of min that the platform is working for you.
Add the fact that you can manage all of your personal finances with Betterment's Cash Reserve and Checking account, and it's a service that even the most experienced investor could find appealing.
Betterment competitors
Betterment's is one of our favorite robo-advisors because of its low fees and the variety of portfolio strategies you can choose.
However, it's far from the only robo-advisor on the market. And depending on your goals and net worth, certain Betterment alternatives might be better options.
| Highlights | Empower | Betterment | Wealthfront |
| --- | --- | --- | --- |
| Rating | 4.5/5 | 4.5/5 | 4.5/5 |
| Minimum to open account | $100,000 | $10 | $500 |
| 401(k) assistance | ✅ | ✅ | ❌ |
| Two-factor auth. | ✅ | ✅ | ✅ |
| Advice options | Automated, Human Assisted | Automated, Human Assisted | Automated |
| Socially responsible investing | ✅ | ✅ | ✅ |
| - | SIGN UP | SIGN UP | SIGN UP |
Empower isn't actually a robo-advisor, but if you have at least $100,000 to invest, you get to work with a professional investment manager to build a portfolio that matches your goals. The downside is that annual management fees start at 0.89% which is significantly higher than Betterment.
Empower also has a host of free tools to help you optimize your investing to save on fees and a useful financial tracking dashboard to monitor your net worth.
As for Wealthfront, it's another beginner-friendly robo-advisor like Betterment. The main differences are that Wealthfront requires $500 to get started but has slightly more customization control for the ETFs you invest in. However, Wealthfront doesn't provide access to human advisors unlike Betterment.
For more reading on Betterment competitor's, you can check out:
Bottom line: Is Betterment worth it?
Without question, Betterment's fees are much lower than you'd find if you were to hire a traditional financial advisor. If anything, with a professional money manager, you would get similar or weaker returns but pay much more in management fees.
And with the introduction of human advisors, Betterment has become a formidable competitor to Vanguard's Personal Advisor Services. Still, the more advanced investor might be better off managing their investments themselves to access a more diverse asset allocation selection and save money in annual fees in the process.
With a focus on the end-user, Betterment aims to provide users with a holistic plan to help them maximize their portfolios and meet their goals. If you're looking for strategies for improving all of your investment portfolios, Betterment might be a great fit for you.
Betterment Cash Reserve Disclosure - Betterment Cash Reserve ("Cash Reserve") is offered by Betterment LLC. Clients of Betterment LLC participate in Cash Reserve through their brokerage account held at Betterment Securities. Neither Betterment LLC nor any of its affiliates is a bank. Through Cash Reserve, clients' funds are deposited into one or more banks ("Program Banks") where the funds earn a variable interest rate and are eligible for FDIC insurance. Cash Reserve provides Betterment clients with the opportunity to earn interest on cash intended to purchase securities through Betterment LLC and Betterment Securities. Cash Reserve should not be viewed as a long-term investment option. Funds held in your brokerage accounts are not FDIC‐insured but are protected by SIPC. Funds in transit to or from Program Banks are generally not FDIC‐insured but are protected by SIPC, except when those funds are held in a sweep account following a deposit or prior to a withdrawal, at which time funds are eligible for FDIC insurance but are not protected by SIPC. See Betterment Client Agreements for further details. Funds deposited into Cash Reserve are eligible for up to $1,000,000.00 (or $2,000,000.00 for joint accounts) of FDIC insurance once the funds reach one or more Program Banks (up to $250,000 for each insurable capacity—e.g., individual or joint—at up to four Program Banks). Even if there are more than four Program Banks, clients will not necessarily have deposits allocated in a manner that will provide FDIC insurance above $1,000,000.00 (or $2,000,000.00 for joint accounts). The FDIC calculates the insurance limits based on all accounts held in the same insurable capacity at a bank, not just cash in Cash Reserve. If clients elect to exclude one or more Program Banks from receiving deposits the amount of FDIC insurance available through Cash Reserve may be lower. Clients are responsible for monitoring their total assets at each Program Bank, including existing deposits held at Program Banks outside of Cash Reserve, to ensure FDIC insurance limits are not exceeded, which could result in some funds being uninsured. For more information on FDIC insurance please visit www.FDIC.gov. Deposits held in Program Banks are not protected by SIPC. For more information see the full terms and conditions and Betterment LLC's Form ADV Part II.