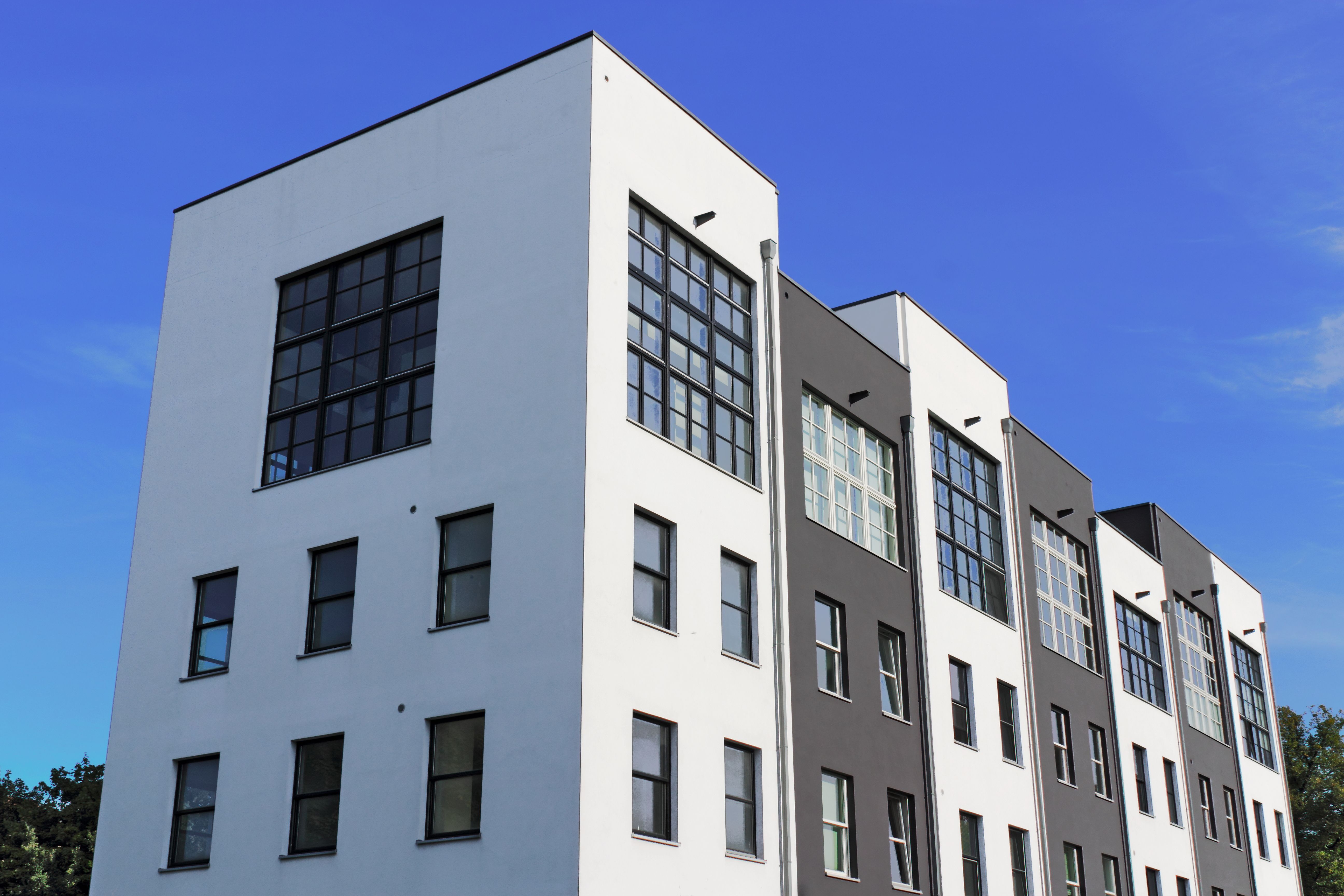 Arrived Homes review 2023: We tested it out
Kateryna Onyshchuk / Shutterstock
We adhere to strict standards of editorial integrity to help you make decisions with confidence. Please be aware that some (or all) products and services linked in this article are from our sponsors.
We adhere to strict standards of editorial integrity to help you make decisions with confidence. Please be aware that some (or all) products and services linked in this article are from our sponsors.
Real estate crowdfunding companies are incredibly popular these days. And for investors who want to dabble in real estate without becoming landlords themselves, crowdfunding offers a simple, effective solution.
But most crowdfunding companies focus on REITs and commercial real estate. However, Arrived Homes, one of the newer players in the space, lets you earn quarterly dividends from residential real estate properties.
With a low investing minimum and promising early signs, Arrived Homes is shaking up the crowdfunding market. That said, it has a limited track record, and this isn't necessarily the best investing choice depending on your goals.
Our Arrived Homes review is covering how this new crowdfunding platform works, the fees, and how you can ultimately decide if it's right for you.
Arrived Homes pros and cons
Pros
Low $100 investing minimum
Earn quarterly dividends from rental income
Completely passive income
Arrived Homes works with professional contractors and property management companies to manage properties and tenants
Low 1% annual management fee
No accreditation requirement
Cons
Limited track record since Arrived Homes is a newer company
Sold-out listings leave investors without many options
No REIT or commercial real estate options
What is Arrived Homes?
Arrived Homes is a real estate crowdfunding company that lets you invest in shares of rental properties. The company began in 2019 and is quickly making a name for itself as a serious, up-and-coming investment platform.
And unlike many companies that focus on commercial real estate, Arrived Homes provides access to residential real estate properties.
According to Arrived Homes' founder Ryan Frazier, the company's goal is to "make the wealth building potential of owning rental homes more accessible. We believe we can do that by simplifying the process, and lowering the cost to get started."
Some of the properties that Arrived offers on its platform are leveraged (purchased with long-term loans), while others aren't. To date, Arrived Homes has funded over $64 million worth of property value across 176 properties (and counting). And with its $100 investment minimum, it's an excellent way to invest in real estate with little money.
How we tested Arrived Homes
We personally tested out the Arrived Homes platform. In June 2022, we invested $500 on the platform by allocating $100 each into five different homes.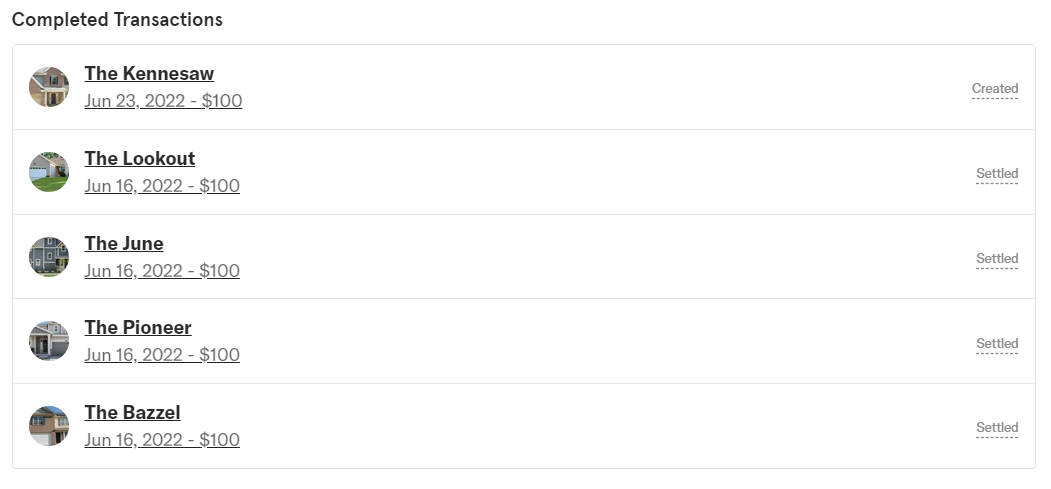 Here's what we had to say about our experience with the website and its purchase process:
"The Arrived Homes concept really appealed to us so we added our name to their email list as soon as we could. It took about a month for us to receive an email invite to invest. We actually felt pretty giddy to start shopping for properties on the marketplace. The investment process couldn't haven't been any easier. It only took us about 15 minutes from beginning to end to invest in 5 different rental properties."
In August, we invested $250 more in a sixth property — The Taylor. Unlike the first five homes in our portfolio, The Taylor is leveraged 50%.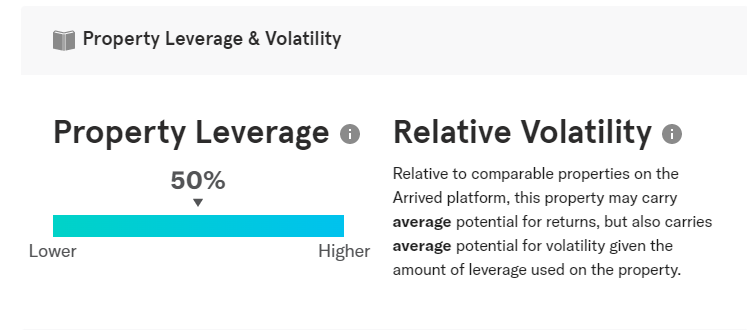 Most recently, in September we invested $250 in The Mirage, a vacation rental located in Joshua Tree, CA. That now brings the total investment on the platform up to $1,000.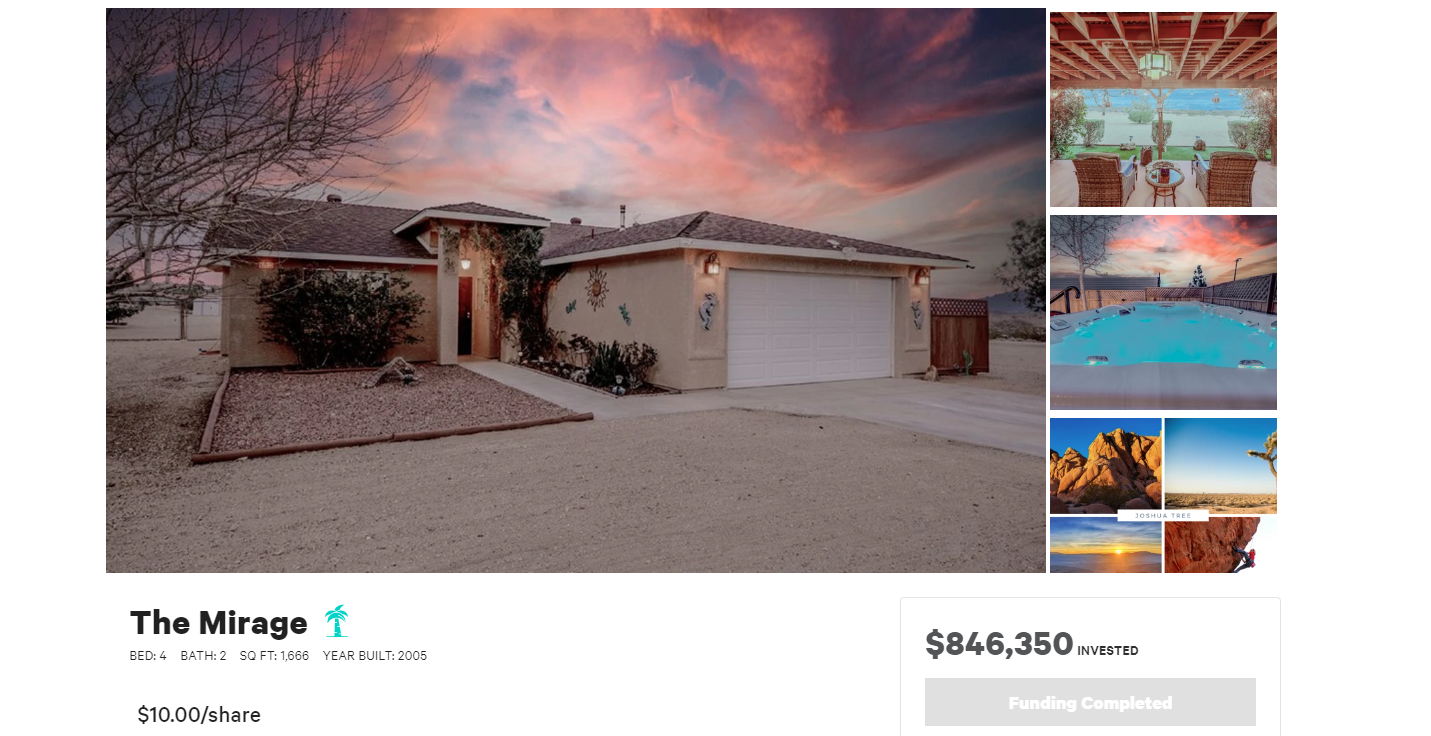 Update: As of October 17, 2022, five of the six traditional properties that we invested in have been rented out while one is still seeking a tenant. The Mirage has not begun booking guests as of yet.
We should receive our first rental income dividends in October 2022.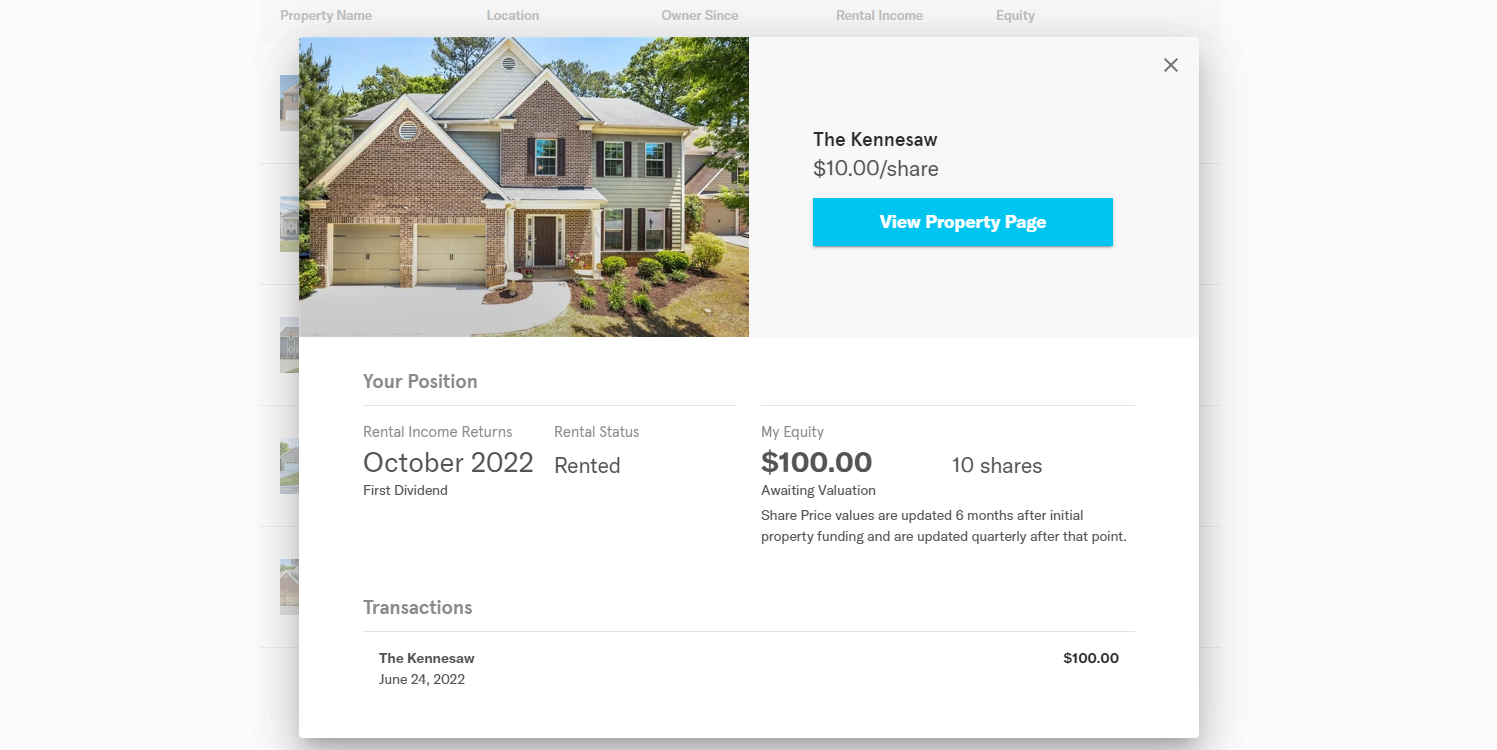 How does Arrived Homes work?
According to its website, Arrived Homes uses its team's real estate investing experience and advanced data science to identify properties with the highest potential for returns.
The platform also streamlines investing for investors; you don't have to dig and find rental units yourself and deal with real estate agents since Arrived Homes handles everything.
As for how you actually invest, Arrived Homes has a straightforward four-step process.
1. Browse homes
You can browse available rental properties on Arrived Homes' website. Listings include a variety of information about a property like:
City and address
Photos and a description of the property

Tenant status

First dividend date

First annual dividend yield

Zillow Home price trends and market information

You can also dig into the financials, which includes the property purchase price, closing costs, property improvements and cash reserves, and any fees. Arrived Homes also outlines how many shares it's issuing, the cost per share, and target holding period.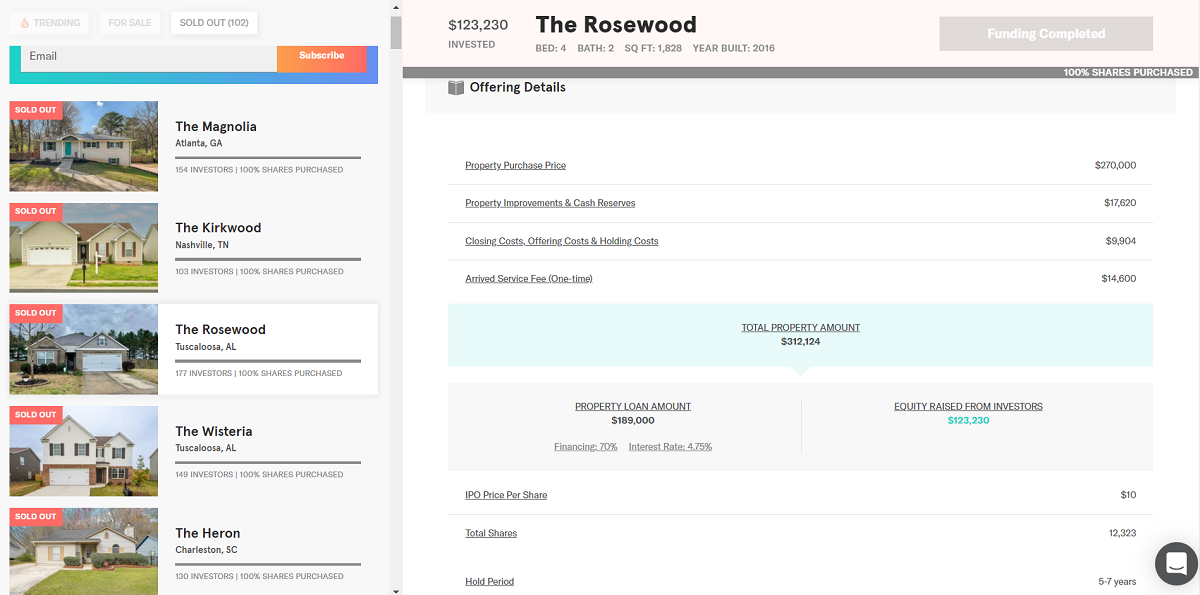 There's even more information as well, including documents explaining the use of proceeds and risk factors. Overall, investors get plenty of transparency to help with their due diligence.
At the time of writing, all 102 listings on Arrived Homes are fully-funded, so new investors can't invest. But you can opt-in to the mailing list to learn when new properties are listed, which happens frequently.
Arrived Homes is testing a new system where investors are randomly selected for the opportunity to invest in properties to help give investors more equal opportunity due to high demand.
Look for an email from Arrived Homes letting you know it's your turn to invest in properties.
2. Select shares
As mentioned, Arrived Homes has a $100 investing minimum. This is one of the lowest requirements in the crowdfunding world alongside companies like Fundrise, which has a $10 minimum. But many companies require at least $5,000 to start investing and are only open to accredited investors.
Most shares start at $10 per share, and Arrived Homes lists how many shares are in circulation for a property. Simply enter how many shares you want to purchase when you find a property you're interested in.
3. Invest
After you select your shares, you have to review Arrived Homes' terms, sign a contract, and fund the investment by linking your bank account. This is a similar process to other crowdfunding companies, and again, there's plenty of documentation you can review to help with due diligence.
As for account types, Arrived Homes supports:
Individual accounts
Entity accounts (LLC, Trust, or Corporation)
Checkbook IRAs and Solo 401(k) accounts
Note that Arrived Homes partners with Rocket Dollar, an alternative IRA investing platform, to help you set up your checkbook IRA account.
4. Earn passive rental income
Once you own shares in an Arrived Homes property, you get paid quarterly dividends from rental income. You can also benefit from your shares appreciating if property value goes up.
What makes Arrived Homes appealing to investors is that it's completely passive. Once funding is complete, Arrived Homes takes over all aspects of property managemet. This means working with its network of contractors to complete rennovations. This helps increase property value and also decreases maintenance expenses. The company also works with local property managers to vet and manage tenants.
There's even an operations team that monitors properties for issues and helps tenants with customer service. This means things like repairs, damages, and issues with tenants are completely off your plate.
And since Arrived Homes does this all at scale, it helps lower fees and increase efficiency. The company works with professional property managers, can find quality tenants faster, and then generate consistent rental income.
As mentioned, Arrived Homes has paid 3.2% to 7.2% in annual dividends to investors. It hasn't sold properties yet, but according to its website, the appreciation rate for single family homes in the U.S. over the last 20 years is 4.0% per year.
You get paid dividend payments quarterly. You can cash out your dividends or look for additional shares to invest in if you want to keep diversifying your portfolio.
Arrived Homes property types
At launch, Arrived Homes focused solely on traditional rentals. However, on August 1, 2022, Arrived Homes announced that they planned to launch vacation rentals as well. In September, Arrived's first vacation rentals became available for investment. Now, it's a dedicated section of their platform.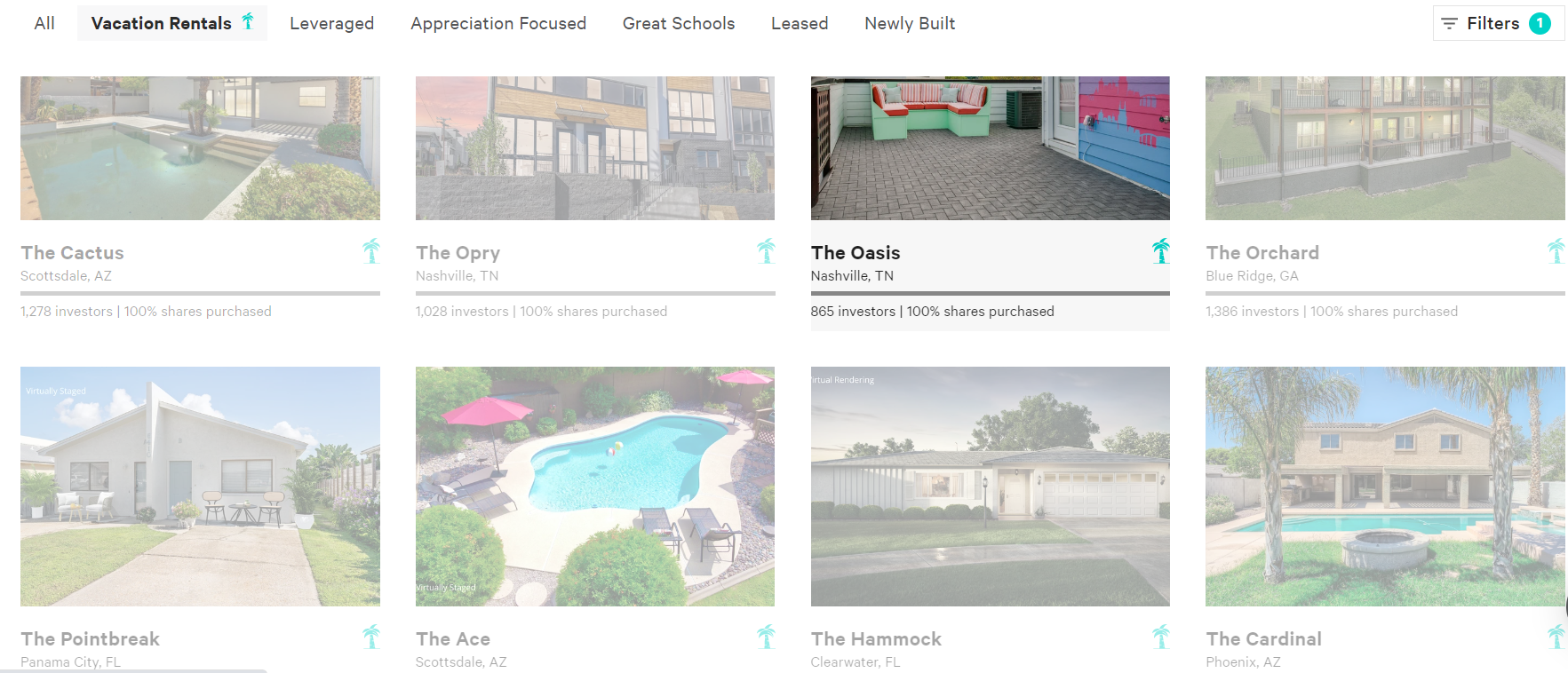 Beyond the main categories of traditional vs. vacation rentals, you can also screen the listings on Arrived by a variety of filters, including:
Leveraged
Appreciation focused

Great schools

Leased

Newly built

As their name suggests, Great Schools are properties that are located in highly-rated school districts. Because these areas are more desirable more families, they're likely attract higher rents.
Newly Built homes are another interesting option as Arrived may have purchased them pre-construction and they may have "baked-in equity." For example, The Eagle was purchased from the builder back in 2021 for $270k. But after it was built and ready to be rented out, it appraised at $336k. That translated to an instant share appreciation of 24% for investors (36% when you consider that The Eagle was 50% leveraged).
Arrived Homes fees and pricing
Arrived Homes makes money in three main ways:
1.

Agent rebates: The previous owner of the property pays a real estate agent rebate to Arrived Homes when it purchases a rental property.

2.

Sourcing fee: This is a one-time fee Arrived Homes charges to help cover the work required to source properties and costs of holding properties while preparing them for investment. Listings outline the sourcing fee so you know exactly how much Arrived Homes is taking.


3.

Annual asset management fee: Arrived Homes charges 1% in annual management fees.

This upfront and ongoing fee formula isn't new to crowdfunding. For example, Streitwise charges investors 3% upfront and then 2% on an ongoing basis.
And paying 1% in annual management fees is on the low-end for crowdfunding. Sites like Fundrise also charge 1% annually, but many competitors charge 2% or more per year.
Historical performance
One downside of Arrived Homes is that it doesn't have a long track record since it began in 2019. However, since inception, it's paid 3.2% to 7.2% in annual dividends for investors. And this is before factoring in potential property appreciation.
This is a strong start for Arrived Homes, and the fact listings are completely sold out right now is a good sign. The company also raised $25 million in a Series A round in May 2022, including investments from notable groups like Jeff Bezos' company Bezos Expeditions and Spencer Rascoff, the former CEO of Zillow. This funding should help expand investment opportunities which is great news for investors currently waiting on the sidelines.
Liquidity
Most listings on Arrived Homes have a target holding period of five to seven years. This makes sense since real estate is typically a long-term investment.
However, Arrived Homes lets investors liquidate their shares on a quarterly basis if they've held shares for at least six months. But it's still a little unclear what this secondary marketplace looks like. According to Arrived Homes, there may be penalties for liquidating shares, and it can't guarantee redeeming shares is even possible. It also states it will disclose potential fees and penalties when you try and sell your shares.
This is similar to Fundrise which lets you liquidate shares before five years for a 1% penalty. Fundrise also doesn't guarantee you can sell shares. Crowdfunding companies do this to protect the larger pool of investors from mass selling, so during tough market or business periods, you might not have the liquidity you think you do.
That said, most crowdfunding companies don't have secondary marketplaces or liquidation windows. The fact a new company like Arrived Homes is even offering this is a plus.
What makes Arrived Homes great?
If you want to earn regular rental income and keep things completely passive, Arrived Homes is for you. And the fact it has such a low investment minimum makes it excellent if you're investing with little money.
Furthermore, Arrived Homes has fairly low annual fees. The upfront fee is a bit high but not uncommon in the world of crowdfunding. And when you factor in quarterly dividends and potentially appreciation, you can make solid returns with what Arrived Homes has shown so far. The amount of information you get to help with due diligence on properites is also a plus.
Finally, one of the most unique aspects of Arrived Homes is that it lets homeowners and tenants get skin in the game. The platform lets tenants become co-investors by buying shares in their rental property. This incentivizes them to care about their home's condition more, theoretically resulting in lower maintenance costs. You can also sell your home to Arrived Homes and keep up to 10% of shares as equity, so it's truly a platform that creates win-win scenarios for tenants, investors, and homeowners alike.
Where Arrived Homes could improve
Right now, the main downside of Arrived Homes is that it needs more listings. There's a lot of investor demand, but not enough supply to keep up. And sometimes, you're only able to invest $100 in a property since Arrived Homes wants to let as many investors as possible get in on the action.
This demand is a good sign, but if you want to invest $50,000 in real estate tomorrow, Arrived Homes can't handle that amount of cash at this time. Hopefully, its Series A can help expand offerings.
It would also be nice for Arrived Homes to offer some sort of REIT or bundle of properties to help with diversification. This isn't a huge concern since the low $100 minimum requirement makes it easy to invest in numerous properties anyway. But, it would be a nice-to-have option.
How to contact Arrived Homes
You can reach Arrived Homes' customer support by emailing support@arrivedhomes.com or by calling 1-814-ARRIVED (1-814-277-4833).
Is Arrived Homes safe?
Like any investment, real estate investing carries some risk. So the real question is how does Arrived Homes mitigate risk for investors.
For starters, every home is owned through an independent LLC. This means shareholders and protected from personal liability. So, if a tenant slips and hurts themselves or has some problem with the property, you're not going to get sued.
As for protecting cash slow, Arrived Homes also has practices in place. It looks for two year leases out of the gate, which helps reduce tenant turnover and periods of no rental income. It also works with professional property management companies to find quality tenants faster. This also includes the regular tenant screening process, like verifying income and running background checks.
In the event of negative cash flow because of zero tenant income, Arrived Homes relies on a cash reserve. This reserve is typically 2% of the total home value which can help cover the lack of income for a short period. If the negative cash flow exceeds the reserve, Arrived Homes makes a short-term loan from its corporation. This means investors don't have to fork over more money. However, this strategy would lower future returns until the loan is repaid.
Overall, Arrived Homes takes numerous steps to reduce volatility and protect investors. It's still a new company, so time will tell how the track record plays out. But as it stands, Arrived Homes appears as safe as other crowdfunding companies.
Best Arrived Homes alternatives
With Arrived Homes, you get easy access to residential real estate properties. We like the low $100 requirement, and the fact there are several practices in place to protect investors and find quality tenants are perks.
However, Arrived Homes is a newer player in this space, so it doesn't have a long track record. And some Arrived Homes alternatives provide a broader range of investment opportunities that may be of interest.
We like Fundrise as the best Arrived Homes alternative because of its $10 minimum and low 1% annual management fee. It also has a variety of portfolios to choose from and provides diversification for investors.
RealtyMogul is another excellent alternative if you want the flexibility to invest in commercial REITs or direct deals. This is quite different from Arrived Homes' residential focus, so using both platforms could provide a nice mix of real estate investments.
The bottom line
It seems as if new real estate crowdfunding companies are popping up every year. But while many are lackluster and eventually stall, the future certainly looks bright for Arrived Homes.
Few companies specialize in residential real estate and have such a low investing minimum. And the fact Arrived Homes works with professional contractors and property managers keeps things passive. Plus, practices like its cash reserve fund help protect investors and reduce risk.
And with its successful Series A, we'll hopefully see even more investment opportunities get added to the marketplace. Until then, consider signing up for Arrived Homes and joining its waitlist so you're ready to invest when the time comes.