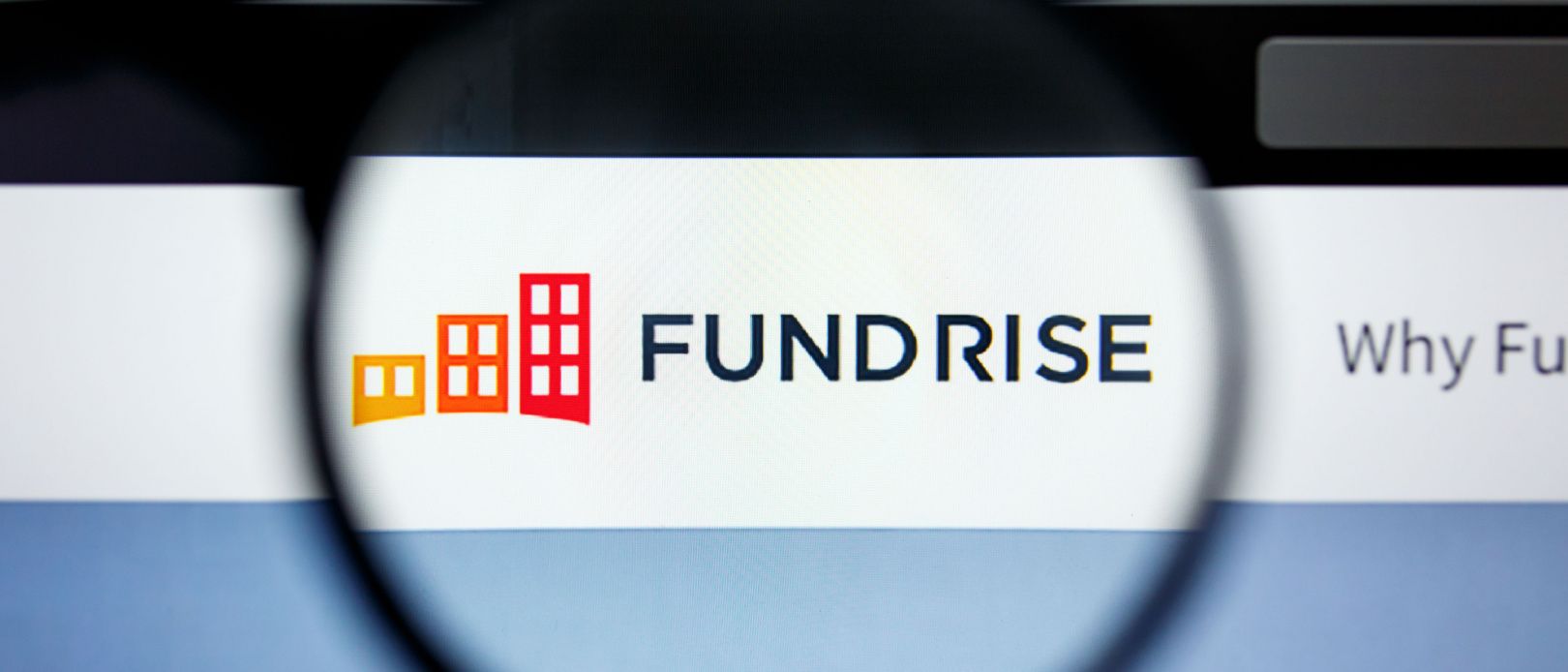 II.studio / Shutterstock
🗓️
Updated: August 01, 2023
We adhere to strict standards of editorial integrity to help you make decisions with confidence. Please be aware that some (or all) products and services linked in this article are from our sponsors.
We adhere to strict standards of editorial integrity to help you make decisions with confidence. Please be aware that some (or all) products and services linked in this article are from our sponsors.
This is a testimonial in partnership with Fundrise. We earn a commission from partner links on Moneywise. All opinions are our own.
Fundrise is one of the pioneers of online real estate crowdfunding. Founded in 2010, the platform has had some of the earliest successes in this space, allowing everyday investors the opportunity to profit from real estate offerings starting with just $10.
But Fundrise isn't the only real estate crowdfunding option on the market. And it's critical to understand how its fee structure works and what the process is like to redeem shares.
Our Fundrise review covers the pros and cons, features, account types, and liquidity concerns for this platform so you can decide if it's right for you.
Start real estate investing
Fundrise and commercial real estate investing
Commercial real estate investing can be an excellent way to grow your nest egg, although it's not without risks.
The big risk? Commercial real estate requires large amounts of upfront capital to purchase a property. To properly diversify your portfolio, you should own multiple properties, various types of features (e.g., apartment complexes, strip malls, office space, etc.) and properties in various locations.
However, one avenue for the small investor who wishes to invest in commercial real estate is through a REIT (real estate investment trust). Luckily for investors, there's an online platform that can simplify investing in REITs.
It's called Fundrise, and we think it's one of the best real estate investment services in the market today. Let's take a closer look to find out how it works, how you can utilize it, and if it's for you.
How does Fundrise work?
When you sign up for Fundrise, you can invest in its Starter Portfolio with just $10. Alternatively, Fundrise offers four different portfolio plans that have varying minimum investing minimums and grant you more control over the types of funds you invest in.
Whichever one you pick, Fundrise invests your money in an assortment of eREITs, and eFunds consisting of private real estate assets located across the U.S. Fundrise will tailor your specific allocation based on your personal investment needs.
Although your results will vary according to your plan, Fundrise pays investors in two ways:
1.

Quarterly dividend distributions

2.

Appreciation in asset value at the end of that asset's investment term. Keep in mind, though, that Fundrise's portfolios are meant to be long-term in nature so that it won't happen overnight! (Also, these returns can't be guaranteed.)
Get started with Fundrise
Fundrise features
Fundrise has changed significantly as a platform since its inception. These days, investors have far more control over the types of investing accounts they use and their overall portfolio strategy.
Some of Fundrise's main features include:
Self-Directed IRA (New) – Now, you can invest in Fundrise with pre-tax dollars and use for retirement planning. (Note that, currently, self-directed IRAs can be used only for eREIT offerings.)
Goal-Based Investing (New) – Via the Fundrise 2.0 platform, invest in real estate based upon your goals rather than types of investment or location. Goals include supplemental income, balanced investing, and long-term growth.
eREIT – A non-traded REIT that invests in multiple commercial real estates. Compared to traditional REITs, cuts out the middleman saving you on commissions.
eFund – A private fund that invests in multiple commercial real estate properties that, unlike Fundrise's eREITs, focuses on growth rather than income.
Standard & Plus Plans (New) – Once you invest $10,000 or more, you can choose between Standard or Plus plans. Both plans let you choose different investing goals. Standard plans mostly invest in eREITS and commercial real estate funds. In contrast, Plus plans can invest in more specialized real estate strategies that Fundrise's team identifies in the market.
Direct investments – By investing in Fundrise eFunds, you get to actually invest in specific real estate projects. For example, the Fundrise eFund targets debt and equity investments in homes and condos in the Los Angeles area.
Fundrise iPO (New) – Fundrise is getting ready to sell shares in the company itself via an "internet Public Offering" (IPO). To be eligible for this investment, you must have at least $1,000 in your Fundrise account and have selected one of the advanced plans. You can invest up to 25% of your total account balance in this offering
Minimum requirements to invest in Fundrise
Fundrise requires a minimum starting investment of just $10. This amount gets you the service's Starter Portfolio, a diversified mix of eREITS and eFunds with underlying real estate projects located throughout the U.S. You receive returns via quarterly dividends, as well as appreciation in the value of your shares.
With an investment of $1,000, you upgrade to the Basic Portfolio which opens up Fundrise retirement accounts, investment goal planning, and access to Fundrise iPO. And if you invest $5,000, you upgrade to the Core Portfolio which lets you choose different investing plans to match your goals.
Different investing plans Fundrise offers include:
1.

Supplemental Income: A steady income stream with a focus on dividends.

2.

Balanced Investing: A diversified portfolio made for greater wealth-building.

3.

Long-Term Growth: Designed for potentially superior returns over the long term.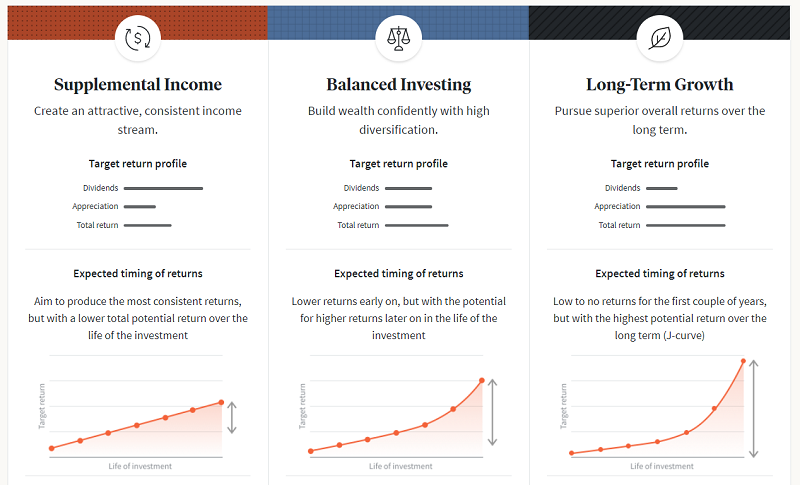 If you are unsure which one is right for you, Fundrise offers a three-step questionnaire that can help determine how you should invest.
You can also compare all of Fundrise's different account levels and perks to decide which plan is right for you:
| Highlights | Starter | Basic | Core | Advanced | Premium |
| --- | --- | --- | --- | --- | --- |
| Minimum investment | $10 | $1,000 | $5,000 | $10,000 | $100,000 |
| Standard plans | No | No | Yes | Yes | Yes |
| Plus plans | No | No | Yes | Yes | Yes |
| Potential iPO access | No | Yes | Yes | Yes | Yes |
| Auto-invest option | Yes | Yes | Yes | Yes | Yes |
| Investor goals | Limited | Yes | Yes | Yes | Yes |
| Direct investment into open funds | No | No | Yes | Yes | Yes |
But the fact that it only takes $10 to begin investing in income-generating real estate is one of Fundrise's main strengths. And after investing $5,000, you have more control over the types of investing plans you use.
How has Fundrise performed?
Fundrise publishes historical performance reports every year as well as quarterly reports. To date, it's had 21 positive quarters and zero negative quarters, with the worst quarter returning 1.15% and the best quarter returning 9.40% for investors.
Fundrise vs public REITs vs. S&P 500
| Year | Fundrise | Public U.S. REITs | S&P 500 |
| --- | --- | --- | --- |
| 2022 Q1 | 3.49% | -5.27% | -4.60% |
| 2021 | 22.99% | 39.88% | 28.71% |
| 2020 | 7.31% | -5.86% | 18.40% |
| 2019 | 9.16% | 28.07% | 31.49% |
| 2018 | 8.81% | -4.10% | -4.38% |
| 2017 | 10.63% | 9.27% | 21.83% |
As you can see, both public U.S. REITs and the S&P 500 have had quarters with higher returns. But they've also had worse quarters than Fundrise as well, so there's more volatility.
That said, always remember that past performance doesn't guarantee future performance.
Start investing with Fundrise
Fundrise fees and pricing
Fundrise charges an annual asset management fee of 0.85%, in addition to a 0.15% advisory fee. These add up to 1.0% annually. You don't pay transaction fees or sales commissions either.
However, the company can charge other miscellaneous fees like development or liquidation fees that that can add up to 2%. But for many long-term investors, Fundrise only charges 1% annually in fees.
Fundrise pros and cons
Pros
Low minimum – The minimum investment to start with Fundrise is $10.
Low fees – Fundrise charges only a 0.85% asset management fee per year.
No accreditation – Fundrise is open to any investor in the United States, regardless of income or net worth.
Diversification – Fundrise eREITs have a pool of many properties that could smooth out returns.
Commercial real estate access – Commercial real estate is typically a high-dollar investment, whereas Fundrise allows you to invest with little money.
Passive investment – Unlike owning your own commercial real estate outright, Fundrise investments are truly passive.
Quarterly redemptions and distributions – The Fundrise eREIT has adopted a quarterly redemption plan to provide periodic liquidity; however, distributions are not guaranteed.
Variety of investing goals – Fundrise lets you choose different portfolio goals like supplemental income, balanced investing, and long-term growth.
Cons
Investment liquidity – Fundrise eREITs are not publicly traded. Once you make an investment, you are pretty much committed to the investment for the term. You can sell shares before a five-year holding period, but you pay a 1% fee in many cases.
Tax consequences – Distributions are taxed as ordinary income, as opposed to the 15% tax rate on qualified dividends.
How to redeem Fundrise shares
When it comes to investing in real estate, liquidation is one crucial factor to consider. After all, real estate properties are less liquid than investing in stocks, ETFs, or even cryptocurrency in most cases.
Thankfully, Fundrise has made some positive changes to make its shares more liquid. For eREITS and the Fundrise eFund, you can request partial or full redemption of shares without paying penalties if you've held shares for 5 years or more. For shares under 5 years, you pay a 1% penalty.
As for Fundrise's Real Estate Fund and Income Real Estate Fund, there's a quarterly liquidation window in the form of quarterly repurchase-offers that carry zero penalties.
Note: In extremely volatile market conditions and tough times, Fundrise reserves the right to suspend its redemption program so investors can't sell shares.
Overall, Fundrise is a long-term investment play because of the 5 year requirement for avoiding penalties. And just note that shares aren't as liquid as other assets like stocks and ETFs.
Is Fundrise safe?
Very few investments can be considered truly "safe" — that is, with a guaranteed return. However, less-liquid real estate investments tend to give better protection from downturns in the broader market than securities such as stocks and mutual funds.
And Fundrise's portfolios of eREITs and eFunds are about as safe as you can find in the real estate space.
Non-traded REITs and eREITs are registered investments, and while they're subject to the same SEC requirements that an exchange-traded REIT must meet, they're not directly correlated with stock market fluctuations. Two downsides: There isn't the same liquidity since they're not traded on the markets, and front-end fees are higher than exchange-traded REITs.
eREIT vs. non-traded REIT vs. publicly traded REIT
| Type | EREITs | Non-Traded REITs | Exchange-Traded REITs |
| --- | --- | --- | --- |
| Publicly traded | No | No | Yes |
| Secondary market | No | Typically No | Yes |
| Front-end fees | None | 0-15% | 0-7% + broker commission |
The minimum investment is just $10 for Fundrise eREITs, and you don't have to be an accredited investor to participate. Shares of the eREITs are purchased exclusively online, and Fundrise members receive notifications when new assets are added to the eREITs.
Is Fundrise legit?
Fundrise is a legitimate real estate investment platform and is registered with the Securities and Exchange Commission as an investment adviser under the Investment Advisers Act of 1940.
It also has a low investing requirement and strong track record. However, Fundrise correctly discloses that past performance isn't a guarantee of future results or expected returns.
Fundrise alternatives
Fundrise is one of the best real estate investing platforms because of its $10 investing minimum. Few platforms offer such a beginner-friendly way to invest in real estate. And with its positive track record and variety of investing plans and funds, Fundrise has a lot going for it.
That said, some Fundrise alternatives like RealtyMogul and Streitwise may be superior to Fundrise depending on your investing goals and starting investment amount.
| Highlights | Fundrise | RealtyMogul | Streitwise |
| --- | --- | --- | --- |
| Rating | 4.5/5 | 4.5/5 | 3.5/5 |
| Minimum investment | $10 | $5,000 | $5,000 |
| Account fees | 1%/year | 1-1.25%/year asset management fee | 2% annual management fee |
| Private REIT | ✓ | ✓ | ✓ |
| Sign up | Sign up | Sign up | Sign up |
RealtyMogul has similar fees to Fundrise. But one main difference is that many equity investments have target holding periods of three to five years, which is shorter than Fundrise. The $5,000 investment minimum is much higher, but RealtyMogul focuses on investing in real estate that's generating cash flow and offers REITs and a 1031 exchange.
As for Streitwise, you pay 2% annually, which is higher than Fundrise. But Streitwise focuses on providing steady dividend income. According to its website, Streitwise has returned 8% or higher in annualized returns since 2017.
Overall, Fundrise is a well-rounded and beginner-friendly option for real estate investing. And the fact you can choose investing goals with its Basic Plan is a plus. But don't be afraid to look at some alternatives if you want more investment selection or dividend income.
Bottom line
Real estate as an asset class is a long-term investment. This includes REITs, whether they're publicly traded, non-traded or eREITs. The opportunities for capital appreciation, portfolio diversification, and regular distributions are alluring; however, distributions are never guaranteed.
While not the same as investing in real estate directly, REITs are much more passive and allow you to invest in properties outside your geographic location. Fundrise can be a way to diversify into real estate without the massive amounts of capital or management headaches involved when doing it yourself.
While I am a real estate investor, REITs have never appealed to me for several reasons — primarily because of the front-end load and ongoing fees. Fundrise takes the sting out of those investing fees with its 0.85% asset management fee.
And the fact that Fundrise only takes $10 to get started makes it an excellent way for investors to dip their toes into real estate investing.
Start real estate investing
Fundrise FAQ
What's the big advantage of REITs?

+

By pooling the funds of many individual investors, the REIT can purchase a diversified mix of commercial properties — such as office buildings, shopping centers, hotels, and apartments — that the typical investor might not otherwise be able to purchase individually. One type of REIT, an exchange-traded REIT, is available through any broker; as the name implies, its shares trade on the securities markets. Exchange-traded REITs have a few downsides, however. For one thing, their performance is heavily correlated with the broader stock market.

How are eREITs different from other REITs?

+

Fundrise's eREITs are most similar to non-traded REITs. The primary difference is in the fees. When you invest in an eREIT, you don't go through a broker -- you buy directly from Fundrise. That allows Fundrise to reduce the fees dramatically. There's no middleman, so there are no upfront fees or commissions. And rather than paying a front-end load of 7%–15%, Fundrise charges just a 1.0% annual asset management fee.

An eFund (short for Electronic Fund) invests in commercial real estate and is exclusive to Fundrise. It's similar in design to a professionally managed mutual fund, but like the eREITs not publicly traded. eFunds are set up as partnerships and not corporations, so they are taxed differently — saving on double taxation, also, like eREITs Fundrise offers these eFunds to investors without any brokers or commissions. Unlike an eREIT which is typically used for income, Fundrise's eFunds are set up for growth.
Fundrise features
Debt, Equity, Preferred Equity
Commercial, Residential, Single Family
Disclaimer: The information contained herein neither constitutes an offer for nor a solicitation of interest in any securities offering; however, if an indication of interest is provided, it may be withdrawn or revoked, without obligation or commitment of any kind prior to being accepted following the qualification or effectiveness of the applicable offering document, and any offer, solicitation or sale of any securities will be made only by means of an offering circular, private placement memorandum, or prospectus. No money or other consideration is hereby being solicited and will not be accepted without such potential investor having been provided the applicable offering document. Joining the Fundrise Platform neither constitutes an indication of interest in any offering nor involves any obligation or commitment of any kind.