How the 'pig butchering' scam works
The Department of Justice announced in April that it had seized an estimated $112 million linked to pig butchering scams.
"The victims in Pig Butchering schemes are referred to as 'pigs' by the scammers because the scammers will use elaborate storylines to 'fatten up' victims into believing they are in a romantic or otherwise close personal relationship," stated an affidavit in support of the Los Angeles seizure warrant, shared by the Department of Justice.
"Once the victim places enough trust in the scammer, the scammer brings the victim into a cryptocurrency investment scheme."
The fraudster often reaches out through a dating app, social media site, or Whatsapp. They then spend a lengthy amount of time wooing the victim before encouraging them to invest in fake crypto platforms. The money the victim thinks is being invested is instead directed to addresses and accounts controlled by scammers and their co-conspirators.
The scammers also typically create a fake website or app that shows significant gains when the victim makes their initial investment to trick them into believing the scam is real and the fake cryptocurrency is a good bet. But once the victim puts a substantial amount of money in, they'll find they're unable to withdraw it.
Sometimes the scam will continue, with fraudsters asking for additional investments, taxes or fees, promising them these payments will allow them to gain access to their accounts.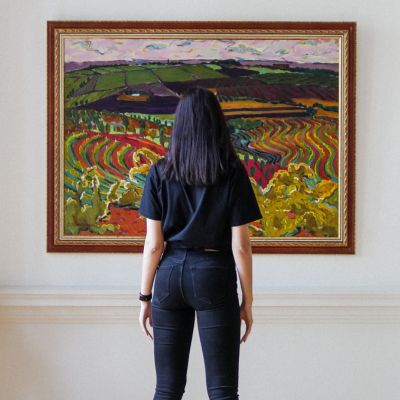 Contemporary art has outperformed the S&P 500 by 131% for the past 26 years. Join the exclusive platform to invest in million-dollar works by artists like Banksy, Basquiat, and more. Get started today and diversify your portfolio with art.
Learn More
What to watch out for
While Datta worked a high-paying job and her family was able to bail her out of debt, she still had to sell her car, look for a cheaper apartment, and contend with the emotional repercussions of the experience.
Many victims of romance fraud find themselves with heavy debt and no savings to fall back on. Here's how to avoid putting yourself in a similar situation.
Do your research. Look the other person up online to verify their identity — check for any social media accounts or LinkedIn profiles that can confirm they are who they say they are.
Watch out for "love bombing." This is the term for when a suitor creates a heightened sense of emotion or declares strong feelings early on in a courtship. This is a common red flag in romance scams.
Get them on camera. Datta told The Philadelphia Inquirer that Mali made excuses for not meeting her in person, like a business trip in San Francisco and his uncle being terminally ill. He only video chatted with her twice and both times very briefly, not letting the camera remain on his face for too long.
Keep your private details private. Talking about finances too soon or asking for financial or confidential information can be a huge red flag. Do not, under any circumstances, give out your information — you could risk falling prey to identity theft as well.
Be alert for "get rich quick" schemes. Be wary of anyone who recommends a trading app that supposedly delivers high profits, or tells you about their own big returns. Don't click on any download links to sites or apps they send you, even if they appear legitimate.
As with any investment opportunity, it's incredibly important to do your own research first and not put your money into something just because someone you trust recommends it.
Sponsored
Meet Your Retirement Goals Effortlessly
The road to retirement may seem long, but with WiserAdvisor, you can find a trusted partner to guide you every step of the way
WiserAdvisor matches you with vetted financial advisors that offer personalized advice to help you to make the right choices, invest wisely, and secure the retirement you've always dreamed of. Start planning early, and get your retirement mapped out today.