Nvidia (NVDA)
As a leading designer of graphics cards, Nvidia shares have had a solid bull run over the past decade. But that rally came to an abrupt stop towards the end of 2021. In 2022, the stock has fallen over 50%.
Nvidia's plunge is substantial even when compared to other beaten-down stocks in the semiconductor sector.
On June 17, Paul Pelosi exercised 200 call options on Nvidia (that were expiring on June 17) at a strike price of $100, valued at between $1 million and $5 million.
Then, on July 26, Paul Pelosi sold 25,000 shares of Nvidia at an average price of $165.05. According to a public disclosure, the transaction resulted in "a total loss of $341,365."
But cutting losses as an investor isn't a bad thing if that stock keeps going down — and that's exactly the case with Nvidia.
On Thursday, the U.S. government placed new restrictions on the sale of sophisticated chips — like the ones sold by Nvidia — to China and Russia. Nvidia fell 7.7% in response to the news.
Nvidia is now down about 16% since Paul Pelosi's sale on July 26.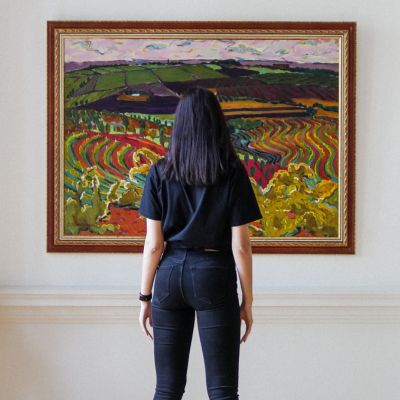 Contemporary art has outperformed the S&P 500 by 131% for the past 26 years. Join the exclusive platform to invest in million-dollar works by artists like Banksy, Basquiat, and more. Get started today and diversify your portfolio with art.
Learn More
Visa (V)
The first disclosure also shows that Paul Pelosi sold 10,000 shares of Visa on June 21 worth between $1 million and $5 million.
The Pelosis are no stranger to the credit card giant. In 2011, it was reported that they participated in Visa's initial public offering in 2008. Back then, the power couple was able to purchase 5,000 shares of Visa at the IPO price of $44.
Visa conducted a four-for-one stock split in March 2015, so its IPO price on a split-adjusted basis was $11.
Now, Visa shares traded at between $193.73 and $196.73 on June 21. If Paul sold the 10,000 shares at the day's low of $193.73, he would have received $1,937,300 from the transaction.
If those were the shares bought at the company's IPO, their cost basis would be $110,000 (10,000 shares times $11 per share), and the couple would have made a handsome profit of $1,827,300.
So far into 2022, Visa shares slipped around 9.6% — not a stellar performer, but still better than the S&P 500's 17.3% decline over the same period.
Sponsored
Meet Your Retirement Goals Effortlessly
The road to retirement may seem long, but with WiserAdvisor, you can find a trusted partner to guide you every step of the way
Wiseradvisor matches you with vetted financial advisors that offer personalized advice to help you to make the right choices, invest wisely, and secure the retirement you've always dreamed of. Start planning early, and get your retirement mapped out today.