Bank of America
Daily Journal held 2.3 million shares of Bank of America (NYSE: BAC) at the end of 2022, worth approximately $76.2 million at the time. Occupying 44% of the portfolio, that makes the bank the largest publicly traded holding at Munger's firm.
With economic turmoil forecast for this year, it's a savvy holding for Munger. While many sectors fear rising interest rates, banks look forward to them. That's because banks lend money at higher rates than they borrow, then pocket the difference.
When interest rates increase, the spread of a bank's earnings widens.
And it just so happens that Bank of America has steadily been upping its payout to shareholders.
Last summer, Bank of America boosted its quarterly dividend by 5% to 22 cents per share — and that's after the company's 17% dividend increase in July 2021.
At the current share price, the bank offers an annual yield of 3.1%.
Buffett likes the company, too, as Bank of America happens to be the second-largest holding at Berkshire Hathaway.
Read more: UBS says 61% of millionaire collectors allocate up to 30% of their overall portfolio to this exclusive asset class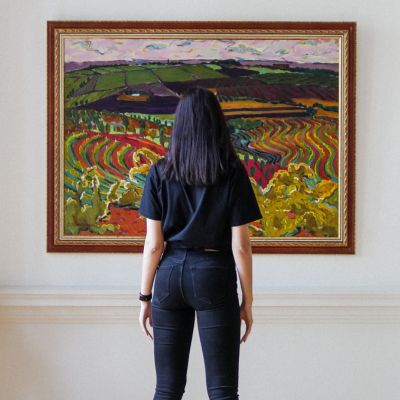 Contemporary art has outperformed the S&P 500 by 131% for the past 26 years. Join the exclusive platform to invest in million-dollar works by artists like Banksy, Basquiat, and more. Get started today and diversify your portfolio with art.
Learn More
Wells Fargo
With approximately $1.9 trillion in assets, Wells Fargo (NYSE:WFC) is another heavyweight player in America's financial services industry. It serves one in three households in the U.S. and more than 10% of small businesses in the country.
Daily Journal owned 1.59 million shares of Wells Fargo at the end of 2022, making the bank its second-largest public holding with a 38% weight.
According to the company's latest earnings report, Wells Fargo generated $19.6 billion of revenue in Q4. Earnings came in at 67 cents per share for the quarter.
Management is monitoring how higher interest rates can affect its customers.
"Our customers have remained resilient with deposit balances, consumer spending, and credit quality still stronger than pre-pandemic levels," Wells Fargo's CEO Charlie Scharf said in a statement.
"As we look forward, we are carefully watching the impact of higher rates on our customers and expect to see deposit balances and credit quality continue to return toward pre-pandemic levels.."
Wells Fargo has a quarterly dividend rate of 30 cents per share, translating into an annual yield of 3.2%.
Alibaba Group
Chinese tech stocks haven't exactly been market darlings these days. E-commerce giant Alibaba Group (NYSE:BABA) , for instance, plunged 26% in 2022 and is down more than 40% over the past five years.
But Daily Journal has kept the company as its third-largest holding. It owned 300,000 shares of Alibaba at the end of 2022 — a stake valued at $26.4 million at the time.
And the downturn in Alibaba shares could give contrarian investors something to think about.
In Q3 of 2022, the Chinese tech company grew its revenue by 3% from a year ago to $29.1 billion.
While Alibaba doesn't pay a dividend, it still returns cash to shareholders through its stock buyback program.
As of Nov. 16, 2022, the company has repurchased approximately $18 billion of its own shares under its existing $25 billion share repurchase program.
Sponsored
Meet Your Retirement Goals Effortlessly
The road to retirement may seem long, but with WiserAdvisor, you can find a trusted partner to guide you every step of the way
WiserAdvisor matches you with vetted financial advisors that offer personalized advice to help you to make the right choices, invest wisely, and secure the retirement you've always dreamed of. Start planning early, and get your retirement mapped out today.