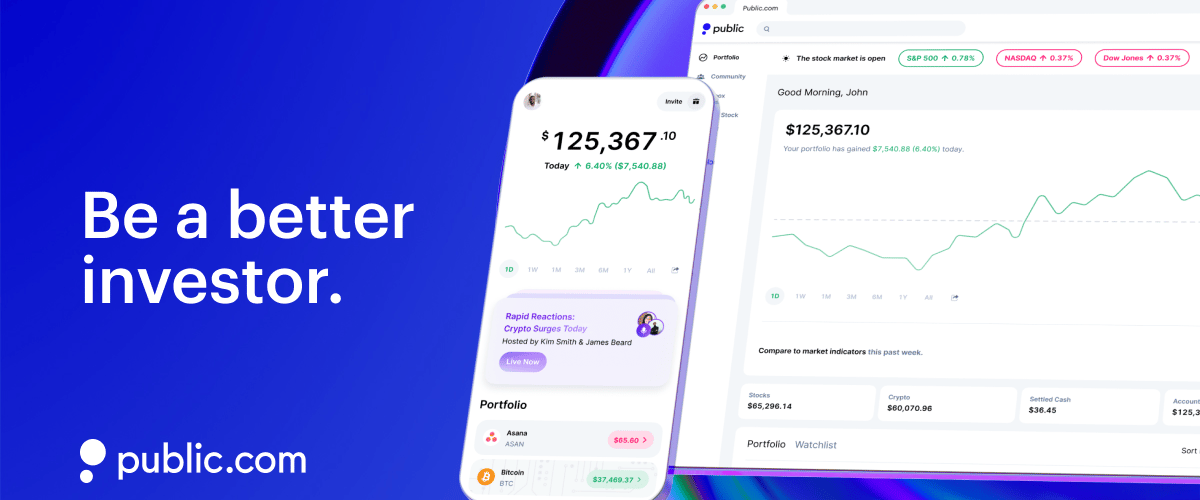 Public homepage / Public.com
We adhere to strict standards of editorial integrity to help you make decisions with confidence. Please be aware that some (or all) products and services linked in this article are from our sponsors.
We adhere to strict standards of editorial integrity to help you make decisions with confidence. Please be aware that some (or all) products and services linked in this article are from our sponsors.
A commission-free trading app for investing in any fractional asset
In this Public.com review, we're covering an investing platform that allows you to invest stocks, ETFs, crypto, and alternative assets like fine art and collectibles—all in one place. Recently, Public has been on a tear adding new features and supported assets. Here's what you need to know about what the platform offers today.
Pros and cons of Public.com
Pros & cons
Pros
Commission-free stock and ETF trading
Supports over 25 popular cryptocurrencies
Supports fractional share investing
Public Premium unlocks advanced data, tools, and insights
Alternative assets are now live with over 25 alternative assets
Cons
You can't transfer crypto to another wallet
No options, mutual funds, precious metals, or bonds
You can't trade on margin
Only offers individual brokerage accounts and not IRAs
What is Public.com?
Public.com is a free trading app that began in 2017. Public uses a third party, Apex Clearing, to handle the background administrative stuff of running Public user accounts.
Like many online brokers nowadays, Public is commission-free* and doesn't require a minimum investment. It also doesn't use Payment For Order Flow, which is when brokers receive compensation to route orders to third-parties for trade execution.
Instead, Public has a tipping feature for trades. You can decide to give a tip to the broker for executing the trade. This helps eliminate conflicts of interest between brokers and customers.
There's also a social media element to Public: The app makes your portfolio public to other users (hence the name) and gives you the ability to browse others' portfolios.
Another big draw for Public is that the app lets you buy fractional shares This means you can purchase less than one entire share of a stock. Fractional shares come in handy when you'd like to buy a share of a company trading at a high price point.
Public makes buying and selling stocks, ETFs, crypto, and alternative assets free and easy, but it does not offer some features that you may get with a larger brokerage. For example, Public doesn't support mutual funds, bonds, options, precious metals, and has somewhat limited stock research capabilities.
Public features
Investment types
Stocks, ETFs, Cryptocurrencies
Customer service
Phone and Live Chat: M-F 9A-5P ET; Email
How does Public work?
Public accounts are easy and quick to open. I was able to complete the new account signup process in less than five minutes.
Once you login and fund your account, it's easy to navigate, search for stocks, ETFs, crypto, and alternative assets, view other users' portfolios, and start trading. Plus you don't need to link to your bank account to fund your Public account. You can use a debit card, which is great for people who are hesitant about linking third-party websites to their banks.
As of now, Public only offers individual, taxable brokerage accounts. There are no IRA or joint accounts.
You can view basic details about each supported security. That includes a price history, analyst ratings and price targets, upcoming earnings events, recent news, and basic fundamentals.
There's enough information to get you started, but it may be a good idea to do more outside research before buying or selling. It's still a lot of information for a beginner to digest, but very light for an expert or advanced investor.
What does Public offer?
Over the years, Public has grown from a commission-free investing app into a much more robust ecosystem. You can still trade stocks and ETFs, but also cryptocurrency and alternatives. And there's a range of other features that this nifty investment app offers.
Fractional share investing
Instead of entering orders for a fixed number of shares, Public lets you buy fractional shares, in stocks, ETFs, crypto , and alternative assets, all in one place.
For example, if a stock costs $1,000 per share and you want to invest $100, you can buy 0.1 shares. Or if a stock costs $300 per share and you want to invest $500, you could buy 1.6 shares. That makes any stock or ETF affordable to virtually any active trader or long-term investor.
Keep in mind that Public isn't the only investing platform that lets you trade fractional shares. You'll find this feature with a few stock brokers and robo advisors we've reviewed, including Betterment, M1, Stockpile and Stash, to name a few.
However, Public acquired Otis, an alternative asset fractional share investing platform. This means that Public users can now invest in fractional shares of assets like artwork, comic books, sports cards, NFTs, and other collectibles.
T-bills
Another way to invest with Public is with Treasury bills or T-bills. These are short-term securities that are low-risk and offer higher yields than similar accounts like savings accounts.
Like high-yield savings accounts, T-bills earn reliable returns without any effort or intervention on your part. But unlike HYSAs, you'll earn the same fixed rate on your Treasury Account as long as you hold it until maturity. This rate is 5.0% as of February 2023 for 26-week T-bills. And as a nice bonus, you don't have to pay taxes on your earnings.
T-bills shouldn't replace your other investments because they won't give you the returns of things like stocks and other assets, but they could make sense as another safe place for saving. All accounts are SIPC-insured up to $500,000.
You only need $100 to invest in Treasuries with Public. Every month, a management fee equal to .05% (calculated as a percentage of your average daily balance) will be deducted from your account and disbursed to Jiko Bank, which provides banking services for Treasury accounts in partnership with Public.
Public Disclosure: All U.S. treasury investments and investment advisory services provided by Jiko Securities, Inc., a registered broker-dealer, member FINRA and SIPC. Securities in your account are protected up to $500,000. For details, please see www.sipc.org.Investments in T-bills: Not FDIC Insured - No Bank Guarantee - May Lose ValueBanking services provided by Jiko Bank, a division of Mid-Central National Bank.Jiko Group, Inc. and its affiliates do not provide legal, tax, or accounting advice. You should consult your legal and/or tax advisors before making any financial decisions. This material is not intended as a recommendation, offer or solicitation for the purchase or sale of any security or investment strategy. See FINRA BrokerCheck, Jiko U.S. Treasuries Risk Disclosures and Jiko Securities Inc. Form CRS.
Public premium
One new feature to Public is its Premium subscription that provides advanced data, portfolio management tools, and analyst insights to help investors make more informed decisions.
Public Premium costs $10 per month and provides the following perks:
Unique data on all the companies you know. Think of things like how many Teslas of a specific model have been delivered this quarter or Apple's sales per continent, etc.
Institutional-grade research from Morningstar, providing the bull and bear cases for all popular stocks, along with downloadable reporting on competitive pressures, business strategy, and more
Access to extended-hours trading — it puts an additional 5 hours trading time in the day
Ability to organize the assets in your portfolio into custom groups. Then, compare each group's performance side by side
VIP customer support for faster response times. Public calls this its "white-glove" level of customer service
Finally, Public Premium members get access to exclusive audio programming. So when there's a breaking story making the rounds, Public Premium's expert analysts promise to give you all the context you need.
Cryptocurrency investing
One new Public feature is cryptocurrency investing. The app supports over 25 popular cryptos, including:
Algorand
Chainlink
Dogecoin
Shiba Inu
SushiSwap
Uniswap
ApeCoin
There isn't a minimum investing requirement, so you can trade crypto with just a few dollars if you're testing the waters.
Public.com works with Apex Crypto to support crypto trading. This means Public doesn't have its own crypto wallet, so Apex Crypto provides custody services for your coins . You can sell crypto for cash, but currently, you can't transfer crypto you buy through Public.com to another wallet.
Overall, the lack of a native wallet is a downside for Public's crypto investing. It also supports far fewer coins than crypto exchanges like Coinbase or Gemini.
If you just want to dabble in crypto investing and eventually sell your holdings, Public gets the job done. Just remember you're limiting you options, and other exchanges like Coinbase even let you stake different coins to earn passive income.
No commissions
Public doesn't charge commissions. As with every brokerage, there may be some SEC and TAF fees. There's also a markup up on crypto transactions (more on that later).
Public investor profiles
When you sign up for a Public account, you create an investor profile with a public username. Anyone in the Public community can view your profile. You can also look at other investors' profiles for ideas and inspiration.
There are also some "celebrity" profiles that are easy to find and view. In addition, you can connect to your phone's address book to see if anyone you know already is on the platform.
Ultimately, this system helps you find more investing ideas and connect with other investors. You should still do your own research, but it's nice to see what successful investors are trading.
Town halls
Have a question for a CEO of a company you've invested in or are thinking about investing in? With Public's Town Halls, you can connect with founders and CEOs. These meetings are live, written Q&As that take place within the app.
You can also submit questions in advance and tune in live to see them answered. The sessions are usually scheduled about one to two months in advance, so check on the app to see who is joining Public's upcoming Town Halls.
Safety labels
When you go to buy a stock or ETF, Public.com will have a label on the product if it's considered risky by the Securities and Exchange Commission. While all stocks have a bit of risk, some are riskier than others and Public.com identifies those that are considered very risky.
For example, a company that filed for bankruptcy has a higher level of risk than a company that is making a profit. Knowing if a stock is riskier or not allows you to make an informed decision about whether or not to invest in that stock or ETF.
Free sign-up bonus
When you sign up for Public and fund your account with at least $20, you receive a reward valued anywhere from $3 to $300. This reward could be a fractional share of a stock, ETF, or even a cryptocurrency. You can't withdraw the cash value of the reward for up to 90 days, but overall, it's a nice incentive to open an account.
Just note that there's only a 0.1% chance of receiving a $300 reward. Most users get a $3 or $5 reward. This isn't an incredibly lucrative broker promotion, but it's very easy to complete.
Public.com pricing and fees
As mentioned, Public.com doesn't charge commissions for trading stocks and ETFs. And instead of using Payment for Order Flow to generate revenue, it uses an optional tipping system to generate revenue from trades.
As previously mentioned, Public Premium come with a monthly subscription fee of $10. And you may encounter a few other Public fees, especially if you trade crypto:
Crypto Trades: Apex Crypto charges a 1% to 2% markup fee for all cryptocurrency trades.
Domestic Wire Transfers: $25.
Returned Check, ACH, & Wires: $30.
Instant Withdrawals: Up to 2% of the amount with a $0.50 minimum and $50 maximum.
Inactivity Fees: $5 per quarter for accounts with less than $20 in value and no activity for the last 90 days.
Crypto fees seem like a downside, but you pay a similar spread fee with exchanges like Crypto.com or Gemini. If you want a more cost-effective way to invest in crypto, exchanges like Binance.US are better choices.
If you decide to test out Public, just be cautious of the inactivity fees so you don't throw $20 away. You can reference Public's full fee schedule here.
Is the Public app safe?
Public is a safe investing app, and your account is SIPC-insured. This means that each customer's securities investment is protected up to $500,000. Cash amounts up to $250,000 are also covered.
On the tech side of things, Public accounts are protected by bank-grade 128-bit encryption, and all data is secured with Transport Layer Security.
And, as mentioned, Public uses safety labels to inform its users about potential investments that are deemed risky and quite risky. You still have to do your own due diligence and research, but it's another layer Public adds to its app to help protect investors.
How to contact Public.com
You can contact Public customer support by emailing support@public.com. Alternatively, use the live chat feature within the app. Chat support is available from 9:00am to 5:00pm ET, Monday through Friday.
Best Public.com alternatives
Public is an easy-to-use investing app that's great for beginners because of its fractional share investing. Its themes and public profiles can also help point you in the right direction if you need investing ideas. And the fact it acquired Otis also means you can invest in alternative assets, which is a very unique selling point for Public.
That said, there are other commission-free investing apps you can use to trade stocks, ETFs, and crypto. And some Public.com alternatives like Robinhood and Webull might be better depending on the types of investments you want to make.
Like Public, both Robinhood and Webull offer fractional shares. These investing apps also let you trade options unlike Public. And currently, Webull supports both IRA and individual brokerage accounts, so it has more account options than Public. Robinhood just started offering IRA accounts.
As for simple crypto trading, Robinhood is your best option even though it only supports 11 coins. This is because it lets you transfer crypto in and out of your wallet. In contrast, both Public and Webull don't let you transfer crypto assets.
The bottom line is that Public's selling point is that it's public; you can learn from other investors and use its themes to find baskets of stocks you're interested in. In this sense, it's an excellent investing app for beginners. And if you want to dabble in alternatives, Public is definitely better than both Robinhood and Webull.
Just note that Robinhood gives eligible new accounts a free stock worth anywhere from $3 to $225. And Webull gives you up to five free stocks for opening and funding an account, with stocks being worth up to $3,000.
Public also gives you a free stock ranging from $3 to $300, so you can try each app to find you favorite and leverage sign-up bonuses.
The bottom line
In our view, Public is a great place for investors looking to invest in any fractional asset. The platform removes much of the confusion that holds people back from opening a stock trading account, and gives you context around your portfolio through data, insights, and analytics-to help you be a more informed investor. And if you're attracted to the community aspect, that could be another positive feature that draws you in.
Intermediate to advanced investors will likely find the offerings from Public to meet their needs if they are not looking to invest in options, mutual funds, precious metals, or bonds, as Public is helping everyone be a better investor and building a platform to do just that.. And if you're serious about crypto trading, exchanges like Coinbase or Gemini might be better alternatives.
Overall, it might not be for everyone, but Public could be a great choice for investors looking for a wide range of asset offerings. Whether it's thousands of stocks and ETFs, a collection of 25+ cryptos, or a broad selection of alternatives, it's all on Public.
Open an account at Public.com
Disclaimer - Paid non-client endorsement. See Apple App Store and Google Play reviews. View important disclosures.
Investment advisory services offered by Stash Investments LLC, an SEC registered investment adviser. This material has been distributed for informational and educational purposes only, and is not intended as investment, legal, accounting, or tax advice. Investing involves risk.
¹For securities priced over $1,000, purchase of fractional shares start at $0.05.
²Debit Account Services provided by Green Dot Bank, Member FDIC and Stash Visa Debit Card issued by Green Dot Bank, Member FDIC. pursuant to a license from VISA U.S.A. Inc. Investment products and services provided by Stash Investments LLC, not Green Dot Bank, and are Not FDIC Insured, Not Bank Guaranteed, and May Lose Value." because the article mentions the debit card.
³You'll also bear the standard fees and expenses reflected in the pricing of the ETFs in your account, plus fees for various ancillary services charged by Stash and the custodian.
⁴Other fees apply to the debit account. Please see Deposit Account Agreement for details.
⁵Stock-Back® is not sponsored or endorsed by Green Dot Bank, Green Dot Corporation, Visa U.S.A, or any of their respective affiliates, and none of the foregoing has any responsibility to fulfill any stock rewards earned through this program. Advertiser Disclosure – This advertisement contains information and materials provided by Robinhood Financial LLC and its affiliates ("Robinhood") and Moneywise, a third party not affiliated with Robinhood. All investments involve risk and the past performance of a security, or financial product does not guarantee future results or returns. Securities offered through Robinhood Financial LLC and Robinhood Securities LLC, which are members of FINRA and SIPC. Moneywise is not a member of FINRA or SIPC."