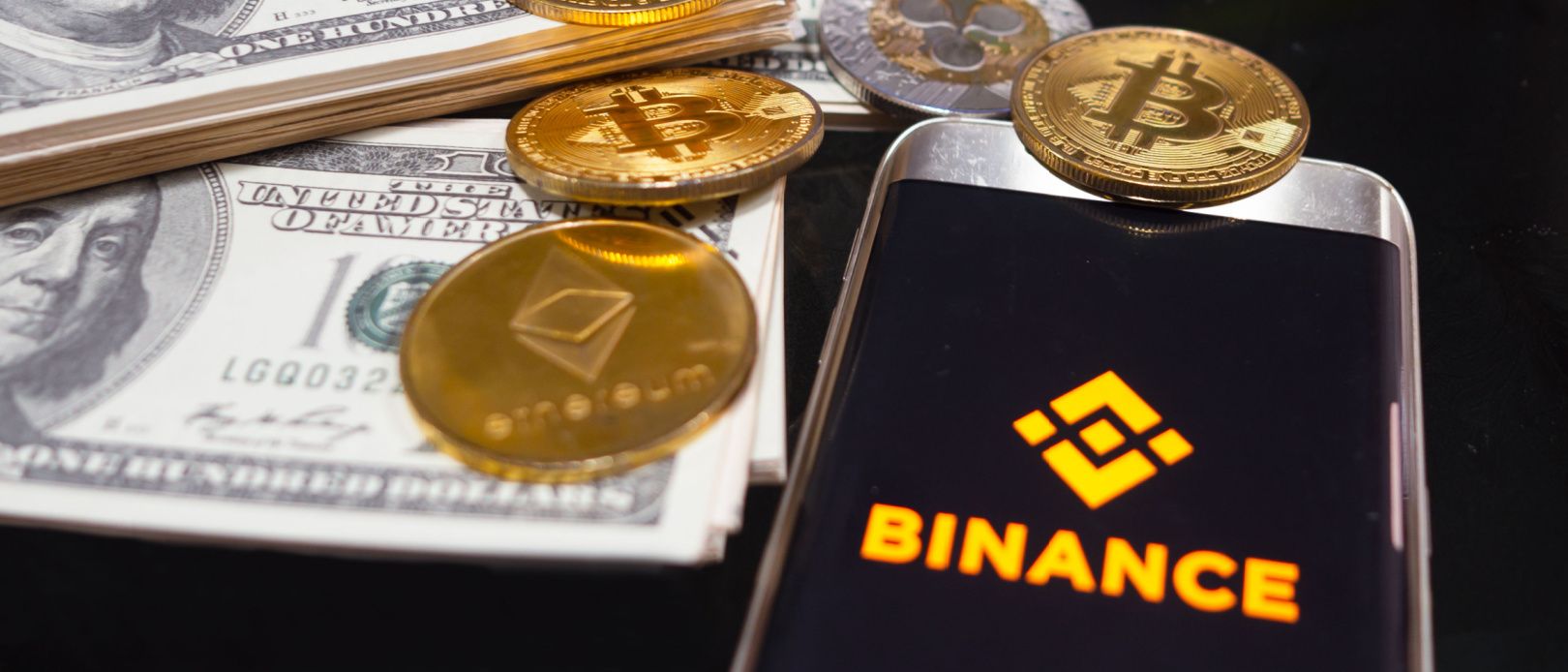 K.unshu / Shutterstock
🗓️
Updated: July 27, 2023
We adhere to strict standards of editorial integrity to help you make decisions with confidence. Please be aware that some (or all) products and services linked in this article are from our sponsors.
We adhere to strict standards of editorial integrity to help you make decisions with confidence. Please be aware that some (or all) products and services linked in this article are from our sponsors.
If crypto is a decentralized, global payment system, why does the world's largest crypto exchange need a U.S.-only branch?
Well, in 2017, Chinese crypto billionaire Changpeng Zhao founded the global crypto exchange Binance. Then through a combination of extremely low fees, clever marketing and simply outpacing regulators, Binance's popularity exploded to make it the world's largest crypto exchange within 180 days.
Regulators soon caught up, however, and Binance started receiving complaints from regulators — or outright bans — in several countries. These included the UK, Thailand, Canada, Italy, South Africa, Japan and finally, the U.S. Reasons ranged from not registering to do business, tax evasion, securities violations and even accusations of money laundering.
So while no actual charges have been filed in the U.S., Binance still needed a "diet" version of the platform to pass regulations and provide uninterrupted service to U.S.-based traders while "big" Binance handled the red tape.
Enter Binance.US. So what is Binance.US? How's it different? Is it too watered down? Or does it manage to capture the best qualities of its progenitor? Perhaps most pertinent, is it operating on the straight and narrow
Let's investigate Binance.US.
Binance pros and cons
Pros
Incredibly low trading fees
Holding BNB lowers trading fees even further
Free tax portal
Robust and readable Binance Academy
DIY security toggles from main dashboard
Cons
Still under regulatory scrutiny like its parent company
Very limited customer support
Not available in Hawaii, New York, Texas or Vermont
Only 90 cryptos supported compared to Binance's 600+
Unclear security measures
Who is Binance.US for?
Binance.US is for the U.S.-based trader who values low trading fees above all else. It could also be a great choice if you happen to believe in the future of Binance Coin (BNB) or you want easy access to your crypto tax documents. However, Binance.US won't be the right crypto exchange if you're looking for top-notch customer service or you want access to the largest number of available cryptocurrencies. And traders should know that Binance is currently under intense scrutiny from a variety of U.S. regulatory authorities.
What we like about Binance.US
Usability
One area where Binance.US shines is usability and site design.
On the main dashboard you can clearly see your portfolio balance and progress to one of Binance's VIP levels, open orders and favorites. And you can even toggle some security features on and off in one click.
I also like how each crypto gets its own page with historical data next to a simple, intuitive trading window.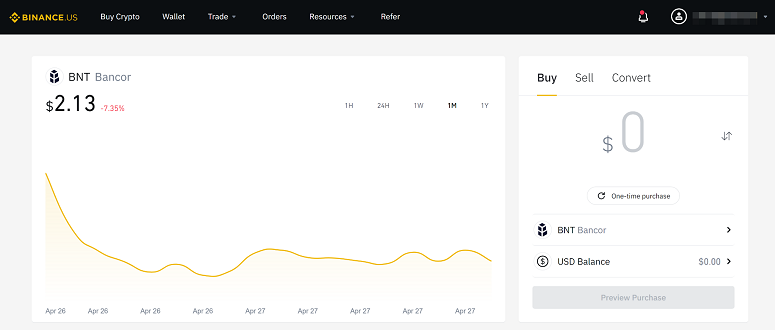 Binance Coin (BNB)
Binance's proprietary crypto, BNB, doesn't just power Binance's ecosystem. It's also one of the world's top-traded cryptos. And it grants Binance.US users access to lower trading fees.
Even low-volume traders save 25% if they pay their trading fees with BNB. (FYI: Binance.US deducts trading fees from your BNB balance by default.)
Speaking of trade fees…
0.1% trading fees (or lower)
Binance.US charges a 0.1% (or less) trading fee, which can be lowered even more by using BNB to pay the fee.
VIP level
30-day trading volume plus BNB balance required
Standard fee
Fee if paid in BNB
By comparison, Coinbase charges around 0.6% for Coinbase Pro traders and even more for those who use the main Coinbase exchange.
Needless to say, Binance.US's mind-blowingly low fees is perhaps its biggest draw to crypto traders of all experience levels.
Binance offers fee-free Bitcoin trading
Binance.US recently announced it's removing spot trading fees for Bitcoin and has plans to look at removing fees for other coins as well. It's not earning spread fees either on BTC trades.
This move to fee-free Bitcoin trading comes as competition between crypto exchanges is at an all-time high to retain customers. Coinbase's stock dropped following the news, and all eyes are on Binance and the other major players in the space to see how future trading models might compete to win business.
Easy tax reporting
Investors must pay capital gains tax on their crypto profits. And in order to avoid a nastygram from the IRS, you need to submit a detailed report — including timestamps — of your trading activity for the whole year.
Thankfully, Binance.US lets you export your tax documents instantly and free. They're always just a click away in your dropdown menu.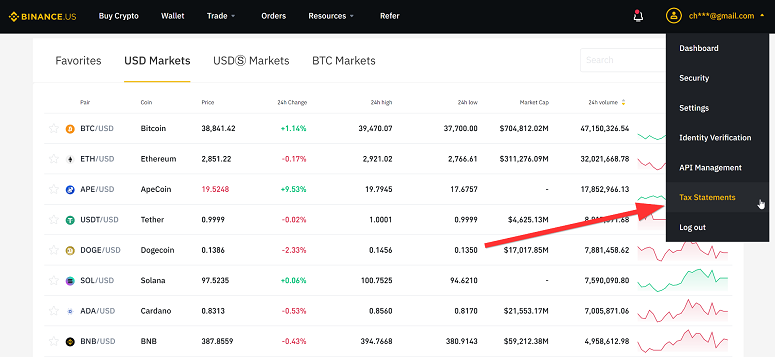 While free tax reporting isn't unique to Binance.US, it's becoming increasingly essential. So it's worth highlighting when it's offered.
Binance Academy
Last but certainly not least, Binance's free learning center, Binance Academy, definitely deserves a shout-out.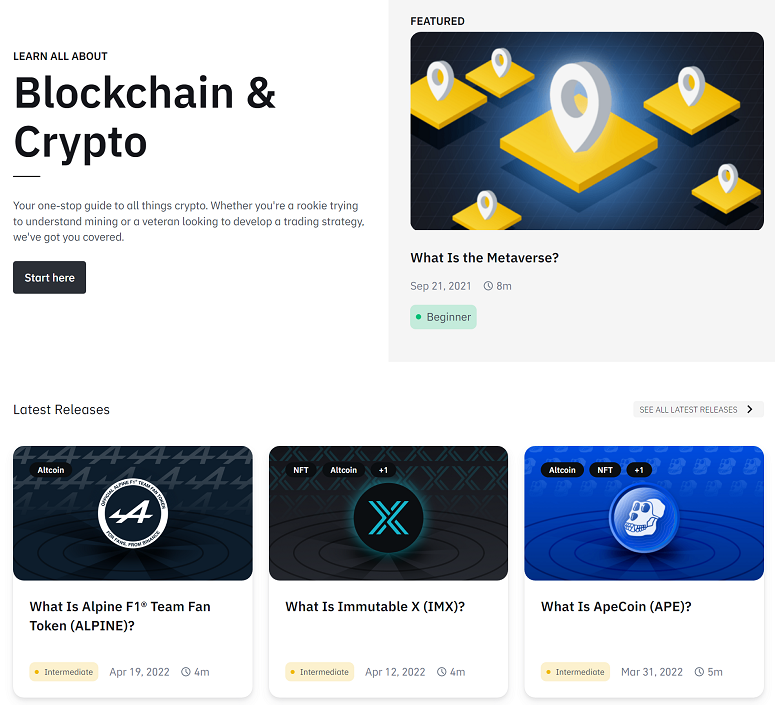 Both Binance and Binance.US offer this free learning library chock full of helpful articles explaining concepts like ApeCoin, crypto taxation and the metaverse.
And as a nice added touch, each article includes a difficulty rating, an estimated read time and even a TL;DR (too long; didn't read) to summarize each piece.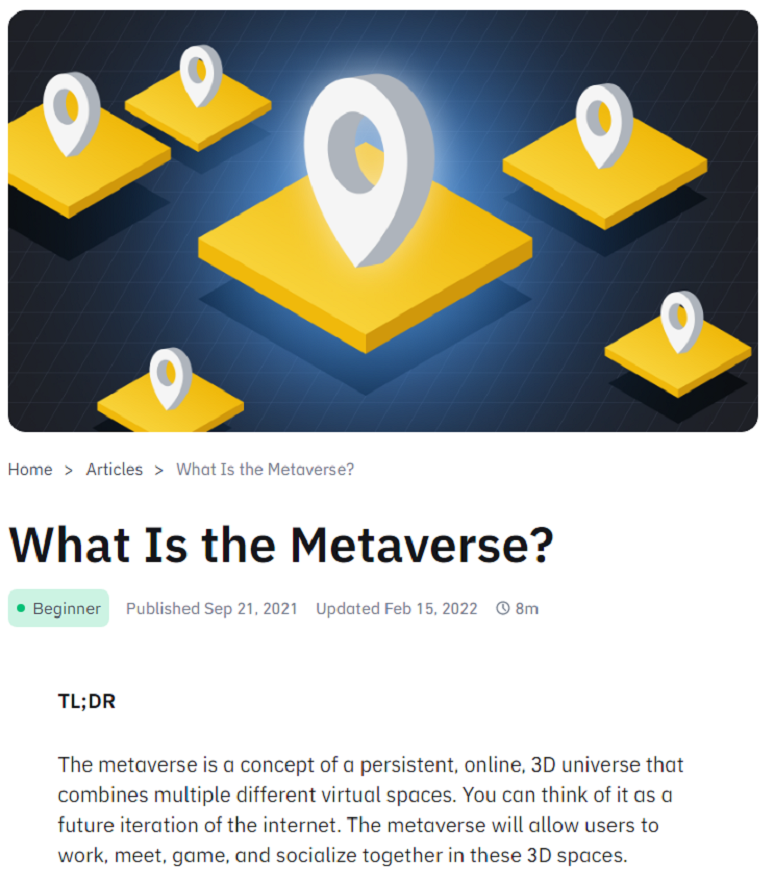 So that covers some of the strengths of Binance.US. It's got a slick proprietary crypto, easy tax reporting, low fees and a generous learning library.
Now, let's talk about some areas for improvement.
Where Binance.US could improve
Clunky support
Binance.US features live chat and email support. The live chat function is a bit clunky and misleading. And the form for submitting a support ticket is unnecessarily long and tedious. (More on this below.)
Limited crypto selection
While Binance's global platform boasts over 600 cryptos, U.S. users are restricted to "just" 90.
That's plenty for casual traders but not enough for hunters of obscure altcoins.
Unclear security protocol
Binance.US does not have a page dedicated to explaining its security technology. Even if it's the same protocol as Big Binance, it still falls a little short of competitors whose security protocols include attack testing or actual armed guards protecting their servers.
Regulatory scrutiny and overall shadiness
Finally, the #1 drawback of using Binance.US — the one that's captured headlines for years — is the parent company's shady nature.
Buckle up, because there's enough drama here to fill a Netflix series.
No physical address
To start, Binance has no physical address. Granted, neither does Coinbase or Kraken, but that's only because those companies shuttered their San Francisco offices due to cost and safety concerns.
Binance, on the other hand, seems to avoid staying in one place for too long in order to "remain opaque in [its] operations" and "dodge quite a few legal actions," writes CoinGeek.
Basically, each time local regulators come a knockin', Binance doesn't open the door — it climbs out the back window, Frank Abagnale Jr.-style.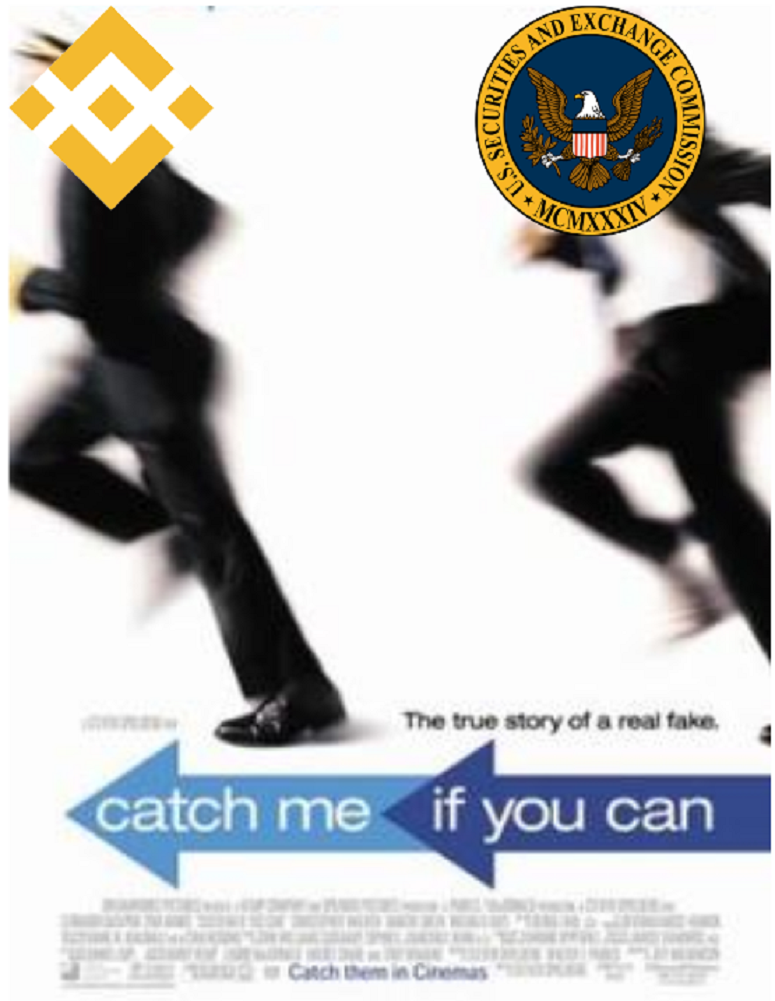 Between 2017 to 2019 it moved operations from China to Japan, then to Taiwan, and then to Malaysia before finally landing in "crypto haven" Malta.
But despite a personal welcome from the prime minister, Binance's Maltese honeymoon was short lived. After the Times of Malta reported that some users on the island had their wallets mysteriously emptied, the MFSA — Malta's equivalent to the SEC — started asking questions.
So Binance bailed, this time heading for the Cayman Islands where — you guessed it — it's now under regulatory scrutiny.
Feigned interest in compliance
Ironically, founder Zhao is famous for saying that crypto needs more regulation — he even expanded his compliance team by 500% to play ball.
But in an interview at Ethereal Summit 2021, Zhao defended the company's notorious HQ–hopping by saying, "Everybody's definition of a headquarters is slightly different."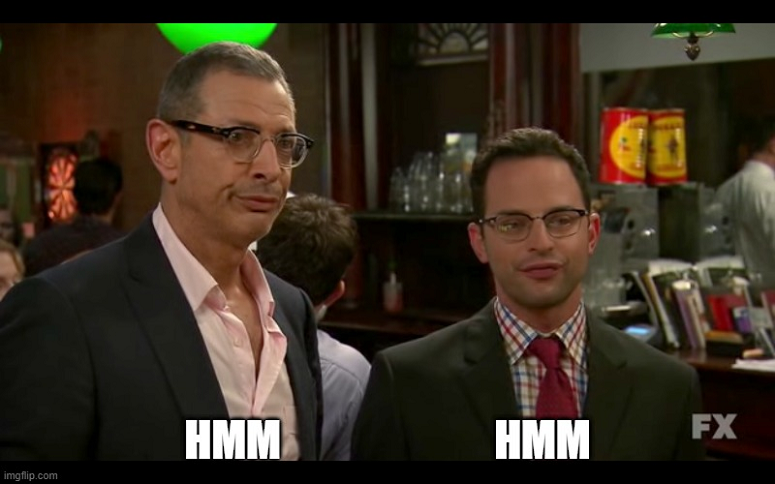 So what about Binance.US?
In 2018, a Forbes investigation uncovered an internal document indicating that Binance.US — then codenamed "Tai Chi" — was specifically launched to "distract regulators with feigned interest in compliance" and to "insulate Binance from U.S. enforcement."
But if that's true, it didn't quite work out that way.
As of April 2022, Binance Holdings Ltd. is under investigation by the SEC, the Commodity Futures Trading Commission, the IRS and the U.S. Department of Justice for a litany of potential financial crimes ranging from securities violations to insider trading.
Now, it's entirely possible that Binance's intense regulatory scrutiny is simply the result of some misunderstandings — not institutional malfeasance.
After all, no actual charges have been brought. Nor has it been hit with fines (unlike some of the competition).
Plus, Binance's Crypto Against COVID drive raised $9.6 million for COVID relief. And it recently donated $10 million to humanitarian efforts in Ukraine.
Moral quandaries aside, I think this also creates tangible risk for Binance.US traders. On a 1–10 scale of "How likely will my crypto platform get busted tomorrow," Binance.US probably isn't a 1.
Supported cryptocurrencies
While Binance's global platform boasts over 600 cryptos, U.S. users are limited to 90. You can see the complete, most up-to-date list here.
90 may be plenty for casual traders but isn't nearly expansive enough for anyone looking to HODL (hold on for dear life) obscure new altcoins.
Fees and limits
Here are Binance.US's major fees, which are extremely low compared to the competition and thus one of the platform's overall selling points.
0.1% spot trading fee (with a 25% discount if paid in BNB) with the exception of Bitcoin
0.5% buy/sell crypto fee (with a 25% discount if paid in BNB)
ACH fee: $0 deposit, $0 withdrawal
Wire fee: $0 deposit, $15 domestic withdrawal, $35 international withdrawal
Debit card fee: 4.5% deposit
Crypto withdrawal fee: varies by crypto, see full list here
How to contact customer service
Binance.US offers both a virtual assistant to help with basic queries and a support ticket system to get a response from a human.
However, as previously mentioned, the virtual assistant (VA) is a little clunky and misleading and in need of some tweaking.
The VA starts by implying that it will connect you to a live rep if necessary, only to follow up with, "There is no live chat option at this time."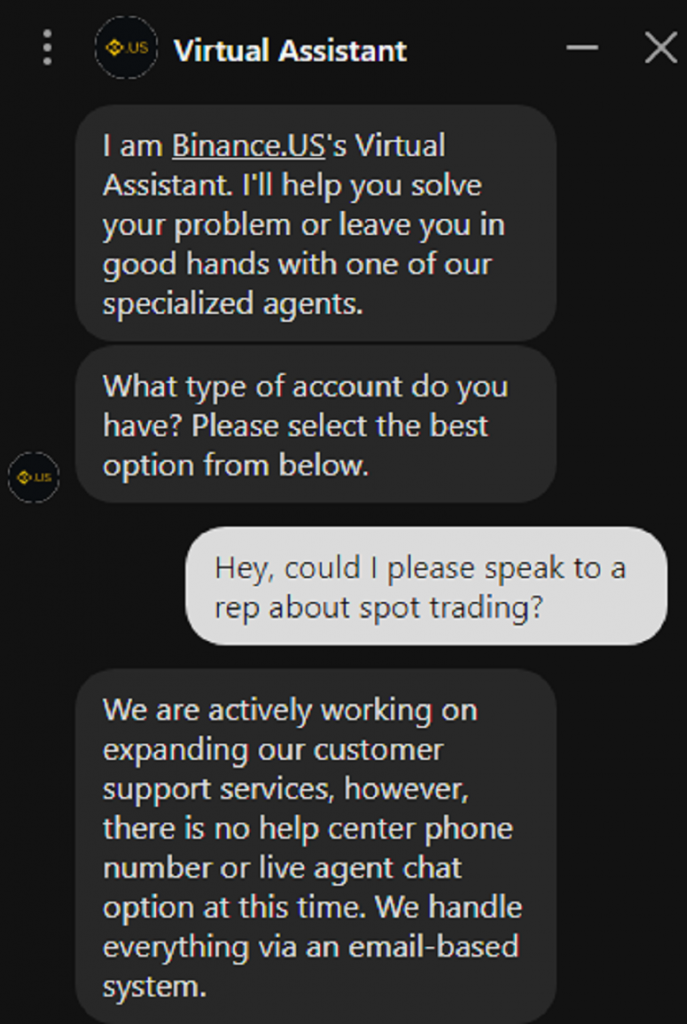 Instead, it says it'll help you generate a ticket. So you play along and it apologizes for your long wait?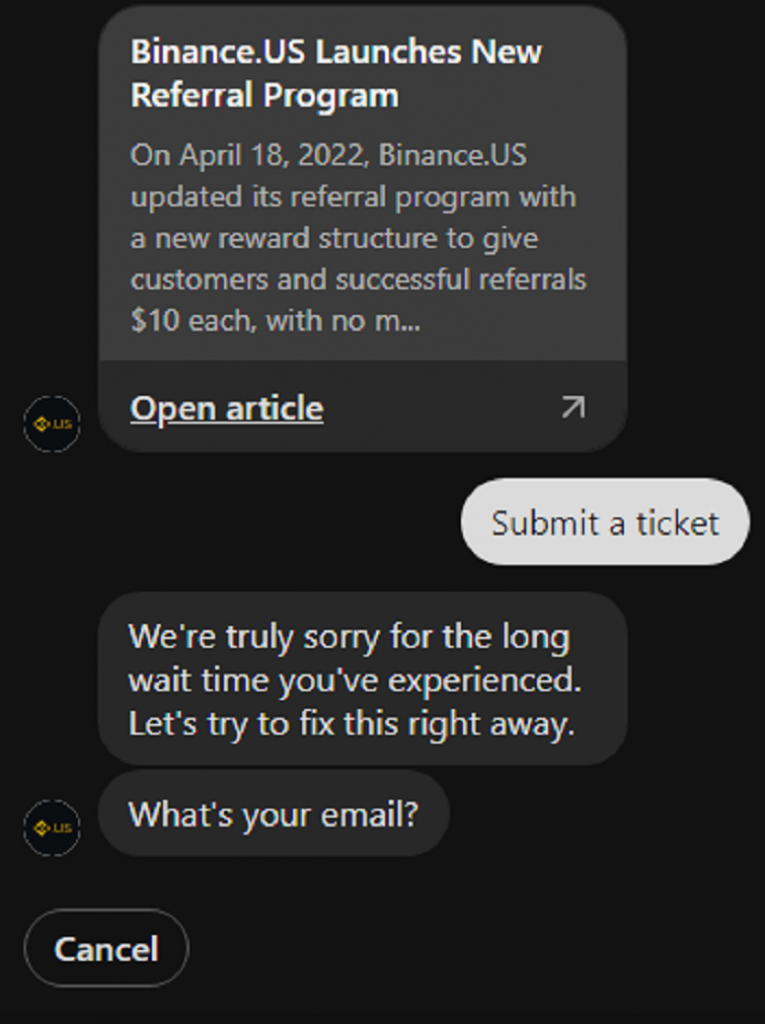 When you bail on the virtual assistant and go straight to the ticket submission page, you're presented with 11 fields to fill out.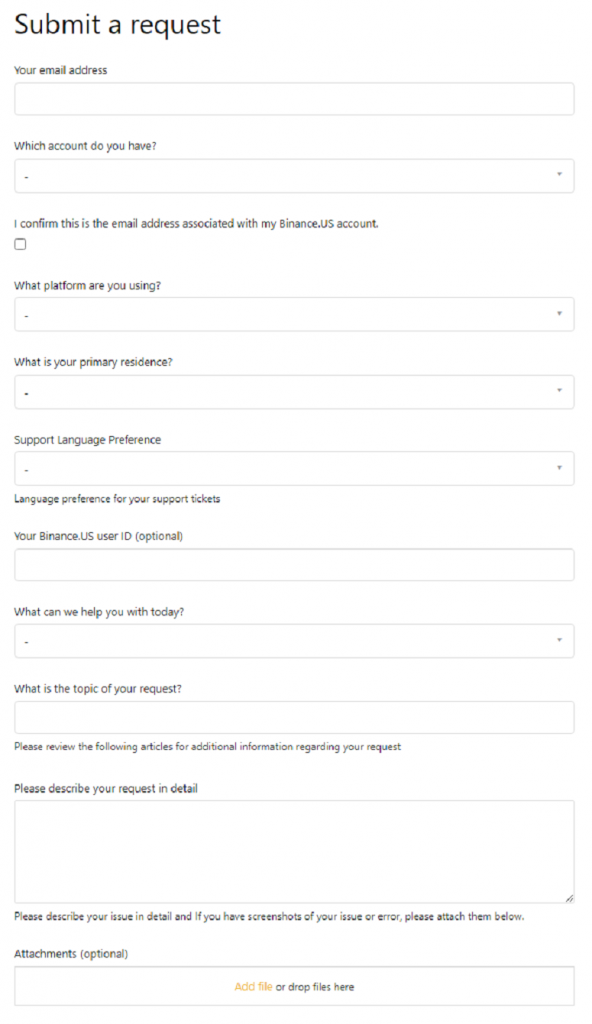 Ugh.
Binance.US tells you to expect a response from support@binanceussupport.zendesk.com, but I discovered that you can actually just skip the form and email that address directly.
Both responses — via ticket and via direct email — came within 18 hours or so.
Support tickets with less than a 24-hour response time used to be the norm in crypto. But in 2022, with Coinbase having live chat and phone support, the standard has risen.
Read our comparison of Coinbase vs. Binance.
Account opening process
To create an account on Binance.US, click "Get Started" from the homepage.
Then verify your account via SMS, complete an ID check and — Bob's your uncle — you'll be brought to the main dashboard.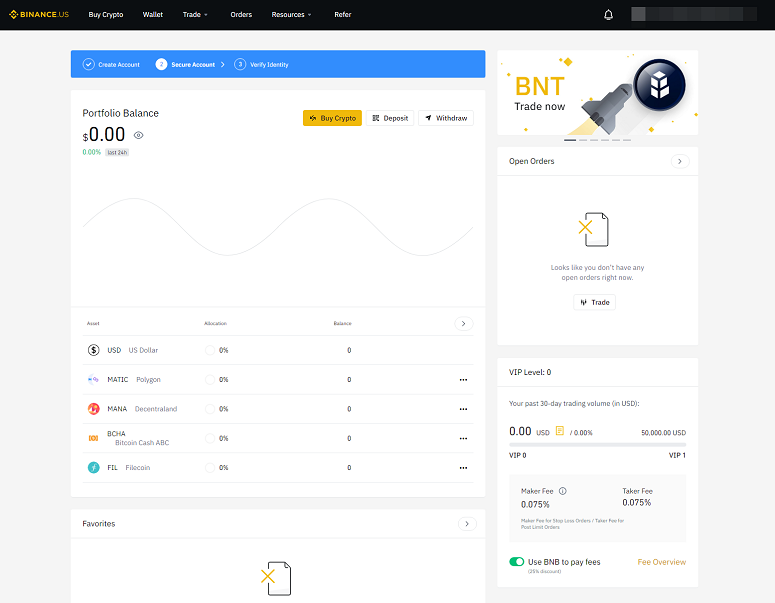 To start trading, link a bank account for direct withdrawals. You can buy crypto with a debit card, but the fee is high.
That's it! Pretty simple and straightforward and virtually the same process you'll find elsewhere.
How safe is Binance.US?
Binance.US offers plenty of tips on how you can secure your account — such as activating both 2FA and anti-phishing code — but it doesn't really divulge how it secures your account.
Big Binance uses the basic tactics employed by other high-end exchanges (cold storage, end-to-end encryption, etc.) but it's not clear whether these extend to Binance.US servers.
I don't think your Binance.US wallet will get emptied tomorrow. But if security is of the utmost importance to you and you plan to HODL in a hot wallet, you may want to trade on a platform that maximizes — and publicizes — its rigorous security measures.
Best alternatives
Not sure that Binance.US is right for you? Check out how it compares to Coinbase and Gemini which are two the most popular U.S.-based cryptocurrency exchanges today:
Supported coins
100+ in the U.S (600+ globally)
Minimum trade
Varies by asset (0.00001 BTC for Bitcoin)
Fees
Coinbase: $0.99 to 3.99%Coinbase Pro: 0.60% taker fee and 0.40% maker fee for trades up to $10K
Gemini: $0.99 to 3.49%Gemini ActiveTrader: 0.40% taker fee and 0.20% maker fee for trades up to $10k
Spot trading fee: $0.1%Buy/sell fee: 0.50%
The bottom line
I think if Binance finally chose an HQ, faced the regulatory music, paid whatever fines arose and beefed up its customer service, it could easily dominate the competition.
After all, it's already brandishing Coinbase's kryptonite: low fees that are also transparent.
But as long as it remains difficult to get answers from it — whether it's regulators calling or simply its customers — it remains difficult to recommend it.
More on Binance and crypto: