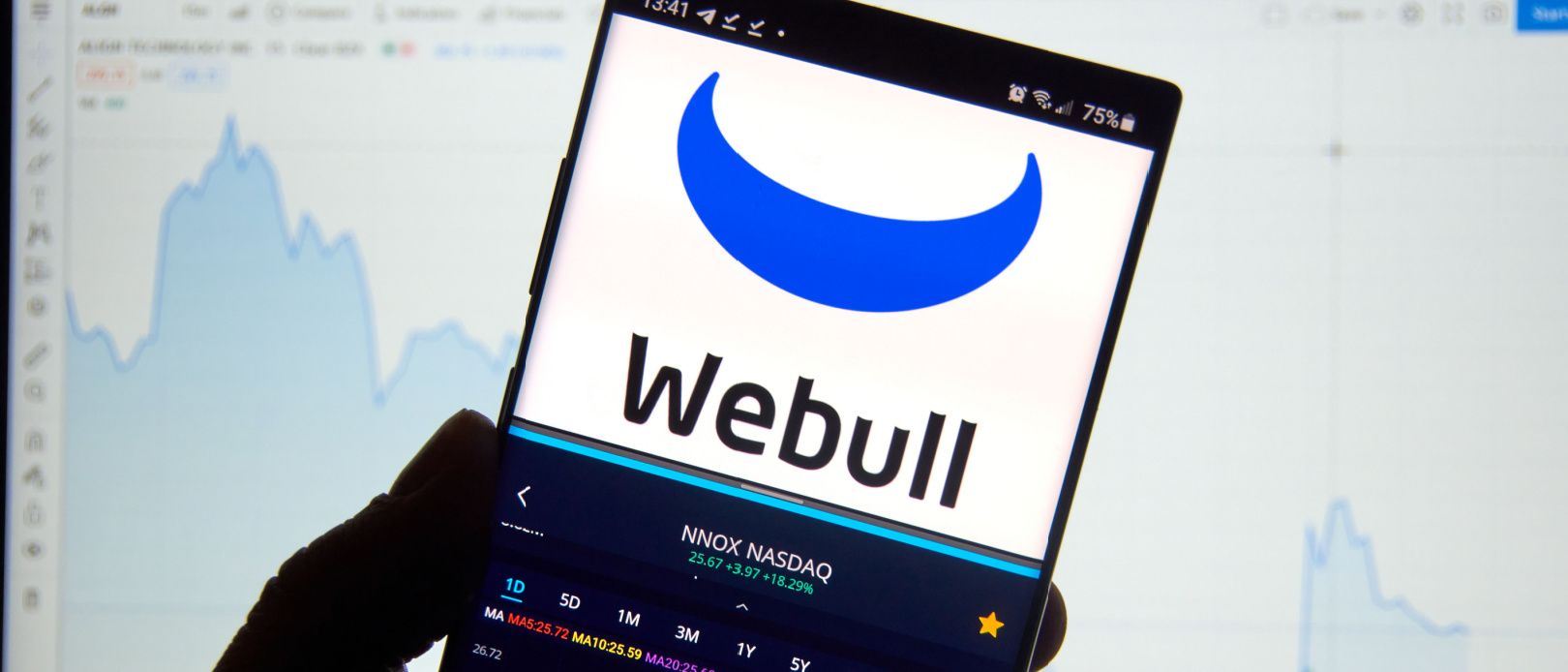 Webull review: All-in-one stock and crypto trading platform
dennizn / Shutterstock
🗓️
Updated: July 26, 2023
We adhere to strict standards of editorial integrity to help you make decisions with confidence. Please be aware that some (or all) products and services linked in this article are from our sponsors.
We adhere to strict standards of editorial integrity to help you make decisions with confidence. Please be aware that some (or all) products and services linked in this article are from our sponsors.
If you're looking for a brokerage for active trading with low costs and a great mobile-first experience, you should know about Webull. Webull quickly emerged from its fairly recent opening in 2017 to be a favorite for active traders looking for a low-fee experience.
Webull orients its platform toward tech-savvy traders who can handle most of their accounts and trading needs on their own. If that sounds good to you, read more to learn about how Webull may be a good fit for your investment and trading needs.
Webull is a mobile-first trading platform optimized for iPhone and Android phones. It also runs a platform to trade on the web. And it offers native desktop platforms for Windows and Mac.
Webull adds features faster than just about any competitor out there. Since it's initial launch, it's already added added options trading and cryptocurrency trading.
But while crypto support is a key differentiator, Webull still doesn't support as wide of a range of investments and account types as some of the bigger discount brokerage firms. But for what it does, it does a very good job.
What is Webull?
Webull is an online brokerage firm with mobile, desktop, and web trading platforms. It is free to use with no commissions to buy or sell stocks, exchange-traded funds (ETFs), options, and crypto. This platform was free before all of the big investment firms were doing it.
Webull's main competitor is Robinhood. Robinhood also offers free trading but with less impressive active trading features. If you're deciding between Robinhood and Webull, Webull is definitely the better choice today.
The brokerage has more than 9 million users around the world. It doesn't disclose assets under management, but one estimate pegs it around $4 billion across all customer accounts.
Webull has offices in China and New York. The technology comes from the Hunan offices, China, and customer operations operate from New York City. It's also a subsidiary of a multinational Chinese company, Fumi Technology.
Webull features
Investment types
Stocks, ETFs, Options, Cryptocurrencies
Accounts Types
Taxable, Traditional IRA, Roth IRA
What makes Webull great?
Here are a few of Webull's top features that you're likely to appreciate:
Commission-free stock & ETF trading
The flagship feature of Webull is trading stocks with no commissions or fees. Stocks are limited to stocks on major markets for the most part. You won't see any OTC or pink sheet stocks on Webull.
Completely free options trades
Not only do options trade commission-free on Webull, but there aren't any per contract fees either which is still very unusual in the brokerage industry. Still, you should make sure you know what you're doing when you wade into these waters because options trades can be risky. Check out our primer on options trading to learn more.
Trade crypto 24/7
Webull supports 30+ coins and has a rock-bottom trading minimum of just $1. And just like with its other trading platforms, Webull's crypto platform includes loads of live data, technical indicators, and customizable charts.
Level 2 options trading
Webull supports both Level 1 and Level 2 options trading, with Level 3 slated for the future.
Level 1 allows you to enter covered calls and cash-secured puts.Level 2, which requires additional approval, allows for long calls and long puts.Level 3 enables a riskier spread betting and will come later in 2020.
Level 1 allows you to enter covered calls and cash-secured puts.
Level 2, which requires additional approval, allows for long calls and long puts.
Level 3 enables a riskier spread betting and will come later in 2020.
Live market data
Even if you're not looking to buy or sell, you can log in for live market updates and pricing. You can customize the market homepage for data from a handful of countries and regions, including the United States, global markets, cryptocurrencies, and others.
Advanced quotes
Get more and faster quote details with an advanced quote subscription. Most markets are available for less than $10 per month. You'll pay a bit more for advanced data from the London Stock Exchange and Hong Kong Stock Exchange and Toronto Stock Exchange, as well as the most advanced Nasdaq views.
Paper trading
Play the stock market game with paper trading. Paper trading uses virtual dollars in your account so you can test different strategies without risking real money.
How does Webull work?
Log into the Webull app to manage all of your account needs. That includes funds transfers, basic account management, and viewing key details about your account. Here is a more in-depth look at some specific trading features you should know about:
Stock trading
No-fee trades are easy to enter and monitor in any of Webull's platforms. Once you fund your account, just open the page for the stock you want to trade and hit the big blue "Trade" button at the bottom to enter a number of shares.
The stock trading screen gives you a handful of popular choices for how to enter your trade. That includes limit, market, stop, and even OTO (one-triggers-the-other) conditional trades. The technology at Webull makes it fairly straightforward for experienced investors to enter even somewhat complex trades.
You can participate in extended-hours trading. Or add take-profit or stop-loss conditions for a stock. Some stocks are not available, including pink sheet and OTC stocks. But for most stocks, ETFs, and American depositary receipts (ADRs) on major markets, you can view and trade in your Webull account.
Options trading
To trade options on Webull, enter the symbol of the security you want to trade like you were going to buy or sell the stock. But instead of entering order details and clicking the buy or sell button, tap on the menu option appropriately named "Options."
Trading options require a brief application, which is common among all brokerages. According to Webull, approval typically takes one business day.
The options screen shows you the option chain for the stock, as well as a range of important details. You can view calls and puts, bid/ask spreads, strike prices, and a group of useful data points. Click the menu at the top and choose between Straddle View and ListView. And sort strike prices in either ascending or descending order.
There are not as many advanced charting features as some larger brokers for active trading, but it does the job well for most users.
Crypto trading
Webull users can trade crypto 24/7. Currently, the platform supports over 30 cryptocurrencies and stablecoins. That includes behemoths like Bitcoin and Ethereum as well as popular altcoins like Dogecoin, Shiba Inu, and even Decentraland.
Further reading: How to invest in Bitcoin?
Is Webull risky to use?
Some people may be nervous about signing up and hand money over to an online brokerage that's just a few years old. While those are normal concerns, Webull takes strong measures to protect your assets and investments on their platform.
Apex Clearing, a major player in investment account management, handles the trades. Webull is registered with the SEC and a member of FINRA and SIPC. Accounts are insured by the SIPC up to $500,000 ($250,000 cash). Apex Clearing provides additional insurance, with limits up to $37.5 million per customer. Unless you have tens of millions of dollars on the platform, you should be fairly well protected up to your entire account value.
Some investors may worry about opening an account with a brokerage that's a subsidiary of a company based in China. Webull is legally headquartered in the United States, but it's up to you to decide if you're comfortable working with an international company for your brokerage needs.
Webull alternatives
How does Webull make money?
Because you can sign up and trade for free, you might be curious about how it makes money. They're not a charity after all. Here are a few ways Webull earns revenue from you or your account:
Paid data subscriptions: Subscription prices range from $2.99 per month to nearly $60 per month for some data sources.
Interest on cash balances: Uninvested cash in your Webull account earns interest for Webull, similar to your savings account.
Margin fees: Margin traders pay fees to Webull to use leverage. This is common among brokers who offer margin accounts.
Order flow management: This part is a bit more complicated and sometimes controversial. When you enter an order, Webull and Apex Clearing may receive a very small fee (fractions of a cent in many cases) to route the order through a specific market maker. Fractions of a cent millions of times add up, just like in Superman 3 and Office Space.
Markups on crypto trades: While Webull doesn't technically charge any crypto trading fees, it does charge a spread of 100 basis points (1%) to each trade.
Summary
Webull doesn't try to be everything for every investor. But if you're the type of investor who would enjoy a technology-heavy brokerage experience with low costs, you'll probably find yourself very happy with Webull.
This brokerage is best for people who can handle their own customer service and have some investing knowledge and experience. If that sounds like you, definitely consider giving Webull a try.