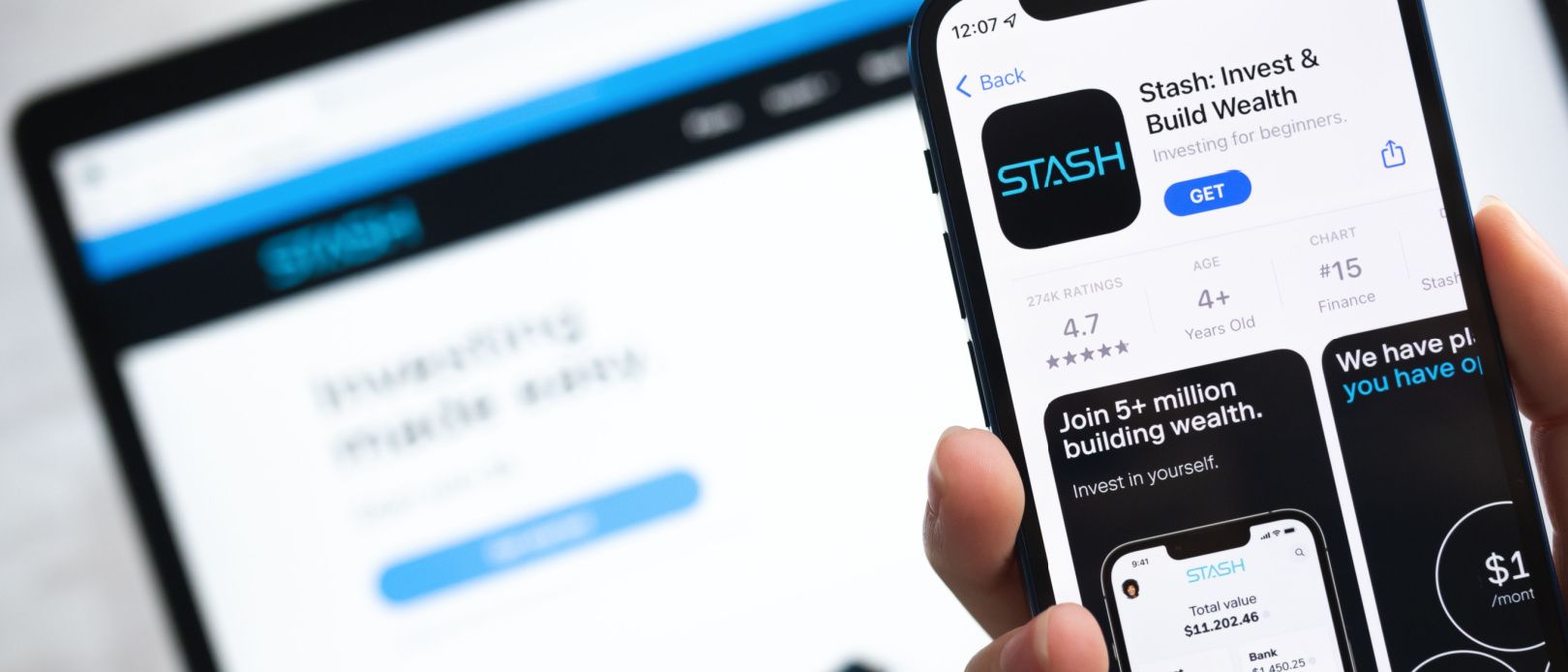 Stash Invest review: A more flexible micro-investing app
FellowNeko / Shutterstock
🗓️
Updated: November 29, 2023
We adhere to strict standards of editorial integrity to help you make decisions with confidence. Please be aware that some (or all) products and services linked in this article are from our sponsors.
We adhere to strict standards of editorial integrity to help you make decisions with confidence. Please be aware that some (or all) products and services linked in this article are from our sponsors.
Getting started with investing can be tough when you don't have a lot of capital to devote to it. For many folks, one of the biggest psychological barriers keeping them from investing is that they don't believe they have enough money.
But that doesn't have to be the case. Stash is here to show how you can get started with just a few dollars. Here's our Stash review.
Stash is a personal finance app for newbie investors, with great educational tools and a low minimum required deposit. Unfortunately, its fees run a bit high, making it costly for smaller accounts.
Stash requires no minimum balance in your personal portfolio, and there's also no minimum investment required to begin. So it can be a great place to start if you want to learn how to invest but don't have a lot of cash to do so.
We took Stash for a test drive, and this is what we found.
Stash Invest features
Growth Plan: $3/month; Stash+ Plan: $9/month
Traditional IRA; Roth IRA; Checking account
ETFs and stocks used: Stash users can choose among thousands of stock and ETF investments, and its Diversification Analysis tool will keep track of how your investments compare and provide investment recommendations based on your risk level to help you diversify.
SIPC protection: Your funds with Stash are held by the clearing agency Apex Clearing Corporation which is a member of the Securities Investor Protection Corporation (SIPC) (see below).
Third-party clearing agency: Investments with Stash are held through the Apex Clearing Corporation, a third-party SEC-registered broker-dealer and member FINRA/SIPC. Apex is the firm that handles the custody of assets, reporting, trade confirmation, settlement, and securities delivery in Stash.
Fractional shares: Stash allows you to invest in fractional shares, meaning you can hold less than one complete share in your portfolio. This can come in handy with expensive stocks that can cost more than $100 per share.
Educational resources: Stash provides in-app, on the web, and email education that can help investors learn the basics.
Security: Stash is a Registered Investment Advisor and is regulated by the Securities and Exchange Commission (SEC). The app uses 256-bit bank-grade encryption to secure your information. It also uses a secure sockets layer (SSL) to protect information sent between Stash and its servers.
Auto Stash: Users can invest on autopilot with scheduled times to make deposits into your Stash account.
Retirement accounts: Stash offers access to Roth IRA and traditional IRA accounts with the Stash Growth and Stash+ plans. You can open an account with as little as $1.00 and start investing in stocks or ETFs with as little as $0.012.
Custodial accounts: You can open and maintain an investment account for kids on behalf of an individual under 18. This custodial account is offered in the Stash+ Plan. This could be a good opportunity to give a child or grandchild interested in investing a head start on generating compound interest..
Invest in legal cannabis: Stash also offers access to investment options where users can invest in the legal cannabis industry to round out their portfolios.
Stock-Back® card : Stash offers a bank account with a debit card issued by Green Dot Bank called the Stock-Back® Card. There are no fees for this account — including overdraft fees. Plus, with a Stock-Back® Card, you can earn fractional shares of investments when you use your card.
Stash DRIP: DRIP stands for "dividend reinvestment plan." It allows investors to automatically reinvest their dividends back into their long-term investments.
Partitions/goals: Stash isn't just an investment platform. It also offers a budgeting tool that can help investors organize their savings to meet different expenses and goals. Based on the tried-and-true method of envelope budgeting, this tool allows you to move money in and out of partitions as needed.
What is Stash Invest?
Launched in 2015, Stash Invest was created to teach beginners how to start investing. Co-founders Brandon Krieg and Ed Robinson left their jobs on Wall Street to make investing easy, affordable and values-aligned for everyday Americans.
With Stash, you can invest in what is most important to you, but it also provides you with personalized guidance and recommendations that can help you along the way.
How does Stash Invest work?
Stash helps beginner investors ease into the investment journey with a combination of automated investing tools, financial education and access to advisors, and good old fashioned budgeting fundamentals. While other investment apps require higher minimum deposits, Stash makes it easy to invest in smaller increments while still getting a piece of large recognizable companies through fractional shares.
When you open an account, you'll be given a questionnaire to fill out which can help Stash determine your risk level and offer investment options. From there, you link a bank account, set your auto-deposit frequency and start rolling.
In addition to the basic investment tools, Stash also offers a bank account with its own suite of features which can help you keep tucking money away.
Single stock investing
With Stash you can invest in select single stocks and ETFs. To read about a company's fundamentals and select an individual stock, select the "Companies" tab in the app.
Currently, there are over 1,800 stocks and ETFs that you can invest in, so there's no shortage of choice.
Stash Smart Portfolio
If you need guidance with investing or want to invest completely passively, Stash's Smart Portfolio is for you.
This investing feature essentially turns Stash into a robo-advisor that invests in a mix of stocks, bonds, and cryptocurrencies to match your goals and risk tolerance. There's a $5 minimum investment requirement to start, so anyone can try it out.
You also get quarterly automatic rebalancing, which means that Stash can adjust your portfolio's composition to stay in-line with your goals.
Cryptocurrency investing
With Stash, you can start investing in cryptocurrencies like Bitcoin, Chainlink, and Ethereum to further diversify your portfolio. And if you need a helping hand, you can use Smart Portfolios to automatically invest some of your portfolio into crypto to match your goals and risk tolerance.
All Stash customers can invest in crypto. However, Stash Growth customers pay a 1% crypto transaction fee, while Stash+ customers pay a 0.8% fee.
Serious crypto investors are still better off using a standalone cryptocurrency exchange like Crypto.com since it has more research tools and better fees. But for easy, straightforward crypto trading, Stash has you covered.
Stash banking account
Stash has a bank account with their version of a cashback card called the Stash Stock-Back® Card. This card is issued by Green Dot Bank. There's no minimum balance required to open and maintain a Stash banking account (however, you must deposit at least $1.00 to the bank account balance to receive your account). This account also has no hidden banking fees—no overdraft fees, either.
Your Stash debit card can be used to withdraw cash from Green Dot Bank-associated ATMs. You can also deposit cash into the bank account by opting into direct deposit, transfer cash from an external bank account, or deposit cash at any participating retailers, including CVS Pharmacy®, Walgreens, Rite Aid, and Walmart for a fee up to $4.95 using your Stash debit card.
Here are some of the features of a Stash banking account:
Stash Stock-Back® Card: When you use your Stash Stock-Back® Card at a retailer on Stash's investing platform (such as Walmart, Starbucks, Netflix and Amazon), you can earn a percentage of your purchase back as a fractional share of that company. If you use your Stock-Back® Card anywhere else, you can earn a percentage of a stock or ETF of your choosing.
Recurring transfers: This lets you automatically transfer money from your external linked bank account to your Stash banking account.
ASAP direct deposit: When you set up your paychecks to directly deposit into your bank account on Stash, it can hit your account up to two days earlier than it may hit with another bank account.
Round-ups: With Round-Ups, your savings are put on auto-pilot. Stash will round up the purchase price to the nearest dollar every time you spend money. Once the round-up total hits $5, Stash transfers the spare change to your personal investment account.
Stash pricing and fees
Stash has two different plans to choose from that cost $3 or $9 per month:
Stash Growth: This plan costs $3 per month and lets you invest in a personal account, retirement account, or with Stash Smart Portfolio. You also get bank access for the Stock-Back® Card and can even get paid up to two days early.
Stash+: This plan costs $9 per month and includes everything in Stash Growth but also lets you open two custodial accounts to get your kids started with investing. You also get more in-depth monthly market research reports, and Stash's partner Avibra can provide up to $10,000 in life insurance. Your Stock-Back® Card also pays twice the rewards.
Other potential fees include Stash's crypto trading fee of 1% or 0.8% depending on your plan. But other than that, there's no trading or investing fees.
Just note that Stash makes money with its monthly plans but also by using payment for order flow (PFOF). If you want an investment app that doesn't use PFOF, we suggest checking out Public.
Stash pros and cons
Pros
More investment options: Stash gives you the option to invest in many investment themes from among thousands of ETFs and individual stocks.
Education: Stash makes sure that you learn to invest with confidence by providing information on all the basics.
No minimum deposit: You can open a personal portfolio account and start investing with as little as $1; there's no account minimum required.
Stock-Back® card: With a Stock-Back® Card you can earn fractional shares in retailers and ETFs when you use your issued card.
Cons
Four daily trading windows: As a long-term investor, this may not be a problem, but it could be an issue if you plan to actively trade your account. It's possible that an order placed today won't be executed until the next day.
Costly for small accounts: While Stash starts at $3 per month, this can be a significant fee for very small portfolios.
Is Stash legit?
Yes. Stash is a legitimate app that can help individuals who are interested in investing. Not only is Stash a registered investment advisor with the US Securities and Exchange Commission (SEC), the Stash Invest app comes with a bank account backed by Green Dot Bank.
Stash is a great option if you want access to a managed portfolio and individual brokerage account when you can experiment with choosing your own investments. Stash also provides you access to fractional shares, allowing you to diversify your portfolio with little money.
However, you should also keep in mind that while Stash is totally safe to use and backed by reputable institutions, they do not offer any kind of tax strategy. There are robo-advisors from competitors that offer tax-loss harvesting, strategies to reduce the amount of tax you owe or other forms of tax mitigation. If you're looking for an app that can help you with your taxes, you might want to look elsewhere.
Stash Invest alternatives
If you're new to investing, Stash is an easy way to begin investing in stocks, ETFs, and crypto while learning the ropes. And we also like that the Stash+ plan offers custodial accounts to support families.
That said, there are some notable Stash alternatives that might be superior depending on your goals and what you need the most help with.
Wealthfront is one of the best alternatives if you're just looking for a robo-advisor. There's a $500 minimum to invest, but Wealthfront only charges 0.25% in annual fees, which is often lower than Stash's pricing if you're new to investing.
As for apps like Acorns and Digit, they're useful if you want help consistently investing and really like round-ups. Digit also has a host of budgeting tools that are useful if you're trying to tackle overspending.
How do I open a Stash account?
The sign-up process for Stash is relatively easy and straightforward.
You can sign up on your desktop or through the mobile app. Once you sign up, you will be prompted to enter your basic information and answer a few questions to help them guide you through your investment decisions. So, make sure you are honest about your answers, as they will also help determine your risk tolerance.
Once your profile has been set up, it is time to choose an investment. You will be shown several investment options based on your answers to their previous questions, and you can click on each to learn more about them. There are thousands of investment options currently available on the platform.
Next, they'll prompt you to link your bank account. Stash links to your bank account either directly through your bank login and password or through your account and routing numbers. If you choose to link with your account and routing numbers, your bank account will need to be verified using a micro deposit—basically a very small deposit into your bank account, which you'll verify. This may take up to six business days to process. You can link only one external bank account to your Stash account.
Finally, you need to confirm your identity by creating a four-digit PIN.
Final thoughts on Stash
Stash could be the right investment app for a beginning investor. Its lack of minimum deposits makes it easy for investors who want to start small.
The fact you can diversify your holdings with such a small amount of money is an incredible advantage to newbie investors. And with Stash's professional investment advice, including specific investment recommendations, you can be involved in the investment process in a hands-on way while learning as you go and leaning on their knowledge, expertise and advice.
That being said, Stash could be a better investment app if it offered more competitive fees with smaller deposits. However, the service can be cost-effective for larger accounts.
Disclaimer- Paid non-client endorsement. See Apple App Store and Google Play reviews.View important disclosures.Investment advisory services offered by Stash Investments LLC, an SEC registered investment adviser. This material has been distributed for informational and educational purposes only, and is not intended as investment, legal, accounting, or tax advice. Investing involves risk.
¹For securities priced over $1,000, purchase of fractional shares start at $0.05.
²Debit Account Services provided by Green Dot Bank, Member FDIC and Stash Visa Debit Card issued by Green Dot Bank, Member FDIC. pursuant to a license from VISA U.S.A. Inc. Investment products and services provided by Stash Investments LLC, not Green Dot Bank, and are Not FDIC Insured, Not Bank Guaranteed, and May Lose Value." because the article mentions the debit card.
³You'll also bear the standard fees and expenses reflected in the pricing of the ETFs in your account, plus fees for various ancillary services charged by Stash and the custodian.
⁴Other fees apply to the debit account. Please see Deposit Account Agreement for details.
⁵Stock-Back® is not sponsored or endorsed by Green Dot Bank, Green Dot Corporation, Visa U.S.A, or any of their respective affiliates, and none of the foregoing has any responsibility to fulfill any stock rewards earned through this program.