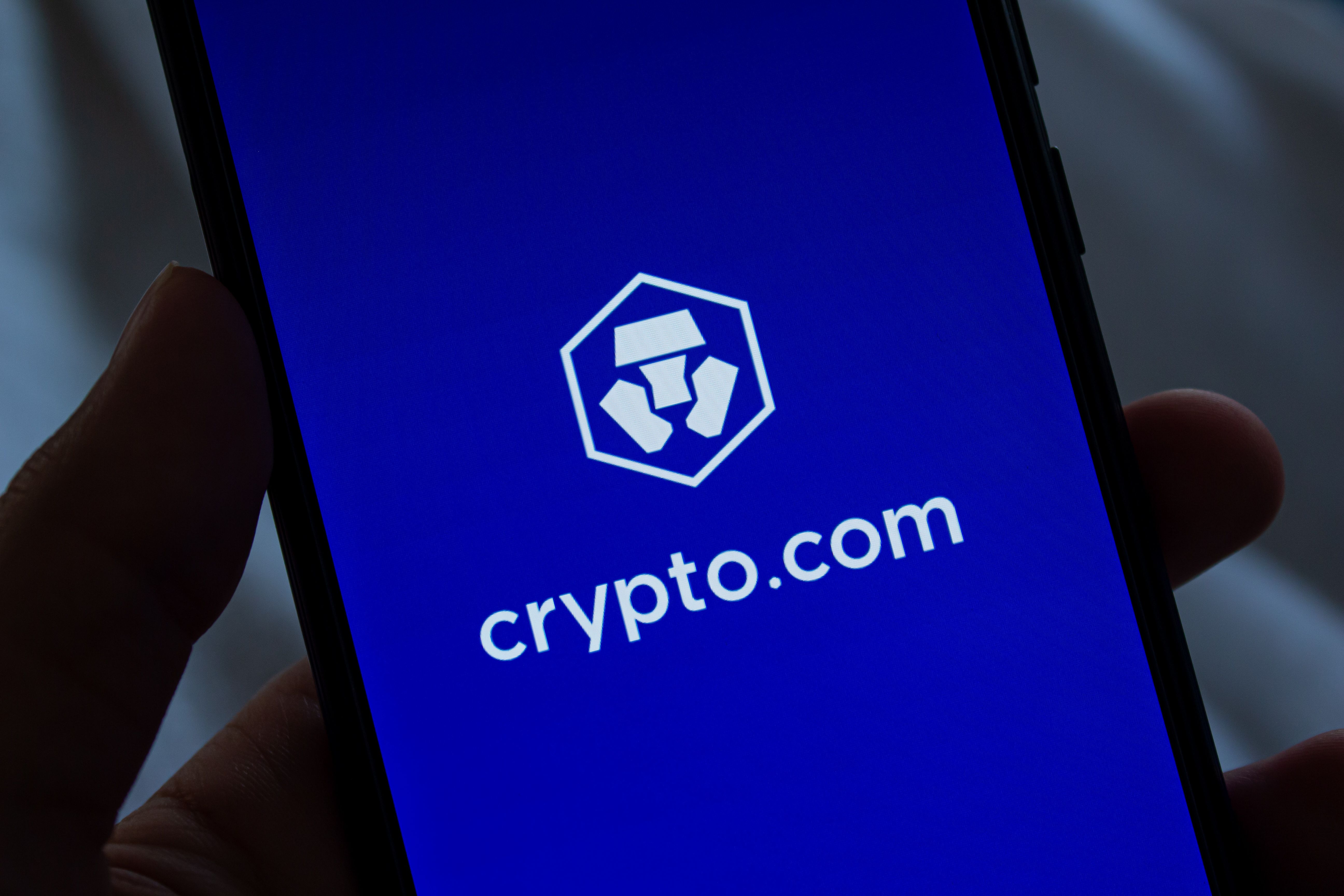 Emre Akkoyun / Shutterstock
🗓️
Updated: July 31, 2023
We adhere to strict standards of editorial integrity to help you make decisions with confidence. Please be aware that some (or all) products and services linked in this article are from our sponsors.
We adhere to strict standards of editorial integrity to help you make decisions with confidence. Please be aware that some (or all) products and services linked in this article are from our sponsors.
Crypto.com pros and cons
Pros
Over 250 different crypto assets to buy, sell, and hold
Full crypto ecosystem including NFT marketplace, crypto staking, and crypto Visa debit card
Trading fees can go lower if you stake Cronos on the site
Cons
No live customer support, which may result in a wait for time-sensitive issues
Takes significant capital to take advantage of CRO staking
No educational materials to help new traders learn about the crypto industry
What Is Crypto.com?
Crypto.com is a leading cryptocurrency trading exchange that operates in 90 markets around the world. It is one of the largest exchanges by trading volume, and is popular for its Crypto.com Visa debit card. Chances are, even if you're not active in the crypto space, you'll recognize them by their star-studded endorsements from celebrities and enterprises like Lebron James, Matt Damon, Water.org, the UFC, and the Paris St. Germain football club.

Who is Crypto.com for?
Crypto.com has features for any type of user. For newcomers to the crypto space, the app offers an easy way to dip your toes into crypto trading.
For experienced traders, Crypto.com offers everything from DeFi staking to margin trading. Crypto.com is also a good crypto exchange for the trader who wants everything within one easily accessible app. Rather than transferring assets back and forth between DeFi exchanges or OpenSea for NFTs, Crypto.com combines it all into one single platform.
What does it offer?
As mentioned, Crypto.com is an incredibly versatile exchange. It caters to beginner and experienced traders and has a host of features to help you earn rewards.
Advanced trading dashboard and order types
If you want a simple, easy way to trade crypto, the Crypto.com mobile app has you covered. But more advanced traders can take advantage of this exchange's web-based trading dashboard.
This trading view lets you apply different technical indicators and view live and historical order book information for different trading pairs. You can also place limit, market, and stop-loss limit orders, so you're not limited to simple spot trading. Plus you can use a spot trading bot to automatically place orders based on parameters you enter.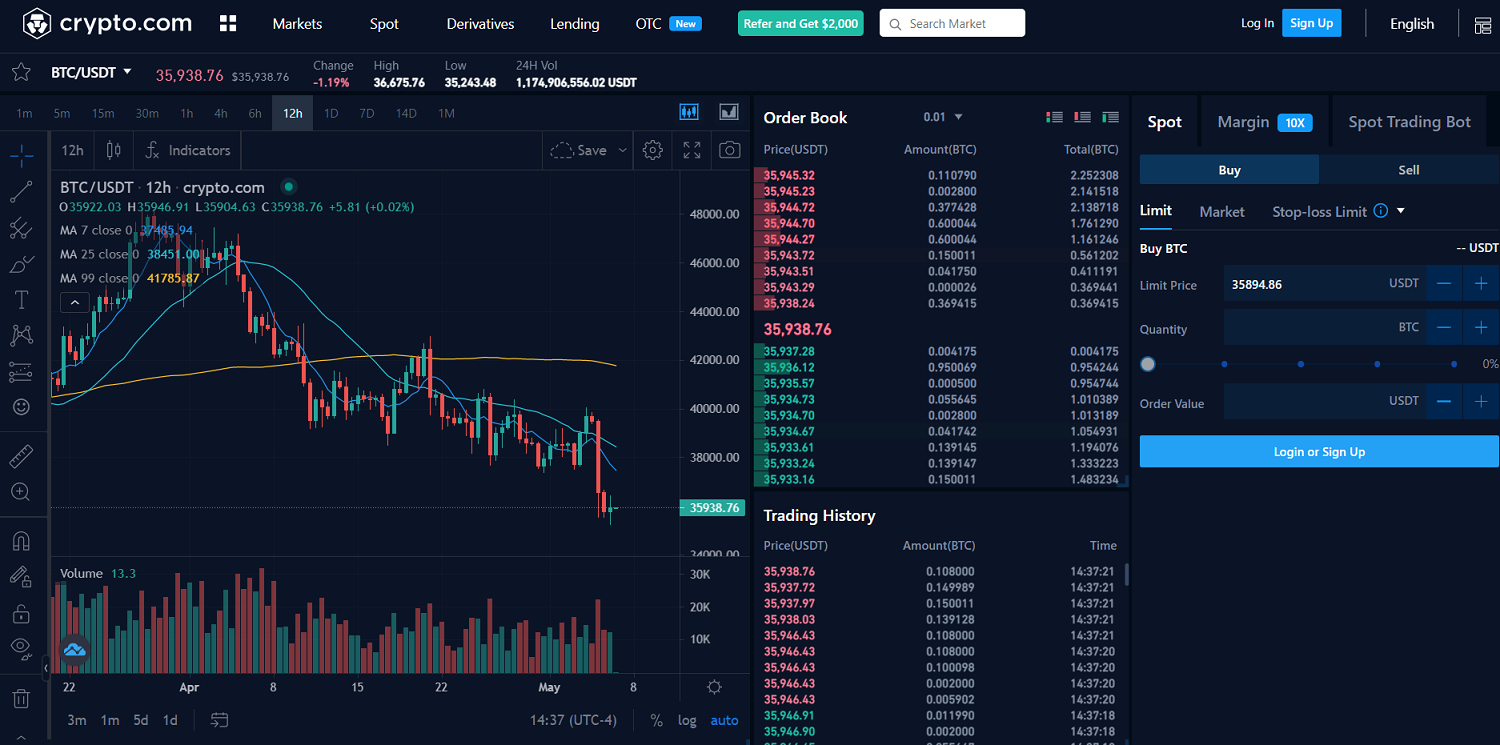 Crypto.com also supports margin and derivatives trading, which isn't something you get with most exchanges. You can get up to 10 times leverage with margin trading, whereas competitors like Kraken only provide up to 5 times leverage.
You can also trade futures, and overall, Crypto.com has some of the best support for more advanced traders out there.
Crypto Earn
With Crypto.com's Earn product, you can earn up to 14.5% APY on various cryptocurrencies and up to 10% on stablecoins.
The platform supports 40+ assets that you can deposit to earn interest on. How much interest you earn depends on the coin and how long you lock-in for. You also get higher rates if you hold and stake CRO tokens, the platform's native token.
It's a bit confusing for beginners, but essentially, you get a certain interest rate for having $400 or less in CRO locked up or $4,000 or more locked up. Here are some current earn rates for various coins:
CRO Lock-Up Amount
$400 or less
$400 or less
$400 Or less
$4,000 Or more
$4,000 Or more
$4,000 Or more
Crypto lending companies like Nexo or BlockFi have some higher rates, but Crypto.com is competitive and lets you put your crypto to work.
Flexible terms are also a perk since this lets you withdraw and trade your crypto if you want to. You still need to hold CRO tokens to get the best rates, but it's a comprehensive earning program that's a selling point if you want passive income.
Crypto.com wallet
Another feature decentralized finance (DeFi) fans will enjoy is Crypto.com's wallet. This crypto wallet is a non-custodial wallet, letting you have full control over your private keys. It supports over 100 popular coins and you can import existing wallets like Ledger or MetaMask as well.
You can also use Crypto.com Earn from your wallet and swap assets. And if you value holding your own private keys, it's an excellent crypto wallet and a perk of this exchange.
NFT marketplace
Like many other exchanges, Crypto.com is hopping on the NFT bandwagon and has its own NFT marketplace. This lets creators sell their NFTs while collectors can buy and showcase their NFTs.
Crypto.com uses a drop-based system for releasing NFT collections similar to other marketplaces. It's not as large or comprehensive as marketplaces like OpenSea, but it's a nice-to-have feature for exchanges these days.
Crypto rewards card
These days, more crypto exchanges are rolling out rewards cards that let you earn crypto-back on everyday spending.
Crypto.com has one of the better cards out there alongside competitors like BlockFi and Coinbase. This prepaid debit card powered by Visa has no annual fee and lets cardholders earn CRO tokens back on spending.
Your reward rate depends on the value of CRO tokens you're staking, much like the Earn program. There are five reward tiers in total:

The Ruby Steel card pays 2% back in CRO and only requires staking $400 worth of CRO tokens. And more serious investors can earn up to 8% back in CRO tokens for holding $400,000 of the native token.
This card has other perks like some free ATM withdrawals and potential crypto-back rewards from companies like Airbnb and Netflix. But most extra rewards require staking at least $4,000 in CRO.
In comparison, the BlockFi Rewards credit card pays a 3.5% crypto-back introductory rate and 1.5% normal rate, so Crypto.com's card is quite competitive.
Crypto-backed loans
Crypto.com lets you use your crypto as a credit line to take out loans. You can borrow up to 50% of the value of your crypto, and assets you can borrow include PAX, TUSD, USDC, and USDT.
Your APR depends on the loan-to-value (LTV) ratio. You also get borrowing discounts if you stake at least $40,000 of CRO tokens. There isn't a payment deadline, and like other crypto-backed loans, you don't need a credit check and approvals are instant.
APRs can range from around 2% to 12%, but again, it depends on your LTV ratio. You can use a simple borrowing calculator on its website to calculate your total interest per month.
Just note that Nexo and Celsius have slightly better borrowing terms and are worth exploring as alternatives if you're interested in crypto-backed loans.
How does it work?
All of Crypto.com's services are accessible by downloading its app and creating an account. Once you're in the Crypto.com ecosystem, you're free to explore everything the site has to offer. To get started, you will need to either fund your Crypto.com account with fiat currency or deposit cryptos from another digital wallet. Once you have crypto in your account you gain access to the various services Crypto.com offers.
Cryptos supported
As one of the more established exchanges on the market, Crypto.com boasts one of the largest selections of crypto in the world, with more than 250 different cryptocurrencies on offer. Among its coins are all of the major cryptocurrencies like Bitcoin, Ethereum, Solana, and Cardano, plus meme coins like Dogecoin or Shiba Inu Token. As mentioned, Crypto.com's native token is Cronos which can be staked to earn trading discounts and allows users to sign up for the Visa debit card.
How do I open a Crypto.com account?
Crypto.com is an easily accessible mobile app with a simple setup process that can have you trading relatively quickly.
Head to Crypto.com or download the app from the Apple App Store or Google Play Store.
Click the "Sign up" button (on the desktop, it will be on the Price page) and follow the onscreen instructions.
As with most crypto exchanges, Crypto.com will require your email address, country of residence, and date of birth to ensure you are eligible. (It's worth noting that some countries have banned crypto trading altogether so you need to be located where crypto trading is legal. You also need to be at least 18 years of age to sign up for an account, regardless of your location.)
You will be required to verify your phone number via an SMS access code.
After creating a password and 2-factor authentication, you should be able to add funds to your account.
Sign up for a Crypto.com account
Crypto.com fees and limits
One of Crypto.com's advantages is its low trading fees, especially for users who have some CRO staked on the site. Its base spot trading fee is 0.4% per trade without any CRO staked. The higher the amount of CRO staked the lower the trading fees get.
There's no fee for depositing crypto into a Crypto.com account, but additional fees exist for more complex trading strategies such as trading on margin through the site. There are withdrawal fees for sending crypto out to another wallet or platform, which vary based on the crypto you are trading.
How's Crypto.com's customer service?
Customer service for Crypto.com is one of its weaker points, as there is no phone support. Users must go through the website and either find their answers in the Help section or contact support via the live chat or email. The live chat feature and email support are available 24 hours per day, seven days a week, but there may be a wait before getting a response.
Is Crypto.com safe?
Security is a significant concern in the crypto space. Being a relatively new and growing technology the crypto space has been sometimes vulnerable to scams and hacks. Crypto.com is no exception: In January 2022, Crypto.com was hacked with over $15 million in ETH and $19 million in BTC stolen from users' wallets.
In response, Crypto.com announced plans to transition away from 2FA and to bolster security. Crypto.com does have a strategic partnership with cold storage maker, Ledger, where all user cryptos are stored. The site also requires users to whitelist new addresses via email verification.
Read more: Ledger vs. Trezor: How do they compare?
Best Crypto.com alternatives
Not sure that Crypto.com is the right choice for you? Here's how it compares to a few other top crypto exchanges.
Coinbase
Coinbase is a US-based crypto trading exchange that is the second largest exchange in the world. It's the largest in America by trading volume as of writing. The platform has more than 89 million verified users, with over 11 million of these being monthly active users.
Coinbase has a large selection of cryptos to trade with over 100 different assets available. Like Crypto.com, Coinbase is also set to launch its own NFT marketplace later this year. Coinbase is a publicly traded company on the NASDAQ index, and is available for use in over 100 different countries around the world.
Binance
Binance is the largest crypto exchange in the world by trading volume. Its regular platform offers more than 500 different crypto assets. American users should note that the US version is called Binance US, which is more limited than the global version. Binance is known for a full suite of DeFi and crypto trading features. As with both Coinbase and Crypto.com, Binance also has its own NFT marketplace where users can create and trade NFTs.
FTX
FTX is another US-based crypto trading platform that was founded in 2019. It offers over 100 different crypto assets to trade and hold, and also includes its own full suite of crypto features like staking, margin trading, and the ever popular NFT marketplace. FTX offers its own native token called FTT which provides even cheaper fees and other benefits. Read our FTX.US review >>>
Gemini
Gemini is another crypto exchange founded in 2015 by the Winklevoss twins, (you may recognize their names from the movie The Social Network). On Gemini, users can trade over 50 cryptocurrencies but does charge higher transaction fees than you might find on other exchanges. It also offers its own stablecoin called the GUSD coin that is accepted at various DeFi protocols like AAVE, Uniswap, and Yearn Finance.
Try Gemini today
Bottom line
For those who are looking to participate in crypto trading, Crypto.com is a great place to start. It has a simple and easy interface and offers advanced crypto features for experienced users. It's free to sign up for an account and free to deposit cryptos from another digital wallet. Crypto.com is a solid ecosystem for crypto owners to utilize regardless of trading experience.
Further reading:
Disclaimer: The content presented is for informational purposes only and does not constitute financial, investment, tax, legal, or professional advice. If any securities were mentioned in the content, the author may hold positions in the mentioned securities. The content is provided 'as is' without any representations or warranties, express or implied.
BlockFi bankruptcy notice -On Nov. 10, 2022, BlockFi announced that it had to suspend withdrawals from its platform due to the FTX liquidity crisis. As a result, consumers should not be using the BlockFi platform. As of Nov. 28, 2022, BlockFi officially declared bankruptcy.