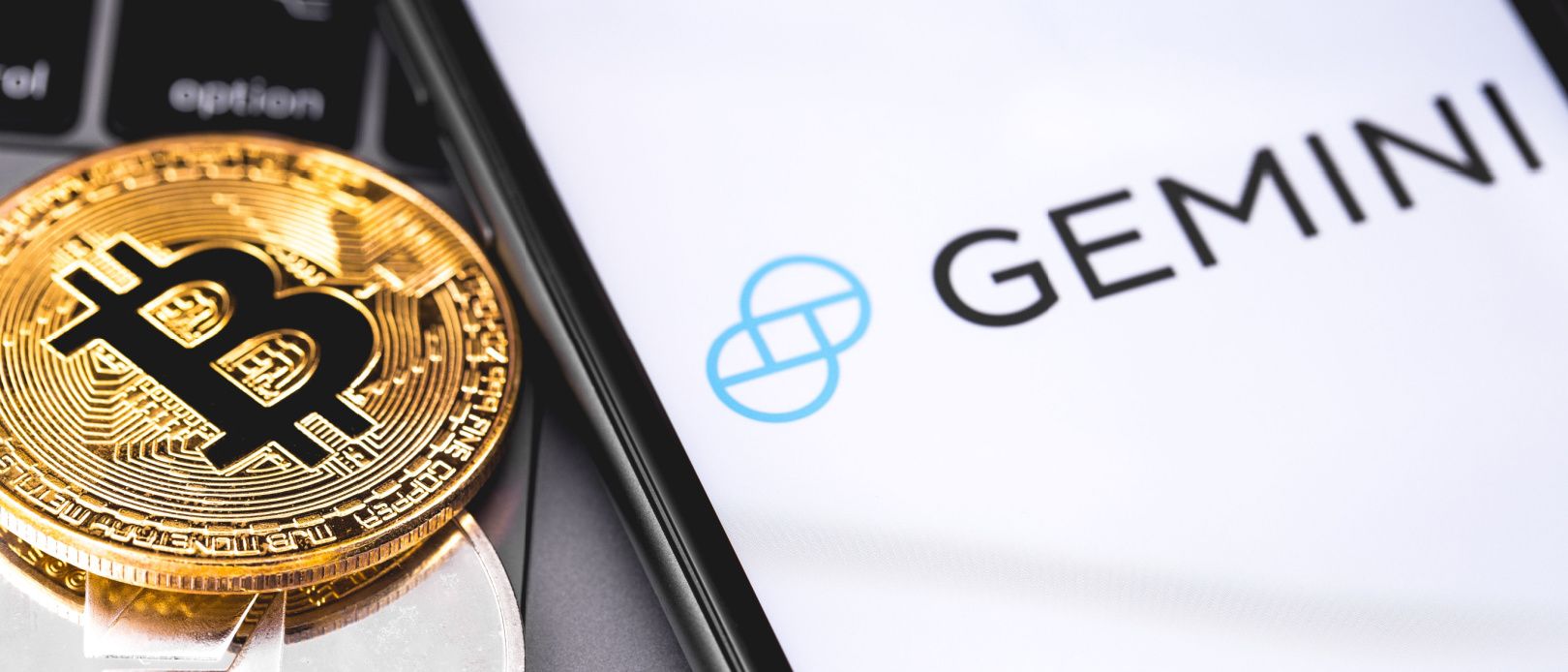 Gemini review for 2023: Features, fees, pros, and cons
Primakov / Shutterstock
🗓️
Updated: August 01, 2023
We adhere to strict standards of editorial integrity to help you make decisions with confidence. Please be aware that some (or all) products and services linked in this article are from our sponsors.
We adhere to strict standards of editorial integrity to help you make decisions with confidence. Please be aware that some (or all) products and services linked in this article are from our sponsors.
What is Gemini?
Based in New York City, Gemini was founded by twin brothers Tyler and Cameron Winklevoss as an exchange where investors can buy, sell and store cryptocurrencies. It offers its services in all 50 states and dozens of countries around the world.
You can invest in cryptocurrencies through Gemini. And it lets you research and track various cryptocurrencies using advanced tools.
The company sees cryptocurrency as more than a technology. It sees it as a movement. It believes cryptocurrencies have the potential to redesign the internet, the financial system, and even money itself in a way that fosters and protects the rights and dignity of the individual. It even describes cryptocurrencies and its crypto exchange as "The Future of Money. "
What does Gemini offer?
Gemini offers a comprehensive cryptocurrency exchange where you can buy and sell cryptos quickly, easily, and securely. It also gives you the ability to store your cryptos in a highly secure digital wallet (see Gemini Wallet description below).
And you have access to cryptocurrency research and tools to make you a more knowledgeable investor. You can even set recurring buys of cryptocurrencies you want to accumulate using dollar-cost averaging.
All capabilities of the Gemini exchange are available on both the web and mobile versions.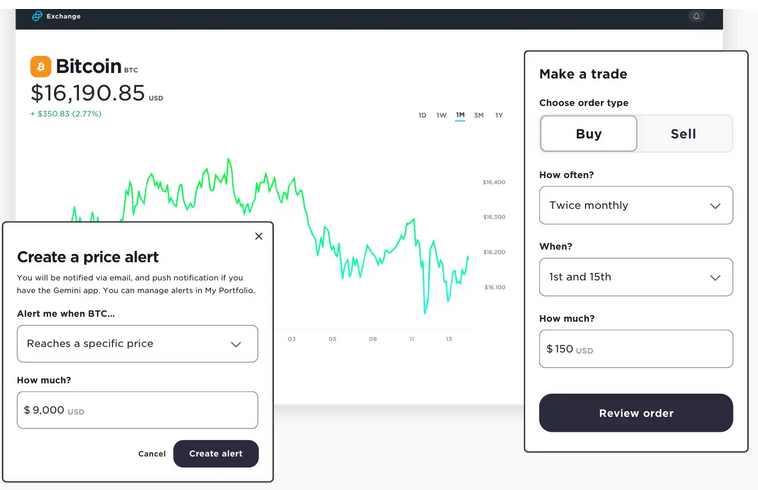 Gemini Clearing
Gemini Clearing is the transfer agent on the Gemini exchange platform. It acts as a confirming third party in a prearranged transaction to help ensure timely settlement. It allows two parties to settle a trade.
No minimum trade size is required, and trades are completed either immediately or in an approved settlement window. Transaction information is known only by the counterparties, resulting in an anonymous settlement.
Gemini credit card
Gemini plans to roll out the Gemini Credit Card sometime in 2021. The card will feature up to 3% rewards in bitcoin or other cryptos. You can earn rewards when making purchases in U.S. dollars. It will be available in all 50 states and no exchange fees will apply on crypto rewards.
You can currently sign up for a waitlist for the credit card offer.
Trade crypto with Gemini
Nifty Gateway
In 2019, Gemini acquired Nifty Gateway, a popular NFT marketplace. While not as popular as OpenSea, the blockchain-based platform is robust and features art from well-known creators such as Cey Adams and Kenny Scharf.

The Nifty Gateway marketplace is especially convenient for existing Gemini account holders as they can cash out their Nifty sales earnings directly to the Gemini exchange.
Trading and transaction fees
Web & mobile transaction fees:$10 or less: $0.99$10 to $25: $1.49$25 to $50: $1.99$50 to $200: $2.99More than $200: 1.49% of your order value
Supported countries
50+, including U.S. and Canada
Minimum purchase
BITCOIN (BTC): 0.00001 BTC ETHER (ETH): 0.001 ETH FILECOIN (FIL): 0.1 FIL ZCASH (ZEC): 0.001 ZEC BITCOIN CASH (BCH): 0.001 BCH LITECOIN (LTC): 0.01 LTC DOGECOIN (DOGE): 0.1 DOGE
Payment methods
Wire Deposits, Debit Card
Mobile app
iOS, Android & Samsung Store
Supported currencies
BTC, ETH, LTC, BCH, ZEC, LINK, OXT, DAI, BAT, AMP, COMP, PAXG, ZRX, BAL, CRV, MANA, KNC, MKR, REN, STORJ, SNX, UMA, UNI, YFI, AAVE, FIL, SKL, GRT, BNT, 1INCH, ENJ, LRC, SAND, CUBE, BOND, INJ, LPT, MATIC, SUSHI, DOGE
Some of the more specific features offered by Gemini include the following:
Gemini ActiveTrader
ActiveTrader is Gemini's platform for more active cryptocurrency investors. It provides an advanced trading platform and tools. And you can access it all on a mobile device. That gives you the ability to both trade and track your investments on the go.
Much like the trading platform of an investment brokerage, ActiveTrader provides a dashboard where you can keep track of all your crypto holdings, as well as execute trades.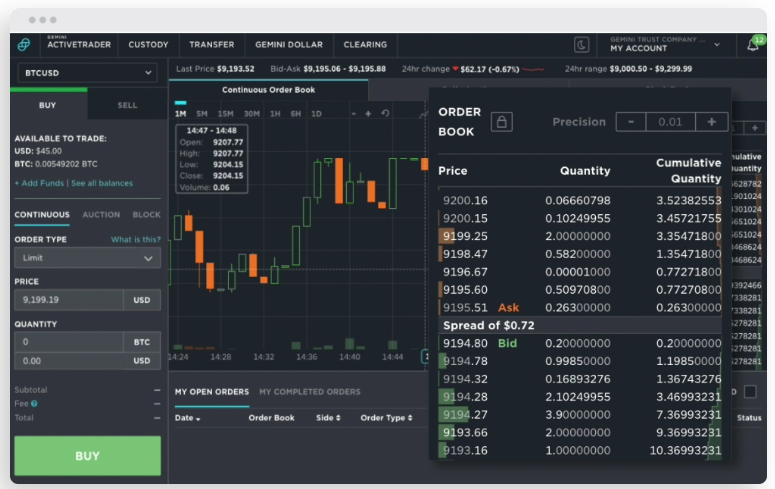 You can execute trades in microseconds (without compromising reliability or security) and take advantage of trading pair selectors and deep order book visibility to get the best market opportunities.
Gemini Earn
Here's where you can earn interest on your cryptocurrency investments. By opting into Gemini Earn, you can start earning interest on your balance. The current rates range between 1.26% APY and 8.05% APY and are based on the specific cryptocurrency you hold. That's many times higher than the best rates you can earn on certificates of deposit (CDs) at your bank. And you can withdraw your funds at any time.
To participate, simply tap "Earn" on the Gemini mobile app. Then select the crypto you want to earn interest on. This gives you an opportunity to earn high interest on cryptos you plan to hold for an extended length of time, perhaps while waiting for a higher future price.
Gemini wallet
Gemini Wallet is where you can store your crypto assets. It's an insured wallet, either a hot wallet or an institutional-grade cold storage system. Your assets in its hot wallet are protected from theft by Digital Assets. So it's safe and secure. And it covers all 33 cryptos supported by the company.
Gemini dollar
Gemini dollars (GUSD) are a U.S. dollar-backed stablecoin, with a 1:1 value. This is the first regulated stablecoin in the world. You can use these dollars to hold as readily tradable, price-stable digital assets. You can even earn high yields on these digital dollars through Gemini Earn.
But GUSD can also be used for spending, even across international borders. And you can use Gemini Pay at more than 30,000 participating retailers across the U.S.
You may also be glad to know that funds held in Gemini dollars are FDIC insured up to $250,000 per user. And there are no fees to buy, sell or spend GUSD.
How does Gemini work?
Gemini works as an all-inclusive cryptocurrency exchange. That means you can do all things crypto on the platform. That includes buying, selling, and managing your crypto investing.
It's important to have a specialized cryptocurrency exchange if you're serious about investing in digital money. Cryptos are a unique asset class that requires special handling.
Exchanges accommodate investing and trading in cryptos. And they allow you to convert sovereign currencies (like dollars and euros) into cryptos and then back into sovereign currencies. That's a process that has not yet been adopted by major investment brokerages.
After you sign up for the service you have everything you need to invest in the growing cryptocurrency investment class.
Trade crypto with Gemini
What cryptocurrencies does Gemini support?
Gemini supports 33 cryptocurrencies, including bitcoin, bitcoin cash, ether, and litecoin. You can also get general information, such as the price, for more than 20 other different cryptos.
How to buy cryptocurrency using Gemini
You can buy cryptocurrencies on Gemini website using a five-step process :
1.

Select a digital asset from the left side of your home page.

2.

Select "Buy" and select if you would like to make a single buy or recurring buys.

3.

Click "Next" to input the order amount.

4.

Click "Review Order" to move to the confirmation screen.

5.

Once reviewed, click "Place Order" for your order to immediately execute.
You use the same process for buying cryptocurrencies on the mobile app but with a couple of modifications. First, tap the "Market" tab at the bottom left of your screen. Then follow the steps listed above. But when reviewing your trade at the last step, swipe to confirm your order for execution.
Supported countries
Gemini is currently available in 51 countries in addition to the United States. These include:
Africa: Egypt, Nigeria and South Africa
Asia: Hong Kong, India, Israel, Myanmar, the Philippines, Singapore, South Korea, Taiwan, Turkey and Vietnam
Europe: Austria, Belgium, Bulgaria, Croatia, Cyprus, Czech Republic, Denmark, Estonia, Finland, Greece, Guernsey, Hungary, Iceland, Italy, Jersey, Latvia, Liechtenstein, Lithuania, Luxembourg, Malta, the Netherlands, Norway, Poland, Portugal, Romania, Slovakia, Slovenia, Spain, Sweden, Switzerland and the UK
North America: the British Virgin Islands, Canada and the Cayman Islands
Oceania: Australia and New Zealand
South America: Argentina, Brazil, Chile and Peru
Gemini continues to expand its geographic reach, so more countries will be added to the list above.
Gemini's Mobile Trading app overview
Geminis Mobile Trading App provides all the functionality of the web-based version.
You can buy, sell and withdraw cryptos through the app wherever you are.
You can also manage your portfolio.
The fees that apply to using the mobile app are the same as for the web version, as listed below.
The Gemini Mobile App can be downloaded from the App Store for iOS devices. It's also available for Android devices at both Google Play and the Galaxy Store.
There is no fee to download the app.
Trade crypto with Gemini
Gemini fees and limits
Gemini imposes a transaction fee, which varies by country. The trading fees presented below are for U.S. residents, based on U.S. dollar transactions.
In addition to the various fees listed below, Gemini charges a convenience fee when you place a trade, 0.50% of the market price. And Gemini charges a 0.4% Custody Fee.
Web and mobile transaction fees
$10 or less: $0.99
$10 to $25: $1.49
$25 to $50: $1.99
$50 to $200: $2.99
More than $200: 1.49% of your order value
ActiveTrader transaction fees
Transaction fees using ActiveTrader are based on your 30-day trading volume. The fee structure works on a sliding scale, with lower fees charged to investors with higher monthly trading volumes.
Those fees are as follows:
30-day trading volume
Taker fee
Maker fee
Auction fee
$2.5 million to $5 million
$5 million to $10 million
$10 million to $15 million
$50 million to $100 million
$100 million to $250 million
$250 million to $500 million
Transfer fees
When adding funds or cryptocurrency to your account, there is no transfer fee. That includes wire transfers. However, there's a fee of 3.49% of the total purchase amount for debit card transfers.
For the withdrawal of cryptocurrency, fees vary based on which crypto you make the withdrawal in. No fee is charged if you make 10 or fewer withdrawals from your account within a calendar month. However, Gemini charges a fee if you make more than 10 withdrawals in a calendar month. The applicable fee depends on the crypto withdrawn.
For example, the bitcoin fee is 0.001 BTC ($50.00 based on a BTC price of $50,000). The ether fee is 0.001 ETH ($3.00 based on a $3,000 price), and litecoin is 0.002 Ł (50¢ based on a price of $250).
How do I open an account?
To open an account, provide your basic information, including your name and email address. Then create a password, agree to the user agreement and privacy policy and click next.
From there, you'll be directed to provide other information, including:
Social Security/tax ID number
Home address
Your cell phone number
Date of birth (you must be at least 18 years old at the time of application)
Federal financial regulations require Gemini to collect information about your source of wealth.
You also need to furnish proof of identity, such as a valid state-issued ID, driver's license, passport, or passport card. If you're an international applicant, you need to provide proof of address. This can be a full-page scan of a bank statement or utility, cable or cell phone bill listing your home address. The document can't be more than 90 days old at the time of submission.
How to fund your Gemini account
You can fund your account with regular currencies (fiat currencies such as U.S. dollars) or with digital assets.
If you fund it using regular currency, you need to link your bank account with your Gemini account. You can do this on the Funding Sources page of the Gemini platform. The external account can be linked by using Plaid or providing your online banking credentials. However, you have the ability to manually link your bank and input wire information.
If you fund your Gemini account using digital assets, you need to instruct your external wallet — or the service provider that holds those assets — to initiate a withdrawal to your unique Gemini deposit address. Currently supported digital assets include bitcoin, bitcoin cash, ether, litecoin, zcash and filecoin.
How's the customer service?
Customer service with Gemini is extremely limited. You can contact the company only by in-app email. There is no capacity to reach it by phone.
Is Gemini regulated and safe?
Gemini is a New York trust company, regulated by the New York State Department of Financial Services (NYDFS). As such, the company is subject to capital reserve requirements, cybersecurity requirements and banking compliance standards established by both the NYDFS and New York Banking Law.
The company is both a fiduciary and a qualified custodian. As a fiduciary, it's required to put the interests of clients ahead of its own, with a duty to preserve good faith and trust. As a qualified custodian, it's approved by one or more government agencies to hold assets on behalf of clients, similar to banks and investment brokers.
Please note: There's no indication the platform participates in programs like the FDIC or SIPC to protect investors against broker failure. But Gemini has launched a captive insurance company — Nakamoto, Ltd — to provide $200 million (approximately 0.8% of total assets) in insurance coverage for cryptocurrency held through Gemini Custody.
Security keys
To provide personal security, Gemini supports security keys. These are available on both desktop and mobile platforms and represent a stronger form of two-factor authentication (2FA).
While 2FA requires an additional verification method over and above a password, security keys provide an even stronger level of protection in authenticating your account. It does this by delivering hardware-backed cryptographic proof of your identity.
First, you need to buy a security key, such as a YubiKey or Feitian key. Or use your fingerprint ID sensor on your computer or mobile device. Register your key on the Gemini website or app. You need to use two security keys if you want to avoid using 2FA. You then use your security keys to sign into your account, make withdrawals or perform other protected activities.
Trade crypto with Gemini
Gemini pros and cons
Pros
Fully regulated: Gemini is a fully regulated cryptocurrency exchange in New York and other states.
Various coins supported: You can trade 33 different cryptocurrencies.
Earn interest: Earn up to 8.05% interest on your Gemini Earn crypto balance.
Insurance protection: The platform offers the first captive insurance coverage for crypto storage in the industry.
Access worldwide: Gemini is available in dozens of countries, in addition to all 50 states in the U.S.
Cons
Confusing fee structure: The fee structure is somewhat confusing and depends on whether you're trading using ActiveTrader or via web or mobile device.
Limited customer service: Customer service is limited to email contact only.
No margin or short selling: Gemini does not support margin investing or short selling.
No FDIC or SIPC protection: Except for Gemini dollars, accounts are not protected by FDIC or SIPC.
Best alternatives to Gemini Exchange
This company is both an investment brokerage and a cryptocurrency exchange. You can buy and sell 25+ cryptos with fees no greater than 5%. It also provides a virtual trading account for up to $100,000 to help you either learn to trade or to become a better trader.
Disclaimer: InvestorJunkie is compensated if you access certain of the products or services offered by eToro USA LLC and/or eToro USA Securities Inc. Any testimonials contained in this communication may not be representative of the experience of other eToro customers and such testimonials are not guarantees of future performance or success.
This is one of the most popular cryptocurrency platforms in the industry. You can trade more than 100 cryptocurrencies, with fees ranging between 0.5% and 4.5%, depending on the crypto. It requires a $2.00 account minimum and minimum trade amount of $2.00. It also provides a digital wallet to store your cryptos.
This is an investment app where you can trade stocks and exchange-traded funds (ETFs). But Robinhood also lets you buy and sell cryptocurrencies commission-free 24 hours a day. It provides trading in bitcoin, ether, dogecoin, and other popular cryptocurrencies.
Bottom line: Is Gemini worth it?
Cryptocurrencies have gone from obscurity to mainstream investment in the space of just a few years. If you aren't holding any right now, you almost certainly will be in the very near future.
There's a limited number of cryptocurrency exchanges and trading platforms and even fewer that are worth considering. Gemini is one of the top platforms for cryptocurrencies and should be on your shortlist of candidates for the crypto portion of your portfolio.