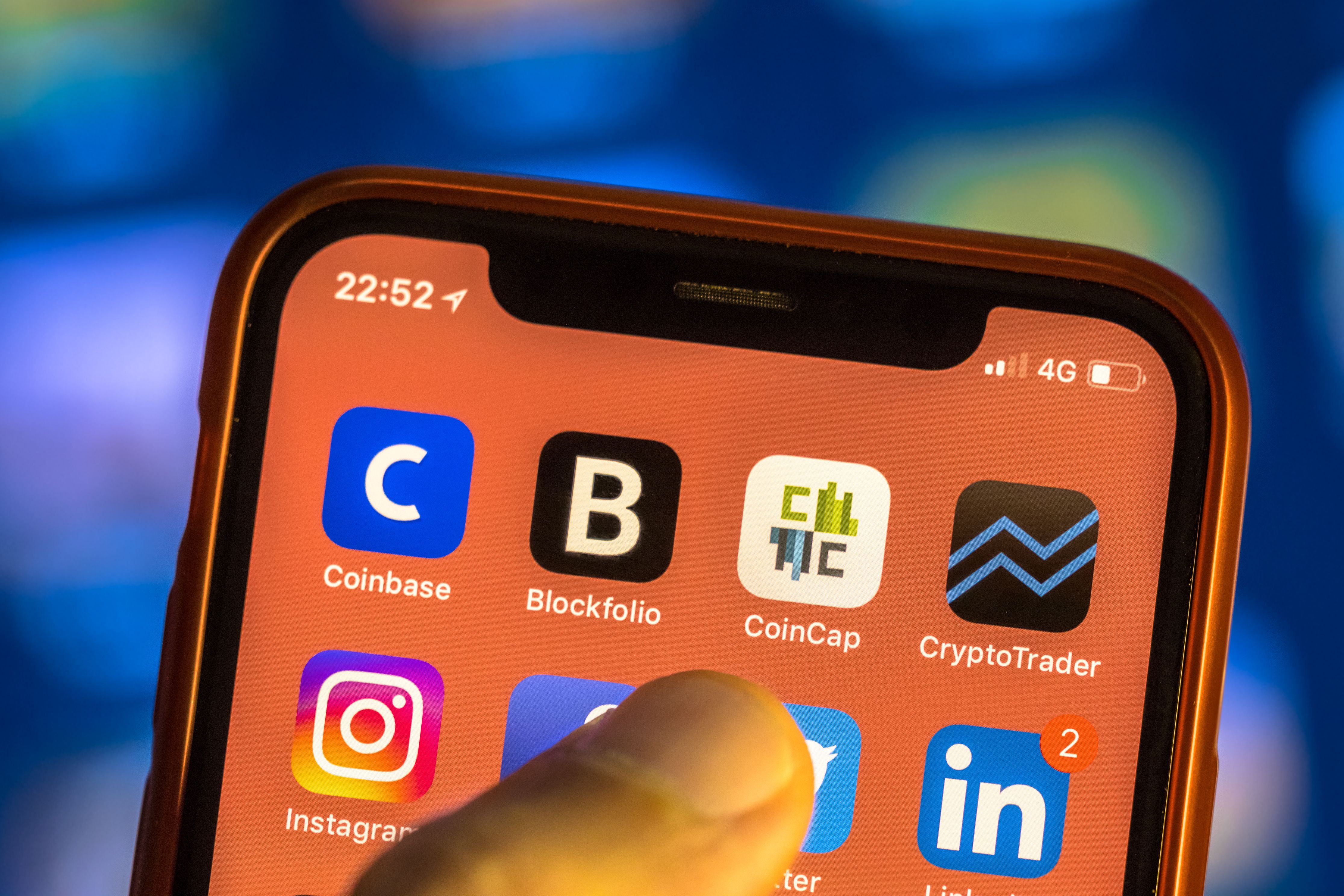 Rudmer Zwerver / Shutterstock
🗓️
Updated: July 31, 2023
We adhere to strict standards of editorial integrity to help you make decisions with confidence. Please be aware that some (or all) products and services linked in this article are from our sponsors.
We adhere to strict standards of editorial integrity to help you make decisions with confidence. Please be aware that some (or all) products and services linked in this article are from our sponsors.
Coinbase pros and cons
Pros
Extensive crypto support: Trade in over 150 cryptocurrencies, with more being added all the time.
Ease-of-use: Begin investing with as little as $2 with Coinbase's simple trading interface.
High-volume trading discounts: There are lower fees for high-volume traders using Coinbase Pro.
Crypto wallet: Store your digital assets in a Coinbase wallet or use your own digital wallet.
Spend your crypto: The Coinbase debit card lets you spend your cryptocurrency holdings the same way you would with the money you have sitting in the bank.
Free rewards: Earn free crypto with Coinbase Earn and its sign-up bonus.
Cons
High fees: The fee structure for the basic account isn't the lowest in the industry. But if you use Coinbase Pro, it is more competitive with the industry.
Confusing fees: Coinbase's fee structure is somewhat confusing unless you switch to Coinbase Pro.
Limited staking options: You can stake six assets on Coinbase for passive rewards, but the rates aren't the highest in the industry.
What is Coinbase?
Coinbase is a San Francisco-based cryptocurrency exchange. Launched in 2012, it's grown to become one of the largest cryptocurrency exchanges in the world. The company has over 73 million users, with billions of dollars in quarterly trading volume.
Cryptocurrency trading has been around for only a little over a decade, and the platforms where it can be bought, held, and sold are still evolving. Numbers like these show that cryptocurrency investors have confidence in Coinbase.
As one of the largest cryptocurrency exchanges, you can trade over 150 different cryptocurrencies, with more being added all the time. Coinbase also has other digital assets, like non-fungible tokens (NFTs), which we discuss later in this review.
Who is Coinbase for?
Coinbase is a comprehensive cryptocurrency exchange. It lets you buy, sell, exchange, store and spend cryptocurrency. The platform is a good choice for anyone interested in investing in bitcoin, for example, whether you are a beginner or an active trader.
For beginners — Coinbase offers a small minimum initial investment of $2 in your local currency, as well as plenty of educational resources to help you learn the ropes.
For active traders — Coinbase offers a plan that has some of the lowest commissions in the industry. Plus you can trade over 150 cryptocurrencies, including all the most popular ones.

And as we'll see shortly, Coinbase even gives you an opportunity to earn more crypto on the balance that you already have in your account.
Coinbase features
Coinbase trade fees
0.5% spread fee + for $10 or less: $0.99 More than $10 but less than $25: $1.49 Between $25 and $50: $1.99 More than $50 but less than $200: $2.99
Coinbase Pro trade fees
Maker/taker fees ranging from 0.60% to 0.00%
Supported countries
100+, including U.S., UK, CA
Minimum purchase
$2 of digital currency denominated in your local currency
Payment methods
Bank account (ACH), debit card, wire transfer, PayPal
Coinbase Pro
Coinbase offers its basic account for investors who are looking to buy and accumulate smaller amounts of crypto while also learning as they invest. But for active traders looking to make larger trades and benefit from lower fees, there's Coinbase Pro.
Coinbase Pro allows you to trade a few more cryptocurrencies than you can with the basic plan. But you can also trade dozens of trading pairs of crypto and fiat. This way you exchange one crypto for another rather than converting to US dollars or other fiat first. Fiat currencies include the US dollar, euros and British pounds.
Coinbase Pro is available to anyone who qualifies for a Coinbase account. It's available in the US, U.K., parts of Europe and a few other countries. It offers an intuitive interface with a simple order process, charting tools, trade histories and real-time order books.
Advanced trading
For new traders, Coinbase lets you quickly spot trade to get started. This means picking the crypto you want to buy, entering the quantity, and choosing the fiat or crypto you're paying with.
However, Coinbase has rolled out Advanced Trading to cater to more advanced traders on Coinbase's regular platform who aren't using Coinbase Pro.
Essentially, it takes all of the best charting and trading tools from Coinbase Pro and consolidates it with your main Coinbase account. This lets you trade and manage funds under one roof, and it provides the best of both the Coinbase and Coinbase Pro world.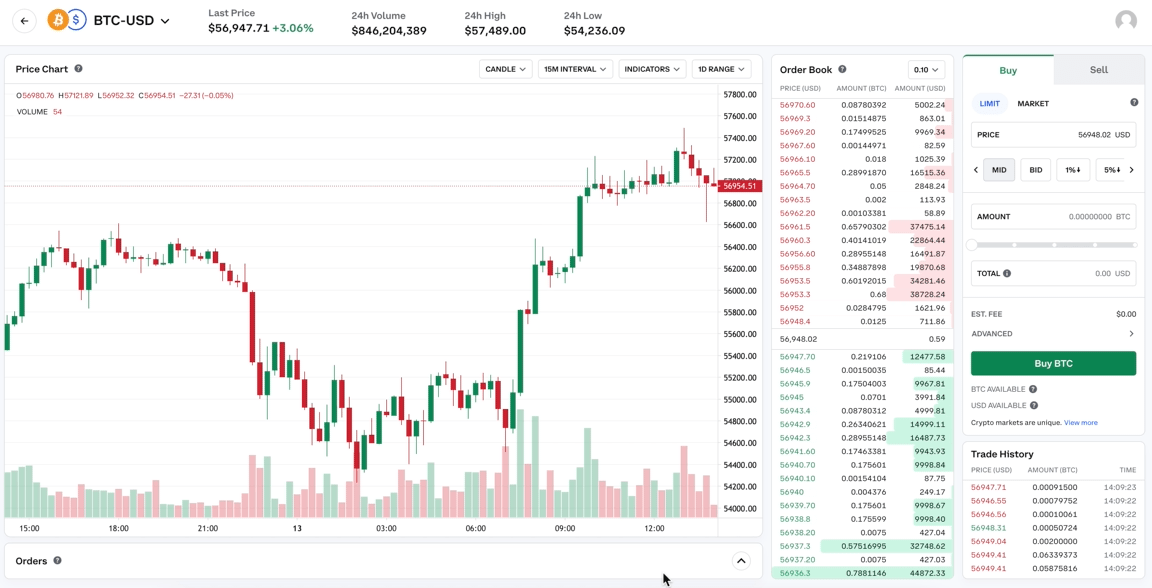 Fees start at a 0.60% taker and 0.40% taker fee just like Coinbase Pro. You can also place market, limit, and stop limit orders and enjoy all the trading pairs you get with Coinbase Pro.
Beginner traders can still use the simple trading interface to spot trade. But the flexibility is there to used Advanced Trading if you're getting more technical.
Free Coinbase wallet
The first order of business when investing in cryptocurrency is to have a digital wallet. Since cryptos can't be stored in a typical bank or brokerage account, they must be stored digitally. That's where the digital wallet comes into the picture.
1.

With Coinbase, you have two choices:

2.

Hold your cryptos in a Coinbase digital wallet

3.

Purchase cryptos and store them in your own wallet.
A small percentage of cryptos held on Coinbase are held online. Coinbase states that about 2% of cryptos are stored this way. However, 98% are stored in offline cold storage to protect them from thieves and hacking. Coinbase maintains insurance coverage for the digital assets stored through its wallets.
Coinbase card
Similar to a bank, Coinbase provides a Visa debit card with your account. It's funded by the cryptocurrency balance in your account. With the card, you can spend your accumulated cryptocurrency balance on everyday purchases, similar to any other debit card. Or use the card to make withdrawals from ATMs.
And you get rewards when you make purchases with your Coinbase Card. Right now you get either 4% back in lumen (XLM) or 1% in bitcoin (BTC). You can read our Coinbase Card review for all the details.
NFT marketplace
One new Coinbase feature is its NFT marketplace which launched in May of 2022. You could previously store NFTs in your Coinbase wallet. But now, you can collect and create NFTs on the platform as well, letting you diversify your portfolio with a new digital asset class.
For now, Coinbase's NFT marketplace is also commission-free for buying and minting NFTs. There's also plenty of trending collections you can explore to find your next NFT to purchase.
Alternatively, you can buy NFTs on other marketplaces like OpenSea and then transfer them into your Coinbase wallet if you prefer using more established marketplaces.
More: Best crypto exchanges
Coinbase Earn
Coinbase provides a library of courses to help you learn about specific cryptocurrencies. Many of those courses allow you to earn the specific crypto as you learn about it.
For example, by taking the Polygon MATIC course on solving Ethereum's scaling issues by building an internet of block chains, you earn up to $3 in MATIC tokens.
This isn't much, but over time, you can earn $20 to $30 or more in free crypto just by completing these short lessons.
Staking rewards
Cryptocurrency staking involves locking up your crypto to help validate blockchain transactions for proof-of-stake coins. In exchange for validating transactions, you earn free crypto as a reward.
Many exchanges offer staking programs so you can earn passive income with your crypto. Thankfully, Coinbase does as well, and you can currently earn up to 5.75% and stake six different assets.
This is a lower rate than you find on lending platforms like BlockFi or Nexo. But if you're an active Coinbase user, it's nice that you can earn some extra rewards with its staking program.
Coinbase One
In 2022, Coinbase began rolling out the Coinbase One beta to select users. This is Coinbase's new subscription product that provides several perks like:
$0 in trading fees
Dedicated 24/7 phone support

$1 million in account protection from theft and loss of funds

Pre-filled Form 8949 to help you file your taxes

The $0 in trading fees and comprehensive insurance coverage are the two main perks of this program. Just note that Coinbase doesn't waive trading fees for Coinbase Pro or Advanced Trading users and still has a spread fee.
Early beta users are reporting that Coinbase One costs $30 per month. But if you frequently trade on this exchange, $30 could be significantly lower than you'd normally pay in fees.
Mobile trading
The Coinbase mobile app has all the functionality of the web-based version. Use it to buy, sell, earn and spend cryptocurrency. But there's one important feature that doesn't come with the mobile app: It doesn't accommodate security keys at this time.
What cryptocurrencies does Coinbase support?
Coinbase supports over 150 cryptocurrencies, including Bitcoin, Ethereum, and other popular cryptos like:
1inch
Aave

Algorand

Cardano

Chainlink

Cosmos

Decentraland

Dia

Dogecoin

Litecoin

Polkadot

Solana

Uniswap

USDT

Overall, this exchange has popular cryptos and a diverse range of altcoins and stablecoins that should satisfy most investors.
How to buy cryptocurrency using Coinbase
You buy cryptocurrencies on the web version using a seven-step process:
1.

Sign in to your account.

2.

Tap "Buy/Sell" in the upper right-hand corner of the screen.

3.

Click "Buy" to choose the asset you want to purchase.

4.

Enter the amount of the purchase in your home country's currency.

5.

Select your payment method.

6.

Click "Preview Buy" and confirm your purchase or click the back arrow to modify your order.

7.

Click "Buy" to complete the purchase.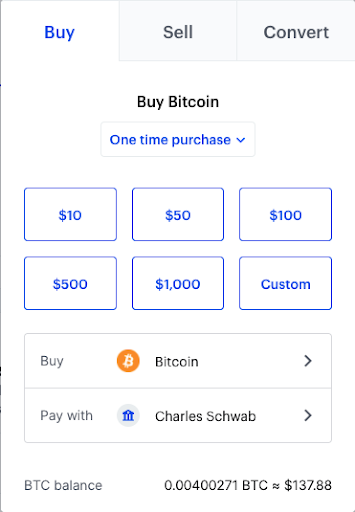 The steps above are for a one-time purchase. Or set recurring purchases by clicking "One time purchase" and then choosing how often you'd like to repeat the purchase.
Alternatively, you can use the new Advanced Trading option to place different order types and conduct technical analysis with a variety of charting tools.
Supported countries
Coinbase is currently available in over 100 countries including the US, Canada, the U.K., and many countries in Europe, South America, and Asia.
Coinbase fees and limits
As is typical with cryptocurrency exchanges, Coinbase has several fees based on the plan you use, the amount of crypto you trade, and the specific type of financial transaction you use.
Once you verify your account, you can begin trading with just $2. The more you trade, the higher transaction limits you unlock. And you can switch to Coinbase Pro to trade at higher volume and pay lower fees.
Coinbase fees
Coinbase charges flat fees based on the dollar amount of each transaction:
$10 or less: $0.99
More than $10 but less than $25: $1.49

Between $25 and $50: $1.99

More than $50 but less than $200: $2.99
Variable fees
Coinbase charges the higher of either the Coinbase fee above or the variable fee. Variable fees for U.S. residents are as follows: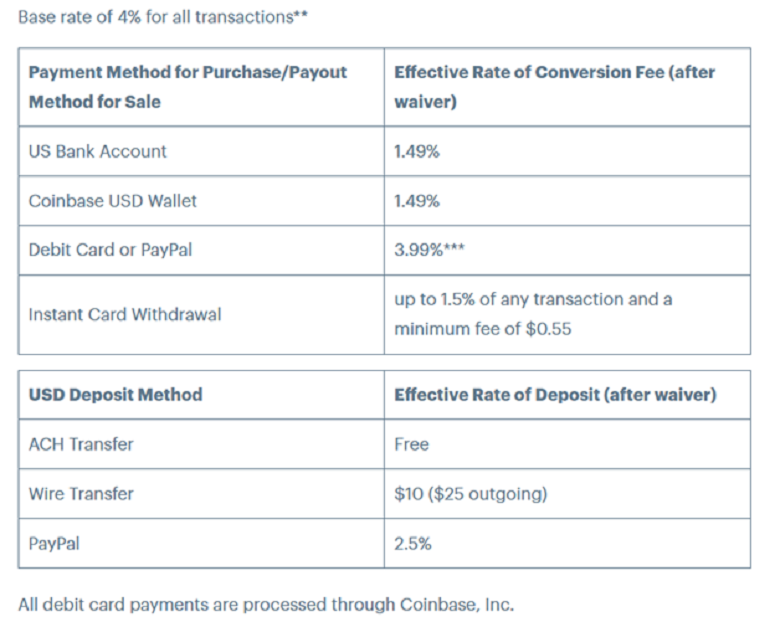 At the top of the screenshot it says, "Base rate of 4% for all transactions." That's the rate that applies to transactions for U.S. residents. However, Coinbase waives a portion of the fee based on the method of payment you use. The fees shown in the screenshot above represent the base fee.
Coinbase spreads
Another common fee structure used by cryptocurrency exchanges — and even investment brokers — is spreads. This is the difference between what you pay for a cryptocurrency and the price Coinbase provides the crypto at.
Coinbase uses a spread of one-half of one percent (0.50%) of the transaction amount for both buying and selling cryptocurrency.
Coinbase Pro fees
The Pro version of Coinbase uses a maker-taker fee model with fees that range from 0.60% to 0.00%. In general, it results in lower fees than you would pay using the basic trading program. Coinbase Pro bases these fees on the trade volume, as follows: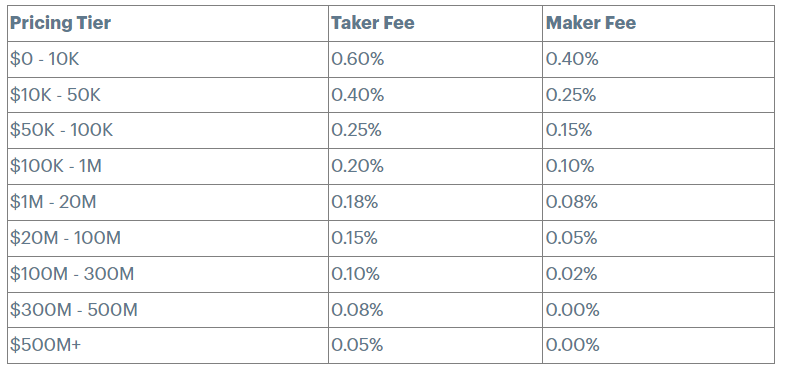 Conversion fees
Coinbase charges a spread margin of up to 2% for converting one cryptocurrency to another. This is a standalone fee, as the other fees listed above don't apply to conversions.
Staking service commissions
If you participate in staking to earn cryptocurrency, Coinbase takes a 25% commission out of the amount you earn.
Coinbase Card fees
When you spend using your Coinbase Visa debit card, a fee of 2.49% applies to all purchases and ATM withdrawals. But purchases made with USDC have no fee.
How do I open an account?
Sign up for a Coinbase account from either the web platform or the mobile app.
A signup box appears that asks for your name and email address and to create a password. You also need to indicate your state of residence and check the box that certifies you're at least 18 years old and confirms you've read the required disclosures.
Once you complete the signup box, you provide your phone number. Coinbase uses this to send you a security code by text.
Be prepared to provide your Social Security number, as well as your driver license or other government-issued identification.

Once you've provided the above information, you'll be able to sign into your account. From there, you link a bank account, credit card or debit card for funding purposes. The linked account also lets you withdraw funds from Coinbase.

Once you've linked a bank account or card, you can start trading.
Coinbase promotion
Coinbase is currently offering $5 in bitcoin when you open a new account. The promotion applies only to those who have never had a Coinbase account before. There is no holding period on the bitcoin promotion. It's yours as soon as it's deposited into your account.
More: The best crypto sign-up bonuses
How to fund your Coinbase account
Fund your Coinbase account with US dollars or digital assets. Dollar funding comes from your linked bank account, credit card or debit card.
Or fund your account by transferring cryptocurrency to the Coinbase exchange from other exchanges or your own wallet. However, the crypto transferred must be in a currency supported on the Coinbase platform.
How's the customer service?
You can contact Coinbase customer support by emailing various emails depending on the product you need assistance with. For example, Coinbase has dedicated email support for its main exchange, Coinbase Pro, and its new NFT marketplace.
You can also reach customer support by calling four different support lines:
USA/International: +1-888-908-7930
Is Coinbase safe?
As a cryptocurrency exchange, Coinbase is regulated by the New York State Department of Financial Services. And the exchange takes steps to protect your assets and your information.
Basic security procedures include using SQL injection filters and placing limits on the type of actions that can be performed on the site. That includes limiting the number of login attempts. Your passwords are securely stored in the database, and application credentials are kept separate from the database and the code base.
When working with a cryptocurrency exchange, you need to make use of security keys. Security keys add an additional level of account access verification in addition to your password. However, as previously noted, these are not available for the mobile app.
For safety, set up your account using a security key that supports the WebAuthN/Fido2 standard. The company plans to add more keys in the future. However, Coinbase maintains insurance coverage on digital assets held on the Coinbase digital wallet.
Is Coinbase a centralized exchange?
Coinbase is a centralized exchange, meaning it facilitates cryptocurrency trading and acts as a custodian to securely hold your digital assets. Most leading cryptocurrency exchanges are centralized and also follow government regulations in the countries they operate in.
However, the Coinbase Wallet is a decentralized self-custody service where you're responsible for your own private key and protecting your digital assets.
Best alternatives to Coinbase
Gemini

Gemini offers trading in more than 40 cryptocurrencies on one of the best trading platforms in the industry. And you earn 8.05% interest on your crypto balance through Gemini Earn.
Like Coinbase, it also offers a stablecoin, known as the Gemini dollar. Gemini has the distinction of being the only fully regulated cryptocurrency exchange. It also offers captive insurance coverage for cryptocurrency stored on the platform.
eToro

eToro is both an investment brokerage and a cryptocurrency exchange. It offers crypto only in the US. eToro accommodates more than 20 cryptos.
Fees are no more than 5%, depending on the crypto. It also provides a virtual trading account of up to $100,000 to help you either learn to trade or become a better trader. And if that's not enough, it also offers "copy trading," which lets you copy the trading patterns of more successful investors.
Disclaimer: InvestorJunkie is compensated if you access certain of the products or services offered by eToro USA LLC and/or eToro USA Securities Inc. Any testimonials contained in this communication may not be representative of the experience of other eToro customers and such testimonials are not guarantees of future performance or success.
BlockFi

You can trade digital currencies on BlockFi. And you can also earn get Bitcoin back on every purchase made with the BlockFi Rewards Visa® Signature Credit Card. Or use the crypto in your account to back a loan. Find out more in our BlockFi review.
Robinhood

Though it's best known as an investment app where you can trade stocks, options and exchange-traded funds (ETFs) commission-free, Robinhood also offers trading in several cryptocurrencies including Bitcoin, Ethereum, and Dogecoin. And as is the case with other securities, cryptos can be traded commission-free.
Bottom line — Is Coinbase worth it?
Cryptocurrencies become more popular every year and even make regular appearances in the mainstream financial media. If you want to trade or invest in cryptos or just get in on the ground floor of what may be the biggest financial revolution in more than 100 years, you need to open an account with a good cryptocurrency exchange.
Coinbase is one of the best in the business and offers a higher level of liquidity than most other exchanges, with the combination of the USDC stablecoin and the Visa debit card.
BlockFi bankruptcy notice -On Nov. 10, 2022, BlockFi announced that it had to suspend withdrawals from its platform due to the FTX liquidity crisis. As a result, consumers should not be using the BlockFi platform. As of Nov. 28, 2022, BlockFi officially declared bankruptcy.