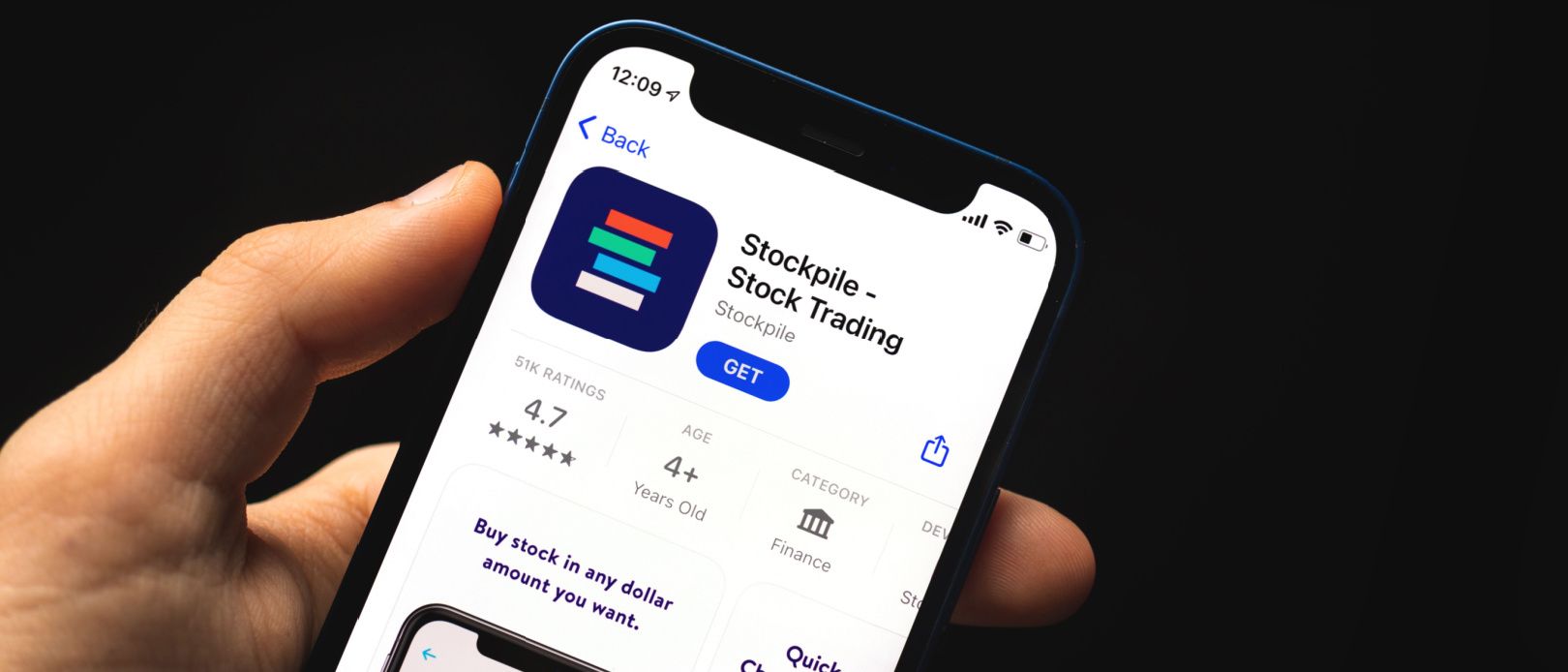 Stockpile review: Should you give the gift of stocks?
FellowNeko / Shutterstock
🗓️
Updated: February 03, 2023
We adhere to strict standards of editorial integrity to help you make decisions with confidence. Please be aware that some (or all) products and services linked in this article are from our sponsors.
We adhere to strict standards of editorial integrity to help you make decisions with confidence. Please be aware that some (or all) products and services linked in this article are from our sponsors.
Stockpile is an online stockbroker with a bit of an unusual twist. That's because — in addition to letting its users buy and sell stocks like a regular brokerage — the service also sells gift cards that can be used toward the purchase of stocks and exchange-traded funds (ETFs).
CEO Avi Lele created this unique service. The story goes that he was looking to buy Christmas presents for his nieces and nephews. He wanted to give them something more substantial and longer-lasting than toys. He thought that stocks would be a good idea but found the process too frustrating and pricey. He gave up on that effort and bought some toys anyway.
But the idea never left his mind. And that's how Stockpile came to be. Individual stocks can be too expensive and cumbersome to purchase one share at a time. So Stockpile offers gift cards toward the purchase of stock to help young investors buy their first shares.
Phone: M-F 9A-6P ET; email
How does Stockpile work?
By offering small amounts of stocks — commonly referred to as "fractional shares" —and making investing in household-name companies accessible to a broad audience, Stockpile fills the gap left by Loyal3, which shut down unexpectedly in May 2017.
There are two parts to Stockpile's gift card program. The first is buying the gift cards, and the second takes place when the recipient exchanges the card for stock.
Buying Stockpile gift cards
Stockpile gift cards are available towards the purchase of stock in hundreds of well-known companies like:
Amazon
Apple
Berkshire Hathaway
Cisco
Disney
Google
McDonald's
Microsoft
Netflix
Snapchat
Tesla
Twitter
The variety of companies is enough to get kids excited about investing, and there's over 1,000 companies to choose from. The cards are issued by Stockpile Gifts, Inc., and can be purchased either as e-gifts or as physical gift cards. They have no expiration date so that they can be redeemed at any time.
When you're on the Stockpile website, click "Buy" at the top of the page. This takes you to the stock selection page.

Once there, you can check the stocks that you want to purchase gift cards for. After choosing the stocks, click "Next" at the bottom, and you'll be brought to the Choose Amount page. That's where you select the dollar amount you want on the gift card.
Now you select the amount of the card: $25, $50, $100, $200, or another amount. Once you've done that, click "Next" and you're brought to the recipient page. Here, you provide the recipient's name and email address and also add your name as the giver. You can also leave an optional gift message. Once you have completed the page, you can click the "Checkout" button.
At the checkout page, you have the option to pay by credit card, debit card, or PayPal. You can also buy physical gift cards in some stores. These include major retailers, such as Kmart, Kroger, Lowe's, and Toys"R"Us. (Check availability at specific stores, as not all stores in the same chain will carry the cards.)
Redeeming Stockpile gift cards
As easy as it is to purchase a Stockpile gift card, redeeming it for actual stock isn't nearly as simple.
In order to redeem a gift card, the recipient must open a brokerage account with Stockpile. Since the recipient is often not of legal age, the parents will have to open a custodial account in his name. Since the gift cards never expire, the recipient could simply wait until he turns 18 to open an account. But that may be far in the future. In the intervening years, the gift card may be lost or forgotten. Or the company may even go out of business or discontinue the program.
Anyone can purchase a Stockpile gift card. But only U.S. citizens and residents can open a Stockpile brokerage account and redeem the cards for stock. Fortunately, if the recipient can't redeem the gift card for stock or chooses not to, the card can be swapped for a retailer gift card. The gift card can also be used to purchase a stock other than the one actually listed on the card.
The brokerage account is held through Stockpile Investments, Inc., a registered broker-dealer, FINRA member and SIPC participant. All trades are settled and cleared through Apex Clearing Corporation, which is also a member of both FINRA and SIPC.
The account requires no minimum balance, but Stockpile is switching to a monthly paid membership model that costs $4.95 per month (more on that below). One other important point is that the gift recipient is likely to use the gift card to purchase fractional shares. They can hold the shares with Stockpile, but fractional shares cannot be transferred to another broker.
In addition to the purchase of cards, the Stockpile website also has some excellent educational material. The material is presented in simple terms that can be easily understood by an investment novice or even a child.
Stockpile pricing and fees
In late 2021, Stockpile went fee-free and doesn't charge commission for stock and ETF trades. However, as of July 15th, 2022, you need to pay for a Stockpile monthly membership to use the platform. There are currently two plans available:
Monthly Stockpile membership: $4.95 per month ($59.40 per year)
Lifetime membership: $19.95 (available for a limited time)
The announcement of switching to a paid membership structure isn't great news for Stockpile. This is because paying almost $60 per year is a massive fee for very small accounts, which might be what your child has.
The paid membership does have some perks, like granting up to five investing accounts and one adult investing account under one plan. Premium members will also be able to invest in additional cryptocurrencies when Stockpile supports this. However, most online brokers and trading apps like Robinhood and Public don't charge commissions, so the fact you have to pay for Stockpile isn't very competitive.
Other potential Stockpile fees include:
Outgoing cash transfer (domestic wire): $25
Account transfer to another brokerage: $75
This account transfer fee is another massive downside of Stockpile. When your kid comes of age and wants to move their custodial account to another broker where they're in control, expect a $75 fee.
Stockpile alternatives
Stockpile is a popular option for giving stocks as a gift. And it's an easy-to-use app if you're trying to encourage your kid to take an interest in investing and to learn more about how stocks and ETFs work. The fact you can invest in crypto through a Bitcoin ETF is also a selling point.
However, now that Stockpile is switching to a paid membership model, it's not the best choice for every parent. Plus, you can always open a custodial account for your child with an online broker instead of using Stockpile. And many commission-free online brokers also have more investing options and educational resources than Stockpile does.
Ally Invest is an excellent choice for parents since it offers a custodial account and has a direct investing option as well as a robo-advisor service. Plus, it lets you invest in mutual funds and bonds as well as offering commission-free stock and ETF trades.
TD Ameritrade and E*TRADE are similar options that are more comprehensive investing platforms than Stockpile. You can also explore options like opening a 529 plan to help your child save for future education expenses, which is a plus. Similarly, UNest makes it easy to invest in your child's future and uses a UTMA account, which is more flexible than a 529 plan.
How does Stockpile stack up?
There are two services going on with Stockpile: the brokerage service and the stock gift card service.
As a broker, Stockpile is very bare-bones. In this case, it's much like Robinhood which is geared toward Millennials and offers none of the tools and extra services other stockbrokers provide. Also, like Robinhood, you can invest only in stocks and ETFs — there are no mutual funds or options to be found.
At the end of the day, the stock gift card service is Stockpile's main hook. It's not a competitive standalone broker, but this isn't the point of the service. The main benefit is to provide the recipient with a gift that is longer lasting than a toy. If the recipient uses the gift card to purchase a fractional share of stock, it could become a gift that continues to grow as the years pass. Just be careful since monthly fees can be very expensive for small portfolios.
Like other apps geared toward young people — such as microsavings services Acorns or Stash — Stockpile may not provide the functionalities that more sophisticated investors are looking for. But it certainly serves its purpose for newbies looking for a relatively uncomplicated way to get started investing.
Stockpile pros and cons
Pros
Offers 1,000+ stocks and ETFs to invest in
Supports fractional shares
Invest in cryptocurrency through Bitcoin ETFs
Cons
Doesn't offer investments like mutual funds or bonds
Stockpile is switching to a paid monthly membership system
You pay a $75 account transfer fee
Not as many research options and tools as full-on brokers
Summary
It's hard to say if Stockpile is a stock gift card service with a brokerage service, or if it's a brokerage service with a stock gift card service (the company definitely emphasizes the former!).
The stock gift card service is an innovative idea because it allows you to buy gift cards for a flat dollar amount which can be used to purchase stock, including fractional shares. And if you want to get your kids excited about investing, Stockpile can definitely help out.
However, this brokerage is really a limited brokerage service, since the accounts and investments available are limited, as are the investment tools provided. But commission-free trading and fractional shares let you or your child invest with little money, and a stock gift card is certainly the type of gift that can keep on giving.
Disclaimer- Paid non-client endorsement. See Apple App Store and Google Play reviews.View important disclosures.Investment advisory services offered by Stash Investments LLC, an SEC registered investment adviser. This material has been distributed for informational and educational purposes only, and is not intended as investment, legal, accounting, or tax advice. Investing involves risk.¹For securities priced over $1,000, purchase of fractional shares start at $0.05.
²Debit Account Services provided by Green Dot Bank, Member FDIC and Stash Visa Debit Card issued by Green Dot Bank, Member FDIC. pursuant to a license from VISA U.S.A. Inc. Investment products and services provided by Stash Investments LLC, not Green Dot Bank, and are Not FDIC Insured, Not Bank Guaranteed, and May Lose Value." because the article mentions the debit card.
³You'll also bear the standard fees and expenses reflected in the pricing of the ETFs in your account, plus fees for various ancillary services charged by Stash and the custodian.
⁴Other fees apply to the debit account. Please see Deposit Account Agreement for details.
⁵Stock-Back® is not sponsored or endorsed by Green Dot Bank, Green Dot Corporation, Visa U.S.A, or any of their respective affiliates, and none of the foregoing has any responsibility to fulfill any stock rewards earned through this program.