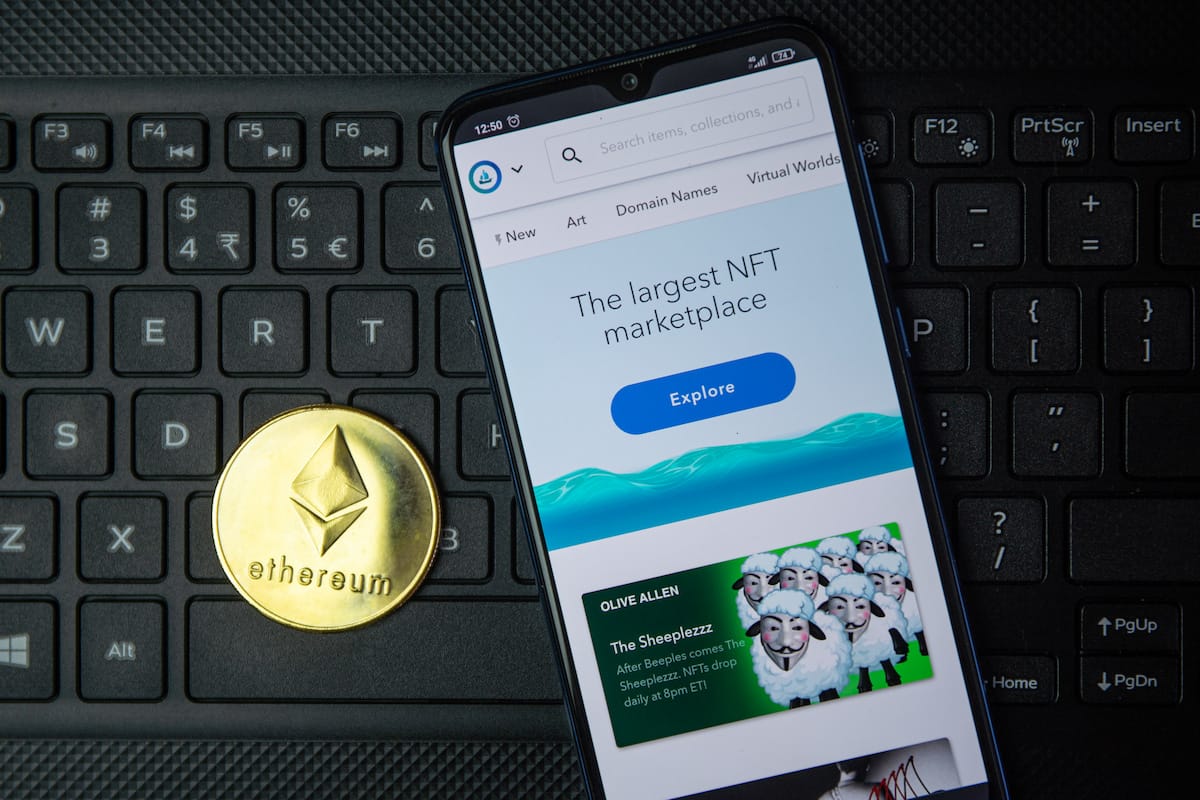 OpenSea review: Best NFT marketplace?
Rokas Tenys / Shutterstock
🗓️
Updated: June 06, 2022
We adhere to strict standards of editorial integrity to help you make decisions with confidence. Please be aware that some (or all) products and services linked in this article are from our sponsors.
We adhere to strict standards of editorial integrity to help you make decisions with confidence. Please be aware that some (or all) products and services linked in this article are from our sponsors.
OpenSea is the leading non-fungible token (NFT) marketplace in the world.
The OpenSea marketplace enjoyed massive growth throughout 2021. And, in January 2022, its monthly trading volume hit an all-time of $5 billion.
Find out more about the platform in this OpenSea review. Learn how it works and if it's still the best option for NFT creators, buyers, and sellers.
What is OpenSea?
OpenSea is the first and largest NFT marketplace. OpenSea is supported by many venture capitalists, including household names including Mark Cuban, Tim Ferriss, Kevin Durant Ashton Kutcher and Shopify CEO Tobie Lutke.
Based in New York City, OpenSea was founded in 2017 and has more than 600,000 users. The platform has more than two million collections, including more than 80 million NFTs.
On the technical side, OpenSea uses open protocols such as Ethereum and interoperable standards ERC-721 and ERC-1155. As a decentralized marketplace, OpenSea is designed to be a permanent work-in-progress, conducted by participants on the platform.
OpenSea supports multiple blockchains and offers the broadest set of NFT categories, with the best pricing for this emerging asset class.
OpenSea has a rating of 4.8 out of five stars among nearly 27,000 ratings on the App Store, and 4.1 out of five stars among 20,000 reviews on Google Play.
Wait, what are NFTs?
To understand exactly how OpenSea and NFT marketplaces work, it's important to understand what NFTs are.
An NFT is a completely unique unit of data stored on a blockchain that represents a digital asset. An investor may want to buy and hold a specific NFT because they believe that it has substantial potential for an increase in value.
Each NFT has a unique identifying code to ensure it's either one-of-a-kind or one of a very limited number of creations in a series. While many NFTs are copies of artwork, an NFT may take the form of music, clothes or even tweets.
As an online NFT marketplace, OpenSea acts as a platform where participants can come to create, sell and buy NFTs. Think of it as an eBay for NFTs.
What does OpenSea offer?
OpenSea offers participants the ability to create digital assets, as well as buy and sell them. That makes it a one-stop shop for NFTs.
Participants on the platform can create, buy or sell digital art, collectibles, domain names, music, photography, sports memorabilia, trading cards, and other creations. As the buyer or seller, you can track the trading history of each asset on the platform, all the way back to when the token was created.
As a creator, you can create new digital assets free of charge. The platform is designed for people who aren't familiar with NFTs; assets can be created without technical know-how or even familiarity with how the blockchain works.
One of the advantages of being a creator is that you can earn royalties each time your digital asset is sold. This is similar to how compensation works in the creative arts, like music and movie productions. Actors and artists can continue receiving revenue each time a movie or song is sold or played in a public venue. That's now possible for creators of NFTs as well.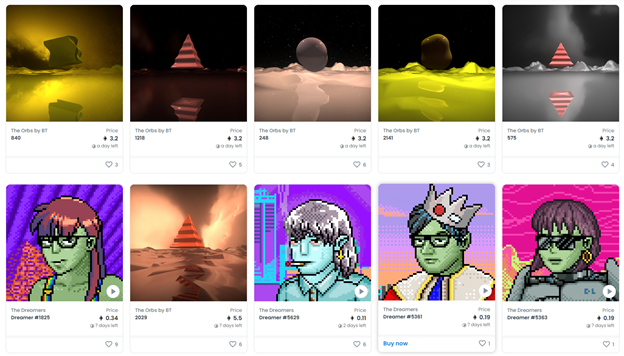 How does OpenSea work?
As an online digital asset marketplace, anyone can use OpenSea.
Creators can open accounts and create digital assets right on the platform. Once created, those items can be placed on the platform marketplace for sale.
You can set up a creator's page just by tapping "Create" on the top bar of the site. From there, you'll be brought to the NFT item creation page, where you can upload your NFT file, adding a name and description. You can then customize your NFT by placing it into an existing collection, or adding properties, levels, stats and even unlockable content.
The platform will enable you to select which blockchain you want to make your NFT on. You'll have a choice of three blockchains:
1.

Ethereum

2.

Polygon

3.

Klatyn
Sellers who are not creators can also place their NFTs on OpenSea. You'll have the choice to sell individual NFTs, or to create and sell bundles of digital assets.
Buyers can purchase digital assets on OpenSea from either the Ethereum or Polygon blockchains. This is done by making an offer to purchase a specific digital asset, then paying the full price on a fixed price item, or making a bid on an item up for auction.
Main features
1.

Minimum investment: None required.

2.

Who can use OpenSea: Digital asset creators, sellers and buyers


3.

Available investments: Non-fungible tokens (NFTs) only.


4.

Accepted currencies: Core currencies are Ethereum (ETH)/WETH, USDC and DAI. More than 150 other cryptocurrencies are accepted.


5.

Available digital assets: Art, collectibles, domain names, music, photography, sports, trading cards, utility and virtual worlds. Utility can include redeemable rewards, membership NFTs, and other up-and-coming digital assets.


6.

Mobile App: Android and iOS devices.

Fees and limits
Creators can use OpenSea free of charge and pay no fees to create digital assets.
OpenSea uses a simple fee structure in which they charge a 2.5% fee for every transaction on the platform. The fee is paid by the seller after the sale is complete. No fee is charged to the buyer on the platform.
Creators can set a creator earnings amount of up to 10% of the value of the NFT. That means each time the digital asset is sold the seller will earn a fee.
Who is OpenSea for?
As the largest NFT marketplace in the world, OpenSea is for anyone who is interested in digital assets. That can include creating, selling, buying and even collecting NFTs.
OpenSea's advantage is that it provides the ability to create NFTs, as well as to trade and invest in them. Since OpeanSea is available as a mobile app, you can even buy, sell and trade on the go.
How do I open an account?
You can open an account on either the website or on the mobile app. But you'll need to buy Ether (ETH) to pay any necessary fees or to make purchases. Crypto can be purchased on popular cryptocurrency exchanges like Coinbase and Gemini.
Whether you open an account with OpenSea as a creator, seller or buyer, you will need to have a crypto wallet to move funds in and out of the account. In addition to transferring funds, the wallet will also hold your digital assets. You can use either a software or hardware wallet for this purpose.
You should be aware that OpenSea does not accept fiat currencies, like the U.S. dollar. Transactions are permitted in crypto only.
Find out more: How to invest in cryptocurrency
How's the customer service?
As is typically the case with applications related to cryptocurrencies and digital assets, customer contact is highly limited. There is no phone support available and support requests must be sent via email. The company does not indicate the expected response time for emails.
Are the NFTs on OpenSea fake?
As is the case with any online platform, or even in physical markets, there's always the possibility an item can be a fake. But this possibility is minimized because each NFT has a unique identifying code.
Even with that code, it's important to do your research — particularly with regard to the seller of the digital asset. Many participants on a platform also link their social media profiles. Investigate those profiles and, to the best of your ability, determine if the seller is a real person.
You should also deal primarily with those who have a large inventory of NFTs for sale. A large presence on the platform can be an indicator of the seller's integrity.
Stay safe: Learn how to spot an NFT scam
Is OpenSea safe?
OpenSea is the leading NFT marketplace in the world, and it's also regarded as a relatively safe and secure marketplace. However, like many other NFT marketplaces and crypto exchanges, there have been cases of hacks and stolen NFTs that have plagued OpenSea since its inception.
In fact, there are numerous ongoing OpenSea lawsuits from customers who had rare NFTs stolen and sold from their accounts. Many creators also complain about the plagarism of their NFTs and are frustrated that OpenSea isn't doing a better job at monitoring new NFT mints on the marketplace.
Overall, OpenSea is a safe marketplace for the vast majority of customers. But there are also plenty of horror stories of hacks and missing NFTs. If you hold incredibly valuable NFTs on OpenSea, make sure you do everything in your power to protect your login credentials or consider moving your NFT to your own wallet.
OpenSea pros and cons
Pros
OpenSea is easy to use, even for those who have little or no understanding of the NFT universe
NFT creators can add a creator's earnings provision of up to 10% so they can earn revenue each time their digital art is sold
No fees to create NFTs
Single flat transaction fee of 2.5% on all sales, payable by the seller upon completion of the sale
No buyer fees
Cons
You need to provide your own digital wallet
All transactions must be completed using cryptocurrency
Transactions, once made, are irreversible
Customer contact is limited to email; no phone contact is available
Best alternatives to OpenSea
While OpenSea is the largest NFT marketplace, it's not the only one. Other options include:
Rarible
Rarible is a similar NFT marketplace, where you can create digital assets, even without a technical background. And much like OpenSea, it also gives creators the ability to earn royalties on future sales of their digital assets. Rarible also charges a 2.5% transaction fee on all sales, to both the buyer and seller.
Nifty Gateway
Nifty Gateway is owned by cryptocurrency platform Gemini. It accepts multiple payment options, including credit cards, debit cards and cryptocurrency.
Nifty Gateway offers an opportunity to create, buy and sell digital assets using the Ethereum blockchain but charge almost no gas fees. They charge a fee of 5% on secondary sales, plus $.30.
NFT ShowRoom
NFT ShowRoom is a smaller NFT marketplace that uses the HIVE blockchain. They have the advantage of accepting credit cards as well as PayPal, rather than restricting transactions only to cryptocurrencies. However, NFT ShowRoom charges a commission of 10% on all transactions, which is much higher than other platforms.
To see even more OpenSea alternatives, check out our comparison of the best NFT marketplaces in 2023.
The bottom line
As the largest NFT marketplace in the world, it's clear that digital asset investors are showing a strong preference towards OpenSea. This is important, because both NFTs and their marketplaces are a relatively new phenomenon.
We still caution against looking at NFTs as "investments," since their value is solely driven by demand (just like physical art). However, if you're simply looking to become an NFT creator or buyer, OpenSea currently offers the best inventory, largest audience, and a reasonable fee structure.