The digitization of investing Back in 2019, a CNBC Invest In You survey found that 99% of respondents preferred to make investment decisions without the help of a financial advisor.
A more recent study by the National Financial Educators Council found that only 33% of Americans turn to professionals when they have financial questions.
Technology is rapidly catching up with investors' desire to do it alone, providing them with a growing number of tools to make more confident decisions.
Almost 20% of Americans surveyed by Goldman Sachs in June reported using robo-advisors or automated investment platforms to manage their finances.
With consumers looking to save time and money in every aspect of their lives, fintech companies have little choice but to continue improving their existing platforms. They'll also keep pushing out new products that make investing, banking and wealth management easier, more intuitive and more tailored to an individual's unique financial situation.
Expect more investing apps, platforms and software to vie for your attention in 2022, making it easier for you to invest in everything from commodities to crypto, and even U.S. farmland. Bet on the processing and artificial intelligence behind these new tools taking a major leap forward, too.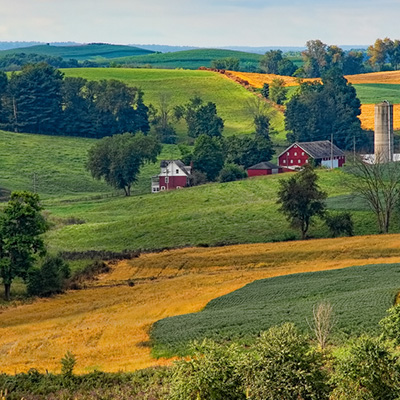 Farmland is one of the top asset classes capable of insulating your money from volatile market conditions. Learn how you can use FarmTogether to safeguard your portfolio.
Diversify now
Real diversification The death of the 60/40 portfolio is a topic that's received plenty of attention over the past few years. In 2022, a little more dirt will likely land on its grave.
A portfolio consisting of 60% stocks and 40% can seem painfully outdated when climbing interest rates and high inflation put pressure on the value of all financial assets.
The 60/40 strategy also assumes there are no other assets worthy of adding to a portfolio, making optimal diversification — owning assets that are not correlated with the stock or bond markets — virtually impossible.
Investors already have a widening selection of alternative assets they can add to their portfolios as a means of shielding them from any stock market disruption.
Commodities, farmland and high-end collectibles not only make excellent diversification plays, but they're also sources of outsized long-term gains.
Expect the opportunities to diversify your portfolio to keep growing next year. Remember to take a long, thoughtful look at them when they do.
Impact investing ESG investing, or putting money behind companies that are making a concerted effort to improve their environmental, social and governance practices, continued to be a hot topic in 2021.
As of July, worldwide sustainable investments totaled $35.3 trillion, more than a third of all assets in five of the world's biggest markets, according to the Global Sustainable Investment Alliance.
With ESG as a focus, investors can use their money not only to make positive changes in the world but chase market-topping returns.
Research by Oxford University found that companies with robust sustainability practices "demonstrate better operational performance, which ultimately translates into cash flows" and "have a positive influence" on investment performance.
While certain ESG initiatives are relatively easy to assess, like an agricultural firm partnering with farmers who use soil-conservation techniques, for example, others, like governance and social impact can be more subjective and harder to grade.
Rating standards will hopefully evolve along with the rest of the ESG space in 2022.
Next year's investing trends may not provide the pulse-pounding excitement of meme stocks or crypto, but that's not a bad thing. After almost two years of logic-defying market (and investor) activity, patient, long-term investment decisions are due for a comeback.
Sponsored
Diversify your investments with farmland
You don't have to own a farm to profit off farmland.
Farmland has proven to be one of the most stable assets of the past few decades — and with FarmTogether, you're able to invest today. FarmTogether's platform gives accredited investors access to this exciting market, and one of the highest-yielding asset classes on a risk-return basis.
Sign up for FarmTogether to start investing in farmland.