What's Buffett saying? At his company's recent annual meeting, Warren Buffett defended his decision to sell all of Berkshire Hathaway's airline holdings last year.
Until 2020, the company owned 9% to 11% stakes in American, Delta, United and Southwest Airlines. But when the pandemic hit, Berkshire Hathaway sold its holdings at a considerable loss.
He also decreased the company's shares in JPMorgan Chase and Goldman Sachs last year.
At the meeting, some investors accused Buffett of being overly cautious.
Buffett said he doesn't "consider it a great moment in Berkshire's history" but he stands by his choice, despite the fact that those airline stocks have risen since.
As he sees it, the travel industry is still an iffy investment — especially since, in Buffett's view, international and business travel are unlikely to resume anytime soon.
On top of that, Buffett has an inkling the airline industry wouldn't have received any government bailouts early in the pandemic if his company hadn't withdrawn its stake.
"I can just see the headlines now," he said at this year's meeting.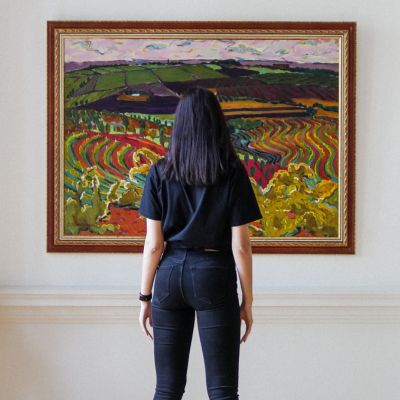 Contemporary art has outperformed the S&P 500 by 131% for the past 26 years. Join the exclusive platform to invest in million-dollar works by artists like Banksy, Basquiat, and more. Get started today and diversify your portfolio with art.
Learn More
As always, he may be onto something Buffett thinks it may take years for the airline industry to recover from the effects of COVID.
Many employers like Google, Ford and Target, aren't aiming to move their corporate employees back to in-office work until July at the earliest. And close to half of the workforce is still working remotely full time, based on findings from Upwork.
And in the same report, Upwork anticipated the number of remote workers would nearly double over the next five years compared to what it was before the pandemic, with 36.2 million Americans working from home.
What does that mean for travel? The pandemic has revealed that virtual meetings can be just as productive and way more cost-effective than putting employees on a plane and putting them up in hotels.
A study from IdeaWorks reveals that between 19% and 36% of business travelers will not be returning to the skies after the pandemic is over.
The rationale for that varies, with some reporting they'll instead be working completely from home, they can rely on virtual options like Zoom or Microsoft Teams for more things or their risk profile has changed.
What to do if Buffett is right We may not be returning to business or international travel as quickly or as fully as we'd hoped, but even if that's disappointing, it gives you a little extra time to save up for an even better trip after the pandemic.
Here are a few ideas to fill out your travel fund:
Sponsored
Meet Your Retirement Goals Effortlessly
The road to retirement may seem long, but with WiserAdvisor, you can find a trusted partner to guide you every step of the way
Wiseradvisor matches you with vetted financial advisors that offer personalized advice to help you to make the right choices, invest wisely, and secure the retirement you've always dreamed of. Start planning early, and get your retirement mapped out today.