The restaurant is the most convenient and hassle-free option, but there are also plenty of positives to hosting a dinner party at your place. Most obviously, it's cheaper than eating out. Plus, you and your guests can move around and be as loud as your next door neighbors will tolerate.
If you decide to invite people over, then the next decision is whether to cook, cater, or go for a potluck. Cooking it yourself or even having it catered gives you control over the food situation. These options allow you to control the ingredients if you have friends with dietary restrictions or food allergies. But there are also certain pitfalls to cooking or catering your get-together, namely the expense and hassle.
So, why not save yourself the expense and the worry and hold a potluck instead? Potlucks are a time-honored tradition and a great way to have a dinner party. Keep reading to find out why they're so awesome and our tips to plan and execute the perfect potluck with your crew.
Why potlucks are better than expensive dinners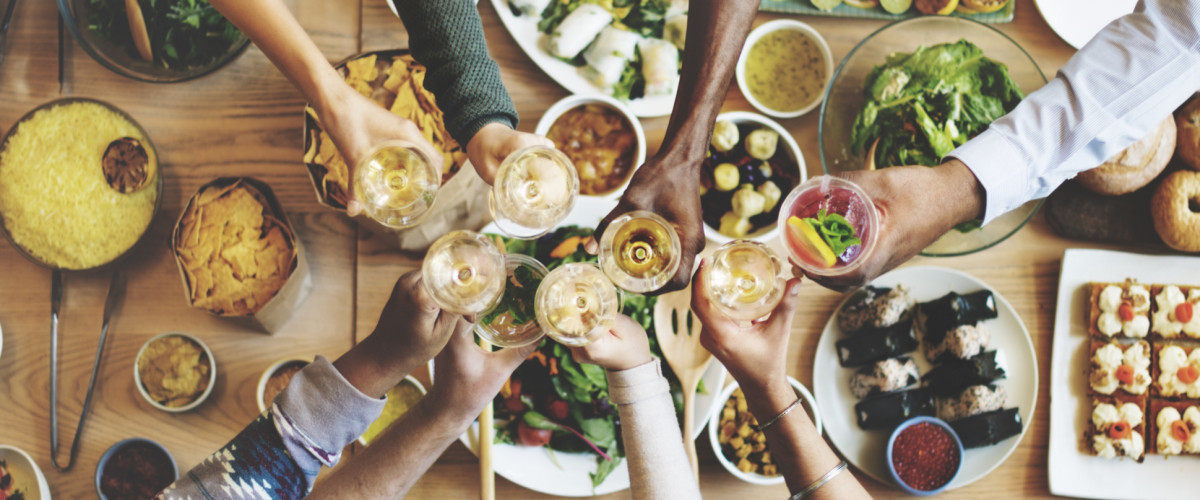 There are plenty of reasons why potlucks put catered dinners to shame:
They're cheap and convenient
Some people are born to be entertainers and party hosts, but let's admit that for most of us, planning parties can be expensive and a major headache. For those of us who do not want to break our wallets, a potluck is an excellent way of "distributing" the cost among your hungry guests as well as the hassle of preparing the food to be served.
Now that you're off the hook as cook, you'll have time to pay attention to important host concerns like preparing drinks, dining necessities, and organizing entertainment for your guests. Holding a potluck is a no-fuss way of having people over to talk, chill, or celebrate a special event without getting buried elbows deep in party prep.
You'll get great food variety in one meal
The beauty of a potluck is that the more guests you have, the more food you'll have on the table. Not only does this mean there's enough food for everyone, but there will also be lots of options for your guests to choose from. As the host, you can guide your guests to bring certain kinds of foods to make sure all the basics are covered. This is the best way to avoid having everyone bring just salads and dessert!
Depending on how you organize the menu, you can ensure that there is a good variety of dishes for your guest and their dietary needs. Some dishes might be a huge hit and others might be a miss, but at least you'll know that people aren't going home hungry. If there are guests who didn't like other people's cooking, then they can at least eat the food they brought.
Potluck dishes are good conversation starters
Conversation at dinner parties begins at the table, and the food itself can be an excellent conversation starter. Encouraging your friends to bring dishes that are cultural specialties or something unique that they love to make can get people talking about the novelty of the food.
If you have friends who love to cook, it could also be fun to pick a theme for your party and have guests bring food that falls into the theme. This presents your guests with a challenge to find interesting new foods to prepare and leaves you to figure out what drinks and décor would pair best with these new dishes.
Potluck like a pro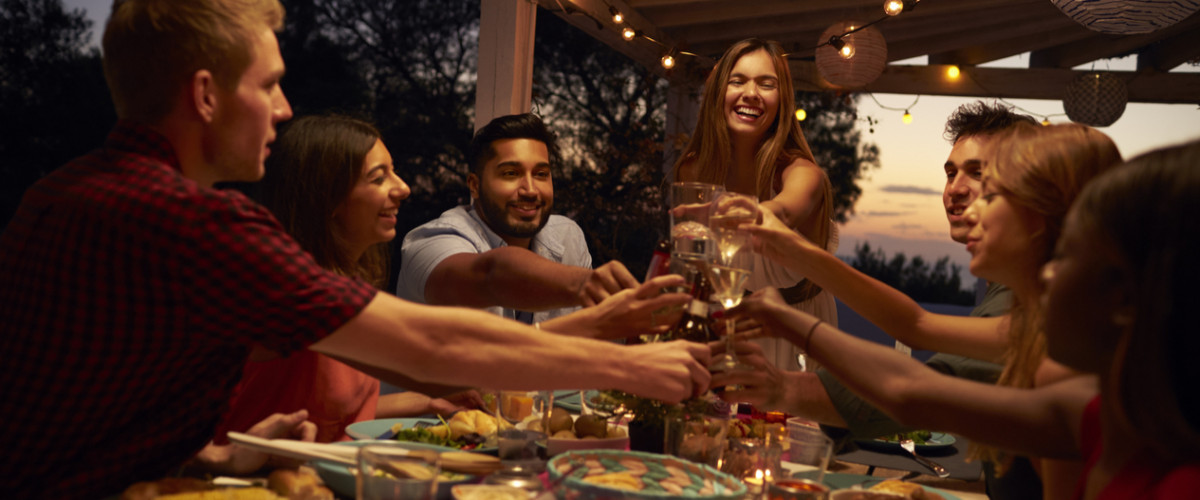 You don't have to be Martha Stewart to potluck like a pro. But you do have to plan a bit.
Here are five pointers to achieve potluck success:
1. Create the perfect guest list
The main decisions about food and location for a potluck depend on who's coming over. If it's a kids' play date with mothers in tow, then child-friendly utensils and healthy kid-friendly dishes should be part of the plan. A potluck with book club members should be organized in a relaxing and comfortable location that allows for long discussions. And don't forget the drinks if your college friends come over.
Since the idea of a potluck is to have each guest bring something, it's also important that an RSVP note be included in the invite. Ask guests to RSVP several days before the event along with what food they are thinking of bringing. This will ensure that the aforementioned all salad and dessert fiasco doesn't occur. Finally, send out the headcount to your confirmed guests so they'll know how much food to make.
2. Choose a simple theme
You might have given your guests the task of preparing the food, but as the host, you should try and makes their lives as easy as possible. Remove any guesswork about what to bring by picking a single theme to guide food choices, such as a particular culture or holiday theme.
Make yourself available to discuss ideas with your guests, too. Some people love the challenge of coming up with ideas for a potluck, but others might not have the time or interest for it. Have some simple ideas on hand to help these guys out and make sure they can participate in a way that's comfortable for them.
Having a theme can be a way of ensuring that the dishes match and there aren't any weird tastes going around from sampling an assortment of random dishes. At the same time, a potluck can also be a way of getting to try out dishes you and your guests wouldn't normally eat. A 'Round the World potluck theme can work if you have a culturally diverse set of friends or if you invite adventurous guests who like to try new things.
Whatever theme you choose, just make sure it's not too difficult to prepare the dishes. While molecular gastronomy is cool, it's probably not fair to expect your guests to make that much effort for a potluck.
3. Organize using a shared Google Sheet or potluck website
Everyone's bringing something, and as the host you should make sure that no two people bring the exact same dish. One or two similar foods might be okay, but unless it's a mac n' cheese or pie-themed potluck that encourages everyone to bring just these foods, you'll probably want to have a variety of dishes on the table.
The best way to do this is to set up an accessible space where you can coordinate dish assignments and guests' dietary restrictions and food allergies. You can use a simple Google Sheet or even a potluck website like Perfect Potluck to organize everything for a fancier event.
Using these online forms, you write up dish suggestions that guests can choose from, to reduce any guesswork on their part. Or, you can draw up categories, such as appetizers, soups/salads, main dishes, side dishes, desserts, and beverages, and have each guest bring an item from one of these major categories. Or, you can ask them to volunteer what they want to bring—whatever you think will work best for your guests and your party.
Again, there's no set rule on how many dishes you need for your potluck, although the more people you have attending, the more dishes you'll need. You may want to have more main dishes and fewer side dishes or appetizers—but it's really up to you.
Include food allergies and dietary restrictions in your document so your guests will know what ingredients to avoid cooking with or simply to warn the diet sensitive friend not to eat a certain item. You can use your document to assign guests to bring tableware if that's part of your potluck plan.
Potluck websites like Perfect Potluck even have features that allow you to send out party invitations, RSVP forms, and automated email reminders to your guests.
4. Plan for an easy cleanup
Potlucks are the best because they're easy to arrange and can be a breeze to clean up after, too. With everyone bringing their own dish ready for serving in their own containers, the boxes and dishes can go home with their owners at the end of the night instead of ending up in your trash can. You may also want to ask your guests to bring their own serving utensils.
This only leaves you to clean up basic tableware. If you want to avoid doing dishes at all costs, you can go with disposable spoons, forks, plates, and paper napkins. Leftover food for take-away can be placed in guests' empty food containers or you can be ready with plastic bags and cheaper Tupperware boxes that you don't mind parting with.
Finally, ready your trash bags and make sure to point them out to everyone so they can easily dump scraps and garbage in the right place.
5. Focus on hosting, not the food
With the food taken care of by your guests, you can spend more time planning other details to round out the dinner, such as music, activities, and interesting drinks or décor. Hosting duties will also include tidying up your place before guests arrive, setting extra tables and chairs, preparing the kitchen or serving area for the food, and having extra table napkins (etc.) handy.
More than anything else, the goal of a potluck party is to enjoy good food and drink with your favorite people! It's fun for everyone involved, and as the lucky host, you'll be able mingle and join in the conversation without stressing about not having enough dishes on the table.
Potlucks are cheap, relaxed, and easy to organize. What more can you ask for from a night spent with your crew?
Do you have potluck on the mind? (You're welcome!) Why not share this article with a friend and get this party started?