T. Schneider / Shutterstock
We adhere to strict standards of editorial integrity to help you make decisions with confidence. Please be aware that some (or all) products and services linked in this article are from our sponsors.
We adhere to strict standards of editorial integrity to help you make decisions with confidence. Please be aware that some (or all) products and services linked in this article are from our sponsors.
With over 5 million customers in 150+ countries, MoonPay is one of the most popular crypto trading solutions out there. In fact, you might have already used its services through one of its many exchange and wallet partners without even realizing it.
Ease-of-use and global availability are where this crypto payment platform shines. But high fees and a lack of trading tools are significant downsides. This MoonPay review is covering the features, pros and cons, and pricing so you can decide if it's worth using.
Pros and cons
Pros
Beginner-friendly
Extensive cryptocurrency support
Supports numerous currencies and payment methods
Numerous crypto wallet and exchange integrations
Cons
Expensive trading fees
No cryptocurrency swapping
No advanced trading tools
No crypto staking
Who is MoonPay for?
MoonPay lets you buy dozens of popular cryptocurrencies with your debit or credit card. And since it's available in 150+ countries, it's a globally-friendly way to invest in crypto.
If you're looking for a fast and simple way to add digital assets to your portfolio, MoonPay could be for you. It's not nearly as comprehensive as major cryptocurrency exchanges. But its simple web interface lets you trade crypto quickly and without having to jump through many hoops.
What we like about MoonPay
MoonPay only began in 2019. Since then, this crypto trading and payment platform has grown to over 5 million customers and operates globally.
Ease-of-use is really the name of the game for MoonPay. And there are several features that help explain why MoonPay has grown so quickly.
Simple trading process
Buying crypto with MoonPay is incredibly simple. All you have to do is visit the website and click the "Buy crypto" button to start.
This brings up a simple quote screen where you pick your cryptocurrency and fiat. MoonPay supports dozens of currencies, and the quote screen displays how much crypto you're getting for your money. Quotes also update every 10 seconds so you can lock-in the current price.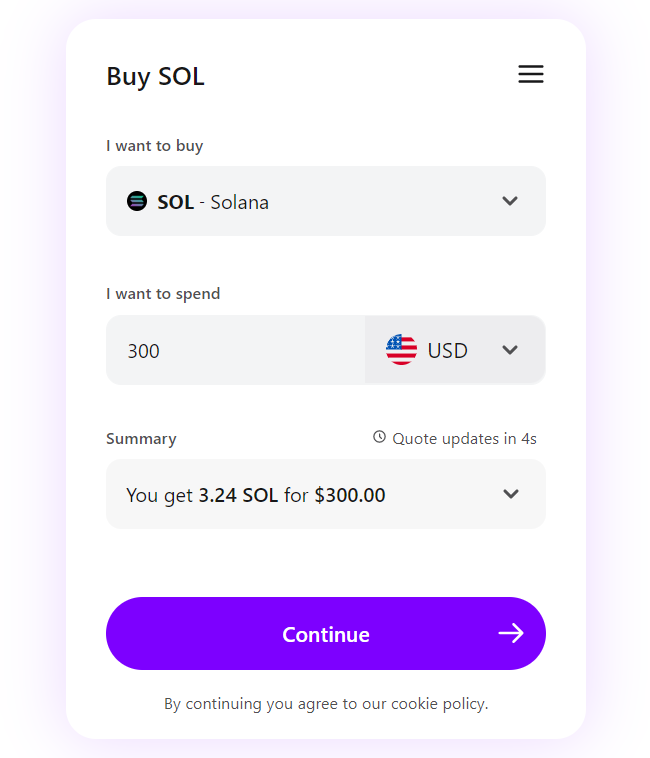 MoonPay supports 80+ cryptocurrencies like:
Cardano
Chainlink
Ethereum
Filecoin
Litecoin
Polkadot
Polygon
Shiba Inu
Solana
USDC
USDT
You also have plenty of payment options. U.S. customers can use payment methods like their credit or debit card, Apple Pay, Google Pay, and Samsung Pay.
As for international customers, MoonPay supports credit and debit cards plus options like SEPA.
You still complete know your customer requirements before placing your first trade. This requires verifying your identity with your name, phone number, and pictures of government ID. But even with verification, MoonPay is a fast way to buy dozens of popular cryptos.
Sell cryptocurrency
Another useful MoonPay feature is the ability to sell cryptocurrency for fiat. Customers in the United States, EU, and the UK have access to selling. The quote screen works the same as the buying process except you enter how much crypto you're selling and the currency you want.
You also enter your crypto wallet address in case MoonPay can't process the sale for whatever reason and has to return your crypto. Finally, you enter your bank account details for your withdrawal method.
MoonPay only lets you sell several assets currently:
Bitcoin
Bitcoin Cash
Tether
USDC
Generally, payments process in three to four business days in the U.S. and one to three business days in the UK and EU.
Crypto wallet and exchange integrations
MoonPay provides a simple crypto trading solution for everyday investors. But the company is also a popular crypto payment solution for various exchanges and wallets.
In fact, MoonPay's main business line is B2B. It's a crypto on-ramp and off-ramp for dozens of partners, which essentially means it's the tech that lets people buy and sell crypto.
Some of MoonPay's notable partners include:
MoonPay also has a non-fungible token (NFT) checkout tool to let creators and NFT marketplaces process NFT transactions. And it works on any blockchain, including Ethereum, Flow, Polygon, Solana, and Tezos.
Where MoonPay could improve
MoonPay is globally-friendly and simple to use. But it's not the best choice for every crypto investor, especially if you want to avoid fees and access more trading tools.
Trading fees
MoonPay's greatest drawback are transaction fees. You pay trading fees and variable network fees, and MoonPay is significantly more expensive than crypto exchanges like Coinbase and FTX.US.
Here are MoonPay's fees for buying and selling crypto:
| Features | Processing Fee | Network Fee |
| --- | --- | --- |
| Card Payments | 4.5% (minimum €3.99/£3.99/$3.99 or currency equivalent) | Dynamic |
| Bank Transfers | 1% (minimum €3.99/£3.99/$3.99 or currency equivalent) | Dynamic |
| Selling Crypto | 1% (minimum €3.99/£3.99/$3.99 or currency equivalent) | Dynamic |
Paying 4.5% on card payments is incredibly steep. And MoonPay charges dynamic network fees on BTC, ETH, and ERC20 tokens. This fee varies depending on blockchain network conditions, but if it's a period of high transactions, these fees can also rack up.
Mobile support
MoonPay doesn't have a mobile app at the time of writing. It's web interface is easy to use, but having mobile support is a plus for exchanges and trading platforms.
Trading tools
Exchanges like Binance or Coinbase have numerous trading tools to let you make more informed trades. You can also place different order types, like stop limits or market orders. And both exchanges have a wealth of educational resources to assist you.
In contrast, MoonPay is just a crypto payment platform. You don't get in-depth trading tools, and you can't swap cryptocurrencies either which is a downside.
Supported cryptocurrencies
MoonPay supports over 80 cryptocurrencies. This includes leading coins like Bitcoin and Ethereum, plenty of altcoins, and several stablecoins.
Fees and limits
MoonPay charges between 1% to 4.5% for trading cryptocurrency depending on your payment method. You also pay a 1% fee for selling cryptocurrency. Overall, MoonPay charges a premium for how convenient it is.
MoonPay also has variable account limits for users. If you try to place a trade that exceeds your limit, MoonPay notifies you and provides instructions for how to increase your limit. Account limits depend on several factors, including your:
Payment type
Region
Trading history
When I tested out MoonPay, my starting trade limit was around $400 USD for a 30-day rolling period. I had to upload ID and a selfie to verify my account. Adding more information like proof of employment and income increases your trading limits.
MoonPay has five verification tiers, and the more you trade, the more room you unlock. Just remember that you must complete basic account verification to trade since MoonPay isn't a decentralized exchange.
Account opening process
You create a MoonPay account with your email. You also provide your name, phone number, date of birth, and a photo of government ID to verify your account.
Additional verification levels require more information, but you can begin trading crypto once you complete the basic steps.
Is MoonPay safe?
MoonPay is a safe crypto payment solution. According to its website, all data is encrypted in transit using AES-256 block-level storage encryption. The company also has a bug bounty program that rewards people for discovering weaknesses in MoonPay's security to help them make improvements.
MoonPay did cause a hack of IOTA in 2020 due to some tech vulnerabilities. However, MoonPay itself has remained secure. Ultimately, you can use MoonPay to buy and sell crypto. But it's your responsibility to protect your personal information. And you should use a third-party wallet like Ledger or Trezor to handle your own private keys and security.
Best alternatives
If you want a simple solution for buying crypto with funds from your bank account, MoonPay is compelling. However, the fees are incredibly high, and you don't have any trading tools either. If you're more serious about crypto investing or want lower fees, there are several alternatives you can use.
Coinbase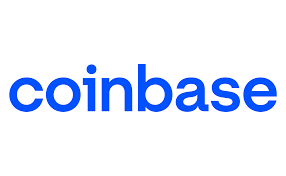 Visit Coinbase ►
Quick Facts
Best for: Beginner traders
Coinbase is a leading crypto exchange that's an excellent MoonPay alternative if you want something beginner-friendly.
This exchange supports over 100 popular cryptos and also accepts debit and credit card payments. Plus, you can swap cryptocurrencies unlike MoonPay. And if you upgrade to the free Coinbase Pro, you get in-depth trading and research tools.
Coinbase also lets you earn passive income through crypto staking. And you can use its crypto debit card to earn up to 4% back in crypto for everyday spending.
Gemini

Visit Gemini ►
Quick Facts
Best for: Security
Gemini is another leading crypto exchange that's known for its security. It supports dozens of popular cryptocurrencies like MoonPay and Coinbase. But Gemini's advantage is that it carries digital asset insurance and holds most assets in cold storage for even more security.
Plus, Gemini also has a lucrative staking program where you can earn over 8% APY on certain cryptos.
ZenGo

Visit ZenGo ►
Quick Facts
Best for: Crypto wallet trading
Zengo is a free crypto software wallet that lets you trade crypto. It actually works with MoonPay as an integration plus other partners like Coinmama and Banxa.
You pay an extra percent in fees when using MoonPay through ZenGo. But ZenGo has way more versatility. For example, ZenGo connects to numerous Web 3.0 and DeFi apps, including NFT marketplaces and decentralized exchanges. You can also stake your crypto through its partnership with Nexo to earn passive rewards.
ZenGo also lets you convert your paychecks into crypto. Overall, it's not the cheapest way to add digital assets to your portfolio, but it is very easy to use.
Want free crypto?: The best free cryptocurrency promotions.
Bottom line
If you want a simple way to trade crypto, MoonPay is about as easy as it gets. You pay steep fees for the convenience. However, it's globally-friendly and has the major cryptos and altcoins most investors want.
Exchanges like Coinbase and Gemini are better for regular trades because you save on fees. And both exchanges have staking options so you can put your crypto to work.
Ultimately, decide how regularly you plan on trading and pick a platform that makes sense. Just be cautious with MoonPay's fees since they add up quickly.