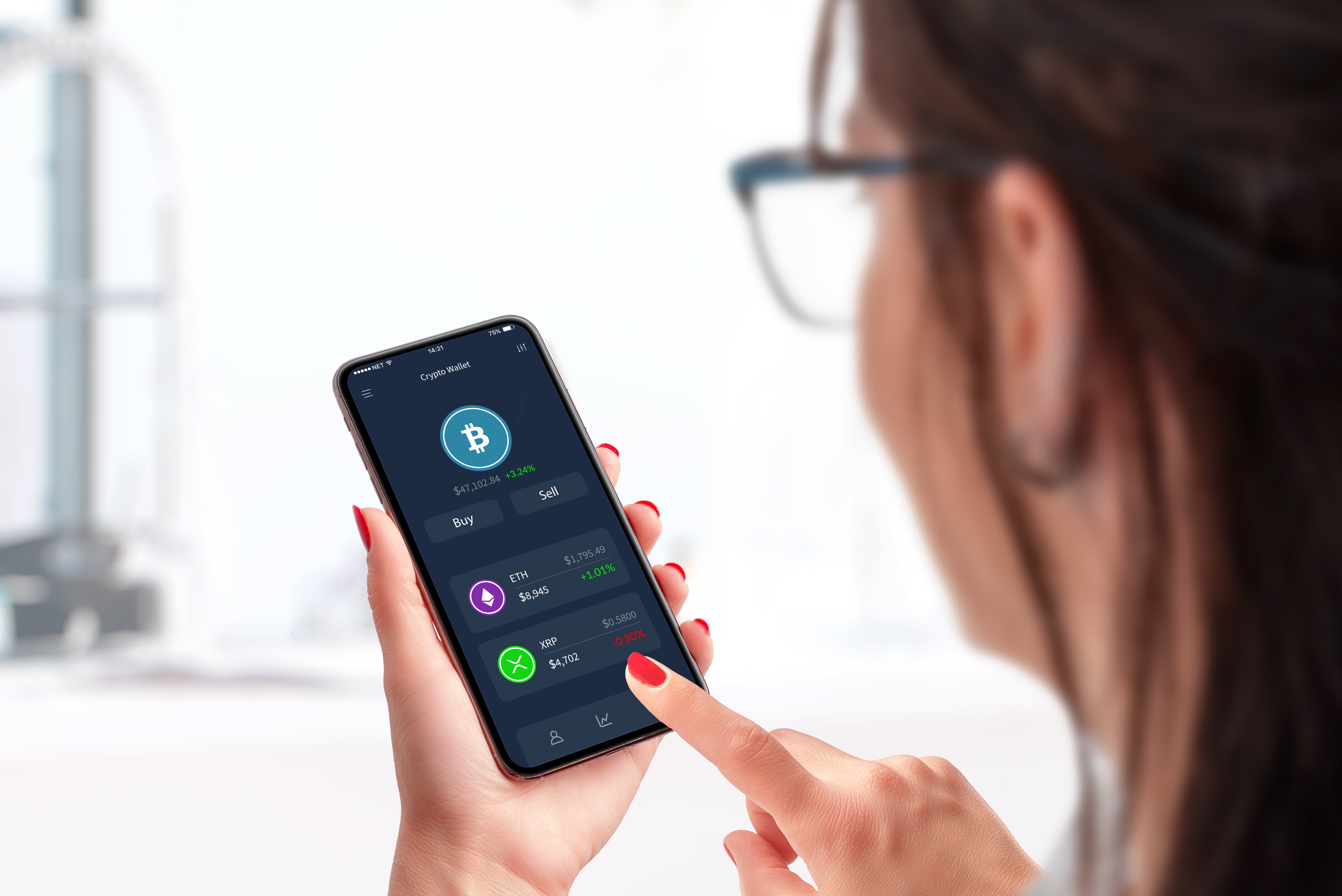 RSplaneta / Shutterstock
🗓️
Updated: February 08, 2023
We adhere to strict standards of editorial integrity to help you make decisions with confidence. Please be aware that some (or all) products and services linked in this article are from our sponsors.
We adhere to strict standards of editorial integrity to help you make decisions with confidence. Please be aware that some (or all) products and services linked in this article are from our sponsors.
Cryptocurrency is an exciting addition to the financial world, and many investors have chosen to add crypto to their portfolios. But there can be a bit of a learning curve to get started with cryptocurrency, including choosing the right platforms. You need a platform to buy and sell your cryptocurrency. And then you need a crypto wallet to store your assets. ZenGo offers a unique solution to managing your cryptocurrency. It's the first keyless wallet and an all-in-one solution for your crypto portfolio. In this ZenGo review, we cover the main features of the platform, the pros and cons, and who this service is right for.
What is ZenGo?
ZenGo is a cryptocurrency wallet that eliminates passwords, private keys and seed phrases. This gives investors more control over and access to their cryptocurrency. The company was founded in 2018 by cofounders Ouriel Ohayon, Tal Be'ery and Omer Schlomovits.
ZenGo's founders created the company with the belief that cryptocurrency — and personal finance in general — is too complex, insecure and inaccessible for most people. When they couldn't find any solution for this, they created one: ZenGo.
What does it offer?
ZenGo offers a cryptocurrency wallet that, unlike similar products, is a keyless wallet. It's a new approach to cryptocurrency wallets, one that doesn't require a password or private key. Nor does it require any special hardware. Instead, it uses three-factor authentication (3FA) including facial recognition and backing up your decryption code on the cloud.
Customers use ZenGo through an app where they can access their cryptocurrency holdings, buy and sell cryptocurrency, track their portfolio, send and receive money, earn daily interest rewards and more.
Main features
ZenGo offers customers a variety of features to help them manage their cryptocurrency, from buying and selling to earning daily interest rewards.
Storing cryptocurrency
When you start investing in cryptocurrency, you need a crypto wallet to store your holdings. ZenGo is first and foremost a crypto wallet where you can store your bitcoin, ethereum and more.
ZenGo eliminates what is considered to be one of the major points of failure of the cryptocurrency industry: private keys. Instead, the company uses advanced cryptography to keep your cryptocurrency safe while ensuring it's always accessible to you.
Buy and sell cryptocurrency
Another feature of ZenGo is the ability to buy and sell over 70 cryptocurrencies. Through quick, simple and secure transactions, you can purchase assets in 188 countries using your preferred payment method. ZenGo's accepted payment methods include credit card, bank transfer, Apple Pay, Google Pay and Samsung Pay.
Additionally, you can sell your bitcoin for cash in your national currency. This feature is supported in the U.S., UK and European Union (EU).
Trade cryptocurrency
In addition to buying and selling cryptocurrency, you can also exchange one crypto asset for another. ZenGo allows you to trade assets like bitcoin, ethereum, tezos, dogecoin and more. You simply exchange one cryptocurrency in your wallet for another.
It's important to note that cryptocurrency trading isn't available in all locations, including in some parts of the U.S.
Send and receive cryptocurrency
ZenGo allows customers to send cryptocurrency to and receive cryptocurrency from anyone in the world through its app. There are no minimums or maximums to the amount you can send or receive. Nor are there any additional fees.
Earn daily interest rewards
Another feature of ZenGo is the ability to earn interest on your cryptocurrency holdings. In partnership with Nexo, ZenGo Savings serves as a savings account for your crypto coins. There is no lockup period. And you can earn a higher APY than you can in a traditional savings account. The exact rate you earn varies by crypto. You can activate this feature in your ZenGo account.
There are two different ways you can earn with ZenGo Savings:
Lending: With lending, you are basically lending your cryptocurrency to other investors or to a decentralized pool of liquidity. In return, you earn interest rates calculated algorithmically by an autonomous interest rate protocol.
Staking: When you stake with ZenGo, you can earn extra money by contributing your assets to the network security proof-of-stake asset. In return, you earn a share of the rewards, along with others who participate in ZenGo staking.
Earn free bitcoin
ZenGo offers multiple ways to earn free bitcoin. First, customers get $10 worth of bitcoin when they apply a referral code and make a purchase of $200 or more worth of crypto.
They can earn even more by inviting friends and followers to join ZenGo. You receive free bitcoin when your referrals buy cryptocurrency. And the other person also receives $10 in bitcoin.
Fees and limits
ZenGo does require some fees that you should be aware of, though they're minimal for certain transactions. When you buy cryptocurrency through ZenGo, you pay a processing fee of either 1.99% when you use a bank transfer or 5.99% when you use a credit or debit card. You also pay a fee when you sell or trade your cryptocurrency: 1.99% and 0.75% respectively.
You also pay a network fee for certain transactions, but this fee is paid to the blockchain network operators, not ZenGo.
ZenGo also has some limits on certain transactions. While there are no minimums or maximums to send or receive cryptocurrency, there are limits for buying, selling and trading. To buy cryptocurrency, there is a $100 minimum. The maximum limit depends on your identity verification level. The limits on cryptocurrency trades depend on the trading pair and the current market liquidity.
Who is it for?
ZenGo could be for you if you're looking for an all-in-one solution to manage your cryptocurrency. Because the platform allows you to store, buy, sell, trade, send and receive cryptocurrency all in one place, it could serve as the sole tool in your cryptocurrency toolbox.
ZenGo is available in 188 countries, but not all features are available everywhere. Some of the features, including the ability to sell your cryptocurrency, are available in only the U.S., EU and UK. As a result, the app may not be the best choice for customers outside of those countries.
You could also consider ZenGo if you want an approach to cryptocurrency that doesn't require a password or private key. ZenGo considers this to be the single point of failure in the industry. This feature helps to eliminate the nightmare scenario for cryptocurrency investors where if you lose your private key, you also lose your cryptocurrency.
How do I open an account?
To sign up for the app, you enter and confirm your email address. And your account is set up and running in seconds. Once you open your account, you have three options:
Explore the app.
Import cryptocurrency from another wallet or exchange.
Purchase cryptocurrency with your local currency.
The app is simple to navigate. Your homepage shows all of your cryptocurrency holdings and their performance. One tab over on the "Actions" page, you can choose whether to send, receive, buy, sell, trade or earn cryptocurrency.
One thing you'll notice about using the ZenGo app is that you don't create a password to set up your account. Instead, you simply enable your phone's face ID. There are also no private keys for your cryptocurrency. ZenGo's security features keep your assets safe while ensuring they're always accessible to you.
How's the customer service?
Customer service is one of ZenGo's top priorities. In fact, the company's website says that it "obsesses over security and good customer experience above all else."
ZenGo makes it easy to get hold of customer service. On the company's website, you'll find a contact form and an email address you can use to contact the company. And ZenGo promises to respond as soon as possible. There's also a help center in the ZenGo app where you can chat with a ZenGo customer representative to answer any questions you may have.
For more assurance about ZenGo's customer service, look no further than its app store reviews. Many reviews specifically mention the helpful and responsive customer service.
Is it safe?
One of the most important questions to ask yourself whenever you use a financial service is whether it's safe. After all, you want to make sure your money is secure.
According to the website, ZenGo goes one step above the standard two-factor authentication (2FA) and instead requires three-factor authentication (3FA). The three factors it uses are:
1.

A confirmation link to your email address when you sign up

2.

A backup file that stores a decryption code associated with your account in your personal cloud service

3.

Your facial identification so you can get in even if you delete the app or switch devices
In addition to these three factors, ZenGo also relies on its cutting-edge MPC-based cryptography. All of these features together ensure that your assets are safe while also guaranteeing your access to your cryptocurrency.
ZenGo also recommends some additional things you can do to make sure your account remains safe. These include:
Not creating your ZenGo account on someone else's device
Verifying your keyless backup
Adding an additional face map
Adding a secondary email
Making a copy of your backup file
Enhancing the security of your email and cloud accounts with 2FA
Creating an offline copy of your phone data cloud
Keeping your ZenGo app and operating system up to date
ZenGo pros and cons
Pros
Easy to use: ZenGo's app makes it easy to create a new account and is easy to navigate.
Safe: Thanks to its 3FA security, ZenGo ensures that your crypto assets are safe.
Crypto rewards: ZenGo offers rewards when you sign up to use ZenGo as a savings account, make your first crypto purchase and refer friends.
Good customer service: The customer service is accessible and responsive.
No need for private keys: ZenGo doesn't require private keys. It believes private keys are one of the major failures of the cryptocurrency industry.
Cons
Available in only some countries: While ZenGo is available in 188 countries, some features are available in only certain locations.
You need to back up your account: Because of the lack of a private key, you have to store your keyless backup on your iCloud or Google Drive.
Available only on mobile: ZenGo has only a mobile app. You can't use it on a laptop or desktop.
Best alternatives
ZenGo is a popular cryptocurrency wallet, but it's hardly the only one. ZenGo refers to its cryptocurrency wallet as chill storage — a combination of cold and hot storage. In other words, it has features of both, ensuring that even if ZenGo stops operating, customers can still recover their assets.
There are plenty of both cold and hot storage options that allow customers to store their cryptocurrency. And like ZenGo, many also allow customers to buy, sell, send and receive cryptocurrency.
Cold storage
With cold storage, your cryptocurrency is stored offline, providing a higher level of security. Some of the top cold storage wallets on the market include Ledger and Trezor.
Hot storage
With hot storage, your crypto wallet is connected to the internet or your cryptocurrency is actually stored online. This is slightly less secure than in cold storage but makes your cryptocurrency more accessible. Some of the top hot storage wallets include those available at Coinbase, Gemini and Exodus.
Find out more: The best cryptocurrency wallets
The bottom line: Is it worth it?
ZenGo is an excellent option for someone looking for an all-in-one solution to manage their cryptocurrencies. It offers a crypto wallet to help you store your cryptocurrency safely. But ZenGo offers far more than that. You can also buy, sell, send, receive and trade your assets.
As far as its interface, ZenGo is incredibly easy to use. You can sign up for an account in seconds, and the app is simple to navigate. Due to its robust features and ease of use, we think it's an excellent solution for beginner and experienced traders alike.