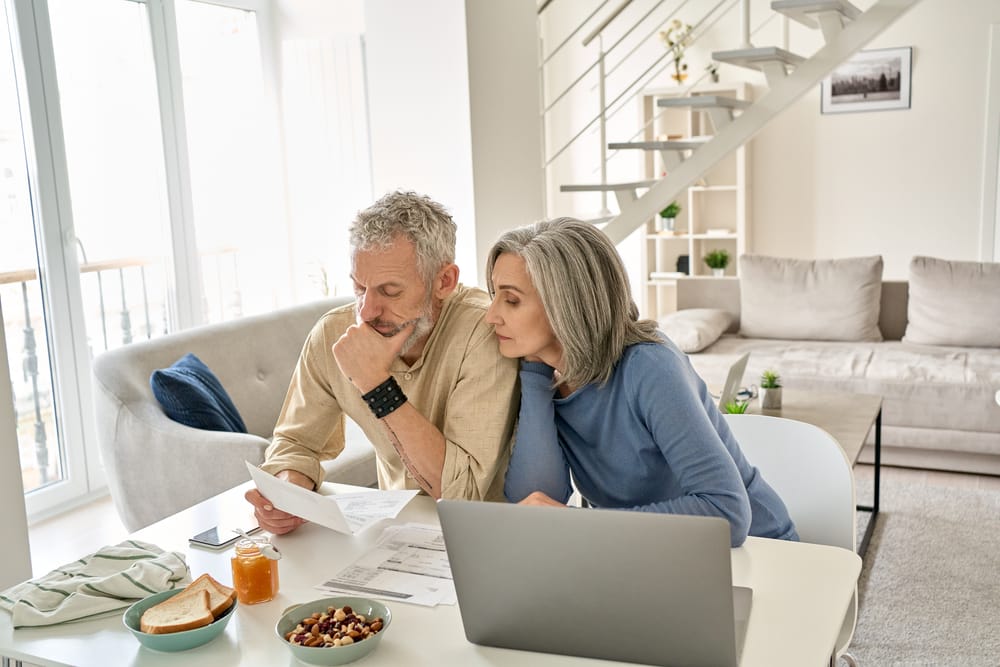 Binance vs. Coinbase: Comparing their features and fees
Ground Picture / Shutterstock
🗓️
Updated: July 19, 2022
We adhere to strict standards of editorial integrity to help you make decisions with confidence. Please be aware that some (or all) products and services linked in this article are from our sponsors.
We adhere to strict standards of editorial integrity to help you make decisions with confidence. Please be aware that some (or all) products and services linked in this article are from our sponsors.
Binance and Coinbase are two of the leading cryptocurrency trading platforms in the world. But while they both support buying, selling, and crypto trading, and each have a global presence, they operate very differently.
In this review, we'll compare Binance vs. Coinbase, including fees, lists of accepted coins, security features, and other noteworthy features. All of these will help you decide which of these crypto exchanges best suits your purpose and experience level.
The short version
Binance offers low trading fees with robust trading features.
Coinbase provides an easy-to-use trading platform for users in more than 100 countries.
Experienced traders will find the Binance crypto exchange more appropriate, while the basic Coinbase is more suitable for a beginner crypto trader.
Both cryptocurrency exchange platforms rank among the top spot trading exchanges in the world.
Binance vs. Coinbase: A high-altitude view
Let's start with a summary of the basic features and differences between Binance and Coinbase:
Feature/Exchange
Binance
Coinbase
$5 in bitcoin for verifying new accounts
Cryptocurrencies, crypto pairs, stablecoin and NFTs
Cryptocurrencies, crypto pairs, stablecoin and NFTs
0.012% to 5.0% depending on payment method
Coinbase: $0.99 or 0.04% to 4.00%Coinbase Pro: 0.60% marker fee and 0.40% taker fee for trades up to $10K
ACH, debit or credit card, crypto transfers
ACH, debit or credit card, crypto transfers
FDIC insurance on dollar deposits, two-factor authentication
FDIC insurance on dollar deposits, private insurance on digital assets, security keys, SQL injection filters
Buy, sell, exchange, store, staking
Buy, sell, store, staking
$10/3,200 bitcoin (varies by crypto)
About Binance
Established in 2017 by Changpeng Zhao, Binance is the world's largest cryptocurrency exchange as far as daily trading volume goes. It currently boasts an average daily trading volume of $76 billion globally.
The general Binance platform caters to users and crypto investors from all over the world, but is not open to U.S. users. Instead, American users are directed to a separate site — Binance.US. Binance.US is more pared down with fewer supported crypto assets, but it's continually adding new currencies.
Binance was founded in China but is currently headquartered out of the Cayman Islands. Despite being one of the biggest crypto exchanges in the world, it has had run-ins with several countries' security commissions, including the U.K., Germany and the Netherlands, for not meeting those countries' anti-laundering laws.
The cryptocurrency exchange also has its own cryptocurrency, Binance Coin (BNB).
About Coinbase
Coinbase is a cryptocurrency exchange founded by Brain Armstrong in 2012. The company does not have a physical headquarters.
Coinbase operates as a remote-first cryptocurrency exchange and trading platform where investors and users can buy crypto using a credit card, debit card, or directly from a bank account.
As the largest cryptocurrency exchange in the United States, Coinbase offers more than 150 coins for trading, and users can buy and sell these crypto assets using a few fiat currency options.
Coinbase has two crypto exchange platforms, Coinbase and Coinbase Pro. Coinbase offers a simplified and streamlined interface best suited for new crypto traders. Coinbase Pro targets more advanced investors and users with charting tools, trade history and market data.
Related: How to Invest in Cryptocurrency
Unique features of Binance and Coinbase
Binance features
Binance Academy: This is a free tutorial covering various cryptocurrency lessons from beginner to advanced levels. It covers almost everything there is to know about crypto trading.
Rewards for eligible users: Binance rewards users to encourage participation on the trading platform. This comes in the form of challenges and giveaways. In addition, users can get crypto airdrops every once in a while for not-yet-released crypto coins on the exchange platform.
Wide range of supported currencies: Binance.com support over 500 currencies. Binance.US currently supports nearly 80 currencies and they're adding more at an aggressive pace.
Advanced charting: Users can gain access to advanced charting views on Binance.US, thanks to the seamless integration of TradingViews charts. With this, investors can use hundreds of indicators and overlays for improved trading decisions.
Coinbase features
Educational content: Users can learn more about cryptocurrencies on the Coinbase website and mobile app to improve their knowledge about crypto.
Coinbase Earn: By watching the educational videos on Coinbase, users can learn and be rewarded with a small amount of free crypto for consuming the educational content.
Price alerts: Using the watch list feature, users on Coinbase have the opportunity to create alerts for price changes on any currency or trading pair they are interested in. Push notifications about price changes are sent to users on their mobile devices.
Read our review: eToro vs. Coinbase: Which platform should you use?
Binance vs. Coinbase: Usability
Binance works best for experienced investors and users. If you are completely new to buying and selling cryptocurrencies, you are better off with Coinbase. The user interface on the main Binance website can be overwhelming and even a bit confusing for newbie users.
However, Binance can be quite insightful once you get used to it—and they offer tons of educational resources to ease you into their exchange platform. Advanced users will often come away making more informed trading decisions.
Conversely, Coinbase keeps things simple, making it a better choice for beginners and investors who only want a straightforward trading experience.
Binance vs. Coinbase: Supported countries
Binance serves more than 140 countries across the globe, making it a widely popular cryptocurrency exchange.
However, the company does not accept US-based users on its main platform. Instead, users in the United States can only access the crypto exchange from the Binance.US website. Unfortunately, the Binance.US website offers only a limited number of trading features compared to the main exchange platform.
More than 100 countries can access Coinbase, including residents in most states of the U.S. (except Hawaii because of the state's reserve restriction law).
Binance vs. Coinbase: Supported coin and fiat currency
As we mentioned above, Binance.US supports right at 80 cryptocurrencies. (The global site, on the other hand, has more than 500 crypto assets, including stablecoins and alt-coins).
In comparison, Coinbase offers over 160 coins, including all of the top cryptocurrencies on the market.
Related: Hot wallets vs. cold wallets
Binance vs. Coinbase: Trading fees
While both Binance and Coinbase allow very low order amounts when buying cryptocurrencies, there is a significant difference in terms of the fee users can expect to pay for various transaction types.
Overall, Binance.US charges users some of the lowest fees on the market. They charge 0.1% spot trading fee, 0.5% buy/sell crypto fee. For trade volumes less than $50,000, the maker/taker fee is 0.10. Plus, users who hold Binance Coin in their accounts get an extra 25% off their trading fees.
Disappointingly, the main Coinbase exchange isn't as transparent about their fee structure. In order to find out how much the fees are on the main exchange, users will need to sign up for Coinbase. Other sources seem to indicate that Coinbase charges between 0.5% to up to 4.5%.
Users on Coinbase Pro, on the other hand, can expect to pay 0.4% – 0.6% for trade volumes under $10,000 and 0.25% to 0.4% for volumes between $10,000 and $50,000. Like Binance, Coinbase Pro also charges on a maker-taker fee model.
Binance vs. Coinbase: Mobile apps
Users can access both Binance and Coinbase from their Android and iOS devices through mobile apps. Both apps have slightly different functionalities to match the main websites, but Coinbase is generally much more streamlined and easy to use.
Binance vs. Coinbase: Customer support
Coinbase recently launched 24/7 phone support in addition to live messaging. Their customer service numbers are:
USA/International: +1 (888) 908-7930
UK: +44 808 168 4635
Ireland: 1800 200 355
India: 000 8000503236
In addition to a robust knowledge base, Binance provides live chat and engages users on its social media page. Also, investors and users can reach the company through email.
Binance vs. Coinbase: Security and website transparency
Coinbase shines when it comes to security. This is why the crypto exchange is the go-to choice for many first-time crypto investors looking for a well-known and trusted exchanger with a high rating from US regulators.
With Coinbase, 98% of all crypto assets are stored in offline cold storage. That's in addition to having third-party insurance to ensure that investors don't lose a single digital asset in the event of website hacks. On top of these measures, they also vet their staff and employees carefully, requiring a criminal background check and for their hard drives to be secured and encrypted.
Both the main Binance website and the Binance.US sites offer plenty of security tips on how users can secure their crypto assets and protect their accounts. However, the company is vague about how they secure assets and what percentage of their users' assets are in cold storage.
Binance vs. Coinbase: Pros and cons
Pros and cons of Binance
Pros
Low fee structure: Binance platform offers a lower fee schedule for trading and various other purchases. Users can also pay less if they hold Binance Coin in their accounts.
A wide variety of payment methods: Binance platform accepts payment through debit card, credit card, wire transfer and ACH.
Great customer service: Users have multiple options to receive help, including live chat.
Great customer service: Users have multiple options to receive help, including live chat.
Robust educational resources: New investors and users can get up to speed with the rich educational resource available on the crypto exchange through Binance Academy.
Hundreds of coins on the main platform: For international traders, the main Binance platform supports over 500 coins, including all the major stablecoins, alt-coins, and a host of other less-known coins.
Cons
User interface not beginner-friendly: Beginners may find the crypto exchange too advanced with an overwhelming user interface.
Lack of transparency on security measures: The crypto exchange is vague about security measures put in place to prevent hacking.
Limited options on the U.S. platform: U.S. residents still don't have access to the majority of trading options and currencies provided on Binance's main platform, including futures trading or margin trading.
Pros and cons of Coinbase
Pros
Low minimum trading: Users can start buying cryptocurrency for as little as $2 on Coinbase.
Insured crypto: While the website boasts robust security, Coinbase takes things a step further by insuring investors' crypto assets in case of security breaches.
Great choice for beginners: New crypto investors will find the main Coinbase platform pretty easy to use for buying, selling and trading cryptocurrency.
Coinbase Earn rewards: Users get the chance to get free crypto through Coinbase Earn.
Cons
Lack of fee transparency: Coinbase doesn't share its fee structure; reports have pegged their fees at higher than the average crypto exchange.
Limited transaction types and advanced trading options: Most experienced investors and advanced users will find the trading option on Coinbase quite limited. Plus, the transaction types on the trading platform are fewer than many other crypto exchange platforms.
The bottom line
Let's end this Binance vs. Coinbase comparison with a quick rundown of the major differences between these two crypto trading platforms.
Binance should be on your radar if you're an advanced crypto trader. Knowledgeable users and investors with lots of experience will find the abundance of analytics quite helpful in forming a more reliable trading strategy. Binance also boasts one of the lowest fee structures in the industry. However, the platform's features are more limited for U.S. users.
On the other hand, Coinbase is a great choice if you're still unsure about dabbling into the rather complex and highly risky world of cryptocurrency trading. Coinbase is not only designed with beginners in mind, it's also one of the most reliable crypto exchanges with unsurpassed security.
The trading platform is user-friendly, regardless of experience level and users have access to advanced trading options on Coinbase Pro. And while Coinbase and Coinbase Pro do charge higher fees than Binance, they also support more cryptocurrencies in the United States.