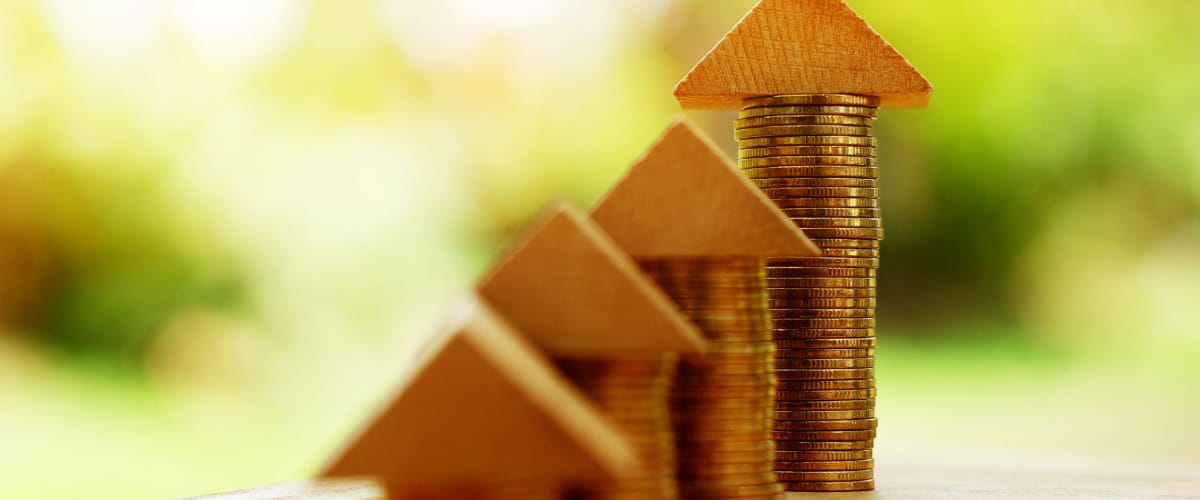 5 best fractional real estate investing platforms
Kotchapan VII / Shutterstock
We adhere to strict standards of editorial integrity to help you make decisions with confidence. Please be aware that some (or all) products and services linked in this article are from our sponsors.
We adhere to strict standards of editorial integrity to help you make decisions with confidence. Please be aware that some (or all) products and services linked in this article are from our sponsors.
Historically, real estate has been a symbol of wealth. For centuries, land ownership was restricted to nobility and the immensely wealthy. And even as home ownership became more common in the modern era, we've seen rising housing prices cause difficulties for many first-time homebuyers.
Thankfully, real estate investing is still possible even if you don't have much money. In fact, thanks to fractional real estate investing, you can get in on the action with sums as low as $10.
This guide is covering how fractional real estate investing works, its pros and cons, and some of the best companies you can use to get started.
What is fractional real estate investing?
Fractional real estate investing is the process of buying shares in an individual property or real estate fund. In other words, you're investing in a small slice of a real estate holding rather than taking complete ownership of it yourself.
Timeshares are a perfect and longstanding example of fractional real estate investing. The same can be said for fractional home ownership, which often involves purchasing a second home with a smaller group of people.
However, these are older models of fractional real estate investing, and they certainly have some downsides I'll cover below. But there are also numerous real estate crowdfunding companies that let you invest in real estate without much money. And these platforms don't suffer from the same drawbacks as timeshares or sharing a vacation home with your buddies because they're passive and professionally-managed.
Pros and cons of investing in fractional real estate
It doesn't matter if you're looking at fractional shares in the stock market or real estate; a low-barrier to entry for investors is generally a good thing. After all, if you want to invest in real estate without much money, options like buying a rental property outright are off the table.
However, there are some distinct pros and cons to this style of real estate investing that you should consider:
Pros
Equity investment: Investing in real estate is typically an equity-based investment unless you're financing debt. This means you can earn from potential property appreciation.
Lower capital requirements: Going in with a group of investors means you have to front less capital. And some of the best real estate crowdfunding companies only have $10 buy-in requirements.
Cash-flow potential: Real estate is a popular tool for building wealth since you can generate rental income from tenants and also own from property appreciation.
Personal enjoyment: If you buy a timeshare or secondary vacation home with others, you can enjoy the property for part of the year.
Portfolio diversification: Real estate is one of the most popular alternative asset classes and provides an effective way to diversify your portfolio away from the stock market.
Cons
Liquidity concerns: One downside of fractional real estate investments is that they're often illiquid, meaning you can't sell them quickly if you need cash. And some crowdfunding platforms lock-you in until liquidation happens, which can take years.
Potential expenses: Crowdfunding companies usually charge annual management fees if you're looking for a passive investment. And if you decide to partly manage a secondary home yourself, you might also encounter hidden expenses like repairs and necessary upgrades.
Owner conflicts: You won't have conflicts with owners if you go through a crowdfunding company since you're investing through a company that manages everything for you. But buying a secondary property with several investors you know could result in some tension over how to run the property.
Research requirements: The more DIY your real estate investing plans, the more research you have to do. This involves researching markets, neighborhoods, talking with agents, and working through closing. When you compare this to investing in stocks or ETFs, real estate is way more hands on.
Accreditation requirements: Some companies require you to be an accredited investor to invest in real estate, even if it's a fractional investment.
5 best fractional real estate investing platforms
At MoneyWise, we're not massive fans of fractional investments in real estate like timeshares or secondary homes with small groups of investors. The main reason is that hidden expenses and fees can turn an otherwise great investment into a nightmare.
And if you want to exit, it's often incredibly difficult. In fact, it's so difficult to exit arrangements like a timeshare that an entire industry of timeshare lawyers have sprouted up to battle timeshare companies (for a hefty fee, of course).
Thankfully, it's easier than ever to start fractionally investing in real estate thanks to crowdfunding companies. And the best part is that these investments are professionally managed so they're fully passive. And you still benefit from regular income and portfolio diversification. The only catch is you can't use these properties as your summer vacation home.
With that in mind, does fractional real estate investing sound right for you? If so, these are our five favorite platforms to consider right now.
Fundrise

Get started with Fundrise ►
Quick Facts
Investment requirement: $10
Accreditation required: No
Average annual returns: Approximately 8-9%
Fees: 1% annual management fee
One of the easiest ways to start fractional real estate investing is to use Fundrise. This crowdfunding company has boomed in popularity due to its $10 minimum requirement and low annual fee. It offers a variety of eREITs you can invest in depending on your goals, and investors get paid quarterly dividends.
We also like Fundrise since it has a secondary marketplace where you can sell shares. There are some small penalties if you sell shares earlier than five years, but this added liquidity is a perk.
Arrived Homes

Get started with Arrived Homes ►
Quick Facts
Investment requirement: $100
Accreditation required: No
Average annual returns: 3.2% to 7.2% in dividend payments
Fees: Approximately 1% annually
One newer player in the world of fractional real estate is Arrived Homes. This platform lets investors add income-generating rental homes to their portfolios with just $100. And what's unique about the platform is that tenants can invest in the homes they're living in as well, so they're incentivized to maintain the property.
The company hasn't sold off any assets yet, so rental income has been the only income so far. But Arrived Homes predicts 9.3% to 13.3% annual average returns when factoring in appreciation.
HappyNest

Get started with HappyNest ►
Quick Facts
Investment requirement: $10
Accreditation required: No
Average annual returns: 6% in dividend payments
Fees: Varies by property
With a $10 minimum, HappyNest is another effective way to add fractional real estate to your portfolio. This crowdfunding company specializes in commercial real estate, purchasing buildings and renting them to large corporations to generate rental income for shareholders.
You manage your holdings through its easy-to-use mobile app, and there's features like spare-change round-ups that help you consistently invest in more shares. You can also create rule-based savings goals, like contributing a certain amount of money every month, to keep growing your portfolio.
HoneyBricks

Get started with HoneyBricks ►
Quick Facts
Investment requirement: $1,000
Accreditation required: Yes
Average annual returns: Not available yet
Fees: 1% annual management fee
If you want some blockchain and Web3 flair for your real estate portfolio, HoneyBricks could be what you're looking for. This startup lets you invest in tokenized real estate properties starting with $1,000. And as an owner, you can get paid in cryptocurrencies like Bitcoin and Ethereum instead of earning cash dividend payments. You can also purchase tokens with crypto, making HoneyBricks more flexible on the buy-side as well.
Furthermore, you can even borrow against your tokens by using them as collateral, which is what crypto lending companies do. HoneyBricks also has improved liquidity since you can sell your tokens to the company directly or on a secondary marketplace.
The main downside is that you have to be an accredited investor to use HoneyBricks. But tokenizing real estate the way HoneyBricks does helps improve liquidity, and support for crypto is a unique selling point.
Lofty.ai

Get started with Lofty.ai ►
Quick Facts
Investment requirement: $50
Accreditation required: No
Average annual returns: Varies by property
Fees: Varies by property
One final fractional real estate investing platform you can consider is Lofty, another new company in the space. The company lets you invest in shares of rental properties starting with $50. Shares you own in rental units pay you daily rental income, and you can withdraw anytime. You can also earn through your shares appreciating if the property value appreciates.
At the time of writing, Lofty has two-dozen properties where you can buy tokens. The target internal rate of return (IRR) varies by property but is often in the 15% range. Like HoneyBricks, Lofty also relies on blockchain to tokenize real estate shares for fast and efficient transacting.
Just keep in mind, we prefer companies like Fundrise at this time because it's more established, so the track record is longer. Many fractional real estate investing companies have sprung up recently that haven't stood the test of time quite yet.
Alternatives to fractional real estate Investing
Crowdfunding companies have made real estate investing much more accessible in recent years, especially for non-accredited investors. But there are other options you can turn to if you want to invest in real estate but don't have much capital like:
Using your online broker to invest in REITs
Buying real-estate based ETFs or stocks
Investing in real-estate debt with companies like Groundfloor
If you have more capital, options like flipping houses or buying a rental property also open up. But for new investors, crowdfunding companies are one of the simplest ways to start dabbling in real estate.
Who should invest in fractional real estate?
If you want to diversify your portfolio with real estate but don't have much capital, fractional real estate investments could be right for you. This is especially true if you already have a nice foundation of other investments like stocks, bonds, and ETFs but want to expand. And crowdfunding companies are an excellent solution if you want a passive investment with low fees.
We don't suggest this route if you want to actively manage real estate properties and become a landlord. In this scenario, an option like house hacking could be a better strategy to set your sights on. And, as mentioned, you can always get real estate exposure through REIT investing or various real estate ETFs as well.
The bottom line
If someone had told you five years ago that it would soon be possible to buy real estate with just $10 or some Bitcoin you have, you probably wouldn't have believed them. But thanks to technology and crowdfunding, fractional real estate investing is more accessible than ever.
Granted, arrangements like timeshares and shared home ownership have been around for a while. However, crowdfunding companies have only recently enabled investors to generate passive income through owning small slices of things like rental properties and commercial real estate.
How you add real estate shares to your portfolio is ultimately up to you. But if you're currently lacking real estate exposure in your portfolio, think about your overall asset allocation and where fractional real estate investing might fit in.