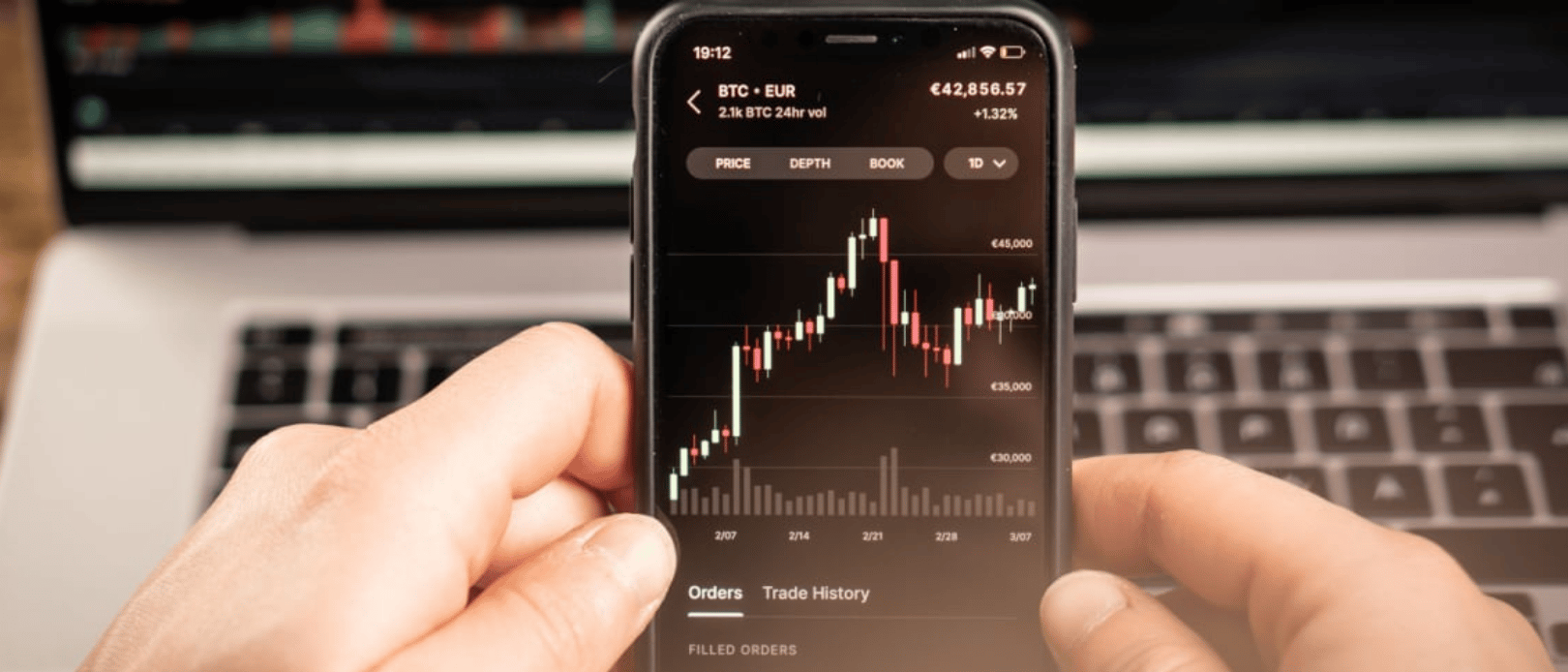 Stock picking services: Best free screeners for 2023
Nataly Gejdos / Shutterstock
🗓️
Updated: October 24, 2023
We adhere to strict standards of editorial integrity to help you make decisions with confidence. Please be aware that some (or all) products and services linked in this article are from our sponsors.
We adhere to strict standards of editorial integrity to help you make decisions with confidence. Please be aware that some (or all) products and services linked in this article are from our sponsors.
Who doesn't want to be the person who hit it right on a hot stock and made big money? If you're:
You may want a stock picking service to help you narrow down from the list of thousands of possible stocks to the few you may want to buy.
This guide explains the pros and cons of some top-paid and free stock picking services. Read on to learn more about which free stock picking service may best meet your needs.
What is a stock picking service?
Stock picking services are services designed to help investors choose the best stocks for their portfolio. They come in a variety of forms, each with its pros and cons. Some stock picking services are curated and quite expensive. Others are more automated and come in at a lower cost. Some are even free.
It is easy to find expensive, paid stock picking services. Some popular paid programs include Dow Theory, Jason Bond Picks, and Jim Cramer's Action Alerts Plus from The Street. These services all employ human investment professionals who analyze and report to members which stocks they recommend. These services are a great way to learn about the stock market. But not everyone wants to pay for investment advice.
Free stock picking services are generally not as high quality as paid ones (sometimes you get what you pay for). But they can still help you screen through the noisy markets to choose the right investments for your portfolio.
What are stock screeners?
Stock screeners are tools that allow you to input a specific set of criteria to create a list of qualifying stocks. From there, you can do an individual stock analysis to decide which should go on your buy list.
Best free stock pickers and services
Now that you know how stock picking services and stock screeners work, it's time to dive in to the best free stock advisors you can use to begin investing.
Just note that many companies that offer free stock picks use a freemium model, so you get some content for free but have to go premium if you want more in-depth research.
1. Motley Fool

Motley Fool — Founded in 1993, The Motley Fool is an investment education website that provides a variety of free and paid content. Its primary service is the Motley Fool Stock Advisor, which provides stock picks. According to the company's website, Stock Advisor has quadrupled the S&P 500 over the past two decades.
When you sign up, you'll get two stock recommendations per month, ongoing sell notices, and monthly Best Buys Now. You'll also have access to a library of stock research. Motley Fool's Stock Advisor has a price tag of $89 per year. The $89 fee is introductory and will renew at the regular rate of $199 a year afterwards.
You can also visit the Fool's website to read plenty of free stock reports and picks. But you have to pay for Stock Advisor or its many other services for more premium research.
2. Morningstar

Morningstar — This large investment research organization provides information on a variety of assets, including stocks, bonds, mutual funds, and ETFs. Morningstar offers many stock picks for its free users, but even more content for its Morningstar Premium members.
When you sign up, you get access to in-depth research on hundreds of thousands of securities, as well as a list of the best stocks. Unlike other stock-picking services, Morningstar doesn't give you a tailored list of stocks to add to your portfolio. Instead, it provides in-depth research on many stocks, as well as the tools to track your portfolio.
Morningstar offers a 14-day free trial. After that, you'll pay $34.95 for a monthly subscription or $249 for an annual subscription.
More: Motley Fool vs. Morningstar
3. Seeking Alpha

This mega investing site includes a vast array of articles that can be read for free. And much of the content comes from the Seeking Alpha community of investors, so you can read a wide range of takes and research.
But if you upgrade to Premium, you'll get access to a suite of proprietary stock-picking tools including:
* Seeking Alpha Author ratings
* Seeking Alpha Author performance
* Stock Quant ratings
* Stock dividend grades
Premium is $4.95 for the first month, but the second payment will be $239 for a full year.
Seeking Alpha writers are quoted all over the media. The analysis here includes detailed stock market reporting and tips on why specific stocks look good right now. You can also read about the investment strategy and market news. Get 50% off Seeking Alpha Premium.
4. StockRover

StockRover is a robust investment screening and analysis website. Members have access to various tools, including investment data, charts, research reports, ratings, customizable screeners, and custom alerts. The research focuses on stocks, ETFs and mutual funds.
It goes beyond the typical free screeners on large investment data websites. There are 140 prebuilt screeners and screeners can be customized with over 500 different criteria. The free account is extensive but their paid versions will give you access to even more bells and whistles.
The three paid versions range from $7.99 a month to $27.99, or $139.99 to $479.99 for two years.
5. Zacks
Zacks Trade is a well-known stock research company. Their screener allows you to quickly sift through US-based stocks using an array of fundamental metrics. One included metric is book value per share, a favorite metric Warren Buffett uses to value companies for Berkshire Hathaway. A paid subscription adds a few features, but the free version is a top stock market screening tool.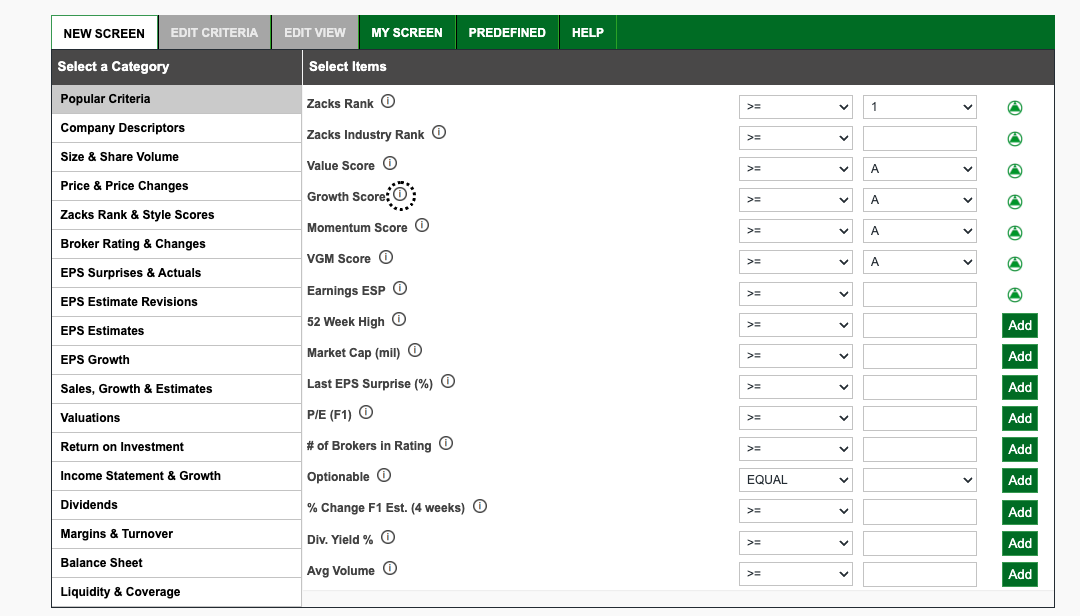 6. Stansberry
With more than half a million subscribers, Stansberry is one of the top stock research companies. They provide actionable investment recommendations for hands-on investors. The company has several membership options to choose from, offering original research and recommendations, an online position-size calculator, and lifetime access to several in-house publications.
You can choose a membership subscription that best fits your investing style to ensure the recommendations are actually a good fit for you. Stansberry offers a 30-day free trial, followed by a yearly subscription of $199.
7. IBD
Founded in 1984, Investor's Business Daily specializes in stock lists and research to help you build your portfolio. When you sign up for IBD's Leaderboard, you get 10-15 of the strongest stocks expected to see huge price humps.
You'll also get a specific trading plan, including exact buy and sell points. Leaderboard has a monthly cost of $29, then $69 thereafter. You can also purchase IBD's stock lists, which include the IBD Top 50, IBD Big Cap 20, and IPO Leaders.
More: Motley Fool vs. Stansberry vs. IBD
8. Yahoo Finance Stock Screener
The Yahoo Finance stock screener has a clean and user-friendly design. It doesn't have as many filters and features as some of the other names on this list. But it's quick to use and has a familiar, interface that Yahoo Finance users know and love.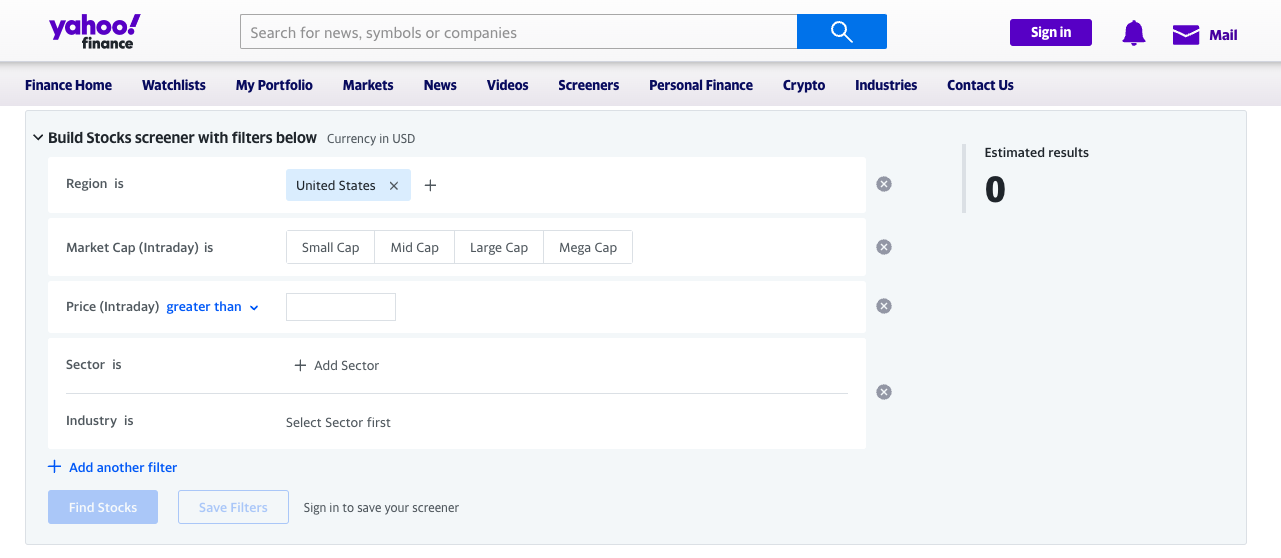 What are social stock picking services?
If you want to cast a wider net and learn what other investing enthusiasts are up to, you can join a social investing service. Here are two free and fun options to connect with other excited investors.
KINFO — Join KINFO and connect your existing brokerage account to get started with this free stock picking app. Once you log in, you can compare your portfolio to those of professional investors and hedge funds and get other details on stocks you own and ones you are interested in. You can also browse other user portfolios, including some well-known personal finance bloggers.
StockTwits — If KINFO is Facebook for investing, StockTwits is certainly Twitter for investing. Instead of the common hashtags used to create a #topic on Twitter, StockTwits uses dollar signs to help you follow stocks by their ticker symbols. Watch the real-time feed or click on a specific stock to see what people have been saying about it. Sign up to track your portfolio in StockTwits, and create a watchlist for particular stocks.

Should you buy individual stocks?
It is essential to address the elephant in the room. Should you even buy single stocks? Take a look at this article on leaving investing to the professionals to think about the reasons you may want to skip buying stocks and instead invest in index funds, mutual funds and exchange-traded funds (ETFs).
Warren Buffett just won a 10-year bet that the S&P 500 would outperform hedge funds, which are run by full-time investment professionals. Over the last 15 years, 92.2% of large-cap funds underperformed compared to the S&P 500. In mid-cap and small-cap funds, only about 5% of fund managers beat the markets.
If these people, who spend their entire professional career in the stock market, can't beat the markets, why do you think you can do better? I have a small portfolio of single stocks. I use techniques I learned, earning two finance degrees to decide if I should buy or sell shares. But even with my background, I still have some big losers in the portfolio. Think very hard before you rush to invest in single stocks. In most cases, investing in index funds is a better decision.
That said, if you do want to get into the world of buying single stocks, these stock picking services can help you get off to a better start in finding those undervalued stocks that are poised to make your portfolio pop.
Bottom line on using a stock picker
Before the internet, you had to read a book to learn about investing. These days, you can type a stock into Google to get a plethora of knowledge at your fingertips. And there's a ton of free investment information out there, ranging from freemium resources like The Motley Fool or Seeking Alpha to good old fashioned news headlines.
When looking at these free stock picking services, don't forget about the research and information your broker provides too. As long as you approach your investments with common sense, detailed analysis, and a healthy dose of caution, you are setting yourself up for investment success.