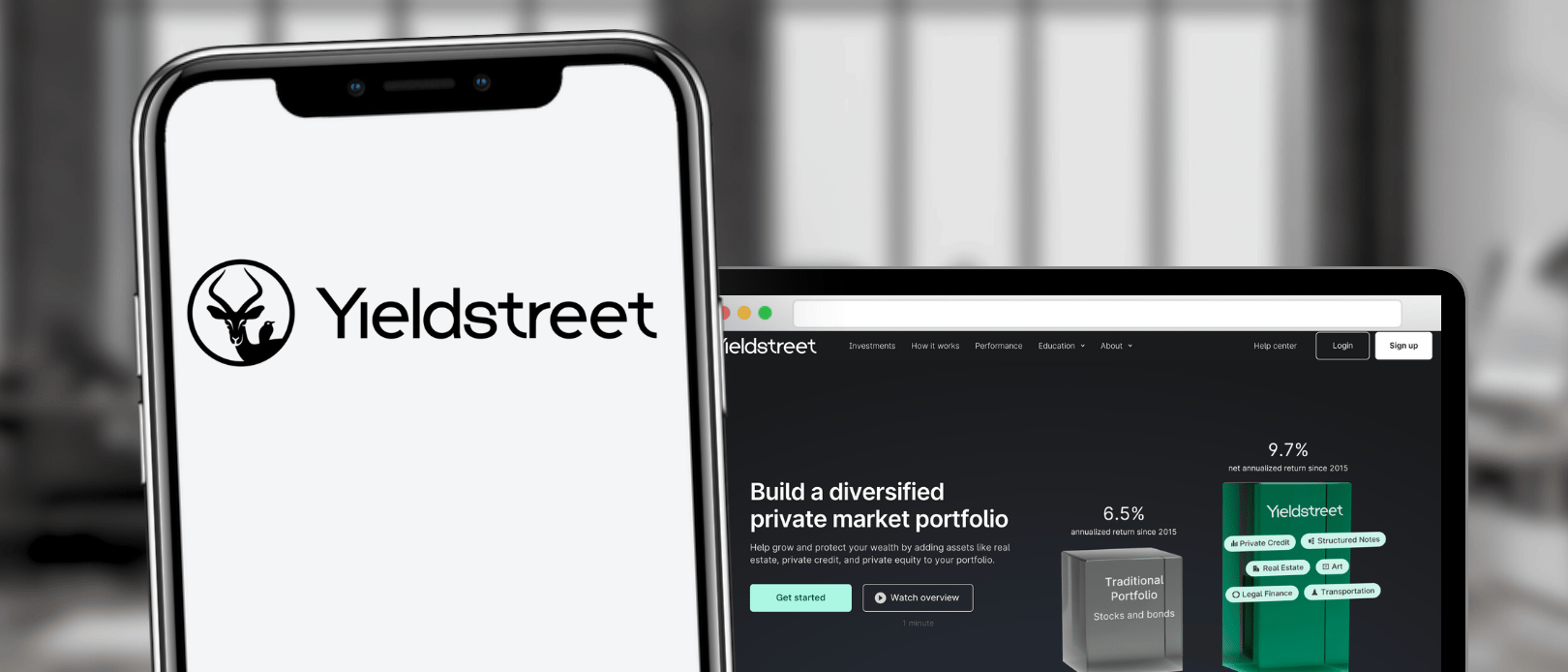 Yieldstreet review: High-yield alternative asset investments
Moneywise.com / Moneywise.com
We adhere to strict standards of editorial integrity to help you make decisions with confidence. Please be aware that some (or all) products and services linked in this article are from our sponsors.
We adhere to strict standards of editorial integrity to help you make decisions with confidence. Please be aware that some (or all) products and services linked in this article are from our sponsors.
In the past, you typically needed a lot of capital if you wanted to invest in alternative asset classes like fine art, real estate, or venture capital.
However, alternative crowdfunding platforms like Yieldstreet are changing this barrier. With Yieldstreet, you can invest in a diversified portfolio of alternative asset classes starting with just $2,500. The platform also offers direct deals for accredited investors looking to spice up their portfolios beyond stocks and ETFs.
But investing in alternative asset classes isn't something you should do lightly. That's why our Yieldstreet review is covering how this platform works, the pros and cons, and pricing to help you make your decision.
Pros and cons
Pros
Wide variety of alternative asset classes
Flagship fund is available for non-accredited investors and has a $2,500
Short- and long-term investments available
Create goal-based portfolios for goals like income or growth
Cons
Only one option for non-accredited investors
Many offerings require $15,000 or more to invest
No secondary marketplace to improve liquidity
What is Yieldstreet?
Yieldstreet is a platform that connects investors with alternative investments across asset classes such as artwork, cryptocurrency, litigation finance, real estate, and consumer finance. The company began in 2014. Since inception, it's seen over $3 billion funded on the platform and had a 9.71% net annualized return (IRR).
The company's goal is to make alternative investments more accessible and streamlined. You can invest in a variety of individual deals on Yieldstreet or its Prism Fund, which provides exposure to numerous asset classes.
YieldStreet also lets you create goal-based portfolios, like its income or growth portfolio model, to help you pick assets that match your investing goals.
Who is Yieldstreet for?
There are plenty of alternative asset investing platforms out there these days. For example, you can use Masterworks to invest in fine art, or Fundrise to invest in commercial real estate.
However, Yieldstreet is one of the few platforms that consolidates the range of alternative assets under one roof. It's an excellent option if you want to dabble in numerous asset classes without managing multiple accounts with different companies. And since Yieldstreet's team finds and vets deals, it saves you a lot of research and due diligence time.
Yieldstreet investment opportunities
One advantage of Yieldstreet is that it offers a variety of funds as well as individual deals. If you want to diversify your portfolio, its funds are the best option. Currently, there are seven multi-asset class funds to choose from:
Yieldstreet Prism Fund: This flagship fund has a $2,500 minimum investment requirement and is open to non-accredited investors. It's a fixed-income portfolio across numerous asset classes like art, real estate, and commercial and consumer finance.
Art Equity Fund IV: With a $15,000 minimum, this fund lets you invest in a portfolio of artwork from famous contemporary artists.
SFR Diversified Fund I: This fund also has a $15,000 minimum and invests in a portfolio of single family rentals in numerous U.S. markets.
Enhanced Crypto Fund: Contains five to ten of the largest cryptocurrencies by market cap and also requires $15,000 to invest.
Growth & Income REIT: This non-traded REIT has a $5,000 minimum and makes equity investments in a range of real estate properties across the United States.
Specialty Finance Fund II: This fund invests in finance transactions in commercial and consumer sectors and has a $25,000 minimum.
StepStone Venture Capital Fund I: A portion of this fund is managed by StepStone Group Inc. which is a massive alternative asset management company focusing on venture capital investments. There's a $25,000 minimum investment requirement.

Yieldstreet also has plenty of individual offerings as well, and some are very unique. For example, you can help finance various supply chain orders as a form of private credit lending. And right now, you can invest in private shares of Fetch Rewards, a leading grocery rewards app, through its Series E funding round.
Yieldstreet also lets you invest in structured notes, which are debt instruments tied to the performance of an underlying security like an index. These provide short-term investments and regular income if that's your goal.
Overall, Yieldstreet has an impressive number of offerings. And offerings suit growth, income, and balanced investing styles.
What makes Yieldstreet great?
With over 300,000 customers, Yieldstreet is one of the most popular marketplaces for alternative investments. And this popularity isn't surprising when you consider its numerous advantages.
Yieldstreet Prism Fund
One of Yieldstreet's main draws is its Prism Fund, which provides exposure to numerous alternative investments like:
Art
Commercial investments
Consumer goods
Legal finance
Real estate
Transportation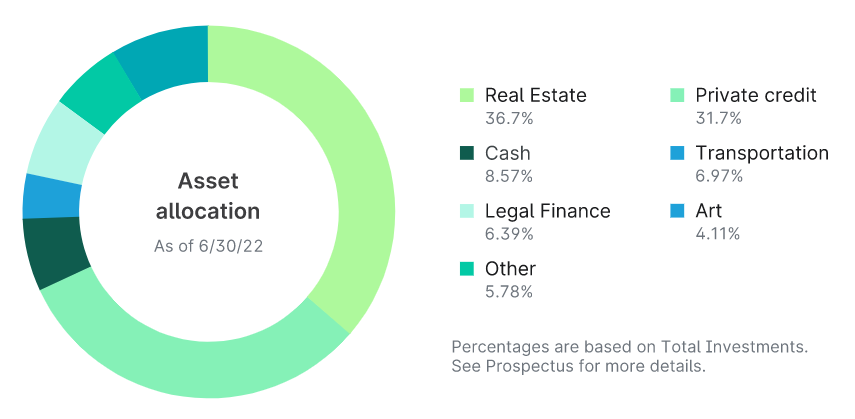 As of June 30th 2022, the Prism Fund has over $113 million in assets under management. It also has an 8% annual distribution rate and pays quarterly distributions that you can reinvest automatically or cash out. Fees are also lower than many individual deals on the platform at 1.5% per year.
If you want a simple way to add numerous asset classes to your portfolio, this is the fund for you. And the 8% average annaual distribution rate isn't anything to scoff at.
Low investment requirement
Most Yieldstreet investments require $15,000 or more to invest, as well as being an accredited investor. However the main Prism Fund only requires $2,500 and is open to non-accredited investors. And this fund provides ample diversification, making it an excellent starting point for alternative asset investing.
Goal-based portfolios
Another advantage of Yieldstreet is that it has useful filters to help you build a portfolio that matches your investing goals and level of risk tolerance.
When you browse for offers, you can use filters to sort for assets that provide income, growth, or balanced returns. You can also answer a short questionnaire about your goals and investing style to let Yieldstreet make tailored recommendations.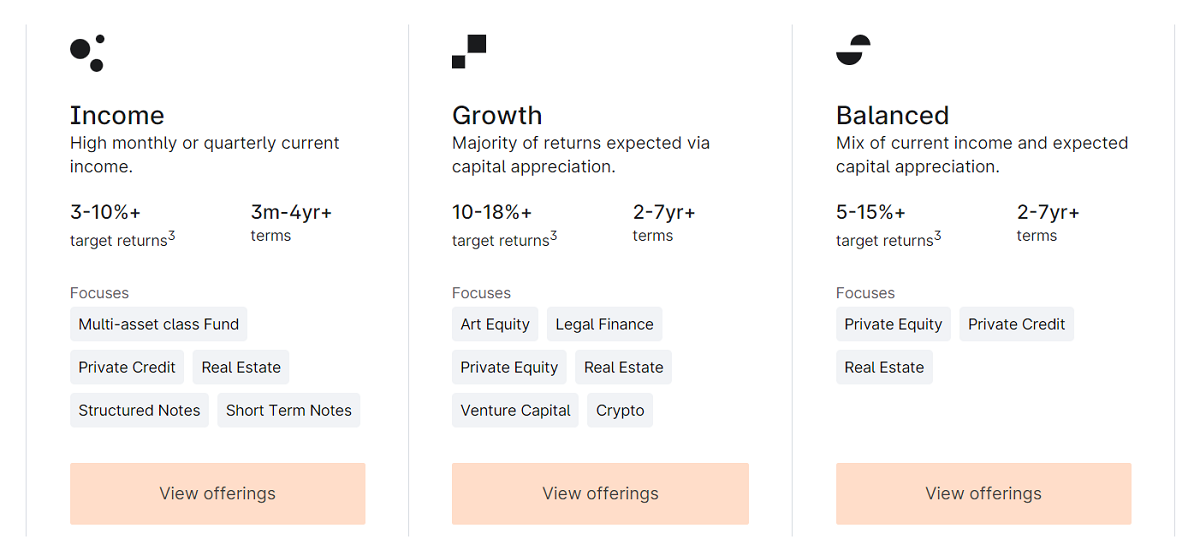 The end result is that you can build a diversified portfolio that matches your desired returns and holding period.
Deal vetting process
While it's not apparent on the surface, much of the benefit you get with Yieldstreet is the team's rigorous due diligence process that goes on behind the scenes.
Before anything makes it to Yieldstreet's marketplace, it passes a five-stage vetting process. Few opportunities make it through the first stage of review by Yieldstreet's originations team. From there, the team does a deep dive into the offering and considers factors like:
Management team experience
Exit strategy
Previous and current track record
Alignment of interest
Investment thesis
Yieldstreet also generally targets firms with $50 million to $2 billion or more in deployed capital, so it's not offering small fish without any track record to investors.
There's even more consideration and due diligence that goes on in later stages. And Yieldstreet provides plenty of offer information and documents to help you do your own due diligence before you decide to invest or not.
Variety of term lengths
On Yieldstreet, you can invest in short-term structured notes or funds that have holding periods of five years or longer. This variety means there's something for everyone regardless of if you're investing for the short-term or your future.
What are Yieldstreet's drawbacks?
Despite being one of the leading alternative investment platforms, there are two main downsides to Yieldstreet you should consider before investing.
Options for non-accredited investors
The only option for non-accredited investors on Yieldstreet is its Prism Fund. The lower investing requirement makes up for this slightly, but it would be nice if more funds and individual deals were available for non-accredited investors.
Liquidity
One downside of alternative asset investing versus investing in assets like stocks or ETFs is liquidity. Alternative assets are generally illiquid, meaning it's hard or impossible to sell them before the holding period is up.
With Yieldstreet, most investments are illiquid and don't let you sell shares early. The main exception is the Prism Fund, which offers quarterly share buybacks at Yieldstreet's discretion.
But generally, your Yieldstreet investments are not eligible for early selling, so you're locked-in to the holding period.
Yieldstreet pricing and fees
To make money, Yieldstreet charges an annual management fee of up to 2.5% on investment opportunities. Some offerings, like short-term notes, have a 0% management fee. But Yieldstreet effectively decides how much it charges per asset. There are also annual fund expenses investors pay, but these are charges from the investment's cash flow.
However, offerings on Yieldstreet show a target return that is net of all management fees. This means you don't really notice them since they're factored into the advertised returns. But you're still paying up to 2.5% in annual management fees, and Yieldstreet outlines its fees on every offering page.
How to open an account
There are three steps to open a Yieldstreet account:

1. Verify your identity with a photo of government ID.
2. Link your bank account.
3. Verify your accreditation status if you want to invest in offerings besides the Prism Fund.
Is Yieldstreet legit?
Yes, Yieldstreet is a legitimate alternative investing platform with thousands of investors and a strong track record of returns. It offers an easier way for accredited and non-accredited investors to diversify their portfolios with a range of assets.
The main drawback of Yieldstreet is that most investments have high minimums in the $10,000 to $15,000 range. However, the Prism Fund is more beginner-friendly at just $2,500.
How to contact Yieldstreet
You can reach Yieldstreet customer support by emailing investments@yieldstreet.com or by calling 844-943-5378.
Best alternatives
Yieldstreet is a reliable way to invest in alternative assets in a taxable account or with your IRA. However, it's far from your only option. And depending on the asset class you're most interested in, there are several Yieldstreet competitors worth considering.
Fundrise
Fundrise
Quick Facts
Best For: Beginner real estate investors.
If you want to invest in real estate with little money, Fundrise is our favorite Yieldstreet alternative. This leading crowdfunding platform lets you start investing with just $10. It also provides numerous funds, letting you diversify your portfolio with commercial and residential real estate.
You get paid quarterly dividends as an investor, and your shares can appreciate. And Fundrise also has a secondary marketplace to improve liquidity. For fees, it charges 1% annually. Historical returns are around 8% to 11% on average.
Get started with Fundrise
Alto
Alto
Quick Facts
Best For: Alternative IRA investing
You can invest with your IRA with Yieldstreet, and it costs $299 annually for accounts under $100,000. But you can also use Alto IRA to invest in numerous alternative asset classes all within your IRA.
We like Alto because it works with 75+ alternative investment partners, giving you access to artwork, fine wine, real estate, venture capital, and other asset classes. It also has a new Alto CryptoIRA product that lets you invest in 100+ popular cryptocurrencies.
You pay either $10 or $25 per month depending on your plan level with Alto's main IRA plan. If you're only interested in IRA investing, we suggest comparing Alto's offers to Yieldstreet.
Masterworks
Masterworks
Quick Facts
Best For: Fine art investing
If you want to invest in artwork, one of the best Yieldstreet alternatives is Masterworks. This platform lets you invest in blue-chip artwork and has delivered 14.3% annual returns since its inception in 2019.
The company is open to non-accredited investors and has numerous offerings you can partake in. And there's also a secondary marketplace to help improve liquidity. For fees, Masterworks charges 1.5% annually plus 20% of future profits when pieces sell. Overall, it's a very beginner-friendly way to add fine art into your portfolio and has more offerings than Yieldstreet.
Get started with Masterworks
The bottom line
For investing in a variety of alternative assets, it's hard to beat Yieldstreet. Many platforms only focus on one type of asset, but with Yieldstreet, you get a variety of funds and individual deals to diversify your portfolio.
The company also has an in-depth due diligence process and transparent pricing. And the fact you can invest with your IRA or an taxable account keeps things flexible.
That said, you still need to understand the risks of different alternative assets. These are highly illiquid investments, and Yieldstreet doesn't guarantee returns. So, make sure you do your own due diligence and think about how much of your portfolio you want in alternative assets before taking the plunge.