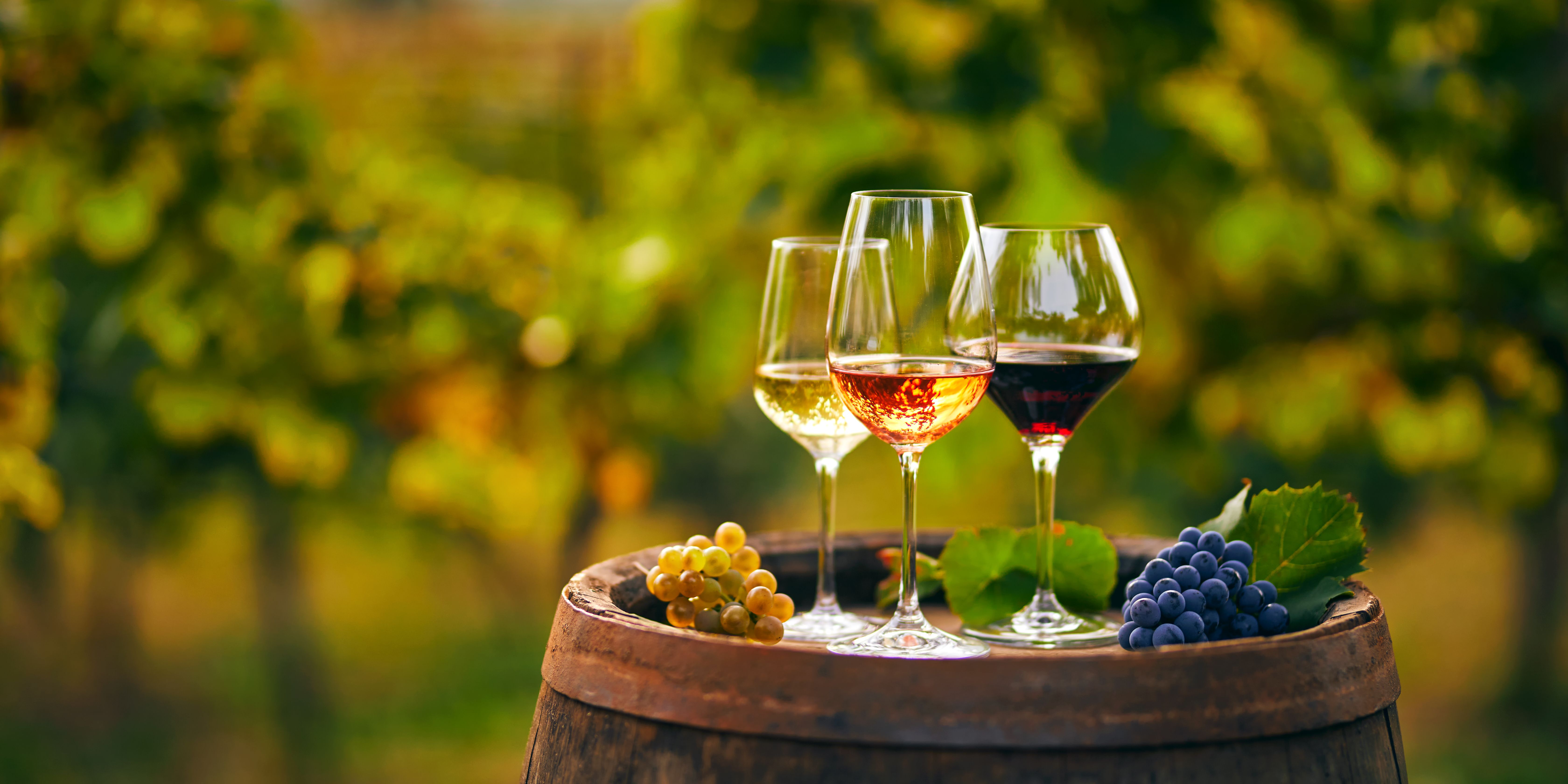 Vint review 2023: Invest in shares of fine wine with just $25
Rostislav_Sedlacek / Shutterstock
We adhere to strict standards of editorial integrity to help you make decisions with confidence. Please be aware that some (or all) products and services linked in this article are from our sponsors.
We adhere to strict standards of editorial integrity to help you make decisions with confidence. Please be aware that some (or all) products and services linked in this article are from our sponsors.
When it comes to alternative assets, wine is one of the more stable, long-term options out there. Historically, it's been used to diversify away from stocks and ETFs to help provide downside protection and more diversification.
And thanks to companies like Vint, you don't need to be a professional sommelier and own a professional wine cellar to invest in fine wine. Instead, you can buy shares of wine collections starting with just $25. And with no annual fees or accreditation requirements, anyone can get started with Vint.
Our Vint review is breaking down how this wine investing platform works, the pros and cons, and what your alternatives are.
Pros
Vint is a SEC-regulated company
Wine shares start at just $25
You can invest through a self-directed IRA
No annual management fees
Open to non-accredited investors
Cons
No secondary marketplace or ability to sell shares early
Only a few number of deals are available at a given time
What is Vint?
Founded in 2019, Vint is a wine investing platform that lets non-accredited investors invest in collections of wines from around the world.
Unlike other wine investing platforms that often require buying entire bottles or cases of wine, Vint lets you buy shares that often start at just $25. It's an SEC-regulated company, and the company offered its first collection to investors in early 2021.
Who is Vint for?
If you want to diversify your portfolio with wine but don't want to deal with sourcing and storing wine yourself, Vint is for you. This platform shines for its low investing minimums, letting you invest in several collections to quickly diversify your portfolio. Vint's team handles all the sourcing, market research, and works with world-class storage facilities to keep assets safe.
What makes Vint great?
Since it only began offering wine investments in 2021, Vint is one of the newer and smaller companies in the alternative investing space. That said, it offers numerous advantages to investors over its competitors, especially if you're investing a small amount of money.
Low minimum investment requirement
Since Vint securitizes wines, you can buy shares of wine collections similarly to buying fractional shares. And Vint shares can start as low as $25, making it easy to invest a small amount of money.
This is the most unique aspect of Vint. Wine is listed on Liv-Ex, the London International Vinter's Exchange. In contrast, competitors like Vinovest don't securitize assets. This means you have to purchase individual bottles of wine, and there's a $1,000 minimum for the Starter portfolio. It also means recurring investments are more expensive since you can't buy fractional shares.
No annual fees
Vint doesn't charge investors with annual management fees. To make money, the company instead takes between 0.5% and 10% of each offering once funding closes.
This is a massive spread, and Vint doesn't state its fees on collection pages, which is a downside. But the upside is you only pay an upfront fee and then benefit fully from potential appreciation and final sale of collections.
New collections every month
New collections go live on Vint every two weeks or so. And collections contain wines from different parts of the world and include plenty of information about what you're investing in.
For example, at the time of writing, one Vint collection you can invest in is the Germany Collection. This collection has 1,000 total shares at $53 each for a total collection value of $53,000. It's listed on Liv-Ex with the symbol GERM, contains 58 total bottles, and has a target sell date between 2024 and 2027.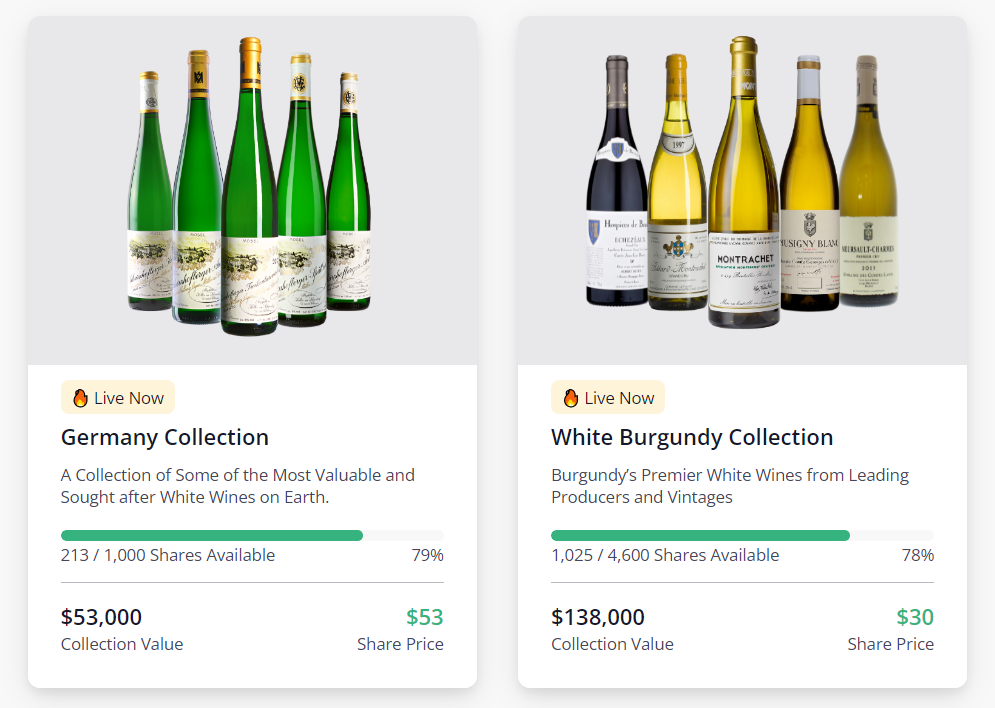 Vint actually includes a lot of information about the collection, including a breakdown of every bottle and the vintages.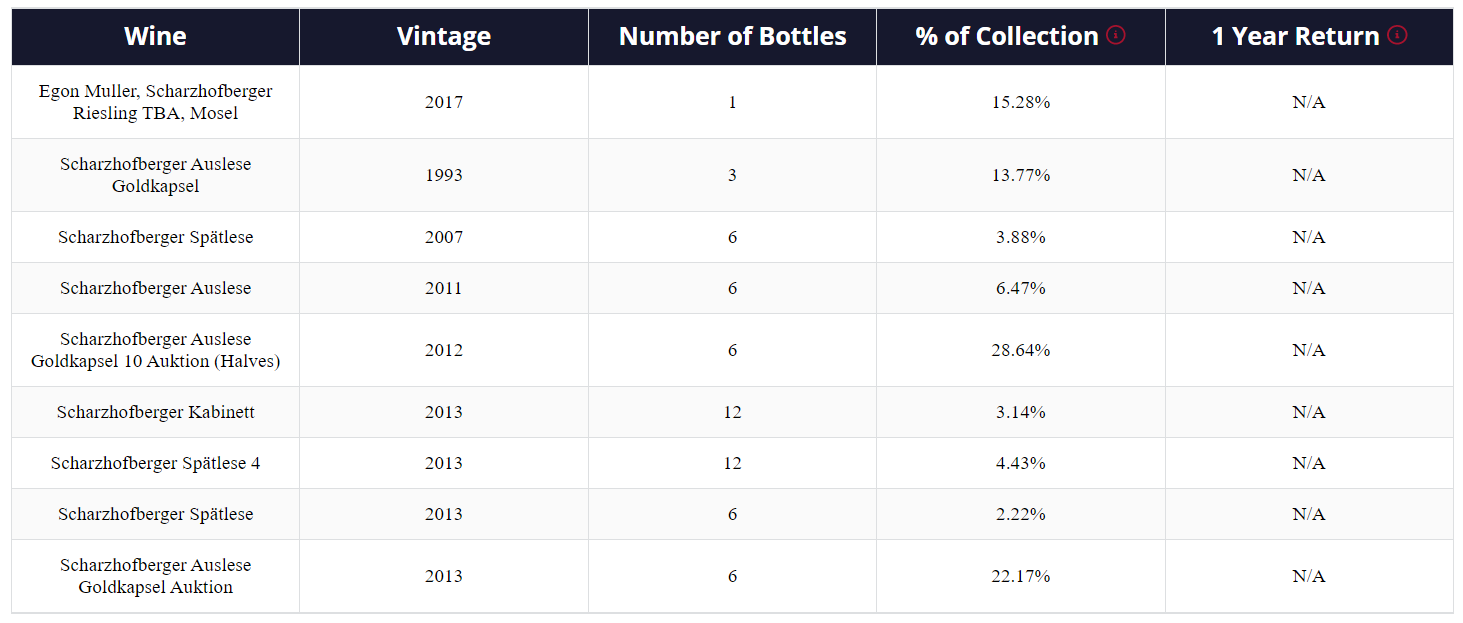 This helps you do your own research on each bottle in a collection, and overall, there's enough information to let you do your own due diligence.
No accreditation requirement
Anyone can invest with Vint, so you don't need to be an accredited investor. This is different from many alternative investing platforms that have this accreditation requirement.
SEC-regulated
According to its website, Vint is the only SEC-regulated company that focuses on wines and spirits. And as mentioned, this provides access to wine share investing, which isn't something you get with most platforms.
Safe and secure storage
When Vint acquires wine, it works with its partners to securely store wine in world-class storage facilities that are temperature and humidity-controlled. This also removes the hassle and expense of having to store wine properly yourself.
Vint's storage partners include Domaine and Octavian, two professional wine storage companies. Domaine is a U.S. company while Octavian is based in the UK. These partners store hundreds of millions of dollars worth of fine wine, so your collection is in good hands.
Works with self-directed IRAs
Another advantage of investing with Vint is that you can use a self-directed IRA to invest with. Many alternative investing platforms only support taxable accounts, so this is great news if you're investing for retirement and want to add wine to your portfolio.
Alto IRA is Vint's preferred custodian. You don't pay additional fees to Vint for investing in a self-directed IRA, but companies like Alto charge $10 or $25 per month depending on your plan. Alto is one of our favorite alternative investment providers for self-directed IRAs, and it has 75+ partners for asset classes like artwork, wine, real estate, and even cryptocurrency.
Where Vint could improve
Low investing minimums and features like self-directed IRA investing are perks of Vint. However, the platform has several downsides when it comes to liquidity and investment selection.
Secondary marketplace
At the time of writing, Vint doesn't have a secondary marketplace where you can sell shares to other investors. It doesn't let you sell shares early either, and most collections have a holding period of three to seven years.
A secondary marketplace is in the works, but for now, Vint is a highly illiquid investment that's for long-term investors.
Reserved shares
When Vint offers a collection, it pools money together from investors until it reaches the required funding amount and all shares are sold. But until this happens, money is held in a third-party escrow account and isn't put to work.
This isn't normally an issue since collections sell relatively quickly. But it can mean your money isn't being put to work for a few weeks in some scenarios. Note that Vint returns all funds to investors without taking fees if it doesn't meet necessary funding requirements for a collection.
More collections
Vint's goal is to launch a collection every two weeks. At the time of writing, two collections still have available shares.
In comparison, Vinovest always lets you invest in its AI-powered wine portfolios. And its marketplace has dozens of individual wines and collections you can invest in, so there's way more selection.
Vint fees and pricing
Vint doesn't charge annual management fees or monthly account fees. Instead, it takes 0.5% to 10% of money raised from each collection to make money.
Historical performance
As a newer player in the wine investing space, Vint has only seen $2.1 million invested through its platform at the time of writing. It also doesn't have historical data to showcase a track record.
That said, wine is a popular investment because it doesn't correlate strongly to the stock market and is relatively stable. As popular investing platform Vinovest points out, fine wines have returned 10.6% over the last 30 years. Vint also states that wine has outpaced art, bonds, and other alternative investments for the last 120+ years.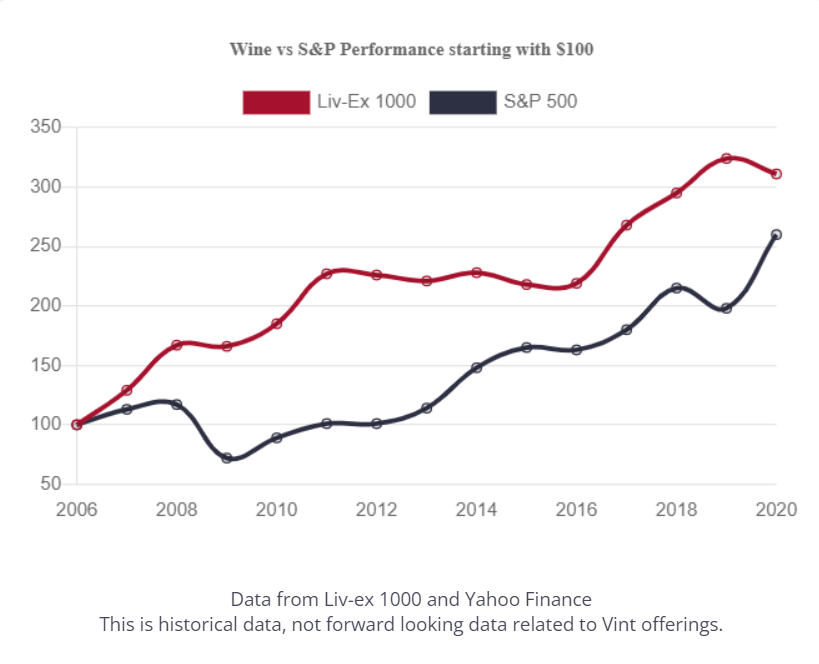 The fact wine isn't correlated strongly with the stock market also provides some downside protection. If markets are doing poorly, your wine collection might still be going strong since it's far less volatile than stocks. This is one of the main reasons why wine investing is popular, and Vint makes it easy for anyone to start.
How to contact Vint
You can contact Vint by using the live chat widget on its website. The widget also gives you a customer support email you can use on weekends and holidays instead.
How to open an account
You open a Vint account by providing your name, email address, phone number, and entering a password. Once you verify your email address, you have to complete a short investor profile to start investing. Since Vint is only available to U.S. citizens, you have to confirm that you're an eligible investor. This also involves entering your date of birth, SSN, and residential U.S. address.
Best alternatives
Despite being a newer player in the wine investing space, Vint is doing things very differently from the competition. It's the only SEC-regulated wine and spirits platform, letting you take advantage of wine shares starting at just $25.
However, other investing platforms have longer track records and more options. Depending on your goals and capital, these Vint alternatives might be better options.
VinovestBest For: Automated wine investing.
Get started
Vinovest is Vint's main competitor and the most popular alternative wine investing platform. There's a $1,000 minimum investment requirement, and Vinovest uses algorithms to create a custom portfolio of wine that matches your risk tolerance. Overall, it's almost like robo-advisor, but for wine.
The main difference between Vint and Vinovest is that Vinovest charges annual fees starting at 2.85% with the Starter portfolio. But Vinovest lets you sell wine anytime, so it's more liquid. The main downside is the $1,000 minimum and that fractional wine shares aren't available. Like Vint, you don't need to be an accredited investor to use Vinovest.
However, Vinovest has a marketplace where you can invest in individual bottles of wine and collections. It provides more investing options than Vint, but you need a bit more money to get started.
Yieldstreet
Best For: Alternative asset selection.
Get started
Another popular Vint alternative that offers numerous alternative asset classes is Yieldstreet. With Yieldstreet, you can invest in assets like real estate, short-term debt notes, artwork, and even private equity deals. The company's main fund requires $2,500 to invest in and is open to non-accredited investors.
The other deals and funds on Yieldstreet typically require $5,000 to $15,000 to invest in and are only for accredited investors. But for more variety than Vint, Yieldstreet is your best option.
Yieldstreet charges up to 2.5% in annual management fees depending on the investment. According to its website, Yieldstreet has seen 9.71% net annualized returns since its inception.
Masterworks
Best For: Artwork investing.
Get started
One final Vint alternative you can consider is Masterworks, a leading art investing platform. Masterworks has over 400,000 investors and has returned 14.3% annually, net of fees, from September 2019 to March 2022.
Masterworks securitizes artwork, and shares often start at just $20. You don't need to be an accredited investor to join, so it's a realistic way to invest in blue-chip art without needing much money.
Artwork generally has a holding period of three to 10 years. However, Masterworks has a secondary marketplace where you can sell shares which improves liquidity. As for fees, it charges 1.5% annually and takes 20% of future profits.
Bottom line
If you want to diversify your portfolio and add some downside protection to regular stocks and ETFs, wine could be the right asset class. And thanks to Vint, you don't need thousands of dollars or a professional wine cellar to add wine to your asset mix.
That said, Vint is a newer player in the space that's very different from its main competitor Vinovest. We prefer Vint for dabbling in wine investments since you only need $25 to start in many cases. But if you want to automate everything, Vinovest's portfolios are compelling, provided you have at least $1,000 to invest.
At the end of the day there are numerous ways to invest in wine. Just be sure to understand the risks of alternative investments and never invest money you can't afford to lose.