What they're missing
It's clear that the current housing market is keeping the white-picket-fence dream out of reach of many Americans.
Roughly 82% of respondents in the Credit Karma survey conducted by The Harris Poll say the country is grappling with an "unprecedented" housing affordability crisis, and another 3 in 5 who've never bought a home don't think they'll ever be able to do so.
But is a recession really part of the answer?
While the Fed's been raising interest rates to combat persistent inflation, in a recession, the opposite usually occurs to encourage more spending.
And when interest rates fall, you can expect mortgage rates to follow — meaning buyers may be able to secure mortgages with cheaper monthly payments.
But that doesn't necessarily increase the availability of homes for sale, which has been quite low for a while. And with lower supply, you can expect prices to stay high as well.
The National Association of Realtors (NAR) expects house prices to rise 2.6% next year.
"There are simply not enough homes for sale," Lawrence Yun, NAR chief economist, said this summer. "The market can easily absorb a doubling of inventory."
That said, Yun also believes any "meaningful decline" in mortgage rates could still lead to more buyers, and the NAR forecasts existing home sales could climb 15.5% next year.
It's also crucial to keep in mind that during a recession, employment typically goes through a slump as well. In that case, you can reasonably can expect more layoffs and pay cuts which could mean some hopeful buyers might not be able to afford or even secure a mortgage.
Read more: Thanks to Jeff Bezos, you can now use $100 to cash in on prime real estate — without the headache of being a landlord. Here's how
Stop overpaying for home insurance
Home insurance is an essential expense – one that can often be pricey. You can lower your monthly recurring expenses by finding a more economical alternative for home insurance.
SmartFinancial can help you do just that. SmartFinancial's online marketplace of vetted home insurance providers allows you to quickly shop around for rates from the country's top insurance companies, and ensure you're paying the lowest price possible for your home insurance.
Explore better rates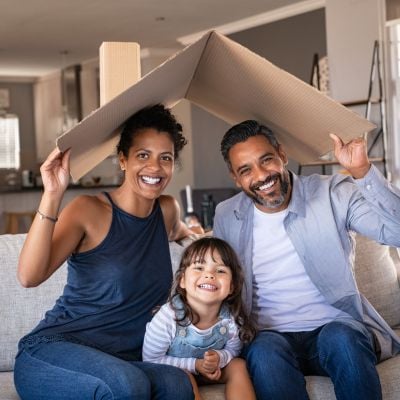 Some buyers are getting creative
Some Americans are still taking a chance in the current housing market, with plans to purchase in the next three years. But they're going to have to get creative in order to afford a home.
According to the survey, nearly 2 in 5 respondents say they'd be willing to take on a side gig or restrict or stop spending on non-essential purchases if it would improve their chances.
Some say they'd lock in a mortgage at a higher rate, in hopes they can refinance later if rates go down, and others are considering getting an adjustable rate mortgage instead — which usually comes with a lower rate, but resets periodically depending on a certain economic benchmarks like the Fed rate.
A few are even moving in with their family or friends for the time being to build up savings, or are putting important life events, like getting married or having kids on hold.
There are other options when it comes to investing in real estate without buying a physical property as well.
For example, you could buy shares in rental homes and vacation rentals for a much smaller minimum investment, compared to purchasing a home.
Or you could look into commercial real estate and own shares of institutional-quality properties leased by major retailers.
What to read next
Sponsored
Follow These Steps if you Want to Retire Early
Secure your financial future with a tailored plan to maximize investments, navigate taxes, and retire comfortably.
Zoe Financial is an online platform that can match you with a network of vetted fiduciary advisors who are evaluated based on their credentials, education, experience, and pricing. The best part? - there is no fee to find an advisor.