What is a no-down-payment mortgage?
A no-down-payment mortgage is pretty self-explanatory: It's a mortgage you can get without having to put money down.
When you buy a home, your down payment serves as your first mortgage payment. It's generally a percentage of your total loan, ranging from 5% to 20%.
With a conventional mortgage, the benefit of offering a larger down payment is you'll be free of the added expense of private mortgage insurance (PMI), which gets tacked onto loans with lower down payments.
But conventional loans generally require a down payment of at least 5%. On a $200,000 loan, that amounts to $10,000. And if you're aiming for 20% to save you the monthly cost of PMI, you're looking at $40,000. For some households, that's a sum that is simply out of reach.
There is an alternative. Some government-backed loans offer borrowers no-down-payment options, making homeownership more accessible for a wider range of buyers.
More: How much house can I afford calculator
Stop overpaying for home insurance
Home insurance is an essential expense – one that can often be pricey. You can lower your monthly recurring expenses by finding a more economical alternative for home insurance.
SmartFinancial can help you do just that. SmartFinancial's online marketplace of vetted home insurance providers allows you to quickly shop around for rates from the country's top insurance companies, and ensure you're paying the lowest price possible for your home insurance.
Explore better rates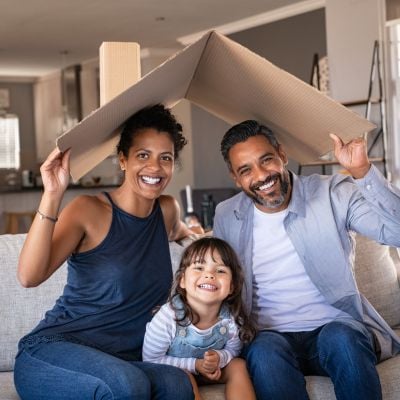 Are no down payment mortgage loans a good idea?
USDA and VA loans (backed by the U.S. Departments of Agriculture and Veterans Affairs) both offer zero-down options. However, you'll have to meet their strict qualification requirements.
With USDA and VA loans, lenders are more willing to take a risk on borrowers who don't have the money to secure conventional loans. A lender knows that if you ever default on your loan, the government will step in.
But note: The government agency insuring your loan doesn't protect you, the borrower. It just protects the lender. The government's backing is not a safety net for when you'd rather focus on other expenses some months.
Because a down payment serves as your first mortgage payment, the more you put down, the less you'll pay in interest over the life of your loan. Unfortunately, the opposite also is true: The less you put down, the more you'll pay in interest.
More: Bank of America launches new zero-down lending program
Low- and no-down-payment home loan options
Knowing that what prevents many Americans from becoming homeowners is the burden of covering a large sum needed for the down payment, there are a few government programs designed to ease that burden.
Unfortunately, these no down payment options are only available with a few types of mortgage programs, and their eligibility is restricted to rural, low-income Americans and active-duty military members and veterans.
USDA loan: No down payment
USDA loans were created to help low- to moderate-income rural and suburban Americans get mortgages. The loans are guaranteed by the U.S. Department of Agriculture and feature low fixed interest rates.
In addition to the no-down-payment feature, the loans also don't require you to pay mortgage insurance. Instead, you will have to pay an upfront 1% guarantee fee and an annual 0.35% fee.
But the sum of those fees still tends to be lower in the long run than the mortgage insurance costs associated with other types of loans.
To qualify for the USDA loan program, a home must be in a rural area, but there's a lot of leeway on the definition of "rural" — many suburban areas count, too.
Priority for these loans is given to Americans with urgent housing needs. Typically, that means successful applicants currently don't have access to "decent, safe and sanitary housing," or they can't secure a loan from other, traditional sources.
Your income also is an important factor. To qualify for one of these loans, the money you earn will need to come in at or below set income limits for your area. You can find your region's limit on the USDA's website.
Your lender will take a close look at your credit score and debt ratios to verify you have an acceptable credit history and don't have any record of debts being converted to collections over the last 12 months.
People with higher credit scores tend to have an advantage when applying for USDA loans. If you have a score of 640 and up, you could benefit from a streamlined application and underwriting process.
VA loan: No down payment
With VA loans, the Department of Veterans Affairs guarantees a portion of the mortgage.
Because the VA is backing you, you won't be required to pay for mortgage insurance. But you will be charged a one-time funding fee, which can range from 1.4% to 3.6% of your total loan amount.
VA loans are available to regular military personnel, veterans, reservists and National Guard personnel. They're also open to spouses of service members who died on active duty or as a result of a service-connected disability.
Most people in the military will qualify after six months of service. You'll also need to show a Certificate of Eligibility, which you can apply for through the VA.
As with USDA loans, your credit score and debt ratios will have a big impact on your eligibility for a VA loan.
FHA loans: Low down payment
FHA loans are also backed by the federal government. In this case, the insurer is the Federal Housing Administration, which is an arm of the Department of Housing and Urban Development, or HUD.
With an FHA loan, you can put down as little as 3.5%. And while it's easier to qualify for these loans than those offered through the USDA and VA, there are still some minimum requirements.
You'll generally need at least a 580 credit score. The home must be your primary residence and you'll have to move in within 60 days of closing.
There are also purchase price limits for the home. HUD offers a search engine to help you find your region's limit.
FHA loans come with mortgage insurance premiums (MIPs) paid both upfront and then annually. When you put less than 10% down, you'll have to pay mortgage insurance for the entire life of your loan.
To get around this lifetime requirement, some borrowers refinance under a different loan type once they have reached a 20% equity position in their home.
Conventional 97 loan: Low down payment
Most people think you need at least 5% for a down payment with a conventional loan. But a conventional 97 loan allows you to finance up to 97% of your home's purchase price, meaning you have to put down only 3%.
If we think back to that $200,000 home, that means you'd have to come up with just $6,000 as your down payment.
Unlike with the FHA low-down-payment option, you won't have to pay upfront mortgage insurance with a conventional 97 loan. And once you've built enough equity, you can cancel your mortgage insurance without having to refinance.
However, you'll have to have a credit score of at least 620 to qualify for one of these loans. And since they're not offered through all mortgage lenders, you might have to shop around a bit.
Other conventional options
The Freddie Mac Home Possible mortgage is designed for very low- to moderate-income borrowers to help them become homeowners. This conventional loan program requires only a 3% down payment.
With Home Possible, you can't make more than 100% of the median income for your area.
And through mortgage giant Fannie Mae, the Home Ready program helps low- to moderate-income households, members of minority groups and citizens of disaster-impacted communities become homeowners.
Home Ready also allows for just 3% down, and the money doesn't have to come from your own funds — meaning the money can be gifted to you by another party.
Need cash? Tap into your home equity
As home prices have increased, the average homeowner is sitting on a record amount of home equity. Savvy homeowners are tapping into their equity to consolidate debt, pay for home improvements, or tackle unexpected expenses. Rocket Mortgage, the nation's largest mortgage lender, offers competitive rates and expert guidance.
Get Started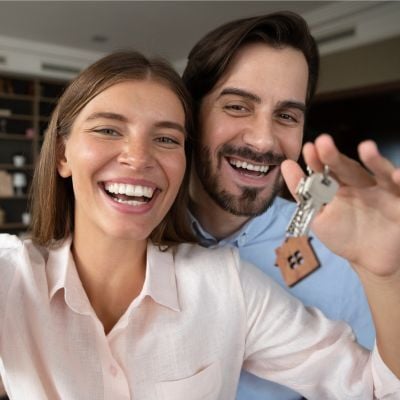 Are there first-time homebuyer loans with zero down?
All of these national programs are designed to help both first-time and repeat homebuyers.
But depending on where you live, your state may offer additional programs to help give low- to moderate-income first-time homebuyers favorable interest rates and down payment assistance. Some state agencies will provide you grants or loans to cover all of your down payment and closing costs.
You can search through our listing of all the state housing finance programs here.
Tips to buy a house with no money
If you don't have the funds to cover a down payment, you have options.
To ensure you're a great candidate for a home loan despite having little cash on hand, spend some time on your other qualifications: your credit score and debt ratios.
If you're not sure how you stand on your credit, it's easy enough to get a free credit score check. For the low- or no-down payment loans, you'll want your credit score to be as high as possible, which may take a bit of work to give your score a boost.
Similarly, you'll want to clear as much debt as you can to make yourself an even more attractive applicant.
With an excellent credit score and low debt, it's much easier to secure a home loan with no money out of pocket.
And before long, you'll be in your own house, paying down a mortgage and building equity in your home.
No down payment home loan FAQs
Still not sure if your financial situation qualifies you for a no-down-payment loan? We've got the answers for your most frequently asked questions.
Can you buy a home with zero down?
Eligible applicants can buy homes with zero down through the USDA and VA loan programs. If you don't qualify for either, you'll have to scrounge up at least 3% to 3.5% for a down payment.
How do I qualify for a zero-down home loan?
With USDA loans, you'll need to live in a rural or suburban area of the country. You'll also need to fall within the organization's income limits and buy a home that meets its housing standards.
VA loans are reserved for active-duty service members and qualified veterans, as well as some surviving spouses. You'll have to have served for at least six months and provide a Certificate of Eligibility.
Both programs require you to have an acceptable credit score and debt ratio; the minimums can vary by lender.
Can you get an FHA loan with zero down?
Not exactly. With an FHA loan, it's possible to use a gift from friends or family members to cover your down payment. You'll still need to put money down, but it doesn't necessarily have to be your own.
There's also the Good Neighbor Next Door program from HUD designed to assist teachers, paramedics, firefighters, police officers and others working for the betterment of their communities.
Eligible applicants can get a house at half price if they buy in a neighborhood that's considered in need of "revitalization" by federal standards. These areas are designated by HUD.
With the Good Neighbor program, you can put down as little as $100.
Sponsored
Follow These Steps if you Want to Retire Early
Secure your financial future with a tailored plan to maximize investments, navigate taxes, and retire comfortably.
Zoe Financial is an online platform that can match you with a network of vetted fiduciary advisors who are evaluated based on their credentials, education, experience, and pricing. The best part? - there is no fee to find an advisor.