Getting pre-approved for a mortgage is a good idea
Getting a mortgage pre-approval is an important milestone in the homebuying process. It does three major things for you.
It tells you what you can afford
The pre-approval letter will tell you exactly how much money the lender is willing to give you and at what interest rate. Once you have that information, you can crunch the numbers to see if you can actually afford a home that big within your budget.
Lenders care about what you can afford, too. They'll take a look at your debt-to-income ratio by adding up all your monthly debt payments and dividing them by your gross monthly income. Because borrowers with a tight budget are more likely to have trouble with their monthly payments, most lenders won't give you a loan if your new ratio will surpass 43%.
But your debt payments aren't your only monthly expense, so looking solely at your debt-to-income ratio isn't enough when making your own decision. Review all your living expenses — like food, utilities and transportation — to see if you can fit your new mortgage payments into your budget.
It gives you leverage while negotiating
After the lender has taken a good look at your finances and agreed to the pre-approval, they'll issue you a written commitment that you can show to real estate agents and sellers.
Having your mortgage pre-approval in hand shows people you're a serious and trusted buyer. It's proof you can afford to buy a home. That will give you more negotiating power than buyers without a letter, as their optimistic bids might go up in smoke if they can't secure financing.
More: Should you work with a mortgage broker?
It can alert you to possible roadblocks
Before you find your dream home and get all starry-eyed, you'll want to ensure you can actually buy the thing. That's why it's so important to get pre-approved before you even start the search.
Lenders want to work with people who will have no problem making their payments. If they see any potential pitfalls, they'll tell you — and you can work on resolving them right away.
That could mean disputing errors on your credit report, building your credit score or lightening your debt load to reduce your debt-to-income ratio.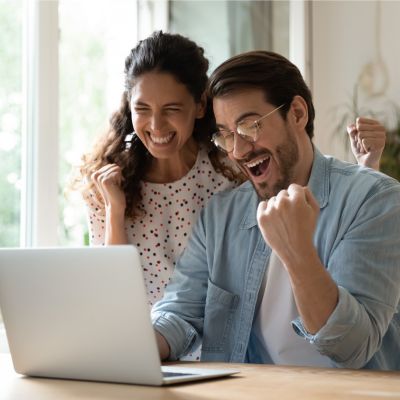 Compare current mortgage rates from top national lenders. Get the best rate for your purchase or mortgage refinance.
Compare Rates
How to get pre-approved for a mortgage
Your first order of business is getting your documents sorted. The lender will need to check your income, assets, credit history, employment and identity as part of the process.
To provide that information, you'll need to complete a mortgage application, normally called a 1003 form.
The documents you'll need to get ready are:
Proof of income: Buyers generally need to provide W-2 wage statements from the past two years, along with pay stubs from the past 30 days, as proof of employment and steady income.
You may also need proof of any income outside your regular employment, such as rent from an investment property or cash from a side hustle. And if you're self-employed, you'll need to prove to the lender that your business makes enough money, too.
Proof of assets: The lender will need to know you have enough cash on hand for the down payment and closing costs.
Minimum down payments vary depending on the loan type. For an FHA loan, you can pay as little as 3.5% if your credit score is above 580 or 10% if your score sits between 500 and 579. But a larger down payment can help you save money in the long run.
You'll need to provide bank statements or a proof-of-funds letter to show you've got the money. If you're getting some help from family, you may also need a gift letter to prove that their financial aid isn't a loan.
Proof of identify: In addition to verifying that you are who you say you are, the lender will need your Social Security number and a signed authorization to pull your credit report. Granting them this permission counts as a "hard inquiry," meaning you'll probably lose a few points on your credit score temporarily.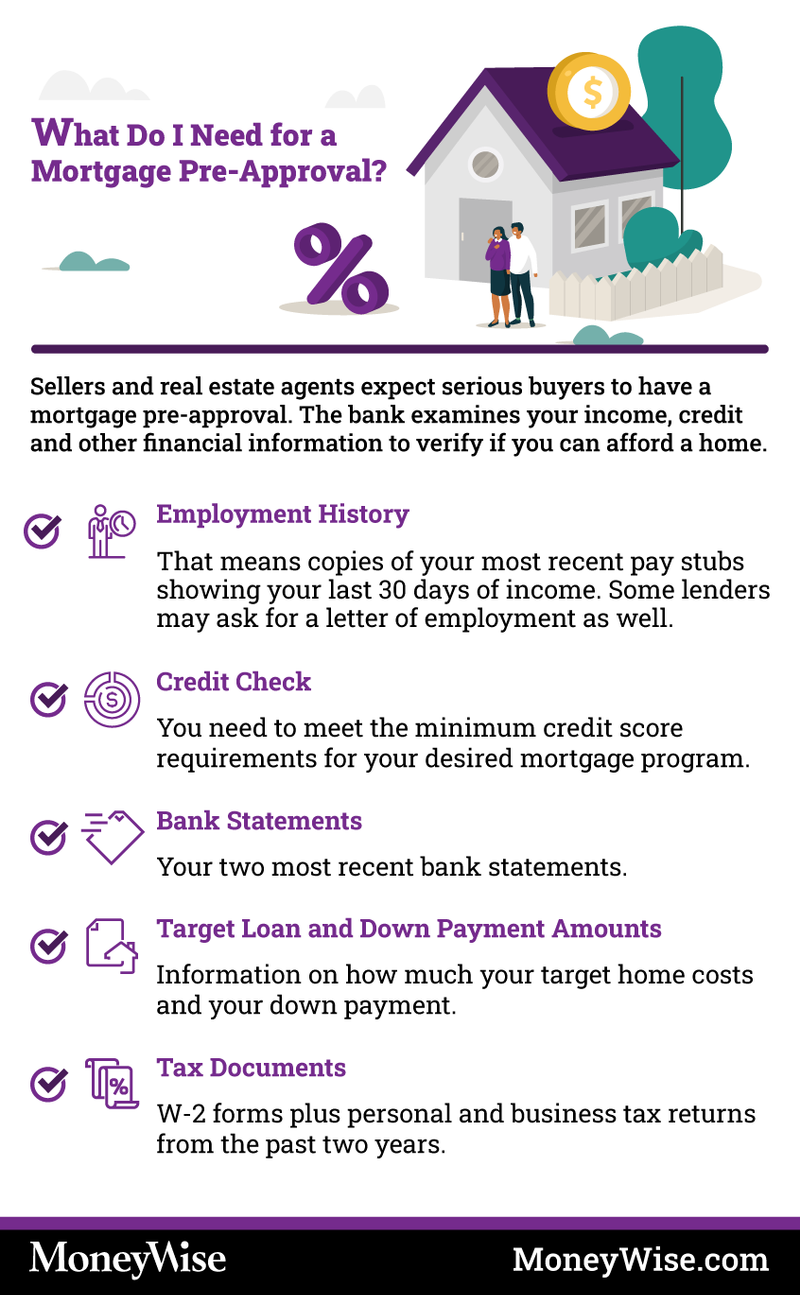 Once the lender has all the information it needs, your application will go to an underwriter who will determine whether your application is worth the risk. They'll make one of four decisions:
Approved: Congratulations!
Approved with conditions: You might get a tentative approval that requires you to provide more documentation, such as pay stubs or proof of insurance.
Suspended: If you're missing important documents in your application, the underwriter won't be able to to evaluate it. They should tell you whether you can reactivate the application by providing more information.
Denied: If your application is denied, you'll need to understand the reasons — for example, a low credit score or high debt-to-income ratio.
Compare mortgage lenders
You can get pre-approved by multiple lenders, weighing your options in closer detail.
Getting a mortgage is a high-cost, long-term commitment — not something to take lightly. Just as you would shop around to find the home that best suits your needs, you should shop around to find the best mortgage loan option for you.
More: FHA loans vs. conventional loans
Thankfully, credit bureaus expect people to shop for rates. Instead of dinging your credit score for every hard inquiry, they will treat all inquiries within a short time period as one.
The newest FICO scoring model considers all inquiries within a 45-day window as one pull; older versions work off a 14-day span.
Shopping around is essential in order to get the best deal. Borrowers who get five quotes save an average of $3,000 more than those who get only one, a Freddie Mac study found.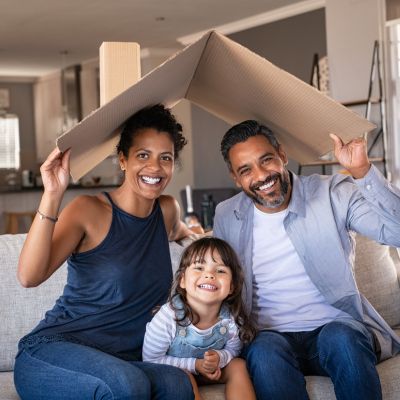 Home insurance is an essential expense – one that can often be pricey. You can lower your monthly recurring expenses by finding a more economical alternative for home insurance.
SmartFinancial can help you do just that. SmartFinancial's online marketplace of vetted lenders allows you to quickly shop around for rates from the country's top insurance companies, and ensure you're paying the lowest price possible for your home insurance.
Explore better rates
After you get pre-approved
Once you're pre-approved for a mortgage, your focus can finally shift toward buying a home. That pre-approval is only good for 30 to 90 days, depending on the lender — so you'll need to move pretty quickly after it's issued.
If you act within that time, you should get the loan at the agreed-upon terms.
Just remember, the pre-approval is always conditional. If your circumstances change — like you amass additional debt, change employment or your credit score plummets — you could still end up being denied.
More: How to payoff my mortgage faster calculator
Sponsored
Secure your retirement with a reverse mortgage
If you're low on cash savings and investments but have wealth in your home, a reverse mortgage is a great option for covering retirement expenses.
Mutual of Omaha is a trusted insurance provider that helps you make the most of your home equity.