What is crowdfunded investing?
There are generally three types of crowdfunded investing you can take part in. Each one involves investors contributing capital to help fund a company or one of its projects, but they differ in how investors are rewarded:
Reward-based crowdfunding is common among companies looking to launch a new product. Investing this way may get you early access to the product or a special limited edition version of it.
Debt-based crowdfunding pays investors interest on the funding they provide.
Equity-based crowdfunding exchanges investor capital for equity in the company.
To get involved with crowdfunded investing, you'll need to find a platform.
You can always turn to the biggest names in the space and search for an investment that speaks to you. IndieGoGo generally has more than 1,200 projects open to funding at any given time. GoFundMe has raised more than $9 billion to date.
There are a number of less publicized platforms you can also explore. The U.S. had more than 1,600 active crowdfunding and P2P platforms as of 2019, according to an estimate from JustCoded, a crowdfunding software and consulting firm.
TechNavio projects the global crowdfunding market to grow from about $120 billion in 2020 to $196 billion by 2025. It's safe to assume there will be a steady stream of crowdfunding firms jumping into the fray in the coming years.
"This is already starting to have an economic impact on how companies find additional financing and how retail investors can participate in high-growth investing," says Len Zapalowski of Vancouver-based investment bank Strategic Exits.
"It's like the frog in the boiling water. Things are happening all around us that we're not necessarily aware of yet."
More: 3 top stocks to generate a fat inflation-fighting income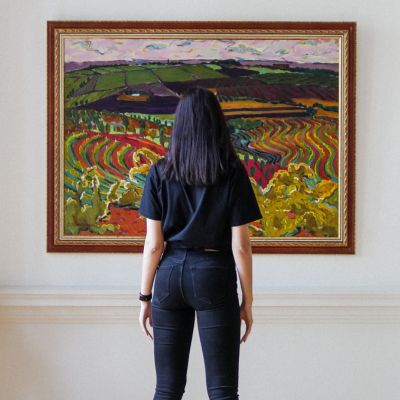 Contemporary art has outperformed the S&P 500 by 131% for the past 26 years. Join the exclusive platform to invest in million-dollar works by artists like Banksy, Basquiat, and more. Get started today and diversify your portfolio with art.
Learn More
Pros and (some major) cons of crowdfunded investing
Crowdfunded investing offers some real perks to the average investor.
Most start-ups get their funding from institutional investors, which themselves are funded by the ultra-wealthy. Crowdfunded investments, because they are not limited to accredited investors, can be a way for everyday investors to put their capital behind a company or product they believe in.
Crowdfunding platforms can make certain assets more affordable, too. Crowdfunded real estate investment platforms like RealtyMogul and Equity Multiple, for example, have already attracted millions of dollars in capital from would-be real estate investors.
But here's the rub: Crowdfunding is neither tightly regulated nor a very successful means to get a company funded. In 2019, the U.S. Securities and Exchange Council found that 85% of crowdfunding initiatives fail.
Take Kickstarter, for example. The platform has seen over $6 billion pledged to the projects offered on its site. Yet only 39% of the total campaigns on the platform have been successfully funded. More than 330,000 Kickstarter projects have failed to meet their funding goals.
A lot can go wrong with a crowdfunding campaign. The marketing can fail to find an audience. The managers could be out of their depth or working in an industry they don't understand. And if the product being made isn't properly patented, it could be copied — and even improved upon — before getting to market.
It's also fair to wonder, as Zapalowski puts it, "Why does a good company need 1,000 retail investors that each put in $5,000 when they can get $250,000 or $500,000 out of angel investors?"
As crowdfunded investing becomes more common, it's sure to intrigue some people. But keep in mind that just because an investment is accessible or affordable, it doesn't automatically qualify as a smart play. The FTC recommends that consumers carefully research any company, its management team and the quality of the investment being offered before handing over any of your capital.
Don't just follow the crowd.
— With files from Samantha Emann
More: The "least dangerous" assets to own today
Sponsored
Meet Your Retirement Goals Effortlessly
The road to retirement may seem long, but with WiserAdvisor, you can find a trusted partner to guide you every step of the way
WiserAdvisor matches you with vetted financial advisors that offer personalized advice to help you to make the right choices, invest wisely, and secure the retirement you've always dreamed of. Start planning early, and get your retirement mapped out today.