Mortgage rates this week
30-year fixed-rate mortgages
The average 30-year fixed rate dipped to 6.60% this week, compared to last week's average of 6.73%. A year ago at this time, America's most popular home loan averaged 4.16%.
While this drop has made home-buying more affordable for many Americans, Nadia Evangelou, senior economist for the National Association of Realtors (NAR), believes rates could fall even further, depending on the financial market and the Fed's meeting next week.
"At today's rate, many can afford to buy a median-priced home since they need to spend less than 25% of their gross income for a monthly mortgage payment," she says.
"If rates fall further to 6%, buyers will be able to purchase the median-priced home by putting down 14%, which was the median down payment of buyers in 2022."
15-year fixed-rate mortgage rate trend
The average 15-year fixed rate also decreased slightly from 5.95% to 5.90% this week. This time a year ago, the 15-year fixed-rate averaged just 3.39%.
"Turbulence in the financial markets is putting significant downward pressure on rates, which should benefit borrowers in the short-term," says Sam Khater, chief economist at housing giant Freddie Mac.
He encourages buyers to take advantage of the volatility and search around for additional rate quotes before settling on a home loan.
"Our research concludes that homebuyers can potentially save $600 to $1,200 annually by taking the time to shop among multiple lenders."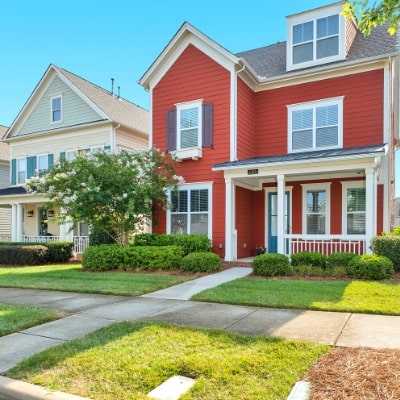 The right homeowners insurance policy protects you, your loved ones and your home.
Find the coverage you need at the most competitive rate in your area. Compare quotes from over 200 insurance companies with SmartFinancial.
Compare Now
Luxury home purchases take record plunge
Wealthy homebuyers have been experiencing sticker shock in the market as well. Sales of luxury homes in the U.S. sank 44.6% year-over-year to the second lowest level on record during the three months ending Jan. 31, reports real estate brokerage Redfin.
The median sale price also jumped 9% since the same period last year to $1.09 million, near the all-time peak of $1.1 million hit in spring 2022. However, there may still be a "silver lining" for potential buyers, according to Redfin economics research lead Chen Zhao.
Zhao points out that competition is limited and jumbo loans often have lower mortgage rates compared to other loan types, since there's less risk that high-end buyers will default on their mortgages.
"Wealthy house hunters are also frequently offered additional rate discounts from their banks as a perk for storing substantial funds there."
Zhao recommends that buyers shop around for the best mortgage rate possible and ask their favorite lender to match the lowest quote.
Mortgage demand continues to grow
Thanks to lower rates, demand for mortgages increased 6.5% from last week, according to the Mortgage Bankers Association (MBA).
"Home-purchase applications increased for the second straight week but remained almost 40% below last year's pace," says Joel Kan, vice president and deputy chief economist at the MBA.
"While lower rates should buoy housing demand, the financial market volatility may cause buyers to pause their decisions."
The drop in rates also encouraged some borrowers to refinance their home loans, as refinance activity picked up by 5% — though it remains 74% lower than the same week a year ago.
Sponsored
Get peace-of-mind on your home insurance
Homeowners insurance buys you peace of mind. But are you sure you're not paying too much for home insurance?
SmartFinancial compares quotes from over 200 insurance companies to check for discounts and help you find lower rates in your area.
Use SmartFinancial right now and stop overpaying for home insurance.