Rocket Mortgage
Best for beginner buyers
Offers conventional, VA, FHA and jumbo loans

Customizable loan option lets you choose your exact term from 8 to 29 years

Formerly known as Quicken Loans

Licensed in all 50 U.S. states and D.C.
If you're keen to compare different mortgage options but unsure where to begin, Rocket Mortgage can get you off to a fast start.
This online lender, formerly known as Quicken Loans, offers a handy loan comparison tool that lets you see loan options at a glance. It also provides an online application process, allowing you to get pre-approved and apply for a mortgage from the comfort of your couch.
Pros
Several educational tools available for borrowers
Easy to compare loan options
Convenient online application process
Cons
No USDA loans available
No option to apply for a loan in person
Qualifying borrowers can even opt for a no-closing-cost mortgage, which allows you to roll your closing costs into your loan rather than paying them upfront. While many lenders offer no-down-payment loans — like VA loans, for example — a no-closing-cost loan is far from a universal option.
Whether you're a first-time homebuyer or experienced homeowner, Rocket Mortgage offers a wealth of resources to support you during the homebuying process. Its Learning Center features hundreds of articles on mortgage topics, and several calculators are available on the site, as well.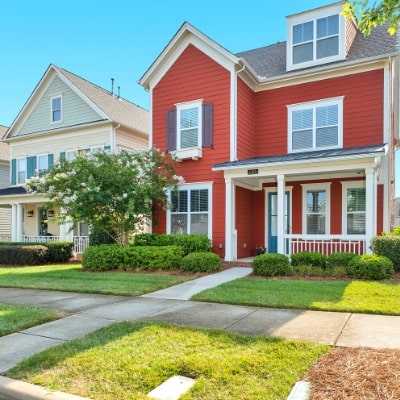 The right homeowners insurance policy protects you, your loved ones and your home.
Find the coverage you need at the most competitive rate in your area. Compare quotes from over 200 insurance companies with SmartFinancial.
Compare Now
LoanDepot
Best for personalized service
Has more than 1,700 loan officers and 200 branches across the U.S.

Offers conventional, FHA, jumbo, and VA loans

Licensed in all 50 U.S. states and D.C.
For borrowers seeking personalized service, LoanDepot could be a comfortable fit.
While digital tools and applications can be convenient, sometimes you want a human being to walk you through. LoanDepot has a broad network of loan officers as well as hundreds of physical branches across the country.
Pros
Broad network of loan officers
Straightforward, step-by-step application process
Option to close on loans quickly
Cons
No option to check rates online
Need to speak with a loan officer to start application
Borrowers also benefit from a straightforward, step-by-step application process clearly outlined on the LoanDepot site, which can make applying for a mortgage less overwhelming.
And if you need to close quickly, LoanDepot may be able to help you out. Typical closings take 30, 45 or 60 days, but this lender says it has closed loans as quickly as seven days.
As an added benefit, LoanDepot also offers a unique guarantee for its loyal customers. If you choose to refinance an existing loan with them, you'll pay no lender refinancing fees.
Caliber
Best for a wide variety of loan options
Offers multiple conventional, jumbo, FHA, VA and USDA loans

Provides a specialized loan option for self-employed borrowers

Licensed in all 50 U.S. states and D.C.
Eager to explore all of your options? Caliber is ideal for comparison shoppers.
Multiple loan products are available in most categories — including fixed- and adjustable-rate conventional, FHA, VA, USDA, jumbo, 203k and other loans — making Caliber a one-stop shop for all sorts of borrowers.
Borrowers can also access unique products through Caliber's Smart Series loans. It offers a product specifically for self-employed professionals, a jumbo loan for those with complex credit situations and a mortgage designed for real estate investors.
Pros
Many loan types available
Helpful educational resources for borrowers
Option to search for homes on Caliber website
Cons
Cannot check rates online
Need to speak with a loan consultant to begin application
Whether you're a first-time buyer seeking a low-down-payment loan or an experienced real estate investor shopping for your next home, Caliber likely offers the loan product you need.
It also provides helpful educational resources as well as a unique and convenient feature: the option to search for a home directly through its website.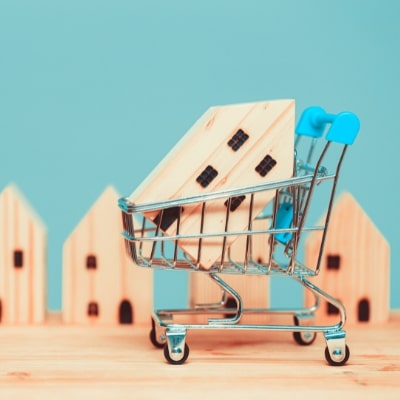 Compare current mortgage rates from top national lenders. Get the best rate for your purchase or mortgage refinance.
Compare Rates
Chase
Best for rate transparency
Offers multiple conventional, jumbo, FHA and VA loans

Provides a side-by-side comparison of loan options

Licensed in all 50 U.S. states and D.C.
While some mortgage lenders make you jump through hoops to view rates, Chase is not one of them.
Borrowers searching for rate transparency will appreciate the option to simply input their zip code on the Chase website and see current mortgage rates for their area.
Searching for rates brings up a helpful table that lists the current rates for 30- and 15-year conventional loans, 30-year FHA loans, adjustable-rate loans and jumbo loans.
Pros
Option to view current mortgage rates online
Breaks down the homebuying process into simple steps
Can start your application online
Cons
Does not offer USDA loans
Need to speak with a loan officer to complete application
Being able to access these rates quickly and easily sets Chase apart from competitors that may require you speak with a loan officer or get pre-approved in order to see an estimated rate.
Besides its rate transparency, Chase also breaks down the homebuying process into simple steps on its website, which can make the whole ordeal less daunting for borrowers.
It also lets borrowers compare loans at a glance. For instance, if you're considering an FHA loan versus a conventional loan, there's a table that lets you easily see down payment and mortgage insurance requirements.
You can also start your application online, though you will need to connect with a loan officer to complete it.
U.S. Bank
Best for quick and easy prequalification
Offers multiple conventional, jumbo, FHA and VA loans

24-hour customer service available

Licensed in 26 U.S. states
Prequalifying for a mortgage involves providing some basic personal info to get an estimate of what size loan you might get approved for and potential rates.
If you're in the early stages of comparing mortgage lenders, U.S. Bank lets you quickly prequalify through its website. That way, you can get an idea of what they may offer in relation to other lenders.
Pros
Option to prequalify online
Transparent about rates
Cons
Website is dated and not particularly user-friendly
Does not offer USDA loans
Not available across the country
It's worth noting that prequalifying is different than getting preapproved for a mortgage. The preapproval process is slightly more involved, generally requiring income verification in addition to sharing basic info.
Beyond its handy prequalification feature, U.S. Bank lets borrowers browse current mortgage rates on its website and provides several loan options.
CrossCountry
Best for fast closings
Offers conventional, FHA, VA, USDA and jumbo loans

Licensed in all 50 U.S. states and D.C.

Closes most loans in 21 days
For borrowers eager to close on their home loan quickly, CrossCountry boasts that it can finalize most loans in just 21 days — and certain loans in just seven.
Its FastTrack Credit Approval program works similarly to a standard pre-approval but will push you along further in the vetting process than usual.
Instead of just providing proof of income and credit information to your lender for a quick check, your documents will go straight to an underwriter for rigorous examination. Typically, underwriters enter the picture later, when your offer on a home is accepted.
Pros
Dedicated program for quick closings
Helpful resource center
Cons
Website is not very well-organized
No easy way to view rates online
This way, you'll have a firm commitment in hand when you find your dream home, allowing you to show up other bidders who may be forced to include a financing contingency in their offers.
Besides its quick closings, Cross Country also offers a helpful guide for first-time homebuyers that outlines the entire buying process step-by-step. Its resource center also has some useful guidance on different loan types and a convenient terms glossary to help you understand mortgage jargon.
Guaranteed Rate
Best for transparent borrowing costs
Offers conventional, FHA, VA and jumbo loans

Licensed in all 50 U.S. states and D.C.

More than 500 branches available
Are you wondering how much you're likely to pay in closing costs and mortgage insurance premiums? Unfortunately, not many lenders offer these estimated costs upfront — but Guaranteed Rate does.
Like some other lenders on our list, Guaranteed Rate lets you view its current mortgage rates online, but it takes things a step further. It also estimates what you'll pay in closing costs and mortgage insurance premiums, and it provides projected payments for each loan type it offers.
Pros
Option to start application online
Can view rates online
Offers transparency around borrowing costs
Cons
Website is not very well-organized
This can be enlightening for new and experienced borrowers who are interested in getting a comprehensive picture of their homebuying costs.
In addition to its transparency around borrowing costs, Guaranteed Rate lets you complete a preliminary loan application online. You can also speak with a mortgage expert or email customer service if you have questions about your application.
Freedom Mortgage
Best for homebuyer guarantees
Offers conventional, FHA, VA and USDA loans

Licensed in all 50 U.S. states and D.C.

Provides unique guarantees for its customers
For homebuyers looking for reassurance, Freedom Mortgage is an intriguing option.
It backs up its statements with written guarantees, offering borrowers peace of mind that it will keep its promises — and if it doesn't deliver, you could earn cash.
Freedom offers three specific guarantees for borrowers:
A close-on-time commitment: If your loan doesn't close during the stated time period, Freedom will give you $1,000.
A rate commitment: It will match a competitor's rate or give you $250 if it cannot.
A value commitment: You get $250 back on closing costs if you get a Freedom Mortgage loan.
While these guarantees offer some peace of mind, they aren't the only benefits of working with Freedom Mortgage.
Pros
Homeowners insurance and home warranty coverage available
Local branches available if you prefer to speak with a loan officer in person
Cons
Learning center is difficult to find on its website
You can also get homeowners insurance and home warranty coverage through the Freedom website, which can be convenient because you'll likely be shopping for these coverages anyway.
Flagstar Bank
Best for specialty homebuying programs
Conventional, FHA, VA and jumbo loans available

Pending merger with New York Community Bancorp, Inc.

Offers home loans in all 50 U.S. states and D.C.
If you're a first-time homebuyer or have other unique circumstances, Flagstar Bank could be the resource you're looking for.
This lender offers several specialty loans, down payment assistance and homebuyer grant options.
Some of its programs are location-specific — for example, Flagstar offers several benefits for borrowers in California and Michigan — but others are available nationwide.
Pros
Offers several specialty homebuying programs and grants
Live chat feature offered
Cons
Unclear whether pending merger will alter offerings
Does not offer USDA loans
Qualifying homebuyers may be eligible for federal grants to make their home accessible for disabled or older adults, replace windows or make other qualified repairs, or get down payment assistance.
Low-down-payment loans and specialty loans for borrowers who don't have a Social Security number are also available.
Customer service is readily available — prospective borrowers can access a live chat feature to help with common questions or call a loan officer directly to get support. Live chat is a fairly unique option among lenders.
Movement Mortgage
Best for a stress-free lending process
Conventional, FHA, VA, USDA and jumbo loans offered

775 loan officers in its network

Loans available in all 50 U.S. states and D.C.
Movement Mortgage offers borrower-centric lending designed to help streamline traditionally cumbersome processes and reduce borrower stress.
Unlike many lenders that begin underwriting loans late in the game, Movement starts this process early on so that borrowers aren't scrambling to gather documents right before their scheduled closing.
It also has processes in place to help get homes appraised quickly so there are no hold-ups.
Pros
Simple lending process designed to reduce borrower stress
Uses its profits to give back to the community
Cons
Limited educational resources for homebuyers
Mortgage rates are not available on its website
While Movement Mortgage can offer a quick closing, its systems for making the application process simple set it apart from competitors.
Plus, Movement is dedicated to giving back to the communities where it lends, investing a portion of its profits in schools, housing developments and health clinics through its Movement Foundation.
Sponsored
Get peace-of-mind on your home insurance
Homeowners insurance buys you peace of mind. But are you sure you're not paying too much for home insurance?
SmartFinancial compares quotes from over 200 insurance companies to check for discounts and help you find lower rates in your area.
Use SmartFinancial right now and stop overpaying for home insurance.