Commodities vs. inflation Commodities – metals, petroleum, foreign currencies and agricultural products – have a long history of holding their value when inflation is raging.
That's held true this year. While inflation ramped up from 1.4% in January to 5% in May, the Thomson Reuters Core Commodity CRB index, which tracks the futures prices of 19 different commodities, grew by roughly 23%.
By contrast, the S&P 500 Index grew by 12.8% during that same period.
"The value of U.S. farmland has historically been about 70% correlated with the Consumer Price Index, making it an extremely effective inflation hedge," says Artem Milinchuk, CEO at agricultural investing platform FarmTogether.
Right now, two pandemic-related forces are boosting commodity values. As the world wakes up from its COVID-19 coma and more Americans return to work, they're also returning to their normal spending habits.
With millions going back to buying work lunches and eating out more frequently, enormous pressure will be put on the nation's food supply. The result, as anyone who's visited a grocery store or a favorite restaurant in the last six months can tell you, has been noticeably higher food prices.
And this rising demand for food products is happening at the same time that supplies are short.
COVID-19 shut down processing plants everywhere last year, and the global supply chain is still covered in rust. Delays in food production, processing and delivery only add to the upward pressure on the price of both food and its associated commodities.
With prices already rising, these supply and demand pressures create an ideal scenario for investors to start diversifying their portfolios with commodities.
So, why not go straight to the source – the farmland that produces them?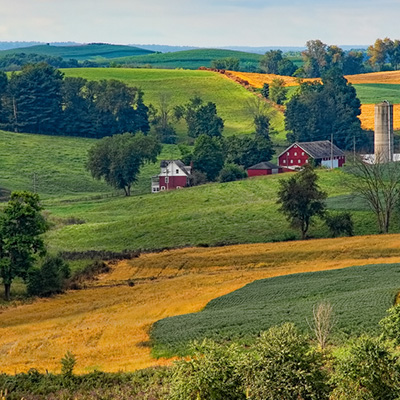 You don't need to farm to profit from farmland Not all real estate investors want to be landlords, or directly hold property while it appreciates. So they find other ways to invest, like purchasing shares in real estate investment trusts (REITs).
Investing in farmland can be just as simple – you don't need to be able to identify soil types or deliver a calf in order to succeed. But unlike REITs, which are tied to the public markets, direct investments into farmland protect investors from market volatility.
FarmTogether's online platform lets qualified investors purchase stakes in various U.S. farming operations, meaning you can get a seat on the commodity gravy train without spending millions setting up a farm of your own.
"Our investors have full control over which farms they choose," Milinchuk says. "Our investment team sifts through on-market and off-market opportunities across the United States to bring only the best deals to our investors. Only 3% of deals that enter our pipeline are offered on our platform."
Once a deal is live on FarmTogether's platform, members are granted access to the relevant offering page, due diligence materials and an investment "deep dive" webinar to help them make fully informed decisions. Plus, investors can choose how they'll diversify their investments across different farmland types to mitigate risk and enhance returns.
FarmTogether's agricultural opportunities can be viewed virtually, allowing you to evaluate and choose which properties you want to invest in from the comfort of your own home. If you're an accredited, experienced investor who can handle a minimum investment of $15,000, you can get started today.
And if you're simply curious about how FarmTogether works, you can set up a free account that allows you to get a feel for both the platform and the agricultural space the company specializes in.
Not just a pandemic play Farmland isn't attractive solely because of the bump commodity prices are currently enjoying. It's been a solid performer for decades.
Over the last 47 years, the average return on farmland investments has averaged 10%. Since 1992, it's been even better – nearly 11%, according to the NCREIF Farmland Index.
The surging global demand for food and land generally should result in similarly impressive returns in the coming years. FarmTogether investors generate income from crop yields, lease payments and capital gains once a property is sold.
That's three income streams, each one with the potential for growth, for them to drink from.
"This increasing demand for food coupled with the growing scarcity of farmland makes this asset particularly well suited to retain value over time, no matter the economic condition," Milinchuk says. "In fact, the price of the average acre of farmland has increased consistently for more than 50 years."
Farmland remains a largely unexplored space for many investors. A lack of familiarity with farmland has made evaluating agricultural assets something of a gamble, while generally high cost barriers and the lack of a transparent marketplace has kept farmland out of reach for most investors.
With FarmTogether, that's no longer the case. The asset's stability, inflation-hedging characteristics and historically strong returns are now at your fingertips.
Sponsored
Diversify your investments with farmland
You don't have to own a farm to profit off farmland.
Farmland has proven to be one of the most stable assets of the past few decades — and with FarmTogether, you're able to invest today. FarmTogether's platform gives accredited investors access to this exciting market, and one of the highest-yielding asset classes on a risk-return basis.
Sign up for FarmTogether to start investing in farmland.