'Granfluencers' are taking TikTok by storm
The population of aging Americans is only growing, so it's no surprise their presence on social media apps like TikTok and Instagram is too. According to a Washington Post poll conducted in March, nearly 3-in-10 adults aged 50 to 64 and 13% of the 65-plus crowd use TikTok.
"It's a demographic that shouldn't and can't be ignored," says Gary Zucker, co-founder of Group RFZ, which measures the success of influencer campaigns.
Zucker explains that younger generations who want to become full-time influencers may face financial headwinds when they get started, but older Americans typically enjoy a higher disposable income and are often just looking for a side gig that keeps them stimulated and offers some extra spending money to boot.
"They can put that supplementary income toward travel or their retirement nest eggs," he says.
Pike, who lives in California and goes by @grayhairandtattoos on TikTok, Instagram and YouTube, started posting content in 2019.
She was nervous about establishing a presence on TikTok, which she'd long considered "a young person's app," but she says after posting one blooper, she woke up the next morning to 100,000 followers on the platform. By March 2022, she'd quit her job as an escrow officer to become a full-time influencer.
"I think with the increase in short-form video platforms, like TikTok and [Instagram] Reels, it's just given all generations the opportunity to go viral really quickly, and boomers have been no exception," says Danielle Wiley, CEO of influencer marketing agency Sway Group.
Pike says her viewers are about 92% women between the ages of 18 and 35, and she believes her content resonates with younger audiences because she gives them a glimpse into their future.
"I give them the opportunity to see that being over 50 isn't scary," she says.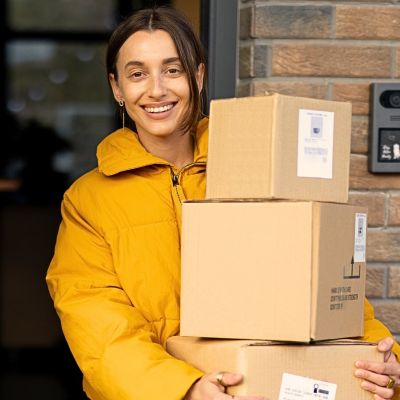 Capital One Shopping's browser add-on automatically applies coupon codes as you shop online. It's absolutely free – plus it takes only two clicks to install. Add the Capital One Shopping browser extension today and start earning discounts of up to 50% on the things you already buy.
Install for Free
Brand sponsorships can bring security and savings
But when it comes to making money off your social media platform these days, Pike says you can't just make content — all the cash is in promotions and brand campaigns.
According to Wiley, an influencer's earnings can be extremely variable depending on their popularity and what they're required to do in their brand sponsorships.
For example, while the number of followers and their engagement rate might factor into an influencer's earnings, a video post would also cost more than a still image. And some verticals, such as fashion, may come with bigger production costs, like hiring a photographer or stylists, which would also increase an influencer's quoted price.
And then there's supply and demand. Certain verticals or demographics — such as the 50-plus crowd — may be less saturated than others, and Wiley says these influencers might be able to charge a bit more than, say, younger generations as a result.
Sway Group boasts a network of over 45,000 creators, and just over 15% of them are between the ages of 45 to 54, while only about 4% are over 55.
"It can be as low as a few hundred dollars for a post to upwards of — we've had people quote us seven figures," Wiley reveals, but adds that the higher end of that price range would be more common for a Hollywood celebrity. She says the typical range is between $200 to $250,000, but fees can sometimes go even higher than that.
Zucker notes that legacy brands may tap older creators when they're trying to build a market within younger audiences as well, providing KitchenAid as an example, which has worked with older food influencers before. Pike says she's worked with Dr. Martens, Dickies and Hair Biology.
Can social media be the ideal side gig in your retirement?
Social media influencers have to be prepared to constantly evolve and meet the ever-changing demands of social media. Wiley notes that just five years ago, still imagery was the medium of choice, but currently, short-form video is all the rage.
"It's a ton of work," Wiley warns. "So I don't know that it's a cushy retirement gig."
On the other hand, for personalities like Pike, who take pleasure in sharing content online and engaging with followers — and are good at it too — being a "granfluencer" can be a viable pursuit for older Americans in their golden years.
More Americans are choosing to extend their careers, even beyond the traditional retirement age of 65, in order to bolster their limited savings and offset the rising cost-of-living.
And Pike doesn't think she'll ever fully retire either.
"The older I get, the more unique I get," she emphasizes. "A lot of times with jobs, we worry about aging out. And I am my own corporation, so I'm never going to forcefully retire myself."
She adds that someone once told her that escrow officers don't retire — they just fade away.
"That's not in my cards."
Sponsored
Kiss Your Credit Card Debt Goodbye
Millions of Americans are struggling to crawl out of debt in the face of record-high interest rates. A personal loan offers lower interest rates and fixed payments, making it a smart choice to consolidate high-interest credit card debt. It helps save money, simplifies payments, and accelerates debt payoff. Credible is a free online service that shows you the best lending options to pay off your credit card debt fast — and save a ton in interest.