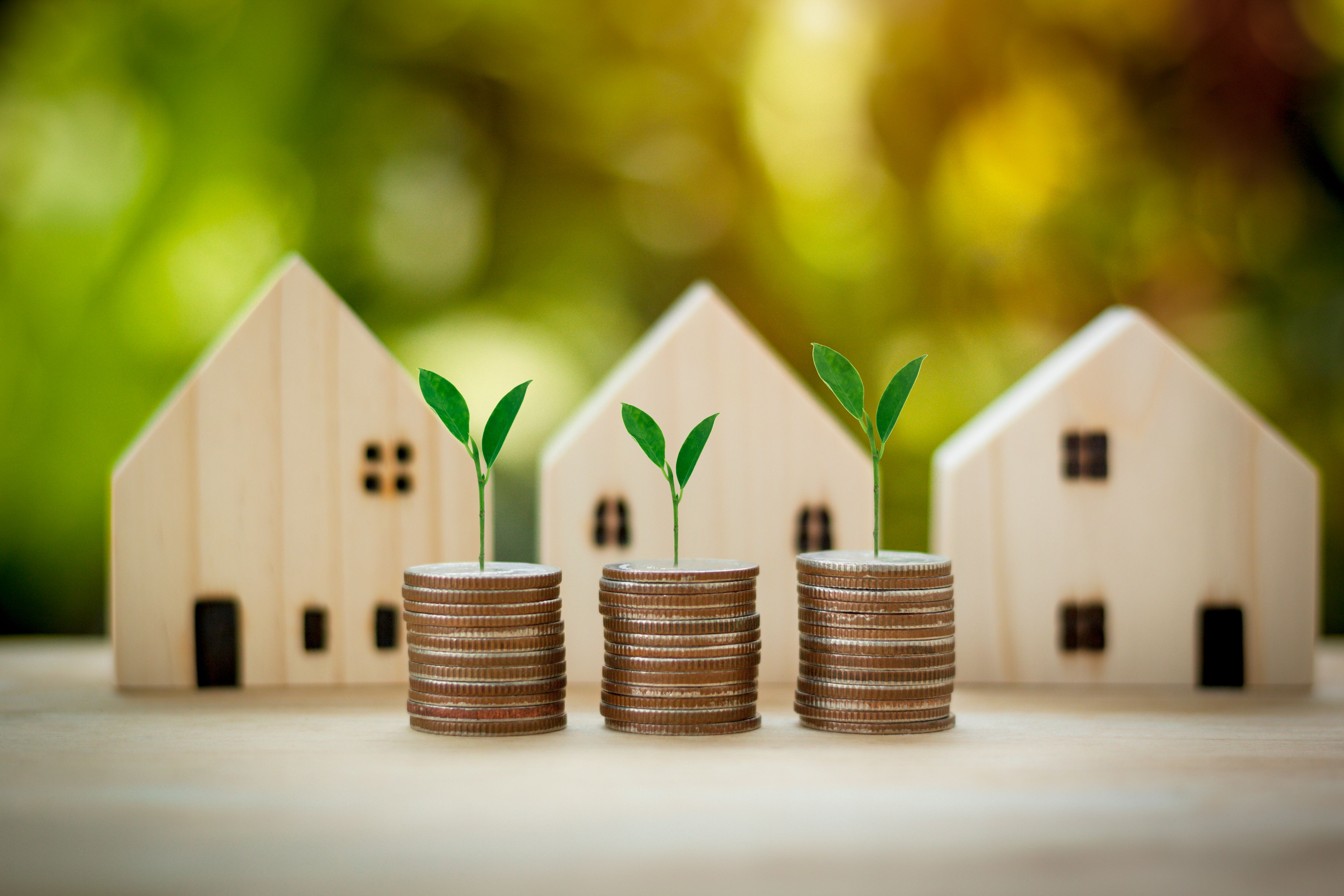 HappyNest review 2023: Invest in real estate with just $10
wut62 / Shutterstock
We adhere to strict standards of editorial integrity to help you make decisions with confidence. Please be aware that some (or all) products and services linked in this article are from our sponsors.
We adhere to strict standards of editorial integrity to help you make decisions with confidence. Please be aware that some (or all) products and services linked in this article are from our sponsors.
These days, real estate crowdfunding companies are a dime a dozen. And for anyone looking to add income-generating real estate to their portfolio, this amount of choice is great news.
One of the newer players in the space is HappyNest. This crowdfunding platform lets you invest in commercial real estate with only $10 and pays monthly dividends.
But as a newer company, it doesn't have an extensive track record for potential investors to reference. That's why our HappyNest review is covering the pros and cons of the company, how it all works, and some alternative platforms you can also consider.
Pros and cons
Pros
Only requires $10 to start investing
Targets 6% in annual dividend returns for investors
Early share redemption program helps with liquidity
Round-up spare change and invest automatically
Investors don't pay commissions or monthly account fees
Cons
Limited track record since this is a newer company
Only one fund with three properties is available to invest in
No access to direct deals
What is HappyNest?
HappyNest is a real estate investing platform that began in 2017. The company was founded by Jesse Prince with the goal of making real estate investing more accessible to everyday investors.

The real estate crowdfunding space is incredibly crowded these days. But with HappyNest, anyone can begin investing with just $10. And you don't need to be an accredited investor either, making it very beginner-friendly.
In fact, all you need is your smartphone and a few minutes to open, fund, and invest with HappyNest. Once you're invested, you can earn up to 6% annually in dividend payments for some reliable, passive income.
Who is HappyNest for?
If you want a simple option for adding real estate to your portfolio, HappyNest is for you. It has one of the lowest funding requirements out of all crowdfunding companies out there. And its user-friendly mobile app makes investing very straightforward.
As a newer company, HappyNest doesn't have dozens of portfolios for you to invest in or incredibly diverse REITs. So, if you want more investing selection, platforms like Fundrise are superior.
But for investing in real estate with little money, HappyNest is one of your best options.
What makes HappyNest great?
A beginner-friendly funding requirement is one of HappyNest's main strengths. Plus, its mobile app has several other features that help you set goals and automatically invest to stay on track.
Low investment minimum
As mentioned, HappyNest has a $10 investing minimum. And since you don't have to be an accredited investor, anyone can use HappyNest as long as they're a U.S. citizen who is 18 or older.
Commercial real estate portfolio
Some crowdfunding companies like CrowdStreet specialize in commercial REITs. In contrast, other options like Arrived Homes focus on income-generating residential real estate.
With HappyNest, you can currently invest in its first portfolio which contains three commercial real estate properties. These are large commercial buildings that generate income from three different tenants: Bonner Carrington, CVS, and FedEx. There's an average weighted lease term of 10 years, and HappyNest targets 6% in annual dividends.
Overall, HappyNest doesn't provide exposure to hundreds of properties like you can find with certain REITs. And there aren't direct deals currently available either. However, with a $10 minimum, HappyNest's portfolio is a simple and effective way to add some commercial real estate to your portfolio.
Loose change round-ups
One newer HappyNest feature is its loose change round-up tool. This feature is similar to micro-savings apps like Acorns and rounds-up your purchases to invest the difference automatically.
For example, if you spend $8.45 on lunch, you can enable HappyNest to round-up that purchase to $9. It then takes the extra $0.55 and deposits it in a round-up pool. When that pool reaches $5, HappyNest automatically invests in more shares of its real estate portfolio.
Rounding-up spare change won't make an immediate, massive difference in your investments. But if you need help building good habits, this is the perfect feature to use. And with the power of compound interest, even small round-ups can make a meaningful difference for your portfolio in the long-run.
User-friendly mobile app
You have to download HappyNest's free Android or iOS app to create an account and begin investing. This keeps things very simple, and you don't have to scour through hundreds of real estate offerings or a complex investing dashboard to find deals you want.
The downside is you have less selection. But if you value simplicity and don't mind using your smartphone to invest, HappyNest could be for you.
Create savings goals
Like its round-up feature, HappyNest also lets you create custom savings goals to stay on track with investing.
The Savings Goal tab lets you create automatic investing rules so you consistently add money to your investments. All you have to do is enter how much you're investing and if you want it to be a one-time, weekly, or monthly contribution. You can also set a total investment amount you're aiming for so HappyNest knows when to stop making automatic deposits.
You don't have to enable auto investing for your savings goals, which lets you keep things manual if you prefer. But either way, this tool helps you create a gameplan for building your nest egg and helps you stay on track.
What are HappyNest's drawbacks?
Despite its $10 minimum investment requirement and helpful savings tools, there are several downsides to HappyNest you should consider before investing.
Limited portfolio selection
The main drawback of HappyNest is that it only has one portfolio with three properties at the time of writing. In contrast, crowdfunding platforms like Fundrise have numerous funds you can invest in, providing far more commercial and residential real estate opportunities. Similarly, options like CrowdStreet have an ever-changing marketplace of direct deals and a few REITs as well for diversification.
Granted, HappyNest is a newer player in the market, so hopefully investing selection improves with time. But for now, it's one of the weaknesses of the platform.
Limited track record
The other downside of HappyNest is that it has a limited track record since its a younger company. The company targets 6% annual dividend returns and pays investors with quarterly dividends. Investors can also potentially benefit from share prices increasing, but dividends are the main focus.
And if you read SEC filings, which HappyNest publishes regularly, it's also clear that HappyNest is still in its growing phases. As of December 2021, the company had raised approximately $1.3 million. This is a drop in the bucket compared to the larger crowdfunding companies out there that are invested in hundreds or thousands of properties.
In short, HappyNest is an early-stage real estate investing play. So, this limited track record is a risk investors should consider.
HappyNest pricing and fees
One advantage of HappyNest is that it doesn't charge broker commissions or platform fees. Instead, HappyNest makes money through asset management fees on properties. At the time of writing, the current monthly management fee is 0.0417%.
Additionally, HappyNest also pays sponsor and advisory fees. The sponsor is the entity that helps find real estate properties to invest in and then oversees the deal and property management. According to SEC filings, HappyNest pays the sponsor a maximum of 3% of all money raised.
However, Jesse Prince, HappyNest's founder and CEO, is currently the sponsor and advisor. This means HappyNest technically pays itself with sponsor and advisory fees, although at the time of writing, Prince has deferred his rights to receive payment.
Again, this makes sense when you consider how early-stage HappyNest is. For now, the platform is fee-free, but time will tell how fees change for investors as more shares get bought.
It's also worth noting that SEC filings state HappyNest's sponsor can charge each HappyNest customer account with $1 per month in fees. This fee isn't currently active according to its website, but it would create an added cost for investors if it is enabled in the future.
Liquidity
Traditionally, real estate is a highly illiquid asset. This means it's difficult to sell your holdings if you need fast capital. Crowdfunding companies are also generally illiquid, so you should view real estate as a long-term investment.
However, some crowdfunding companies offer early redemption plans or have a secondary marketplace to help improve liquidity. For example, Fundrise can let investors sell shares early on a secondary marketplace, and there's only a 1% fee for selling before five years.
With HappyNest, you must hold shares for at least six months. Afterwards, there's an early redemption program that charges various fees depending on how long you've held shares for:
Holding period of shares
Redemption price of shares
Paying 3% is pretty steep for an early redemption, but it's still a plus to have early redemptions at all.
Just note HappyNest reserves the right to decline repurchasing shares for any reason or if doing so hurts investors and operations. This is a common clause crowdfunding companies have to prevent mass selling, so liquidity isn't as high as it seems. However, at the time of writing, HappyNest has honored 100% of share redemption requests according to its SEC filings.
How to contact HappyNest
You can contact HappyNest support by emailing info@myhappynest.com. Unfortunately, there isn't a customer support phone number you can call.
Is HappyNest safe?
According to its website, HappyNest uses bank level security to protect your private information and data. This includes data encryption and using trusted partners like Dwolla and Plaid to manage your financial transactions.
You can also enable features like email verification or biometric logins to secure your account. Overall, HappyNest takes numerous steps to help protect its users.
That said, real estate investing still carries risks, and HappyNest doesn't guarantee returns. And since it's a newer player in the crowdfunding market, it has a limited track record investors should take into account.
Best alternatives
Very few real estate investing platforms let you start with just $100. And with a target of 6% in annual dividends, HappyNest provides a simple way to diversify your income with real estate.
That said, a small fund and short history are the two main downsides of this platform. And if you want more investment choices or to deploy more capital, certain HappyNest alternatives are better choices.
Fundrise is our favorite HappyNest alternative because it also has a $10 investing minimum. Plus, it lets you invest in a variety of funds for more variety, and you also get paid quarterly dividends like with HappyNest. The main difference is that Fundrise charges 1% in annual management fees but has higher returns on average.
For accredited investors, CrowdStreet is an excellent choice due to the variety of commercial real estate deals it offers. And since it's slowly adding more REITs to the platform, investors can also diversify more easily.
Finally, RealtyMogul is a reliable alternative if you want to invest in commercial real estate and also access direct deals or REITs.
Bottom line
Over the past few years, real estate crowdfunding has become an extremely competitive space. But despite the competition, it's promising that newer companies like HappyNest are joining the scene and catering to beginner investors.
A lack of fees and $10 investing requirement are two main advantages for HappyNest. And if the platform continues growing, we'll hopefully see more properties added to the fund or new funds open up entirely.
For now, consider HappyNest's limited track record carefully. If anything, you can invest some of your portfolio with this crowdfunding company while sticking with more established companies like Fundrise.