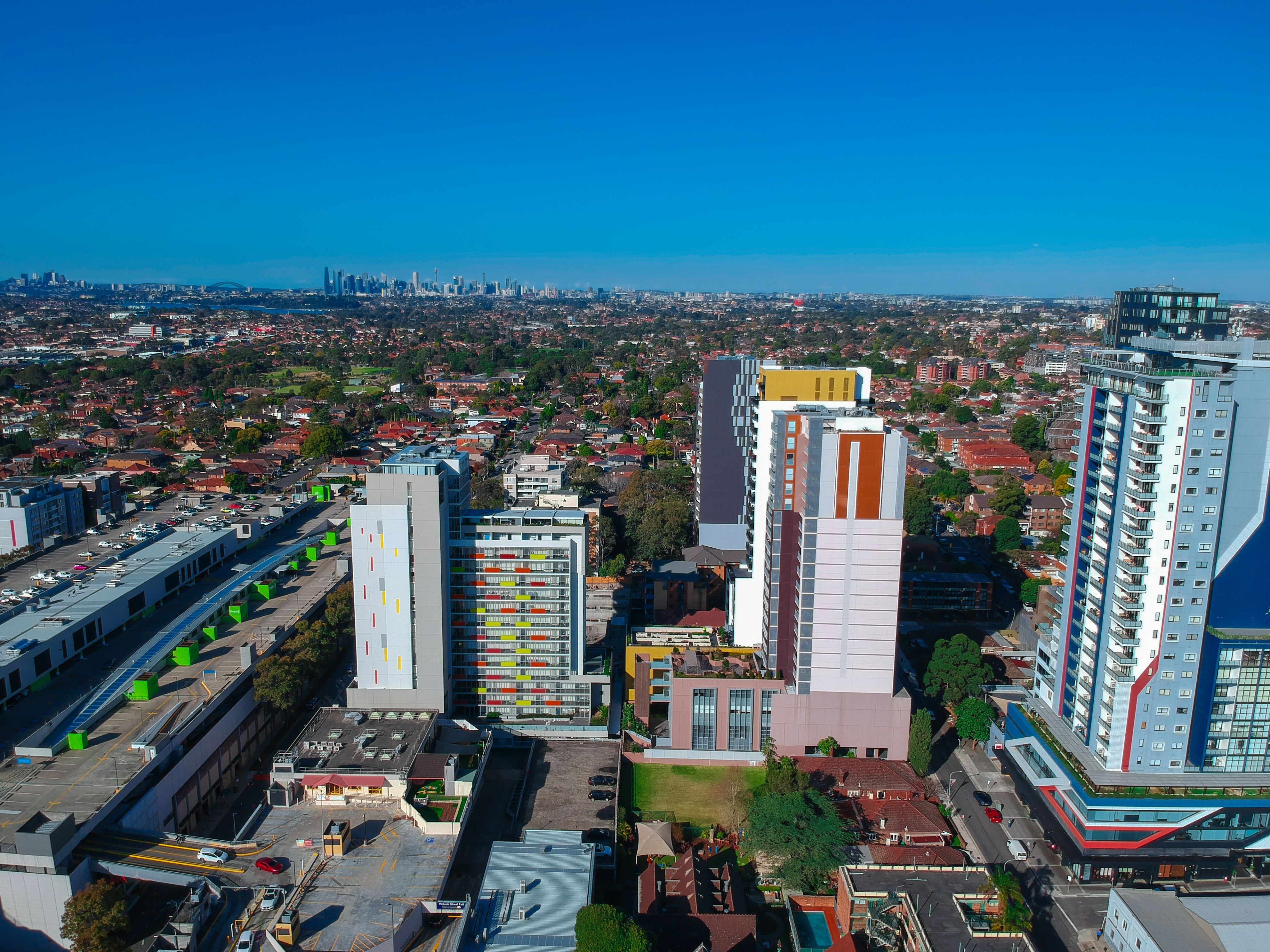 How to invest in commercial real estate without going broke
Elias Bitar / Shutterstock
We adhere to strict standards of editorial integrity to help you make decisions with confidence. Please be aware that some (or all) products and services linked in this article are from our sponsors.
We adhere to strict standards of editorial integrity to help you make decisions with confidence. Please be aware that some (or all) products and services linked in this article are from our sponsors.
Commercial real estate is a logical next step for small investors who want to move up from single-family homes or for anyone who wants the potential for big gains. Why? Commercial properties can give you more bang for your buck due to economies of scale.
What is commercial real estate?
Commercial real estate is usually any building that is used for business purposes or a building that is meant to generate a profit (like an apartment complex). It covers a diverse group of structure types and uses, including:
Multi-family residential buildings
Retail shopping centers
Warehouses
Industrial complexes
Mobile home parks
Medical offices
Self-storage facilities
Hotels, motels, and resorts
Office buildings and complexes
How to invest in commercial real estate
If you want to invest in commercial real estate but don't have the capital to buy a property outright, you're not out of luck.
Here are some popular strategies for investing in commercial real estate without much money.
1. Real estate crowdfunding platforms
Thanks to online real estate crowdfunding platforms, you can buy a property with less know-how, less work, and less risk. Minimum required investments can be as low as $10 for some platforms. With these sites, you can purchase a "share" of a real estate mortgage or loan. But in order to take advantage of many of these opportunities, you must be an accredited investor.
Crowdfunding is not new, but the 2012 Jumpstart Our Business Startups (JOBS) Act kicked this industry into high gear here in the U.S. many platforms offer commercial deals to choose from.
Here are some of the most popular real estate crowdfunding platforms with commercial opportunities, along with links to our reviews of each service:
| Highlights | Fundrise | RealtyMogul |
| --- | --- | --- |
| Rating | 4.5/5 | 4.5/5 |
| Minimum investment | $10 | $5,000 |
| Account fees | 1%/year | 1-1.25%/year asset management fee |
| Private REIT | ✅ | ✅ |
| - | Sign up | Sign up |
Fundrise is an excellent option for investing with little money since it has a $10 minimum. And it charges a low 1% annual management fee, which is lower than many commerical real estate investing platforms. As for RealtyMogul, they have access to more individual commercial real estate deals, whereas Fundrise focuses on eREITs.
Of course, on any of these crowdfunding platforms, you need to perform due diligence. However, all the documents allowing you to do so are often at your fingertips on each website.
This is a testimonial in partnership with Fundrise. We earn a commission from partner links on Moneywise. All opinions are our own.
2. Real estate investment trusts
Real estate investment trusts (REITs) are a good solution for small investors who don't want the hassle of finding, buying, and managing properties themselves. Or doing all the due diligence of investing in a specific property on a crowdfunding site. And that's not the only advantage they have. By law, REITs are required to pay out 90% of their earnings in the form of dividends. And you are not required to be an accredited investor.
REITs are an easy way to add real estate to diversify a portfolio. And they can provide a nice source of fixed income for investors. The downside is that there's less upside when investing in REITs because someone else is doing the work for you. And you need to watch out for high fees. REITs can have upfront sales "loads" (fees) that are much higher than with mutual funds and exchange-traded funds (ETFs).
REITs invest in all commercial real estate types, from hotels to apartments to assisted living facilities, storage facilities, office buildings, industrial space, retail space, and more. They are mandated by law to be widely held and distribute 90% of their income to shareholders. And because investors can purchase shares on the stock market, REITs are a very liquid asset.
You can purchase shares of publicly-traded REITs through any discount or full-service broker. You can buy them as common stock, preferred stock, or debt securities. It's also possible to find REITs in ETFs.
There are also several online platforms where you can buy REIT shares.
Streitwise allows you to invest in the lucrative commercial real estate market for just $5,000.
Fundrise's eREITs allow investors to take advantage of a variety of commercial real estate properties for as low as $500.
RealtyMogul's REIT products provide exposure to multi-family, office, industrial, retail, self-storage, medical and hospitality properties.
Rich Uncles' NNN REIT is invested in property leased by retail companies.
The unique benefits of commercial real estate investing
Some of the unique and beneficial aspects of commercial real estate investing (over residential real estate investing) include:
Higher income
The hallmark benefit of investing in commercial real estate is higher potential income. Most commercial properties bring in a higher rent per square foot of space. Plus, you have multiple spaces generating rental income all under one roof.
So, many of the maintenance and repair costs are "fix once and done" and spread across many leases. Higher rental income and lower maintenance costs lead to a more profitable investment.
Multiple streams of cash flow
Commercial leases provide a relatively consistent and reliable stream of rental income. And the properties also generally provide multiple streams of income.
For example, you can charge for parking spaces separate from leased office space, for example. You can also provide vending machines and a workout room in office buildings. And you can install coin-operated washing machines in apartment buildings. Often, tenants will pay operating expenses, real estate taxes, and property insurance in addition to the monthly rent. This is known as a "triple net lease." It is an industry standard in certain types of commercial real estate.
Less competition
Another advantage of investing in commercial real estate is less competition. Investing in office buildings and shopping centers is an overwhelming endeavor for many investors. A bidding war for single-family homes in my area is not uncommon. This drives up the cost of doing business. But buying a commercial property is out of the comfort zone for most investors. So there's much less competition.
Longer leases reduce risk
Commercial buildings generally have longer tenant lease agreements than residential properties. Agreements are often for 24–36 months, and notice to vacate is typically longer than 30 days. A more predictable cash flow and less vacancy reduce the risk for investors.
Risk diversification
If you own an apartment building and lose one of your 10 tenants, you lose only one-tenth of that property's income. If you lose a tenant in a single-family house, you've lost your entire income.
What are the drawbacks of investing in commercial real estate?
The main downside of commercial real estate investing is capital requirements. To buy a mall, office building, or apartment building, you're looking at millions of dollars. But this is why everyday investors turn to solutions like real estate crowdfunding sites and REITs to still add commercial real estate to their portfolios.
But another downside you should consider before investing is liquidity. Many crowdfunding platforms have early-sale penalties or don't even let you sell shares before the end of a certain term. Publically-traded REITs are therefore a better investment choice if liquidity is a concern of yours. And know that real estate is typically a longer-term investment, which may influence your decision to invest depending on your timeframe.
Is it too expensive and time-consuming for the average investor?
As mentioned, outright ownership of an office building or an apartment complex is not feasible for the average investor. It requires a lot of initial capital (30% down payment typically), real estate know-how, and hands-on personal involvement. It is not passive, and it's not cheap! Plus, it involves a significant amount of risk. It's much harder to recover from a mistake when you buy a commercial property than, say, 10 single-family homes.
Luckily, you can invest through crowdfunding companies or REITS and take advantage of this potentially lucrative market for far less money and time.
And if you're interested in commercial real estate, but don't have the capital to invest, you could consider a service like Hometap. Hometap invests in the equity of your home in exchange for a portion of the proceeds when you sell.
Is now a good time to invest in commercial real estate?
With the current unemployment rate at 23% and GDP down 38% due to the Covid pandemic and associated lockdowns, commercial real estate is taking a hit. The largest dips in demand are being felt in two sectors: office and retail spaces.
The Green Street Commercial Property Price Index found that office occupancy fell by 41 million square feet and retail occupancy fell by 13.6 million square feet in the first quarter of 2020. Hotel and hospitality spaces are also feeling the crunch.
In fact, commercial property prices and sales have been down across all commercial property types with the exception of industrial space. Occupancy in industrial establishments rose by 62 million square feet, so we are seeing an understandable shift in commercial property use.
Several years ago, repurposing commercial space became popular as retail shopping centers experienced vacancies due to increased online shopping at retailers like Amazon. The pandemic lockdowns are understandably accelerating that trend, with vacated malls near major metropolitan areas being repurposed as warehouses and logistical distribution centers.
The National Association of Realtor's Commercial Real Estate Trends and Outlook report for October 2020 showed some staggering trends:
54% of survey respondents reported an increase in missed/late/partial rent payments for office, retail, and industrial space.
83% reported an increase in staggering office schedules.
43% reported an increase in leasing transactions in the suburbs vs. cities.
52% reported an increase in the repurposing of vacant malls for industrial use, warehouse use, healthcare/hospital, or as a church.
Should you invest in commercial real estate?
What does this mean for investors? Certain sectors, such as retail, office space, and hotels, are experiencing painful uncertainty caused by an understandable drop in revenue. But there has not been a shockwave yet across all types of commercial space. As most leases are two-year or longer terms, many office buildings and commercial spaces are in a sort of plateau.
The leases haven't expired, and the sentiment seems to be that things will go back to normal – or near-normal – when the pandemic lockdowns are eased. And while sales volume and commercial real estate prices have dipped some, there's no fire sale of existing commercial space (at least not yet). Nevertheless, it doesn't seem like the most opportune time to jump into commercial real estate investing right now.