Lofty.ai review: Forward-thinking fractional real estate investing
Andrey_Popov / Shutterstock
🗓️
Updated: July 31, 2023
We adhere to strict standards of editorial integrity to help you make decisions with confidence. Please be aware that some (or all) products and services linked in this article are from our sponsors.
We adhere to strict standards of editorial integrity to help you make decisions with confidence. Please be aware that some (or all) products and services linked in this article are from our sponsors.
Real estate investing has always had a steep cost of entry: the 20% down payment. For today's median home price, that's more than $82,000 cash that most investors don't have. Or if they do have it, it's a sum they're not willing to pour into a single asset.
Thankfully, fractional real estate investing allows you to purchase an equity stake in a property and even collect your portion of the rent, unlike stocks and dividends.
Lofty.ai tokenizes fractional real estate investing, meaning you can buy blockchain tokens that represent partial ownership of real property.
So how does it all work? Is it legit? What are the returns like? And how might regulators react?
Let's investigate Lofty.
Lofty.ai pros and cons
Pros
Allows for fractional real estate investing
Earn passive income through daily "micro rent" payments
Accepts credit cards (albeit with a 2.9% fee)
Tokenized, fractional real estate investing could present a significantly more stable alternative to regular crypto — with passive income to boot
Cons
Limited selection (15 properties as of 8/30/22)
No mobile app
Lofty tokens have no value outside of Lofty's secondary market
Uncertain regulatory landscape surrounding tokenized fractional real estate investing
What is Lofty.ai?
Miami-based Lofty.ai, or "Lofty" for short, is a tokenized real estate platform that lives on the Algorand blockchain.
How's that for the most 2022 sentence ever?
Let's break it all down.
What is tokenized real estate?
Tokenized real estate is a form of fractional real estate investing where equity in a physical property is split up into digital tokens that live on the blockchain. So a $500,000 property might be split into 10,000 $50 tokens, each representing a 0.01% ownership stake in the property.
As Lofty puts it, "When you purchase tokens in a Lofty property offering, you are directly buying a membership interest in the individual LLC that owns that property asset."
That token may also entitle you to 0.01% of the monthly rent payment. So if the tenant pays $2,000 in rent, you'll earn $0.20 each month for each $50 token you hold.
What is the Algorand Blockchain?
The Algorand blockchain touts itself as "the world's most powerful and sustainable blockchain." As you might expect, Algorand uses proof-of-stake, which is like the Tesla to proof-of-work's Hummer.
Lofty chose the Algorand blockchain "because it offers faster transaction speeds and lower fees than Ethereum, Solana, and other popular blockchains." The only minor drawback for users is that they can't store their Lofty tokens in an existing wallet — only in an Agorand-compatible wallet.
Let's discuss how it all works by covering the platform's key features.
Read more: ELI5: What is proof of work vs. proof of stake?
How does Lofty.ai work?
Invest in properties by purchasing tokens
Lofty's bread and butter is that it enables you to become a bonafide (partial) property owner in under five minutes for $50.
It's as simple as researching a property and clicking "invest." Listings come complete with due diligence such as documentation, inspection reports, historical rent payments, projected earnings, and more.
Once you're ready to invest, Lofty will automatically generate a Lofty Wallet for you to store your tokens. From that point, you can sit back, collect rent, and sell your tokens whenever you'd like.
So, where do these properties come from?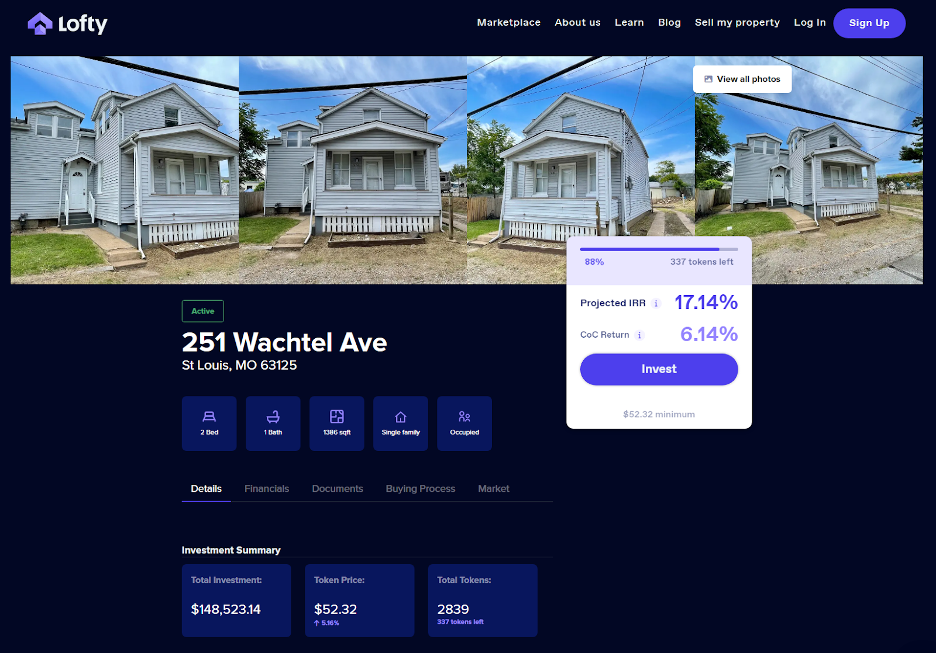 A focus on undervalued properties
Like Opendoor and Offerpad, Lofty attracts sellers by promising a cash offer on their homes within days.
However, while competitors tend to cast a wide net via direct mail and cold calling, Lofty uses an AI-driven, proprietary method.
The purpose, of course, is to give investors the most bang for their buck when the property appreciates and, in the meantime, while it's occupied.
Collecting rent
Lofty's AI favors properties that are rentable or already have tenants so that token-holders can collect rent.
That's kind of a big deal since the crypto/blockchain world is extremely short on ways to generate passive income (the other two being staking and lending.)
Anyways, you'll collect rent commensurate with your ownership stake in the property. So if you own 1% and rent is $2,000, you'll get $20 per month or $0.67 deposited into your Lofty account every night at midnight (yep, Lofty pays rent daily).
Read more: Best crypto passive income strategies
Selling your tokens (and liquidity)
Finally, Lofty allows you to sell your tokens back to them at any time for any reason for a 5% "sell back fee." Note that they'll repurchase the tokens at the original purchase price with no amount of appreciation factored in.
Still, it's a nice option that lends some liquidity and buyer confidence.
If you're looking to profit from the sale of your tokens, Lofty is planning launching a secondary market in September 2022. The fee for sales there will be just 0.5%.
Governance and profits from a sale
In addition to rent and sales on the secondary market, the final way to profit from an investment on Lofty is to wait for a sale of the property.
The property owners (i.e. you and the other token holders) will determine if and when a property is sold via Lofty's governance system. That system is also used to vote on repairs, tenant issues, rent changes, and more:
When token holders vote to sell the property, "owners will receive their returns equal to the [total sold price – selling fees] divided by their percentage ownership in the property," says Lofty.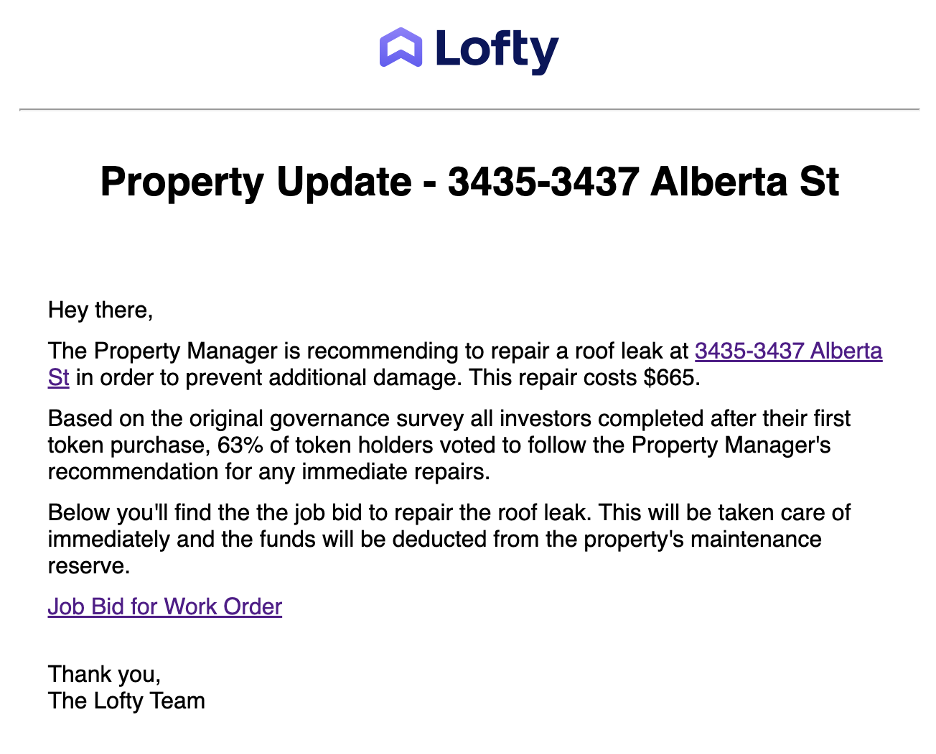 What are the fees and limits?
Here's a quick rundown of Lofty's complete fee schedule. Below, we'll talk about how Lofty makes money.
Token purchase fees:
Crypto (ALGO, USDCa, STBL): $0.01 network transaction fee
Credit or debit card: 2.9% of the transaction value plus $0.30 per transaction
Credit or debit card (international): 3.9% of the transaction value plus $0.30 per transaction
Bank transfer (ACH): $0, with a processing time of 3 to 5 days
Wire transfer: varies by bank, only available for investments of $50,000 or more
Selling fees:
Sell back to Lofty: 5% of the original purchase amount
Sell on Lofty's secondary market (coming September 2022): 0.5% of the sale price
Listing fees (For listing your property on the Lofty.ai marketplace)
How does Lofty.ai make money?
Lofty makes money by baking a 5% listing fee into every property. Here's a financial breakdown of one of the properties to show how the Total Investment Value is calculated and why it's higher than the underlying asset price: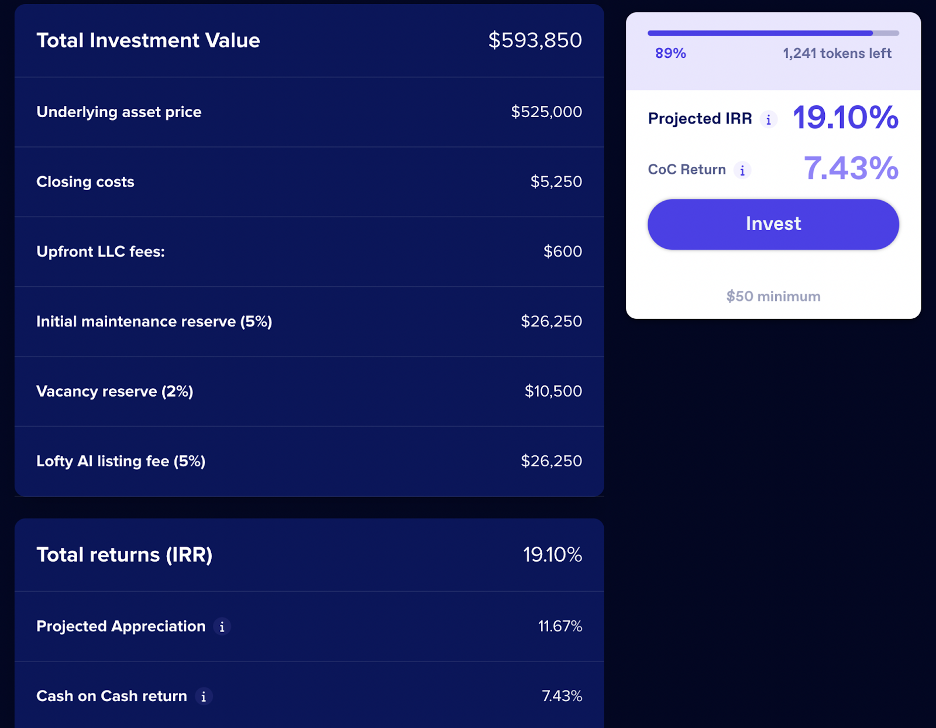 Now that we've covered the nuts and bolts, how does it all fit together? How do you actually use Lofty as an investor?
How do I start investing with Lofty.ai?
To invest with Lofty, you'll follow three steps:
1.

Browse available properties

2.

Invest in a property by purchasing Lofty tokens

3.

Collect rent or sell your tokens
1. Browse properties
You can browse available properties to purchase tokens or take partial ownership from the Lofty Marketplace. At the time of this writing, there are 15 properties available on the marketplace.
Below each photo, you'll notice two numbers:
CoC is the cash on cash return or the investment's projected annual profit divided by the total cash you invested. For example, a $10,000 investment generating $1,000 annual net profits would have a CoC of 10%.
IRR is the project's internal rate of return. By taking CoC and factoring in appreciation. IRR is expressed as a percentage, not unlike APY.
Lofty has an excellent guide explaining CoC, IRR, and how to make smart choices in general.
2. Use tokens to purchase fractional ownership
Once you've found a property you're interested in, you'll click Invest, set your number of tokens, and move forward with payment.
In order to receive your tokens, Lofty will generate a Lofty Wallet for you. You can also transfer your tokens to a Pera Wallet or MyAlgo.
As for payment, Lofty accepts bank transfers, credit cards, and the cryptocurrencies ALGO, USDCa, or STBL. Support for BTC, ETH, and Solana is coming soon.
Once you've purchased a few tokens, what's next?
3. Collect "micro rent" or sell your tokens
You can profit from your Lofty token holdings in three ways:
Collecting rent
Selling tokens
When the property sells
Lofty tracks home values and updates token values using the HouseCanary Automated Valuation Model (AVM). Values are recalculated every month between the 28th and 7th. Token holders may use this number to introduce a vote for a sale.
As for rent, you'll automatically receive your piece of rent every night around midnight UTC. Once it accumulates, you can withdraw it using the following options:
Bank Transfer (ACH)
PayPal
Donate to charity to support affordable housing
Non-U.S. users can also withdraw as:
Algorand
USDC (Algorand)
STBL (Algorand)
Finally, you can sell your tokens in two ways:
Back to Lofty at any time for a 5% sellback fee
Via the secondary market for a 0.5% fee
By the time you read this, Lofty's secondary market should've already launched in September 2022.
Is there any customer service?
I'm happy to report that Lofty offers more than just support tickets. For starters, its chatbot picked up on keywords pretty quickly and shared a sincerely helpful answer:
Lofty's support engineer Luis Martinez popped in within 7 minutes when I asked for a human. Luis was friendly and knowledgeable, responding quickly to all of my tough questions. And while having 1/16th of the staff manning support questions may not be sustainable in the long run, it's darn impressive right now and shows serious dedication.
Lofty may be a robust platform with excellent support, but it's still navigating uncharted waters. How risky is it to invest in tokenized real estate right now?
The risks of investing with Lofty.ai
What are the regulations surrounding tokenized real estate?
I asked Max Ball, Lofty's Chief Operating Officer, if Lofty tokens would ever be regulated as securities since one could argue that they pass the Howey Test.
"Lofty tokens are not considered securities," he told me.
"This is equivalent to you purchasing a rental property with a few of your family members or friends and collectively managing it together." It's a common form of investing "that historically has never been regulated by the SEC."
Well, yes and no. The critical difference between selling a Lofty token and selling a beach property you've invested in with a group of friends is Lofty's involvement.
According to Foley & Lardner, LLP, there are five red flags that a real estate transaction may qualify as a securities transaction:
The transaction involves the sale of a fractionalized interest in real property
The real estate investment comes packaged with other contracts
The seller/promoter retains an interest
The transaction involves the pooling of funds
The transaction involves the expectation of passive profit
How many do you think Lofty raises?
Again, Lofty is a robust ship navigating uncharted waters. The SEC has been prowling the blockchain like a U-Boat circa 1941, hitting BlockFi with a $100 million torpedo and training its sights on Coinbase:
So what would happen if the SEC shut Lofty down?
What happens if Lofty.ai goes out of business?
Lofty sets up each property as its own, self-governing LLC. Presumably, that means if the SEC comes knocking, pre-existing LLCs will be safe.
That being said, if Lofty ceased operations, token holders might lose the ability to sell their tokens to Lofty itself or via Lofty's proprietary secondary market.
If Zillow implodes tomorrow, homes will still have value. But if Lofty implodes, the value of Lofty tokens may go with them.
What if a property doesn't sell enough tokens?
On a lighter note, if you invest in a property that doesn't sell enough tokens, Lofty simply refunds your investment. Lofty rings zero of my rug pull alarm bells.
Best alternatives to Lofty.ai
Pocket Properties
Pocket Properties is another up-and-comer in the tokenized fractional real estate space and perhaps Lofty's closest competitor.
At least, it's projected to be. The app is still deep in the build phase without a firm launch date.
Anyways, what will separate Pocket Properties from Lofty is that the former is designed to be a mobile-first experience. Waiting at the airport? You can become a fractional real estate investor before you board.
Furthermore, Pocket Properties underwrites loans, not sales. Outside real estate investors will apply for loans through Pocket Properties PP investors will help fund the loan, generating some nice interest in return. If you're more interested in a shorter horizon than collecting rent, PP may be an excellent alternative to Lofty.
Read more: Pocket Properties review
Fundrise
Fundrise enables you to invest in commercial or residential real estate via two unique offerings:
eREITs are like regular REITs with fewer middlemen (and thus fewer commissions)
Efunds are private funds that invest in multiple real estate properties focused on growth, not income
You can invest for as little as $10, and Fundrise charges just a 0.85% asset management fee annually.
You'll pay a 1% fee if you redeem your Fundrise shares within the first 5 years. But after that holding period, redemptions are free.
Read more: How to invest in REITs: Should you add them to your portfolio? or read our Fundrise review
The bottom line
All things considered, I think Lofty is a robust, well-supported, and promising player in the fractional real estate space — tokenized or otherwise. It's best suited for investors who want to become landlords without investing too much in a single property or dealing with tenants.
But considering the outstanding regulatory questions, conservative investors who like to play well within the boundaries set by the SEC may want to stay ashore for now.
BlockFi Bankruptcy Notice-On November 10, 2022, BlockFi announced that it had to suspend withdrawals from its platform due to the FTX liquidity crisis. As a result, consumers should not be using the BlockFi platform. As of November 28, 2022, BlockFi officially declared bankruptcy.
Further reading: