Invest in real estate
Real estate is often considered a good long-term investment due to property appreciation — plus, you build equity as you pay down the mortgage and there are opportunities to generate passive income through rents.
But today, you need a huge pile of cash to cover the extensive costs of homeownership, which include: a down payment, property taxes, legal fees, elevated mortgage rates, maintenance and the list goes on.
If you don't quite have the capital to buy physical property, you may want to consider investing in a residential real estate investment trust. These are publicly-traded companies that collect rent from tenants and pass that rent to shareholders in the form of regular dividend payments.
You may also want to consider an online crowdfunding platform. These allow everyday investors to pool their money to purchase property (or a share of property) as a group.
If you don't want to make investment decisions on your own, new online platforms can help you invest in diversified real estate portfolios that will maximize your returns while keeping your fees low.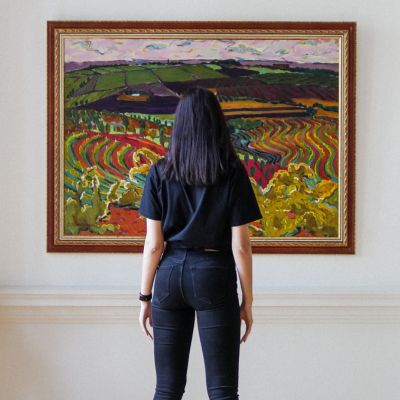 Contemporary art has outperformed the S&P 500 by 131% for the past 26 years. Join the exclusive platform to invest in million-dollar works by artists like Banksy, Basquiat, and more. Get started today and diversify your portfolio with art.
Learn More
Buy gold
If you're looking for a safe haven to park your money, you may want to consider buying gold, which has long been touted as a very stable investment.
The most direct way to invest in gold is to buy it in its physical form, whether that be bars, coins or jewelry.
With the help of any number of investing apps, you can also invest by purchasing shares of gold mining companies on the stock market — or even gold exchange-traded funds (ETFs) for those who are looking for more diverse exposure.
Another option is to open a gold IRA, an individual retirement account that allows you to invest in precious metals in physical forms, such as coins, instead of stocks, mutual funds and other traditional investments.
Be alternative
There are other alternative assets that could possibly bring returns in excess of inflation and other mainstream investment classes.
For instance, fine wine assets have enjoyed consistent double-digit growth over the past 10 years.
You can invest in wine by purchasing individual bottles or by using a wine investing platform that does all the legwork for you, including choosing, storing and insuring your prized bottles.
Likewise, fine art is another alternative investment. While the price of a masterpiece by the likes of Andy Warhol, Banksy or Pablo Picasso could amount to something close to homeownership, that doesn't mean you can't invest.
Today, there are online art investment platforms where you can get yourself a piece of the multi-billion dollar industry without a lot of the drawbacks of investing in a physical piece of art.
Sponsored
Meet Your Retirement Goals Effortlessly
The road to retirement may seem long, but with WiserAdvisor, you can find a trusted partner to guide you every step of the way
WiserAdvisor matches you with vetted financial advisors that offer personalized advice to help you to make the right choices, invest wisely, and secure the retirement you've always dreamed of. Start planning early, and get your retirement mapped out today.