Fine wine
People have been consuming wine for thousands of years. While most collect wine for enjoyment rather than investment, bottles of fine wine become rarer and potentially more valuable as time goes by.
In the past 10 years, wine assets saw a performance improvement of 162%, according to the KFLII — beaten only by classic cars at 185% and rare whisky bottles at 373%.
In 2022, Knight Frank's wine index recorded growth of 10%, a slight drop from the 16% rise in 2021. Regardless, consistent double-digit growth sees wine assets comfortably beating inflation and outperforming many mainstream investment classes.
Nick Martin, CEO and co-founder of data provider Wine Owners, says some top performers may have hit a peak in the past year.
"Burgundy has risen by more than 80% during the past five years, but at some point the market had to pause for breath," he told Knight Frank.
You can invest in wine by purchasing individual bottles — but you'll need a place to store them properly. Residential wine cellars often cost tens of thousands of dollars. If not stored at the right temperature or humidity, the bottle could be compromised.
For those who lack the time and space to curate and store their ideal wine portfolio, you can use a wine investing platform that does the legwork for you — including choosing, storing and insuring your bottles — and they'll even let you know when's the best time to sell.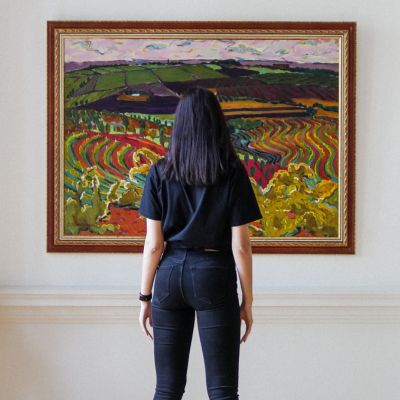 Contemporary art has outperformed the S&P 500 by 131% for the past 26 years. Join the exclusive platform to invest in million-dollar works by artists like Banksy, Basquiat, and more. Get started today and diversify your portfolio with art.
Learn More
Art
Art was the top performer in the KFLII in 2022, rising by 29% in 2022. In the past 10 years, the asset has seen a performance improvement of 91%.
Sebastian Duthy of Art Market Research, which provides the data for a number of KFLII's asset classes, says much of that performance was driven by the huge prices paid for museum-quality works of art by ultra-wealthy collectors.
"Several single owner collections, including works owned by Microsoft founder Paul Allen and American investor Anne Bass produced totals in excess of US$2.5 billion, more than doubling collection sales in 2021," he told Knight Frank.
The biggest sale last year was through auction house Christie's, where Andy Warhol's 1964 painting Shot Sage Blue Marilyn — the iconic portrait of Hollywood star Marilyn Monroe — sold for $195 million.
You might think that investing in fine art by the likes of Andy Warhol, Banksy or Pablo Picasso is only an option for the ultra-rich. Until recently, there was no way to invest in fine art unless you had millions to buy an entire painting — not even the best adviser could get you in on the action without dropping a fortune on one piece.
But there is another way to get involved. You can use an online art investment platform to get yourself a piece of the multi-billion dollar industry.
Using an investment platform lets you bypass a lot of the drawbacks of physical art investing. For instance, you won't need to scour galleries for your art or worry about logistics like shipping, handling and securing a temperature-controlled storage space.
But be mindful that these platforms are still quite new, exclusive and typically only open to accredited investors.
A luxury investment index
If you're more of an all-round luxury lover, you might want to consider investing in an index fund.
The KFLII tracks the value of 10 passion investments: art, cars, watches, handbags, wine, coins, jewelry, furniture, colored diamonds and rare whisky bottles.
The KFLII rose by a healthy 16% in 2022 — and 137% over the past 10 years — comfortably beating inflation and outperforming the majority of mainstream investment classes, including equities and gold — and keep in mind that investing in gold is often considered the go-to inflation-fighting move.
Alternative investments can insulate you from the sometimes-shaky stock market, but it certainly helps to have some knowledge (or better, to be passionate about) the assets you're investing in.
Whether you're into cars, watches, handbags or fine wines, you can find options that suit your needs by answering a few quick questions with Moneywise's investment-finder tool.
Sponsored
Meet Your Retirement Goals Effortlessly
The road to retirement may seem long, but with WiserAdvisor, you can find a trusted partner to guide you every step of the way
WiserAdvisor matches you with vetted financial advisors that offer personalized advice to help you to make the right choices, invest wisely, and secure the retirement you've always dreamed of. Start planning early, and get your retirement mapped out today.