No money down loans — a timely boost
For buyers in Bank of America's test cities, the loans come at a critical time.
Rising interest rates are making mortgages more expensive and creating downward pressure on lenders to ensure their loans are as risk-averse as possible. Bank of America's program is meant to break from this by freeing qualified applicants from down payments, credit score standards and PMI costs.
That reduces many of the barriers to entry for homeownership for buyers in communities fighting against institutional lending that often favors white borrowers.
"Homeownership strengthens our communities and can help individuals and families to build wealth over time," said AJ Barkley, Bank of America's head of neighborhood and community lending.
Homeownership among white households was 72.1% in 2020, according to the National Association of Realtors — compared to 51.1% for Hispanic and 43.4% for Black households.
And Black borrowers are denied at twice the rate of the overall borrower pool, according to a recent report from LendingTree.
Bank of America's plan adds to its $15 billion program that offers closing-cost and down payment assistance to lower income buyers and another initiative aimed at providing $15 billion in mortgages to low- to moderate-income buyers through mid-2027.
Stop overpaying for home insurance
Home insurance is an essential expense – one that can often be pricey. You can lower your monthly recurring expenses by finding a more economical alternative for home insurance.
SmartFinancial can help you do just that. SmartFinancial's online marketplace of vetted home insurance providers allows you to quickly shop around for rates from the country's top insurance companies, and ensure you're paying the lowest price possible for your home insurance.
Explore better rates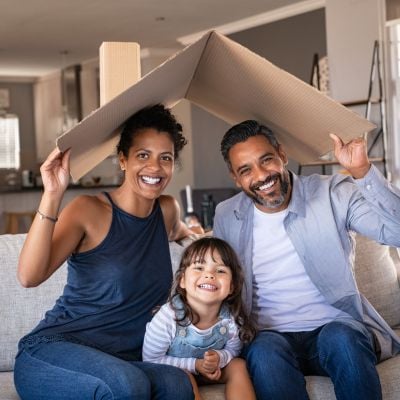 The equity risk
However, critics of the program were quick to point out that it could backfire and potentially harm the communities it's designed to help.
The 2008 housing crisis — which was heavily driven by risky loans to unqualified buyers — taught tough lessons to lenders who were stuck with foreclosed homes after buyers stopped making payments on properties they were never able to afford.
The consequences were devastating: Lenders inherited foreclosed homes and buyers saw their credit scores sink.
It's likely that at least some of the borrowers under Bank of America's new program would be considered "subprime" under ordinary lending rules — recalling the ugliest days of the 2008 crisis and supplying critics with easy talking points. Credit agency Experian, for instance, considers borrowers with credit scores between 580 and 669 as subprime.
And while credit scores aren't always an accurate barometer of a buyer's purchase power or ability to make timely payments, advocates worry the interest rates required to make up for the low bar the lender is setting could set minority buyers up for failure.
Sponsored
Follow These Steps if you Want to Retire Early
Secure your financial future with a tailored plan to maximize investments, navigate taxes, and retire comfortably.
Zoe Financial is an online platform that can match you with a network of vetted fiduciary advisors who are evaluated based on their credentials, education, experience, and pricing. The best part? - there is no fee to find an advisor.