Current mortgage rates
Your mortgage rate update for Monday, December 11, 2023 from the Moneywise mortgage rates index. The current averages are:

7.473% for the 30-year fixed mortgage rate,
6.741% for the 15-year fixed mortgage rate, and
7.234% for the 5/1 adjustable-rate mortgage (ARM) rate.

One day ago, the typical rate on America's top selling home loan, the 30-year fixed-rate mortgage, was 7.473% and one month ago the average rate was 7.943%.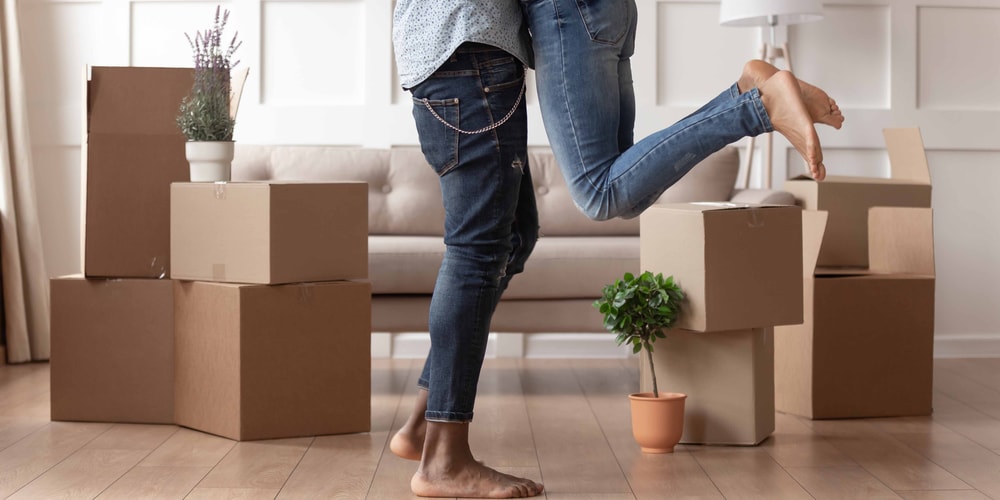 Data provided by Icanbuy, LLC. Payments do not include amounts for taxes and insurance premiums. The actual payment obligation will be greater if taxes and insurance are included. Click here for more information on rates and product details.
+
Important information about our rate tables
The listings that appear on this page are from companies from which this website receives compensation, which may impact how, where and in what order products appear. Compensation is higher for Featured placements. This table does not include all companies or all available products.
How do mortgage rates work?
A mortgage rate is the annual rate of interest your lender will charge for your home loan. If your income is strong and steady, you have a solid credit score and are able to provide a down payment of 20% or more, you'll receive a lower mortgage rate than someone who does seasonal work, has a so-so credit score and can come up with only a minimal down payment. Lenders are looking for borrowers who can make their payments over the long term. They reward those borrowers with lower mortgage rates.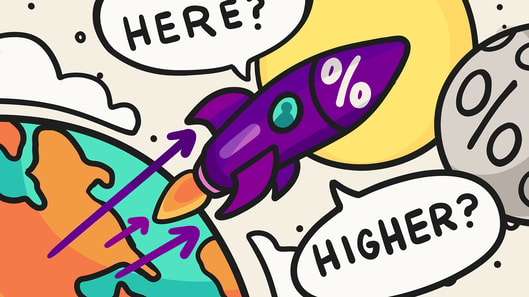 How high will mortgage rates go?
Mortgage rates were trending lower for many years before COVID-19 pushed them to historic lows for much of 2020 and early 2021. But with inflation rising and staying stubbornly high throughout 2022, the Federal Reserve has responded with multiple hefty hikes to its key policy rate, inspiring higher borrowing costs in a bid to cool demand. How high will rates go? Chairman Jerome Powell has said the Fed will "keep at it until the job is done" — which means consumers shouldn't expect an end in sight until inflation cools in earnest.
Shop mortgage rates on Moneywise
Keep track of constantly changing mortgage rates across a variety of lenders. Lock in a great interest rate with Moneywise at any time.
Get personalized rates
Mortgage Rates
30 Year Fixed
15 Year Fixed
5 Year ARM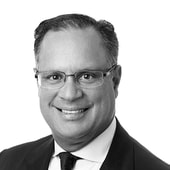 Mortgage analysis
Dr. Eddie Sanchez (D.B.A), Finance Instructor, University of South Florida Sarasota-Manatee
Inflation, which is the gradual increase in prices, is the primary factor affecting homebuying and mortgages. Since inflation erodes the purchasing power of the dollar, mortgage lenders … have to increase mortgage rates over time to offset that decline.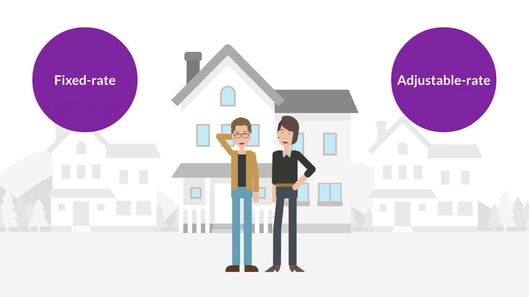 Fixed- vs. adjustable-rate mortgages
Home loans come in many varieties, but they can generally be separated into two main categories: fixed-rate mortgages and adjustable-rate mortgages. Understanding the difference between fixed- and adjustable-rate mortgages is an important step in settling on the mortgage that's right for you and your budget. Sure, you want the lowest mortgage rate possible, but choosing the right type of mortgage also can play a big part in reducing the overall cost of your home loan.
What is a fixed-rate mortgage?
A fixed-rate mortgage allows you to pay the same interest rate for the life of your loan. Whether mortgage rates sink or soar, you will pay the same rate — and make the same monthly payment — month after month, year after year. Fixed-rate mortgages can provide a lot of clarity for homeowners. Utility bills and taxes can fluctuate and wreak all kinds of havoc on a household budget, but if you choose a common 30-year or 15-year fixed-rate mortgage, you can know what your mortgage payment will be, for years or decades to come.
What is an adjustable-rate mortgage?
In its first stages, an adjustable-rate mortgage resembles a fixed-rate loan fairly closely. For a certain number of years, the borrower pays a steady interest rate. But once that introductory period expires, the mortgage rate moves up or down in sync with a benchmark interest rate, like the prime rate. If your rate comes down during the "adjustable" period, your monthly mortgage payment will decrease, too. Congrats! But the rate also has the potential to increase, and you'll be on the hook for higher payments if that happens.
How to lower your mortgage rate
When you're on the hunt for the best mortgage rate, one of the most rewarding aspects is realizing that you can, to some extent, control your own destiny. You have multiple ways of lowering your mortgage rate. Some are easier and more immediate than others, but they can all be powerful tools in your search for a more affordable home loan.
Improve your credit score

If your credit score falls short, get free copies of your credit reports and check for errors. Keep your credit balances low — try to avoid using more than 35% of the credit available to you — and be sure to make your payments on time and in full.

Prove you have steady, stable income

Lenders tend to look kindly on mortgage applicants who have stayed at the same job for an extended time. It shows stable income and your willingness to commit. Bouncing regularly from job to job may give lenders a reason to wonder about the reliability of your income.

The U.S. has literally thousands of lenders hoping to put you into a new mortgage. To find the right loan at the lowest rate, shop around. Comparing rates from multiple lenders takes only a few minutes, and it can save you thousands of dollars over the lifetime of your mortgage.

For those who can afford it, a larger down payment can go a long way toward ensuring both a lower mortgage rate and a less expensive mortgage overall. Putting down a healthy amount — 20% can be a game changer — means the bank is loaning lending less money, making you less of a risk.

When you refinance a mortgage, you take out a new loan to pay off your existing one. This is usually done after mortgage rates have dropped. Depending on how much of a gap there is between your original mortgage rate and the shiny new one, refinancing can save you a ton.
Don't let a better mortgage pass you by.
Getting a mortgage can be pricey, depending on where you live
+
A Moneywise study finds in some states, closing costs can be shockingly high.
Buying a home is typically the largest purchase a person will ever make. And, the cost of buying doesn't stop at the purchase price. Closing on a home — particularly when you're taking out a mortgage — can be expensive. What you'll pay for an appraisal, lender fees, taxes and other closing costs vary wildly by state, a Moneywise analysis shows. Whether you're buying in your hometown or moving cross country — maybe because you can now work from home, anywhere — you'll want to start by knowing roughly how much closing costs will set you back in the state where you're buying.
What we learned
In the most expensive states for taking out a mortgage, average closing costs can total more than 25% of the typical borrower's household income. In the cheapest states, it's less than 3%.
Closing costs can vary depending on taxes and fees charged by your state or county. In states with higher home prices, you'll generally pay more to close. But not always.
The least affordable place to take out a mortgage is Washington D.C., where closing costs average $29,329, according to ClosingCorp. That's 32% of the median household income in D.C. Missouri is most affordable, with closing costs that average $1,571 — less than 3% of median household income.
Closing costs generally range between 1% and 5% of the price of a home.
Costs include recording fees, transfer taxes, title policies, settlement services, land surveys and appraisals.
Borrowers can — and should — negotiate with their mortgage company to lower some of the costs, including lender fees and appraisals.
Closing costs can be rolled into the buyer's loan.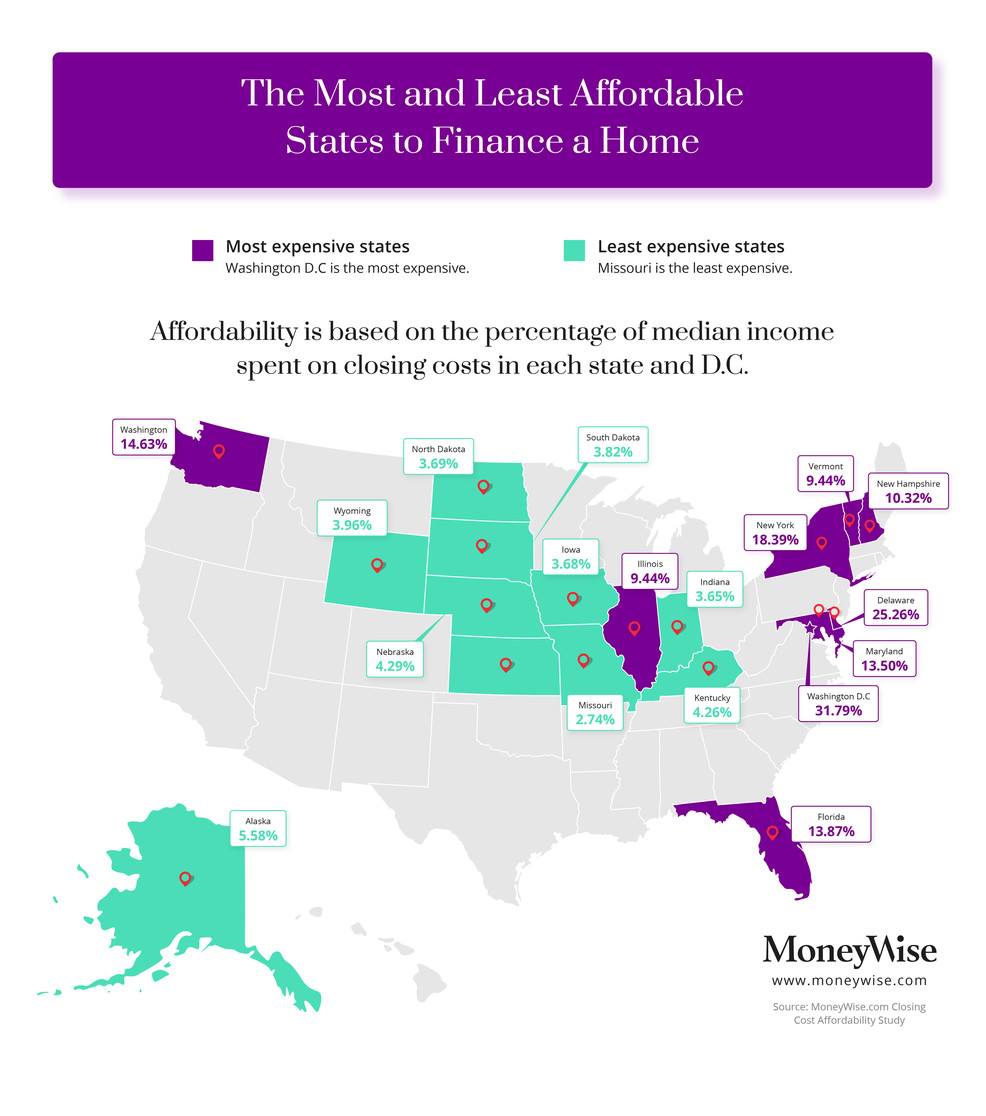 Our methodology
Moneywise divided the average mortgage closing cost in each of the 50 states and the District of Columbia, as reported by the data and technology firm ClosingCorp, by the median household income in each place, according to census statistics. A higher result meant less affordable closing costs.
Frequently asked questions (FAQ)
Where are mortgage rates headed this week?
Mortgage rates can vary considerably from week to week, so it pays to pay attention. Keep your finger on the pulse — and learn strategies to save thousands on your home loan — with our weekly mortgage rates coverage.