1. Clarify your goals
To decide whether you should refinance, you first need to clarify why you want to refinance. The most common reasons to refinance are to:
Lower interest rates. We're no longer at rock bottom, but rates are still lower than they were during most of the 2000s. Even a tiny rate cut can drastically alter the lifetime cost of a loan. For example, on a $200,000 mortgage, switching from 5.25% to 5% would save $11,075 in interest over 30 years.

Modify your loan terms. A quicker repayment schedule means less interest accrued over time, and shorter-term loans typically have lower interest rates, too. So if you have the means to afford higher monthly payments, refinancing into a shorter term will save you in the long run. The opposite is also true — if you refinance into a new 30-year mortgage, you could lower your monthly payments at the cost of increasing your lifetime fees.

Change your mortgage type. You might want to switch from an adjustable to a fixed-rate mortgage to lock in your rates. Adjustable-rate mortgages — or ARMs — often have attractive rates to start, but your interest rate can rise after the introductory years are over. With a fixed-rate mortgage, there are no surprises.

Tap into home equity. A cash-out refinance allows you to use the equity you've built in your home to fund a project, pay down credit card debt or cover other expenses. You take out a new, larger mortgage, then can access up to 80% of your home's value in a lump sum payout.
In most cases, the goal is to lower monthly expenses, slash the lifetime cost of the loan, or both. To determine whether refinancing can help you do that, you have to calculate the costs of a refi.
Stop overpaying for home insurance
Home insurance is an essential expense – one that can often be pricey. You can lower your monthly recurring expenses by finding a more economical alternative for home insurance.
SmartFinancial can help you do just that. SmartFinancial's online marketplace of vetted home insurance providers allows you to quickly shop around for rates from the country's top insurance companies, and ensure you're paying the lowest price possible for your home insurance.
Explore better rates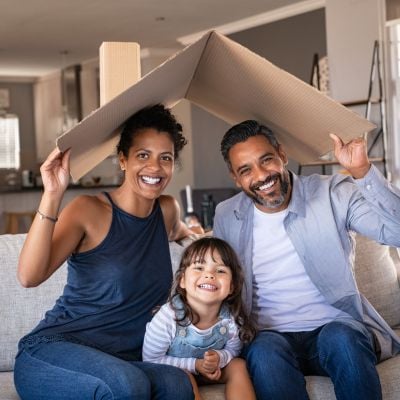 2. Identify all the costs
Refinancing isn't free. Sometimes the costs outweigh the savings, or your savings won't exceed your costs for a very long time. Make sure you tally all the fees.
Closing costs
Closing costs for a refinance are similar to those of new mortgages, typically running between 2% and 6% of the loan value.
In 2021, U.S. borrowers paid an average of $2,375 to close a refi, according to ClosingCorp.
That said, some of the fees included in your closing costs are negotiable, like the loan application, loan origination and underwriting fees.
They also vary from lender to lender, which is why shopping around is one of the best ways to save on a refinance.
Penalties
Your existing mortgage may carry a penalty if you pay it off early, like during the first few years.
These prepayment penalties aren't common today, though you might find them with interest-only mortgages and other unconventional loans. The cost could make you decide quickly against a refinance.
Also, some local government grant programs, such as for fixer-uppers or first-time homebuyers, carry special terms that can make refinancing difficult.
You might have to jump through legal hoops that prevent house flippers from using the grants to buy properties they intend to resell quickly.
Read your loan documents carefully to find out if you have a prepayment penalty or other refi restrictions.
Interest rates
Just because average refi rates are lower than the one on your original mortgage doesn't mean your rate will be lower.
Similar to getting your first mortgage, the refinance rates you qualify for depend on your creditworthiness — the stronger your credit, the better your rates.
To see where you currently stand, you can always check your credit score for free.
3. Decide whether it makes financial sense
Once you've tallied up the costs, calculate how long it will take to recoup them.
For example, let's say you took out a $200,000, 30-year mortgage with a 6.5% fixed rate. Your monthly payment is $1,264, and after 15 years, you pay your loan balance down to $147,000.
You decide to refinance into a 15-year mortgage with a 4.5% fixed rate, shaving your monthly payments down by $140 per month.
You negotiate 4% closing fees, bringing your total costs to $5,880. After 3.5 years of lower monthly payments, you recoup your closing costs and start saving.
This scenario only makes financial sense if you plan to live in your house for at least 3.5 years, which is called your break-even point.
To calculate your break-even point, simply divide your total refinancing costs by your yearly savings. This number is essential in determining whether you should refinance your mortgage.
Sponsored
Follow These Steps if you Want to Retire Early
Secure your financial future with a tailored plan to maximize investments, navigate taxes, and retire comfortably.
Zoe Financial is an online platform that can match you with a network of vetted fiduciary advisors who are evaluated based on their credentials, education, experience, and pricing. The best part? - there is no fee to find an advisor.