What is a conventional loan? Conventional loans are the most common type of home loan. They're not backed by the government, but instead they follow guidelines set by two government-sponsored entities, the mortgage giants Fannie Mae and Freddie Mac.
These loans tend to have the most strict requirements, making it hard for lower-income borrowers or those who have bad credit to qualify for a conventional loan.
But for borrowers with strong credit and enough savings for a substantial down payment, conventional mortgage loans are a great option.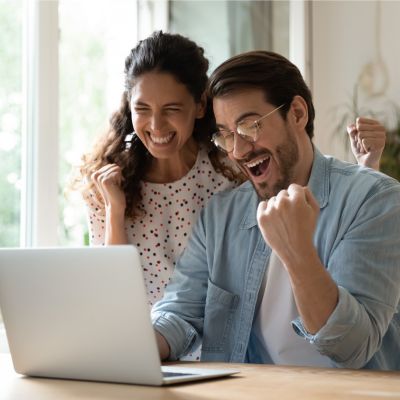 Compare current mortgage rates from top national lenders. Get the best rate for your purchase or mortgage refinance.
Compare Rates
Conventional loan requirements There are no set requirements to qualify for a conventional loan, but generally you'll need:
A credit score of at least 620.
A down payment of at least 3% to 5% (depending on the type of conventional loan you are applying for).
A debt-to-income ratio of no more than 43%.
Conventional Loan vs. FHA.
A walkthrough on the requirements of two common mortgage programs
See Guide
Benefits of a conventional loan
There's a reason conventional loans are so popular: You enjoy a number of benefits when using this loan type for your mortgage.
Flexible repayment plans
Though this isn't exclusive to conventional mortgages, they offer several different repayment options.
You can set the term for your loan at 10, 15, 20, 25 or 30 years. Your loan amount will be spread out in payments over your term, so the longer your term, the lower your monthly payment will be.
The most common terms are 15 and 30 years. A 30-year fixed-rate conventional loan with low, level payments is generally accessible for the majority of borrowers.
Adjustable rates
But if you're not planning to stay in the home for long, or if you'd prefer a short-term mortgage, conventional loans have an adjustable rate option.
You'll start out with a lower interest rate, allowing you to pay down more of the principal from the start. That lower rate will be fixed for a short period of time, usually three, five or seven years. After that period, the rate is subject to change, at which point it will increase and decrease with the market.
This can be a risky option. The best strategy for homebuyers with adjustable rates is to use the initial low-interest period to save the money required to pay off their loan or to refinance or sell the home when the period expires.
No special requirements to qualify
Compared to government-insured mortgages like VA loans, USDA loans or FHA loans, conventional loans may have a higher barrier to entry, but they also have fewer general restrictions.
The government departments that back the nonconventional loan options impose several requirements and restrictions to ensure their loans go to those most in need from the demographics the agencies serve. There are often purchase price and income limits associated with government-guaranteed loans.
And, for an FHA loan, the Federal Housing Administration will require that the home you're buying meets the Department of Housing and Urban Development''s safety and security standards.
Meanwhile, conventional loans are available to anyone with good credit, enough money for a down payment and reasonable debt in relation to income.
No upfront mortgage insurance fee
Most loan types will require mortgage insurance when your down payment is under a certain amount. With conventional loans, that amount is 20%.
But even when you offer less than 20%, conventional loans don't require you to pay an additional upfront fee. With USDA, VA and FHA loans, you'll pay your regular mortgage insurance and be charged an upfront fee, generally about 1% of your total loan amount.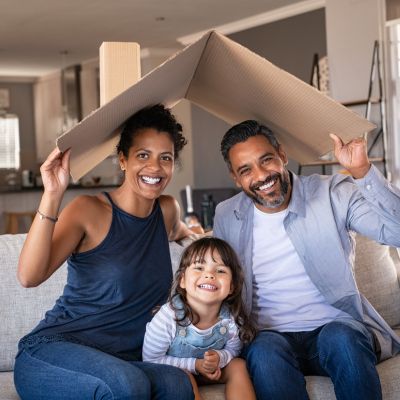 Home insurance is an essential expense – one that can often be pricey. You can lower your monthly recurring expenses by finding a more economical alternative for home insurance.
SmartFinancial can help you do just that. SmartFinancial's online marketplace of vetted lenders allows you to quickly shop around for rates from the country's top insurance companies, and ensure you're paying the lowest price possible for your home insurance.
Explore better rates
Types of conventional loans
There are a few different kinds of conventional loans, each catering to different borrower needs, whether for a first-time buyer or a lower-income household.
These loans also have varying minimum down payment requirements.
There's a common misconception that you'll need to put 20% down when you take out a conventional mortgage.
If you're looking at buying a $300,000 home, that would mean you'd need to have $60,000 upfront. Most people don't have that kind of money just sitting around.
But the 20% down payment standard is a myth. The down payment requirements are sometimes higher with conventional loans and each different conventional mortgage program has its own requirements, but none of them is as high as 20%.
Conventional 95
The Conventional 95 allows you to put just 5% down, provided you also take on private mortgage insurance, or PMI.
The 95 refers to your loan-to-value (LTV) ratio, which measures the total amount of your loan against the value of your home. The more you put down upfront, the lower your LTV, and the lower your perceived risk as a borrower.
Conventional 97
As you might expect, a Conventional 97 allows you to have a 97% LTV ratio, meaning you only have to put 3% down.
This Fannie Mae loan program is designed for first-time buyers, which includes individuals who haven't owned a home in the last three years. There are no income limits, but you will have to be using the home as your primary residence and fall within set purchase price limits.
HomeReady
This Fannie Mae program is ideal for low-income buyers who have limited cash for a down payment. You can go with a down payment as low as 3%, but you'll also have to come in at or below your area's median geographic income.
First-time homebuyers using this program are required to take a homebuyer education course.
90% Loan
Traditionally, lenders would prefer an LTV of 50% to 80%, but this loan program allows an LTV of 90%. Since you're putting only 10% down, you'll have to pay PMI.
However, with conventional loans, you'll be able to opt out of PMI once you hit 20% equity in the home.
Home Possible Advantage
This Freddie Mac home loan program is designed for very-low- to low-income borrowers.
You'll need to offer only a 3% down payment, but this program is restricted to applicants who fall at or below 80% of their area's median income.
How to qualify for a conventional mortgage loan
Again, there are no concrete standards to qualify for a conventional loan. You'll typically need at least a 620 credit score, a good handle on your debt and at least 3% to 5% for your down payment.
But there are other financial factors that will make it easier for you to qualify for one of these loans, as well as ensure you have access to the best interest rates possible.
How Much Can I Borrow for a Mortgage?
Our guide will help you find out how much you can get — and afford..
See Guide
Your credit score
On the FICO credit score scale, which ranges from 850 to 300, good or excellent credit scores are generally anything above 670.
While having a lower-than-670 credit score doesn't disqualify you from securing a conventional loan, the higher your score, the less risky you'll appear to lenders.
With a very good score, around 740, you're demonstrating that you have a long and responsible credit history. And when you have a very good to excellent credit score, you'll find it much easier to qualify for any type of loan, especially a conventional mortgage.
Employment record and proof of income
Taking out a mortgage is a huge commitment. We're talking about hundreds of thousands of dollars, with an agreement that you'll be making monthly payments for decades.
Lenders will want to see that you can manage this responsibility. Verifying your employment history and proof of income will show them that you have funds steadily coming in, and that the money is enough to cover your mortgage responsibilities as well as your other financial obligations.
If you're not currently employed or bringing in an income, you're going to find it much more difficult to demonstrate that you'll be able to keep up with your monthly mortgage payments.
Property appraisal by lender
Before granting you a loan, your lender will require the property to be appraised. This appraisal will assess the fair market value of the property.
The goal here is for your lender to make sure you're not getting a loan for more than the property is worth. If you're asking for a loan larger than the appraised value, it doesn't necessarily mean you'll be denied, but you will likely be asked to pay the difference.
Conventional loan limits
The Federal Housing Finance Administration (FHFA) sets loan limits for a subset of conventional mortgages called conforming loans.
In 2021, the maximum limit is $548,250 for single-family homes across most of the country. In high-cost areas, the limit goes up to $822,375.
Loans that conform to these limits and don't exceed them can be acquired by Fannie Mae and Freddie Mac. Anything larger is considered a noncoforming loan, also known as a jumbo loan.
Debt-to-income ratio (DTI)
Along with your down payment and credit score, the amount of debt you carry factors large when mortgage lenders are considering you for a home loan.
There are a few debt-to-income (DTI) ratios lenders use to assess your ability to take on another debt — namely, your mortgage.
Front-end DTI
This looks at what percentage of your monthly income your mortgage payments account for; your lender will want to see that your mortgage doesn't take up more than 31% of your gross monthly income, which is your income before taxes.
Back-end DTI
This ratio adds up all your monthly debt and mortgage payments. These include your student loans, personal loans, any auto loan or the credit cards you might have.
Lenders will look to see that the sum doesn't exceed 43% of your monthly income, and they would prefer that it fall closer to the 36% level.
Closing costs
Closing costs are all the fees and charges you'll have to pay when your loan closes and you take possession of the house. Typically, closing costs include fees for the appraisal, title search and title insurance, credit reporting, escrow and attorney services.
Your closing costs typically amount to 2% to 5% of your home's purchase price.
Make sure when you are planning for the costs of your loan that you have made allowances for all of these fees.
Private mortgage insurance (PMI)
With conventional loans, as we've said, when you pay less than 20% for your down payment, you'll almost always have to pay private mortgage insurance.
This will be tacked onto your monthly mortgage payment. A handy acronym that will help you remember what that payment includes is PITI: principal, interest, taxes, insurance.
Down payment
You're now familiar with the varying down payment requirements for different types of conventional loans, but it bears repeating that the more you have for your down payment, the easier it will be to qualify for a loan.
Set aside as much upfront money as you can, to ensure a smooth loan approval.
Conventional loan rates
When you're looking at applying for a mortgage loan, it's best to shop around a few different lenders and for a few different rate offers.
If you're ready to jump-start the process, we've got the tools to help you find today's rates, and with just a few details we can help you determine the rates you qualify for.
Next steps
If the rates table and what you qualify for was a little disappointing, or if you think you can actually afford more, check out our mortgage calculator, which breaks down the costs of a loan.
If your issue is your credit score, you should know there are a few factors that influence your rating other than simply the balance you carry on your credit cards.
Self Lender offers credit repair loans to help you get your score up to a more acceptable level.
If it's your debts limiting you from scoring a better interest rate, debt consolidation may be your best option to improve your financial standing.
Either way, with a little time and effort you may soon find yourself in a much better situation to qualify for a conventional loan.
More: What factors have the biggest impact on credit score
Sponsored
Secure your retirement with a reverse mortgage
If you're low on cash savings and investments but have wealth in your home, a reverse mortgage is a great option for covering retirement expenses.
Mutual of Omaha is a trusted insurance provider that helps you make the most of your home equity.