What is a construction loan?
A construction loan is an agreement you make with a lender to provide you with the financing needed to build a residential property.
Compared to traditional mortgages, construction loans typically have shorter terms and higher interest rates. They last for the amount of time it takes to build the home — usually around one year.
Once the work is done, your lender will want to see a certificate of occupancy that attests the house is completed and livable.
A construction loan isn't dispersed as a single lump-sum payment. Instead, your lender will issue the money in phases during construction. Until your home is completed, you usually need to repay only the interest on the funds that have been drawn.
Construction loans can help you cover the costs of pretty much everything associated with building a home:
Land
Plans, permits and fees
Labor and materials
Closing costs
Contingency reserves for potential budget overruns
Interest reserves to fund payments during the construction term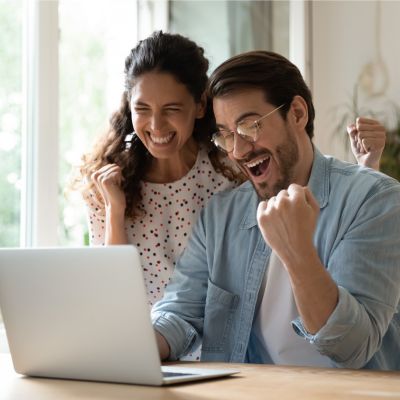 Compare current mortgage rates from top national lenders. Get the best rate for your purchase or mortgage refinance.
Compare Rates
How construction loans work
The reason lenders charge higher interest rates on construction loans is that no collateral is involved. There's no house for a creditor to take if you stop making your payments, so the loan involves more risk.
Construction loans also tend to have variable interest rates, which rise and fall in relation to the prime rate. Though the prime has been low and frozen during the coronavirus pandemic, your interest costs would go up whenever the prime rises.
While mortgages provide funds directly to a homebuyer or homeowner, construction loans are usually paid to the builder, in installments.
As the building progresses through stages, more money is advanced. Once the work is done, the loan must either be paid in full or converted to a permanent mortgage on the home.
Once your construction loan application is approved, your funding schedule will need to align with the project's different stages.
When you request more of the loan money, the lender will often send someone to the construction site to monitor the progress of the construction.
Types of construction loans
1. Construction-to-permanent loan
A construction-to-permanent loan automatically converts to a mortgage once the home is completed.
During the construction, the borrower pays interest on the loan but pays none of the principal. That means if you take out a $100,000 construction loan, the balance will still be $100,000 when it converts to a mortgage.
This type of loan has a variable interest rate that can be switched to a fixed rate for the permanent mortgage. Borrowers are often required to make a 20% down payment.
The main advantages of a construction-to-permanent loan are that you can lock in a maximum interest rate that extends for the life of the mortgage, and you pay closing costs only once.
2. Stand-alone construction loan
A stand-alone construction loan is popular with existing homeowners who are looking to build a new house before they sell their current on.
This type of construction loan requires a smaller down payment, which is beneficial if you don't have enough cash on hand, but they must be paid off once construction is completed — at which point you'll likely have to take out a mortgage.
You can't lock in maximum mortgage rates with a stand-alone construction loan, and you'll pay more in fees because you'll need to go through two separate closings.
Also, because these loans involve variable rates, the interest rate may not be the same from one phase of construction to the next.
Be aware that if your financial situation changes, you might not qualify for a mortgage after the construction is finished.
3. Renovation loan
While a renovation loan isn't a construction loan, per se, the types of credit that fall under the "renovation loan" umbrella can be used to cover the costs of building projects — provided the costs aren't too high.
If you have a renovation job that's going to come in at $10,000 or less, you could consider taking out:
An unsecured personal loan.
A credit card with a 0% introductory rate, meaning no interest is charged for a number of months.
A home equity line of credit, or HELOC.
A home equity loan.
An FHA 203(k).
Because these are all different products, each will have its own requirements. Without a good enough credit score, there's a possibility that you may not qualify for any of them. If you haven't seen your score in a while, today it's easy to check your credit score for free.
If your credit is solid, an unsecured personal loan or 0% introductory credit card should be feasible. If your credit has more than a few bruises, your options may be limited to secured loans like HELOCs or home equity loans.
A government-issued FHA 203(k) is a type of loan typically used to pay for both renovations on a property and the home itself — if it's going to be your primary residence.
FHA 203(k) loans have some cool features: 3.5% down payment, and the ability to finance a purchase plus $30,000 in remodeling costs. But they can take longer to close, aren't available from all lenders, and the work on the property must be done by a professional contractor.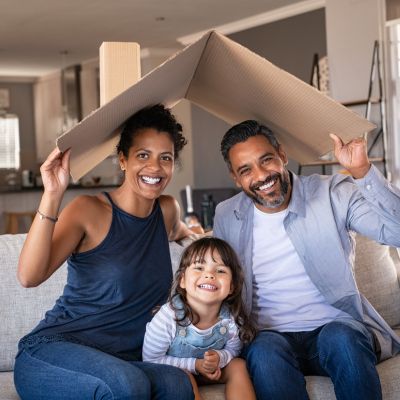 Home insurance is an essential expense – one that can often be pricey. You can lower your monthly recurring expenses by finding a more economical alternative for home insurance.
SmartFinancial can help you do just that. SmartFinancial's online marketplace of vetted lenders allows you to quickly shop around for rates from the country's top insurance companies, and ensure you're paying the lowest price possible for your home insurance.
Explore better rates
Construction loan requirements
Qualifying for a construction loan is, in some ways, similar to trying to secure a mortgage. But the guidelines can be stricter.
Some of the minimum requirements for approval include:
Good to excellent credit. A credit score of 680 or higher will make things much easier for you.
Stable income. Lenders want to see that you can hold a job and that you earn enough to cover your loan payments.
Low debt-to-income ratio. If your total debts eat up more than 45% of your income, lenders may be hesitant to increase your debt burden any further.
A healthy down payment. Something in the 20% to 30% range should get a lender's attention.
While it's not a lender requirement, you'll want to build a cash cushion that will help you through the post-construction process. Make sure you have enough set aside for a down payment and whatever other costs you're sure to encounter if you'll want to turn your construction loan into a mortgage.
The importance of finding a builder
When assessing construction loan applicants, lenders will want to see the builder's contract; a schedule of how the builder wants the funds to come through; and a complete budget that has been itemized for every construction item and process. They'll also want to know the project's timeline.
A common mistake consumers make when starting the homebuilding process is relying solely on an architect or designer when budgeting a new build or renovation project, and not bringing a builder in early.
"Architects, for the most part, are not up to speed on current construction prices," Michele Alvarado, owner of Sanctuary Builders in Houston, tells MoneyWise.
She's heard several stories of consumers paying tens of thousands of dollars for a fancy set of blueprints. Then, when they seek bids from different builders, they find the construction costs to be far beyond what they expected.
Finding a builder on the front end doesn't mean you're stuck with that company, Alvarado says. You may owe a nominal fee if the builder attends meetings and helps facilitate the early stages of a project, but that could save you a lot more down the road versus not getting the extra help at the start.
Increase your chance of getting a construction loan
The underwriting process that allows lenders to evaluate your potential as a borrower is similar to what you'll experience when applying for a traditional mortgage.
That means a few things can improve your chances of getting your construction loan approved:
1. Boost your credit score. A higher credit score tells lenders that you're likely a more reliable borrower. If you don't know your credit score, you can check it for free.
2. Ensure that you have documented income — W2s will work nicely — for at least the last two years. If you are self-employed, your balance sheets or profit/loss statements can be used if they are notarized and reviewed by a certified accountant.
3. Lower your debt-to-income (DTI) ratio. This can be done by reducing your current outstanding debts, or holding off on purchases that would increase your credit balances. Lenders look at both your front-end DTI, which is based on housing expenses, and your back-end DTI, which includes other debt types.
4. Start saving now for down payments and cash reserves. If you find that saving money is too slow of a process, look for a higher yield savings account. You can also try your luck with starting a side hustle or throwing a garage sale to bring in more money.
There are also a few things you can do to avoid potential disaster.
Never invest in plans, blueprints or any other specialized (and expensive) services until after you've prequalified for your construction loan. There's no point paying for something you may not ever need. Once you're prequalified, have at it.
Always work with a reputable builder, not necessarily the cheapest one you can find. Check reviews and try to find contractors known for finishing projects on time and on budget. With construction loans, time really is money, so don't hire someone who's going to waste both.
Hiring someone trustworthy and professional can help you receive final approval for your construction loan. Lenders will take a close look at your project's architectural plans and your builder's credibility when determining whether lending you money makes sense.
"The lender is not only evaluating the borrower, but also the project plans and oftentimes the builder to ensure they will be financially solvent throughout construction," Steve Kaminski, head of residential lending at TD Bank, told Realtor.com.
So choose your contractor wisely. A misstep at the beginning of the process could derail your plans for building a home long before it's time for the hammering to start.
Sponsored
Secure your retirement with a reverse mortgage
If you're low on cash savings and investments but have wealth in your home, a reverse mortgage is a great option for covering retirement expenses.
Mutual of Omaha is a trusted insurance provider that helps you make the most of your home equity.