Tips to close on a home quickly
The average time to close on a home purchase is 50 days, while closing on a refinance is a bit quicker with an average time to close of 43 days. Still, the closing process can be quicker.
1. Get preapproved
Work with your lender to get a mortgage preapproval, which can be done in the weeks and months it takes you to find a home.
A preapproval is a formal letter spelling out how much money you're able to borrow and at what interest rate, based on your financial profile. Preapproval puts you closer to having everything in place for the day your offer is accepted.
2. Get all your documents in order
Having bank statements, a proof of funds letter for your down payment, tax returns and other necessary details at your fingertips can make the mortgage process move faster.
Ask your lender for a list of required items, so you can get a headstart.
3. Negotiate for repairs ASAP
A buyer typically orders a house inspection within 10 days of having an offer accepted. The inspection should identify any problems with the property, such as a leaky roof or broken water heater. Whatever the issue — or issues — it's important to make clear who will pay for the repairs.
You could ask the seller to cover some of that work, or request a lower price for the property and agree to handle repair costs yourself. The faster these issues are resolved, the sooner you'll be sitting at the closing table.
4. Avoid big life changes
If possible, avoid changing jobs, reducing your work hours or changing the way you get paid (say from a salary to a commission-based structure) during the mortgage process. You also should avoid changing banks, moving around large sums of money or taking on new debt, such as a car loan.
Your income and the amount of debt you're carrying are major factors that help determine whether you can get a loan, and the mortgage rate you'll pay. Changes in your financial situation can delay the closing process.
5. Determine if you need private mortgage insurance
If you're getting a conventional loan and don't have at least 20% to put down, you'll likely be required to obtain private mortgage insurance. This insurance, also known as PMI, protects the lender in the event you default on your loan.
When you make a smaller down payment, lenders see you as higher risk — and will want you to pay the insurance premiums, which will be tacked onto your monthly mortgage payments. Set this up with your lender early so there are no surprises.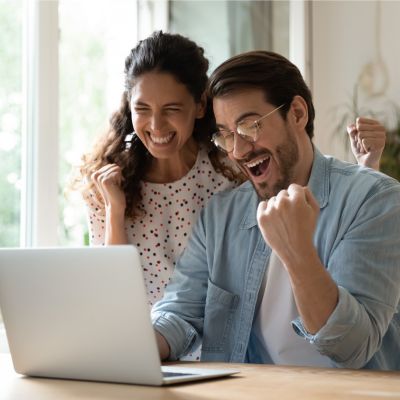 Compare current mortgage rates from top national lenders. Get the best rate for your purchase or mortgage refinance.
Compare Rates
What can delay a home closing?
Pay close attention to deadlines and requests from your lender to keep the process moving, because closings can be delayed for a variety of reasons.
Loan approval hiccups
Each lender has its own processes and timetables for approving a loan. Remember how you should avoid changing jobs or financing a new purchase while you're waiting to close? If you do, you'll be looking at a lot more paperwork that can give you a longer wait until you get the keys.
Appraisal gaps
Your lender will order a home appraisal to ensure that the value of the property is equal to or greater than your home loan amount. In other words, the bank wants to verify the value of the home that it's providing a mortgage for.
If the valuation is lower than the purchase price, you may need to renegotiate the price with the sellers or cover the difference between the loan and appraisal amounts. The loan underwriter may order a new appraisal as well. Home appraisal values can differ based on the appraiser.
More: How often do home appraisals come in low?
Title problems
If the seller has a lien on the property, that can cause processing delays. Any liens need to be removed and taken care of by the seller before the closing date.
Buyer credit issues
Your lender will run an updated credit report to process and approve your mortgage. If the lender finds extra debt or issues with your credit scores, there might be a delay in the closing process.
For example, if there's a mistake on your credit report, it may need to be resolved before the closing date.
More: How to get your credit score — for free
First-time homebuyer programs
When you're taking out a loan geared toward first-time homebuyers, the closing process may take longer than for a conventional mortgage.
An FHA home loan backed by the Federal Housing Administration may stretch for more than 30 days. FHA loans have easier down payment and credit requirements.
What to expect on closing day
Congratulations — closing day is finally here. You'll meet with the title company, sign reams of paperwork, and get your new keys. The entire process usually takes around an hour.
What to bring
Check with your lender or real estate agent, but in general you'll need your government-issued photo ID, a copy of your purchase contract, inspection reports and any paperwork your lender required to approve the loan.
What you'll get
At the closing, you'll receive: a promissory note stating that you're committed to repaying the home loan; a mortgage contract; and an escrow disclosure.
You may also receive a right-to-cancel form that allows you to back out of the loan agreement within three business days. A right to cancel is typically offered only when you're refinancing a home or opening a home equity line of credit.
A right-to-cancel doesn't apply to buyers purchasing a home or an investment property, or to those who are refinancing a second home.
The cash you'll need
Be prepared to pay your full down payment and any closing costs, which may include the following:
A lender origination fee.
Prorated property taxes.
Homeowners insurance.
A title insurance premium.
Interest accrued before the first mortgage payment.
Possible homeowner association fees.
These costs should be outlined to you by your lender before closing day, so you'll know exactly what amounts you're expected to pay. Having these details in advance allows you to bring a cashier's check to cover the full amount and avoid surprises.
More than anything, staying in close contact with your mortgage lender and real estate agent throughout the closing process will ensure that you'll close as soon as possible.
Sponsored
Secure your retirement with a reverse mortgage
If you're low on cash savings and investments but have wealth in your home, a reverse mortgage is a great option for covering retirement expenses.
Mutual of Omaha is a trusted insurance provider that helps you make the most of your home equity.