People tend to think:
Foreclosure homes are hard for a "normal" person to find.
They are too confusing for the Average Joe.
They are run-down properties that require extensive repairs. They are only for investors and people with deep pockets who can pay cash.
In this guide, we'll not only show you how to buy a foreclosed home, but we'll also tackle all of those assumptions head-on.
By the end, you'll have a realistic view of what to expect when buying a foreclosure, plus tips to make it happen.
What is a foreclosed home?
A foreclosure home is a property that has been repossessed by the bank or government. This happens when owners default on their loans by failing to make their mortgage or property tax payments.
After foreclosing on a home, the lender will then try to resell it to recoup the lost money. Banks normally want to get foreclosures off their hands as quickly as possible. They don't have time to fix up houses to sell for top dollar, so they offer discounts.
The bargain prices are like magnets for investors, house flippers and regular homebuyers looking to get the most house for their money.
But for someone who doesn't know how to buy a foreclosed home, the process can be a bit intimidating.
More: 6 types of home loans
Stop overpaying for home insurance
Home insurance is an essential expense – one that can often be pricey. You can lower your monthly recurring expenses by finding a more economical alternative for home insurance.
SmartFinancial can help you do just that. SmartFinancial's online marketplace of vetted home insurance providers allows you to quickly shop around for rates from the country's top insurance companies, and ensure you're paying the lowest price possible for your home insurance.
Explore better rates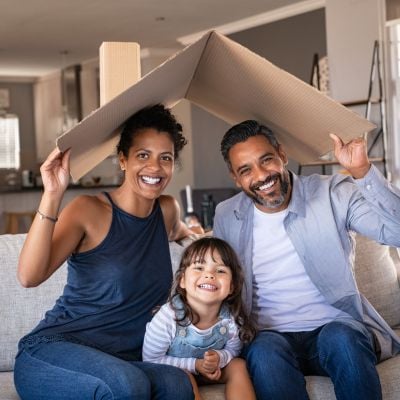 Buying a foreclosed home
Purchasing a foreclosure isn't as complicated as it sounds.
Yes, the process can take a little longer, and you'll have to jump through some hoops. But it's not much different than buying a normal house.
Plus, if it means shaving several thousand dollars off your bill, aren't a few extra steps worth it?
Before we get into those extra steps, let's look at some of the different types of foreclosures you might run into during your search.
4 types of foreclosed homes
There are four main categories of foreclosed homes. Each is handled a bit differently.
1. Pre-foreclosure
A pre-foreclosure is a house that's on the verge of being foreclosed. The seller still owns the house and is making a last-ditch effort to sell it before the bank reclaims it.
When sellers can avoid foreclosure, they can save their credit scores, which will make it much easier for them to purchase other homes in the future.
Basically, they are desperate and may be willing to sell their houses for less than they own on them. This is what's called a short sale.
On the surface, it may sound like a great deal. But short sales are a little more complicated than they seem.
Here's a big reason why: If a seller wants to sell a house for less than it's worth, permission will be needed from the lender — who will ultimately take the loss in the end.
For example, if a couple owes their lender $200,000 on their mortgage, they need approval before they can sell it to you for $180,000. The lender will have to decide whether the loss is worth it, to avoid the foreclosure process.
That decision process isn't exactly lightning fast. In fact, it may take months.
As a buyer, that can seem like an eternity. And the worst part is, when sellers are able to scrape together the cash needed to pay their bills during the waiting period, they'll cancel the sale.
Due to these factors, buying a pre-foreclosure can be challenging.
But here's some good news: You do not need cash to buy a pre-foreclosure. You can finance it just as you would a normal house.
2. Auction
When many people think of a foreclosure, they think of an auction.
The bank's goal is to unload a foreclosed house as fast as possible, so the financial institution retains a third-party trustee to auction off the property to the highest bidder.
You can find incredible deals at a foreclosure auction, but there are several disadvantages.
First, you'll need to have the funds available in cash. So, if you need to finance your home, this type of foreclosure isn't for you.
Second, there's a lot of risk involved.
The foreclosure could have a lien on its title — something that you could be responsible for — or the house may need expensive repairs. And to make matters worse, you usually won't even be able to look inside the house until after you've bought it.
That said, for the right price the risk may be worth the reward.
3. REO
REO — or "real estate owned" — properties are foreclosed homes being sold directly by the bank or lender.
If a property doesn't sell during pre-foreclosure or at an auction, the next step a bank will take to recover its money is to sell the home on its own — typically using a real estate agent — and at a discounted price.
Unlike auction foreclosures, REO properties can be financed. In fact, Wells Fargo reports that 60% of the foreclosures it sells are financed.
Lenders will generally approve mortgages only for foreclosures that are in decent shape. If the roof is caving in and major systems are missing or damaged, getting approved for a loan will be an uphill battle.
Keep in mind that REO properties are sold "as is," so if you do lock in a mortgage you'll be responsible for the repairs. It's important to factor those into your total budget.
4. Government-owned
Government-owned foreclosures are properties that the government repossesses after an owner defaults on a government-insured loan, such as those backed by the Department of Veterans Affairs (VA loans) or the U.S. Department of Agriculture (USDA loans).
These homes are typically sold via government-registered brokers.
As with the other types of foreclosures, government-owned properties are sold as-is, However, the feds may repair structural damage or address other issues to make a home habitable.
Due to the tempting prices, government foreclosures tend to have intense competition among real estate investors.
Fortunately for the Average Joe looking for a primary residence, the government cannot accept bids from investors during the first 30 days the home is for sale. That means if you stay on the ball, you'll have a short window of opportunity to snatch up a great deal.
How Much Can I Borrow for a Mortgage?
Find out how much home you can get — and afford.
See Guide
Need cash? Tap into your home equity
As home prices have increased, the average homeowner is sitting on a record amount of home equity. Savvy homeowners are tapping into their equity to consolidate debt, pay for home improvements, or tackle unexpected expenses. Rocket Mortgage, the nation's largest mortgage lender, offers competitive rates and expert guidance.
Get Started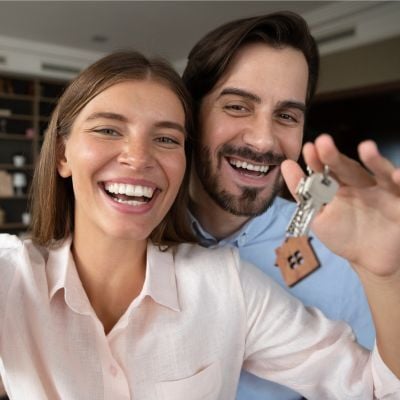 Steps to buying a foreclosed home
The process for buying a foreclosed home is similar to that of buying a normal home, just with a few extra moves.
Here's how to buy a foreclosed home in 10 steps.
Step 1. Check your credit
As with any home purchase, you'll want to start building your credit far in advance. If you don't know your credit score, it's very easy to check your score for free.
A high credit score shows lenders they can trust you to pay back your loan. This is especially important when buying foreclosures because the lender already got burned once — and doesn't want to get burned again.
Step 2. Determine your budget
Estimating your budget for a foreclosure is a bit more complicated than with a normal home. You have to factor in:
The selling price.
A potentially wide range of repair costs.
Back taxes and liens on the property.
Closing costs and other fees.
Mortgage insurance premiums (if applicable).
The first step in determining your budget is to shop for lenders and get preapproved. This involves submitting a mortgage application and various supporting documents.
Keep in mind that if you want to buy an REO, you may be required to get preapproval from the bank the home belongs to. But you are not required to finance through that bank if you end up buying the house.
More: Budgeting tips to get on track
Step 3. Find a real estate agent
Buying a foreclosure is not something you want to without a real estate agent. In fact, in many cases, banks and governments will not sell directly to individuals and require you to use an agent.
That said, not all agents have experience with foreclosures, so it's important to find one who knows the foreclosure process inside and out.
Step 4. Hunt for foreclosures
You have many different options for finding foreclosures. Here are a few ideas to get you started:
The website of the U.S. Department of Housing and Urban Development (HUD).
Fannie Mae's HomePath website.
Freddie Mac's HomeSteps website.
U.S. Department of the Treasury website.
Bank websites.
Foreclosed homes sold via agents are added to the multiple listing service (MLS), which means you can find them on all the popular real estate sites, including Zillow, Realtor.com, Redfin, and Trulia. These sites usually have filters you can set to search for foreclosures.
Lastly, you can simply drive around different neighborhoods keeping your eyes peeled for properties that look distressed. Since it takes a while for banks to approve a short sale, this is a great way to snag a pre-foreclosure before it even gets listed.
Step 5. Investigate any potential foreclosures
Depending on the type of foreclosure, you may or may not be able to see the home before making your offer.
If it's located in your city, it's a good idea to — at minimum — drive by the property to see how the exterior looks. If the outside is a disaster, chances are the interior is in shambles, too.
You might want to run a title search to see if the property has any other liens or mortgages. If you're buying from a bank, it will usually clear the title for you.
Step 6. Make your offer
Calculating a fair offer on a normal house is hard enough. On foreclosures, it's even harder.
With so many variables to consider, it's best to get advice from an agent. As always, you can adjust your offer based on how long the property has been on the market.
If you are buying from a bank or the government, you'll need to use an agent as your intermediary.
Don't forget to add a home inspection contingency to your offer (unless you're buying at an auction, in which case, there may be no backing out).
Step 7. Wait for your offer to be accepted
Depending on the type of foreclosure you make an offer on, your waiting time may vary.
In an auction, there may be no waiting at all. In some states, you become the owner as soon as you win the bidding. In others, there is a transfer process which could take around 30 days.
When buying a government-owned or REO property, your wait time will often depend on the number of offers that were received. This could be anywhere from 24 hours to a couple of weeks.
Lastly, if you make an offer on a pre-foreclosure home, it could be a while before you hear back. Since short sales need to be approved by the seller's lender, the delays for these types of foreclosures can be lengthy.
Step 8. Order a home inspection
Once your offer is approved, it's time to get the home inspected.
A home inspection isn't legally required, but with a foreclosure, skipping this step would be reckless.
You'll want to know if there are any serious issues with the home before closing. A home inspector will assess the main structural parts, systems and appliances in the home, including:
Basic plumbing.
Structural foundation.
Interior and exterior condition.
Electrical systems.
Roof and attic.
Fireplaces and chimneys.
HVAC system.
Water heaters.
You should expect to have to do some repairs. But by adding a contingency to your offer, you'll be able to back out of the deal if the inspection reveals serious problems.
Step 9. Resolve any liens
Foreclosed houses often have multiple liens against them. Before you can take ownership of the home, those need to be paid off.
Again, when you are buying from a bank, it will clear the title for you. But if you picked up your foreclosure at an auction, you'll be responsible for paying off any outstanding debts associated with the property.
Step 10. Close on your home, make repairs and move in
If everything checks out and your mortgage is approved, all that's left is signing the closing papers, making any necessary repairs, and moving into your new home.
Now that you understand the general process for buying a foreclosure, let's look at ways you can do it with limited funds or bad credit.
How to Get a Mortgage
We break the mortgage process down into a few smaller steps.
See Guide
How to buy foreclosed homes with no money
Foreclosures give you access to homes at steep discounts — but what if you have limited funds?
Fortunately, you have a few types of loan options:
A 203(k) loan: This loan is backed by the Federal Housing Administration, or FHA, and allows you to pay for the home and certain repairs. Depending on your creditworthiness, you may be able to put down as little as 3%.
Fannie Mae's HomePath ReadyBuyer program: This loan is for foreclosures owned by Fannie Mae. You can pay as little as 3% down and may even qualify for closing cost assistance.
Freddie Mac's HomeSteps program: If you live in a state offering the HomeSteps program, you can buy one of Freddie Mac's foreclosures with as little as 5% down and without having to pay mortgage insurance.
Buying a foreclosed home with bad credit
If you have bad credit, your best option is to take time to build your credit. This will allow you to get better mortgage terms and save money in the long run.
If waiting is not an option, you could try an FHA loan. If your credit score is 580 or above, you'll can put as little as 3.5% down. If your score falls between 500 and 579, you'll need 10%.
The problem with an FHA loan is that the property must meet FHA standards. Normally, the seller would make any repairs needed to meet these standards. But with a foreclosure, the home is sold "as is."
This issue can be solved by looking for foreclosures sold by HUD, the federal housing department, which are typically in better condition and meet FHA standards.
Buying a foreclosed home at auction
Picking up a foreclosed home in an auction is the least accessible option for most "normal" homebuyers.
Not only do you have to pay in cash, but since there are no contingencies, you might get stuck with expensive repairs.
But if you have the cash on hand and a high risk tolerance, you can buy foreclosures at either online or in-person auctions.
In-person auctions are often held at the county courthouse or other public venue. Finding them is usually as easy as searching online for "foreclosure auction in [CITY]" online.
These auctions are free to attend, but to make a bid, you must register and prove you have the funds to pay. The auctioneer will set a starting price, and the bids increase from there.
Online auctions work in a similar fashion, except registration requires a refundable deposit authorized on your credit card.
Factors to consider before buying a foreclosed home
Before you start shopping for foreclosures, here are some important questions to ask yourself.
How much will you have to allocate for repairs?
With a foreclosure, you'll usually need to set aside a much larger portion of your budget for repairs. The problem is, you typically have to make your offer before you know what repairs will be required. That means when making an offer, be careful not to max out your budget.
Remember, if the property's previous owner didn't have the funds to make the mortgage payments, odds are the owner couldn't pay for proper maintenance or upkeep, either.
What's your timeline?
If you're looking to move into a new home as soon as possible, a foreclosure might not be for you. The process usually drags on much longer than a normal home sale, and there is the potential for many more hiccups along the way that could damage the deal.
How will you finance your purchase?
If using government loans, there may be restrictions on the types of properties you can buy. Before you even start looking at foreclosures, you'll want to learn about the specific requirements for the loan you're planning to use.
What's your risk tolerance?
Purchasing a foreclosure is by nature riskier than buying a normal house. That said, some types of foreclosures involve more risk than others. If you're risk-averse, you may want to stick with bank- or government-owned properties. That way, you can always back out if your contingencies aren't met.
The truth about buying a foreclosed home
As you can see, not all the assumptions people make about foreclosures are 100% true.
Are they hard to find? Not at all — they're posted for everyone to see.
Are they too confusing? Nope, not if you work with an experienced real estate agent.
Are they only for rich investors? Negative — normal buyers often get first dibs.
Do they always require extensive repairs? Not always; some agencies only sell properties in good condition.
The truth is, the Average Joe can get an amazing deal on a foreclosure.
All you need is a knowledgeable real estate agent, an appetite for risk, and a full tank of patience.
Sponsored
Follow These Steps if you Want to Retire Early
Secure your financial future with a tailored plan to maximize investments, navigate taxes, and retire comfortably.
Zoe Financial is an online platform that can match you with a network of vetted fiduciary advisors who are evaluated based on their credentials, education, experience, and pricing. The best part? - there is no fee to find an advisor.