What is an HSA?
A health savings account is a triple tax advantage account designed to help users put money aside for routine medical costs and possible health care emergencies down the road. But if you're strategic about how you use your HSA, it can also act as an extra money pot in your golden years.
In order to open an HSA, you must be insured under a high-deductible health insurance plan (HDHP), which offers lower monthly premiums in exchange for a higher deductible. For 2023, the minimum out-of-pocket deductibles for HDHPs increased to $1,500 for individuals and $3,000 for families — which is a sizable chunk of change before your insurance kicks in, hence the benefit of HSAs.
Most employers who provide HDHPs also offer their workers the opportunity to open a health savings account — and they may help you grow your balance by contributing additional funds. If your employer does not offer an HSA, you can open one through a bank or an investment firm.
In May, the IRS released new inflation-adjusted contribution limits for HSAs — helping Americans to stash away more funds for health expenses.
Effective January 2024, the contribution limit for individuals will be $4,150, while the limit for families will increase to $8,300.
If you're aged 55 and older, you're allowed to put in an extra $1,000 in what's called a "catch-up" contribution.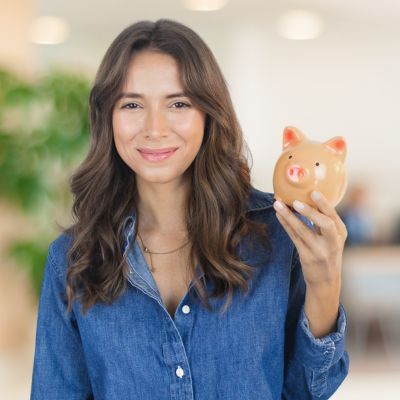 Don't let your money idle in low-interest accounts! Savvy savers are earning up to 10x more interest by keeping their hard-earned cash in a high-yield savings account. Find some of the best options here.
Get Started
What makes HSAs tax-advantaged?
To fund a health savings account, you must deposit pre-tax money from your paycheck. Whatever money goes into your account will not be counted toward your taxable income — which can result in savings during tax season.
As long as the funds are used for eligible health costs — which include common expenses like bandaids, tampons, sunblock, contact lens solutions and cold and flu medicines — your HSA money can be withdrawn tax-free.
"It's the ONLY investment account that is truly 100% tax-free," Delyanne Barros, also known as Delyanne the Money Coach, tweeted May 18. "The money going in is PRE-tax & it's TAX-FREE coming out for eligible expenses."
If you use your HSA money for any purpose outside of qualified medical expenses, you'll have to pay income tax on your withdrawal, plus a 20% tax penalty — unless you're aged 65 or older, in which case the tax penalty will be waived.
You can also invest your HSA money and let your earnings grow tax-free — and since any unspent funds roll over at the end of the year, you can reap the benefits of compounding to help you cover future medical expenses.
To realize the full benefits of compounding, Barros suggests you might want to consider covering your medical costs out of pocket.
"If you're able to pay your medical expenses out of pocket, save those receipts, invest your HSA funds in an index fund or low-cost ETF! That money can compound," she wrote in a follow-up tweet. "Then you can reimburse yourself with those old receipts before you turn 65 [and] the money is tax-free."
Keeping all of your medical bills and receipts is vital in order for this strategy to work, according to Russell.
"Because there's no deadline for reimbursing yourself from a HSA after you pay your medical or dental bill, the tax-savvy will use non-HSA money to pay for the bill and let their HSA money compound over time," Russell explained.
"When they need the money, they can reimburse themselves using the HSA account and pay NO TAXES on the withdrawal."
A bonus for retirement
While you might have a clean bill of health when you retire, remember that no one is immune to unexpected health emergencies — and they can get very expensive.
As there are no time restrictions on when you must use your HSA money, you can build it into a retirement emergency fund, that can help you cover medical bills, dental and vision-care expenses, Medicare premiums and a portion of long-term care insurance premiums.
If your goal is to use a health savings account to save for medical expenses in retirement, you should consider investing your HSA money in a diversified portfolio of stocks and bonds that will give you the best chance of tax-free growth.
You don't have to use your HSA money for medical expenses. Some advocate for using the account as an extra retirement savings account, just like a 401(k) or IRA — but remember that you will have to pay income tax on any withdrawals for non-eligible medical expenses, plus an extra penalty if you're under the age of 65.
"Maxing out contributions before age 65 allows you to save for general retirement expenses beyond medical expenses," Mark Hebner, founder and president of Index Fund Advisors, told Investopedia.
"Although you will not receive the tax exemption, it gives retirees more access to more resources to fund general living expenses."
"But remember," Russell cautioned, "an HSA has to make sense in your situation!"
It's important to weigh things like your personal health situation and retirement plans against the unique benefits and potential risks of a health savings account.
Sponsored
Kiss Your Credit Card Debt Goodbye
Millions of Americans are struggling to crawl out of debt in the face of record-high interest rates. A personal loan offers lower interest rates and fixed payments, making it a smart choice to consolidate high-interest credit card debt. It helps save money, simplifies payments, and accelerates debt payoff. Credible is a free online service that shows you the best lending options to pay off your credit card debt fast — and save a ton in interest.