How does the debt avalanche method work?
Let's say you have the following debts to pay off:
$30,000 credit card balance at 29% APR
$20,000 in student loan debt at 6% interest
$1,200 hospital bill that's interest-free
To start an avalanche, you'll want to target the credit card balance first.
Create a monthly budget and determine how much cash you have available after making all of your minimum payments and taking care of your other needs. Let's call that your free income.
Keep putting your free income toward your credit card debt, in addition to your minimum payment, until that debt is gone. Since the sum is so large, that may take a long time, and your progress may feel very slow.
But when you do finally move on to the student loan, you'll have a lot more money available. Now you can put your free income, plus the minimum you were paying on your credit card, plus the minimum on your student loan all toward this new challenge. You're picking up speed.
By the time you get to your modest hospital bill, you have freed up so much cash that you can wipe it out in an instant. That's an avalanche.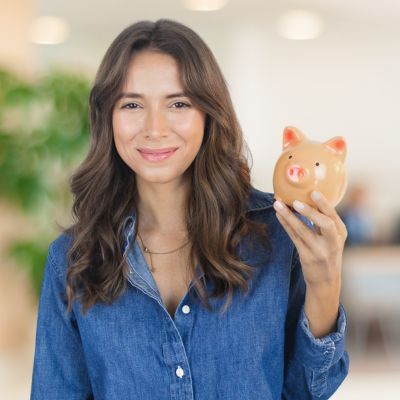 Don't let your money idle in low-interest accounts! Savvy savers are earning up to 10x more interest by keeping their hard-earned cash in a high-yield savings account. Find some of the best options here.
Get Started
Is the debt avalanche method right for you?
The debt avalanche method isn't for people who need to see quick results. If your highest interest rate is on your biggest debt, you'll be wrestling with it for a while.
However, that doesn't mean you can't do anything to speed up the process.
You may be able to reduce your burden with a balance transfer credit card or debt consolidation loan. Both tactics require your credit score to be in decent shape, but they can help you save money and become debt free faster.
A balance transfer card is just a regular credit card that has a low, promotional rate — maybe even 0% — to entice people to switch. By paying off your old credit card with the new one, you can stop losing so much in interest.
Keep in mind, however, that these promotional rates don't last. If you aren't able to pay down the debt before the promotional period ends, and the regular interest rate is higher than the one on your old card, you might actually make the problem worse.
A debt consolidation loan is pretty similar. By taking out a low-interest personal loan, you can pay off all of your other high-interest debt at once. You'll lose less in interest, and as an added bonus, you'll only have one monthly bill to worry about.
Combine these tactics with the debt avalanche method, and you'll be able to flatten debt mountain in no time.
Debt avalanche vs. debt snowball While the debt avalanche menthod focuses on paying down the highest-interest debt first, its counterpart the debt snowball method focuses on quickly eliminating small debts first.
To decide between the debt avalanche and snowball strategies, you need to take a hard look at yourself. If you don't feel success early on, are you likely to give up?
A person following the debt snowball method would start by paying off the $1,200 hospital bill, followed by the $20,000 student loan debt and ending with the $30,000 credit card debt.
Paying off the hospital bill is easier because it has the smallest balance. Getting that out of the way will feel pretty good, and the quick win will give you the motivation to tackle your bigger challenges. If that's something you need, you're a snowball candidate.
Meanwhile, a person following the avalanche method is happy to leave the hospital bill to the end. Since there's no interest, it's not costing you anything extra to keep it around, and you're still making headway with your minimum payments.
That 29% APR on the credit card, however, will compound faster than you'd like. With credit cards, you also pay interest on interest, not just the principal amount you borrowed. Leaving the problem for longer will only make it worse.
But if months grappling with that $30,000 sum would make you give up and go back to minimum payments, it might be better to go with the debt snowball method.
Sponsored
Kiss Your Credit Card Debt Goodbye
Millions of Americans are struggling to crawl out of debt in the face of record-high interest rates. A personal loan offers lower interest rates and fixed payments, making it a smart choice to consolidate high-interest credit card debt. It helps save money, simplifies payments, and accelerates debt payoff. Credible is a free online service that shows you the best lending options to pay off your credit card debt fast — and save a ton in interest.